Midwest MTB Racing Recap
Great weather greeted riders and spectators this past weekend at Maplelag Resort which was host to the Laddies Loppet stage event, race #9 in the MNSCS. The two day stage race featured a time trial on the Citizen/Kids Comp course, running mainly on cross country ski trails and a trip up "Suicide Hill". Exciting short track racing in the afternoon on a half mile loop around the Maplelag complex provided good action for the spectators. Pro women rider Kyia Anderson led a skill clinic in between Saturday events. The majority of the racers stayed at the resort enjoying home cooked meals, unlimited cookies from the five bottomless cookie jars, canoeing, swimming and fishing in the lake, thrills and spills at the dirt jump track and a big bonfire Sunday night rounding out a busy weekend at the resort.
Saturday Time Trial
The time trial course had been mowed multiple times during the summer with the grass clippings blown to the side so there was no loose grass. On the final mowing two days before the event, the deck on the mower on the final mowing was set at 2 1/4" which is pretty much the lowest setting you can go without hitting any high spots etc. With the morning dew burning off nicely, pretty much ideal conditions were presented for the time trial. I expected some fast times for sure and a $50 bonus in addition to the cash prizes for the top five elite class, was offered to any male rider who could break Doug Swanson's course record and any female rider that could crack the time set by Jenna Rinehart last year.
Elite riders were sent off first. Posting the early fast time was Swanson at 9:39:87 who bested his time by 2 seconds from last year. Rolling across shortly after was TJ Woodruff who put himself in the hot seat at 9:37:15 but was short lived as Brendan Moore bested Woodruff's time by barely a second at 9:36:19. Moore stuck with a low profile tire which he felt rolled as fast as any tires in his arsenal and had no issue on the two grassy corners, during comments in the post race interview. Woodruff exclaimed "if I would of gone one pedal stroke harder", smiling from the tight and exciting racing from the morning. Rounding out the top five were Iowa fast guy Cam Kirkpatrick just over 10 minutes and Eric Oftedahl at 10:06:39.
In women's elite, Jenna Rinehart bested her time by 18 seconds from last year to set a new course record and go home with an extra $50. Rounding out the top five were Kyia Anderson, Jennifer Fisher, Meghan Korol and Corey Coogan. Taking wins in the other classes were Jasper Roadley and Chloe Penner from Winnipeg, Manitoba in Kids Comp, Bemidji HS Nordic skier Matt Lee and Rachel Jensen in Citizen, Steve Wenzel and Kris Brazil in Sport, and Ryan Sportel in Comp.
Upon completion of the time trial, Minnesota Pro Kyia Anderson led a skills clinic heading straight over to the lakeside drops working with riders for a hour. Kyia reports: "As soon as I crossed the finish I got some recovery drink in me and prepared for my skills clinic. I was really impressed with the group of people who came out this weekend to work on their balance drills and descending and climbing skills. It's a lot of fun to see people gain some confidence and improve in just an hour." Nicely done Kyia.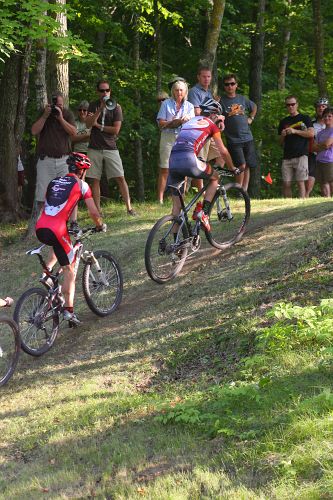 Saturday Short Track
Saturday afternoon featured the exciting short track races, one of the highlights personally for the weekend. Starting out first was the Citizen class with Thomas Dunning and Kari Edvenson posting wins. Sport winners include Steve Wenzel and Julie Vardaman. Comp winner was Jr Rider Luke Baker who had a nice battle with John Sandberg, Trent Warner and Elite woman rider Jenna Rinehart who along with the other Elite women, raced with the Comp Men. In the Elite Men short track, two groups established after a few laps on the rolling and twisting course that featured a mix of ski trail running into the "back bowl" that had a short, steep pitch up to the top. The front group of Swanson, Moore, Woodruff, Sam and Eric Oftedahl, Cam Kirkpatrick and Jack Hinkens was chased by a second group of Jason Wenk, Jake Richards, Dave Oachs and Paul Hanson. Hollywood Henderson who was in the front group early on, drifted to no mans land then worked with the second group the later part of the race. Final laps saw a group of five do battle nicely with Swanson taking the win from this group that was rounded out by Woodruff, Moore, Kirkpatrick and Hinkens, respectively. Swanson proclaimed in the post race interview "everyone took nice pulls at the front and I sat in the last few laps before making my move on the last lap....Brendan's Moore slight mishap on the last climb up in the back bowl didn't alter the lines" and Moore reported on Swanson's short track prowess "even though I had a slight washout on the corner, I knew it would be tough to take Doug in the sprint".
Sunday Cross-Country
Sunday morning races came quickly after riders fueled up with a big breakfast of seven-grain hot cereal, Norwegian pancakes with lingonberries and farm sausage which tempted riders if they should or shouldn't. My son Jack sang the National anthem to kick off the Kids Comp race which featured the largest Kids Comp field in the series this year at 37 whippersnapers ready for one lap. Taking the overall wins were Jesse Busse and Annie Hinkens. Thirty minutes after the Kids Comp start saw Citizen racers head out for three laps. Taking overall wins in that class were Matt Lee and 13 year old Rachel Jensen from Shell Lake, WI. Sport race was up next. Got word that a Expert rider was locked out of his room so instead of taking the time pass the buck and trying to find someone else to unlock, I grabbed the nearest set of screwdrivers, pried off a piece of door trim, pried the door back and pressed the closure in and door open. All good. Ran to the timing tent, called up the riders to staging and gone were the Sport class for two challenging loops. Taking the win after moving up nicely was Tom Rinehart who held off Paul Cullen (who put in many laps prior race day over the summer). Taking the women's Sport race was Kris Brazil.
Elite and Comp racers were up next on the day. Elite men rolled off first with Doug Swanson taking the early lead before a group of three eventually would establish at the front consisting of Moore, Woodruff and Sam Oftedahl. A chase group of three had Eric Oftedahl, Hinkens and Campatrick. Heading towards the lakeside on the final lap, Moore pinned the drops in first with Woodruff and SamO just off by seconds. Woodruff hung tight and when the three riders came out the tight and twisty and begin the climb up Suicide Hill, Woodruff made "the attack that stuck" and went on for the win that also secured the overall classification. Moore hung on for second, Sam third, Jr rider Hinkens at 4th and Kirkpatrick 5th.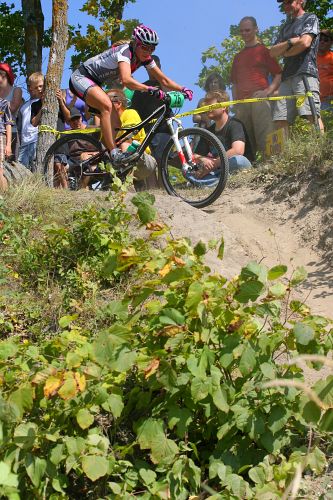 Women Elite saw Jenna Rinehart and Kyia Anderson pull away from the field until Suicide Hill where Rinehart made her move.
"I had a great start and jumped on Jenna's wheel. I let Jenna take the lead and when I looked back the rest of the Elite field was right there, NICE! We dove into the first section of single track and Jen Fisher was excusing her brake noise! We gaped the field out of the first section of single track and I stuck on Jenna's wheel on the ski trails and up Suicide Hill but once in the Single Track and onto the steep climbs she just danced away." reports Anderson.
Fisher, Meghan Korol and Corey Coogan rounded out the top five respectively with Coogan looking rather "clean" compared to the other riders, male and female, who looked "dirty". Rinehart took the overall as well with the sweep of all three events.
Comp men saw John Sandberg pull off an convincing win by over 2 minutes and felt so good he went on for another lap, as he prepares for Chequemegon in a few weeks. Sandberg reported at the bonfire Sunday night after I asked him if he has amped up his training in recent weeks: "Four hours a week is a normal week for me, and it is all intensity" Rounding out the top five in Comp were Drew Wilson, jr rider Luke Baker, Joe Surla and jr rider Trent Warner.
A highlight of the summer for us is preparing and putting on the event. Big thanks to all the racers who made the event as well as the Maplelag staff, timing crew, volunteers and friends who contributed to a great weekend.
Looking ahead
Both the WORS and MNSCS sneak in events before Chequamegon.
WORS heads to the southern part of the state to Lake Geneva and a course at Grand Geneva Resort titled
Treadfest
. Designed and built by racers for racers, this course brings out the best of Mountain Top at Grand Geneva as it shifts from tight, technical and singletrack to wide-open big ring double-track. Knee burning climbs are rewarded with fast and fun descents. Hear the roar of the crowd as you finish in front of spectator-friendly Mountain Top Lodge, as reported on the event page.
MNSCS goes back to back with Spirit Mountain in Duluth playing host to the
Powder Monkey
. Jake and I rode at Spirit a few weeks back after Duluth had experienced record rainfall. The course was wet at the time and made even more fun with the technical nature of the course. Either way, expect a super fun time on a pure mountain bike course with a nice mix of climbing, tight and technical singletrack and flowy descending.
Keep the wheels moving!
About the author...

Jay Richards maintains a very active lifestyle. He somehow finds time between managing a full-time resort (Maplelag) and bringing up a family of four boys with his wife Jonell, to compete in both mountain bike and cross-country ski races. Jay rides for Maplelag Resort, Giant and Paramount Sports (Fargo, ND) and enters his 19th year of racing mountain bikes and promoting mountain bike races.