Xmas-New Years West Itasca Race Results
Conditions: Temperature: 30F, wind gust 20-25mph, man-made snow, great race condition!!! The race course is 4 laps of 2.5K full Valley Trail loop.
Race distance: 10K, both classic and freestyle, mass start.
Freestyle Race Result
Ian Torchia            24:52 (male winner)
Daniel Louma           25:06
Dan Meyer              29:35
Pat Nelson             30:36
Maria Trescony         30:51 (female winner)
Jacki DeVine           35:35
Mark Winholtz          35:40
 
Classic Race Result:
Joe Dubay              27:38 (male winner)
Daniel Louma           32:12
Ingrid Leask           32:19 (female winner)
Dan Meyer              35:37
Mark Winholtz          44:43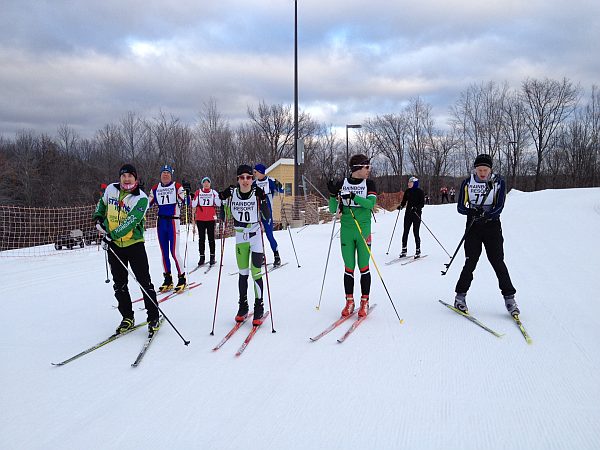 Today's race features a group of hearties racing for a post-holiday gut-check. The racers from Rochester, Little Falls and Twin Cities areas, from college teams to master groups were led out by TEAM STRONG HEART skier Matt Liebsch at the start of the race. The freestyle man's race was a hard battle between Ian Torchia and Daniel Louma all the way until the last Donut Hill. Ian pulled away and won the man's race. Dan Meyer showed us how FAST his WAX can be!!! Pat's split time showed his amazing consistency in time during a race. Champlin Park star Maria Trescony won the woman's race by having a late start by 2 minutes but chasing down almost half of the field. Nice work! Jacki and Mark also battled the master's field all the way. In the Classic race, Joe Dubay crushed the man field. He led by over four and half minutes!!! Dan Louman showed his huge endurance base in the freestyle and classic back to back races. The amazing Ingrid not only won the woman's Classic race, but also battled hard with men and posted the top 3 overall. Nice job. Thanks everyone for coming out racing and cheering. Also, big thanks to ELM CREEK PARK RESERVE and the event sponsors, RAINBOW RESORT and SILENT SPORTS FOUNDATION.
--Amy Xu/Race Director, Melinda Silbernick/Timer