Midwest MTB Racing Recap
It was a full plate of racing weekend past with many events in the upper Midwest that brought riders to toe the line. Even though we have been missing from the race scene this summer, Jake and I logged a sweet ride on the Maplelag course (which is looking great for the upcoming Laddies Loppet weekend) while rolling a 1000 miles on a pair of tubulars in the process, that have been the best thing on my mountain bike in 22 years of riding and racing!
This weeks jam packed report includes exclusive reports from Eric Oftedahl who was going far and long at the Maah Daa Hey 100, a different perspective from Devin Curran who was dicing it up with the big shooters at Nordic Mountain in Wisconsin at the PRO XCT race, Minnesota Champ Brendan Moore who was going fast not only up at Mon Du Lac but also down in Saturday's Super D and Rebecca Sauber checks in from Cuyuna where she was seeing red at the Rusty Ride near Crosby, MN.

What the...Mah Da Hey

There were 44 solo riders that toed the line for the inagural Maa Dah Hey 100. Eric Oftedahl was one of them and files an extensive report (photo: Greg Ames):
Saturday was the inaugural Maah Daah Hey 100 which took part in the Badlands of North Dakota. The race starts near the North Unit of the Theodore Roosevelt National Park and ends in Medora. Five of us from Hed Cycling Products made the trek out to take part in this epic adventure. We were fortunate to have such nice weather for the race with highs in the lower 80's, lows in the low 50's, and a north tailwind.
The night before the race we stayed in the oil boom town of Watsford, 15 miles from the start. With a start time of 5am, we had to wake up at 3 to make it on time. That morning, Paul Ellis sat still on the side of the bed, looked at me, and simply stated, "This could be the worst day of my life". I chuckled, but we both knew we were in for one grueling day on the bike.
At the start, it was pitch black with the sky full of stars. Everyone was anxiously waiting to get the show on the ro... singletrack. The race director, Nick Ybarra, rode the first section of trail to the first aid station. I knew it would be very beneficial to follow him as he knows all the turns on the course and I wouldn't have to navigate in the dark. Everyone else had the same idea and we just let him lead out until dusk. Nick put in a pretty good pace at the beginning and within the first 3 miles a lead group had formed.
At the top of the first major climb it was Nick, Ian Stanford (coworker at Hed Wheels and local pro racer), Kevin Forrester, James Luverich and myself. At dawn Kevin took off taking Ian, and James with. I stayed back with Nick to play it safe until one of the lights fell off his bike and I just had to keep going. I eventually caught back up when the leading 3 got a little disorientated at a trail crossing. Almost all of the Maah Daah Hey is on cattle paths which run all over the country side and makes it challenging to navigate at times. There are wooden posts that mark the trail and the theory is you can stand at any post and see the next post to go to, but that not always the case. For the most part Nick did his best to mark every intersection on the course with orange ribbon, only later to find out the cows enjoy them.
At the first feed/aid station about 25 miles in, Ian and Kevin were a little ahead of me and James joined me when I left. It wasn't very far into the second section when my tire hit the side of the cow path turning my wheel sideways and I put up a huge yard sale. My bar hit my leg really hard giving it a nice bruise and my bike stem got turned. After looking over my bike and fixing it, I decided to take it easy for a while. From then on I was pretty much in no-man's land. A few relay team riders passed me but that was about it. I also lost some time at the Little Missouri River crossing. The trail disappeared near the river and I lost the other riders tracks when I came to the high river embankment. I could see a trail post in the distant woods across the river, giving me a location to shoot for. I tried to see where they crossed but couldn't find their tracks along the river. I ended up making my own way across at a sandbar after almost losing my shoe in some thick clay and then bushwhacked it through some tall underbrush until I came to the trail. After some river bottom riding and a steep climb out of the river bed I made it to the 2nd feed/aid station a little over 50 miles into the race. I had made good time up to this point averaging a little over 10mph ride time.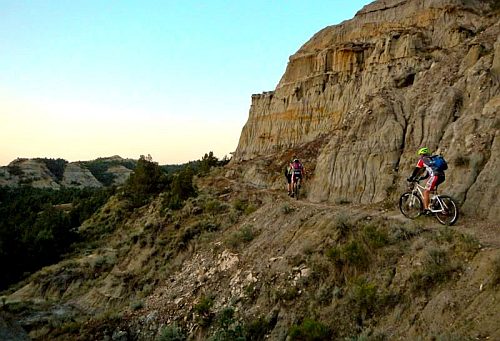 We were warned that the 3rd section (also the longest at 28 miles) was the most difficult because of the mud slides that took out parts of the trail and the heavy rains had made the trail into deep ruts at times. Add to this the midday heat, navigational challenges, and plenty of hike a bike sections, it took me 4.5-5 hrs to complete. At one point I chilled out under a tree to put band-aids on my heels because blisters were forming from all the walking. Everyone I talked to after the race had trouble navigating this section and had to backtrack a few times after realizing they were on the wrong trail. The worst is finding this out on a descent and you have to climb back up the hill -- I did this a couple times, doh!
It seemed like an eternity before I made it to the 3rd aid station exhausted and sore. I sat down for a good 15-20 minutes while I drank a coke and ate some chips. The ladies running the aid station encouraged me to finish it up saying it was only 23 miles, mostly downhill, and the easiest section. It turned out to be the longest 23 miles of my life. The trail was more forgiving, but I was out in the middle of nowhere and quitting was not an option. The fastest way out was to make it to the finish.
It wasn't until I crossed the line at 13 hours 39 minutes and sat down that I realized how far I pushed myself. My lips turned blue and I began to shiver. Thankfully Nick had a blanket in his truck he covered me with and I downed some salt tablets, coke, water, chips, and a V8. After a hot shower at the hotel and a few slices of pizza, I was finally in bed resting. That night I could hardly move as every muscle in my body ached. I went through some odd warm and cold flashes that evening. Even last night I woke up wondering why I was soaked with sweat even though I didn't feel hot.
It's scary how far you can push your body. I've heard of a 24hr solo guy being hospitalized after crossing the line and put on kidney dialysis because there were so many toxins in his blood. For me, this was my first time trying an ultra-marathon distance and I learned a lot about myself. The lure that drove me to such an event is the uncertainty. You battle not only your opponents, but also the rugged wilderness and yourself. Anything can happen out there at any moment.
Will I do it again? I don't know, ask me next year. I do know I have a sub 12 hr in me if everything goes right. Thanks to Nick, his family, and all the volunteers for putting this race on. They put a lot of thought and hard work into making it a good experience and they did a great job.

Maah Daa Hey Facebook page with link to results
Race organizers Nick and Lindsey Ybarra website


Pro XCT at Nordic Mountain

Many local Pros don't have the opportunity to race with the big dogs and when a big race on the circuit makes a stop locally, it gives the local shooters a chance to mix it up National champions including recent Olympians Sam Schultz and Todd Wells. Devin Curran took opportunity to test the skills and stamina and reports from Nordic Mountain (photo: David Schlabowske).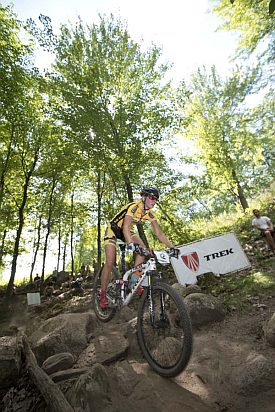 I got to line up Saturday for my first ever UCI Pro race. When Jay asked if I would do a write up for Skinnyski I was hoping that the story that was told would be different than the one that I write now. The day started off well with an amazing campsite two miles off the venue allowing me and the kid (Pip) ride from the camper to the race. Pip and another Hollywood teammate Josh Bauer were racing at 11:30 and it was temps were perfect. I got set up in the feed zone and was ready to do some cheering. The Fields were stacked for the Cat1 race and as the women came by the kid was riding strong and sitting third,, she pulled up the hill and by the time the single track came she was introduced to the young girls from Canada. From there on out I could see it in her face that this was not her day. Frederique Trudel and her teammate went 1,2 blowing up the Cat 1 womes field, Sophia came home 15th overall and got to see what it was like racing the Canadian National champ.
My race was a 3:30 start and in my head I was ready and I was mentally and physically ready.. Dressed in my Twin Six kit due to some rainbow stripes that were no-no in the UCI world. Fourth row call up and got ready for the Parade lap. The start brought us into a dry dust field with a few spots to catch air that you may not want to catch in a pack of 50.. From the gun we go 9 wide down to 5 and in a cloud of dust that was worse than any southwest I have ever seen.. Before I knew it the sound of brakes and bikes standing still.. As we got clear of the first obstacle the group was already getting stretched and up the hill we went. Now not sitting where I want to be as the single track approaches and once again the line of racers was at a standstill as we hit the woods. Stood there of what seemed like forever even though it was only a few seconds. By this time my race was all but over. I chased hard trying to catch the back wheels of those in front dropping down one of first single track descents I got loose and sent my bike flying down the trail. Back on and rattled I rode my ride until I was finally pulled heading in to lap five. As I came to the end I made sure that the USA official slapped me a high five. I had a dream 20 years ago of racing mountain bikes at the pro level, and I have had some success on the local level, never had I been able to line up with the talent that I did on saturday. I do wish that I could have had a better event, but was so proud of where I have get myself to.
My race was done and I watched Derek Zandstra and Todd Wells cross the line in a hard fought race. Went and shook hands with the top guys thanking them for such a great race so close to home. Now for me it is time to get myself ready for the Queen Race of the Summer ... Laddies Loppet, up at Maplelag Resort. I am happy with the work that has been put in as I tell the kid with hard work comes great results.
Report by Tom Held
Full Coverage on Cyclingnews


Spanking the Dirt

Top Minnesota rider Brendan Moore opted to stay closer to home and race the tight, twisty and "raw" trails at Mon Du Lac and reports on both Saturday's Super D and Sunday's cross country:
I ended up spending this past weekend at Mont Du Lac, but that was not my plan. My plan formulated late because there were 4 great but different race options this weekend. Either way, on Wednesday I went to register for the Pro XCT race in Wisconsin and found online registration closed. I figured I would just head over and register in person because the pro race wasn't until 3:30pm Saturday, but upon further investigation, registration had to be done in person by 5pm Friday for Pros. I didn't have Friday off, and bike racing doesn't even come close to paying any bills so that plan was out. I guess the pro races are more formatted for those flex, part time, or non-working pro racers, but that has never been me. I guess I need to plan ahead further.

It would have been fun ride w/ the fast Wisco guys, but I had back up plans! The Cuyuna Rusty Ride and Mont Du Lac DH race were both Saturday options. Because my lovely wife had given me the carte blanche to race Saturday, I chose to try my hand, or wheels, at some gravity assisted racing. They called the race a Super D, but I contend that it was a DH race because 1) the let us off individually rather than a mass start 2) super D's are usually 30% up and 70% down but there were no uphill sections longer than 20 feet 3) the times were 3-4 min not the typcal 8-15 min in a super D. Either way it was an absolute riot of a race that had me grinning ear to ear. 1/2 the race at the top was a very rought flat to slightly downhill with whoops, rollers, and jumps. The second half was a full on DH course w/ 15 foot gap jumps (which I wussily rolled) and steep loose off-camber sections. In the end, two guys, Scotty KJ and myself, riding 4" travel 26" Trek Top Fuel battled it out for first and second. Scott bested me with time of 3:01:27 vs my 3:01.42... yep, .15 seconds! That is DH racing and Scotty is a wicked fast rider when things get gnarly. There were some comments after about a baggy short (long travel, pads, full facemask) podium and a lycra podium, but I say let the course dictate the winner!

Sunday was the XC at Du Lac. It was a smaller field due to the Rusty Ride pulling some racers away, but that did not diminsh the fun to be had on the tough stuff at Du Lac. The start was a climb straight up the ski hill...an ideal start to an XC race. There was no fighting for position, no drafting, just watts/lbs. While the climb wasn't particularly fun, it was hard and allowed most racers to have their own look at the "Duluth Style" XC singletrack (definition for Duluth Style: very tight but you always fell like you could use more travel due to all the bumps, roots and rocks) that started at the top. Jesse, Owen Thoelle, Kevin Ishaug, and Paul Hanson let me pace them up the hill. I bounced around a bit after getting the hole shot before I found my groove. Getting in the flow of the trail up there is paramount for fast racing. The rest of the race went something like this for me: pedaling and pain as we went straight up the hill each lap, and fun, fun, fun as I turned my suspension to squish mode and rocked out on the singletrack! I ended w/ a pretty big gap of about 5 minutes, which is a sign that some unintentional long hours of riding over vacation might actually turn in to fitness=)

To summarize the Du Lac weekend, the facilities and trail there are growing very quickly. This could soon be a mountain biking destination. The racing itself included a little bit of everything, and the race directors and volunteers did a great job making my and the other racers weekends very enjoyable!
Results


Riding the Rusty Red

Rebecca Sauber made trek to central Minnesota to compete in the Rusty Ride, a mix of snow mo trails, forest roads and the popular singletrack at Cuyuna.
The Rusty Ride was a complete blast! I can definitely see why they came up with this cute name for it. By the end of the race, your bike and body will have the most beautiful "spray tan." Currently, there are 25 miles of single track in Cuyuna! The Rusty Ride had a 26 mile race, 50 mile race, and the 100 mile race.

I raced the 50 mile race. The race was 2 laps which consisted of snow mobile trails, grass, paved roads, and single track. The single track in Cuyuna is second to none. The ground is comprised of small pieces of iron ore and it is really red! The race was lead out by a police car from the Ironton-Crosby. We then hit the snow mobile trails and the race was off!

My favorite part of the race was "Miners Mountain." Miners Mountain was a good climb and then it overlooks a crystal-blue iron ore lake. If you have not ridden at Cuyuana, it is a must! Congratulations to all of the racers and thanks to all the super volunteers and sponsors!

My brother in-law Larry Sauber told me about this race and I am glad I did it! Congrats to Larry for placing 2nd in the 100 mile race!
Rusty Ride Website


Leadville 100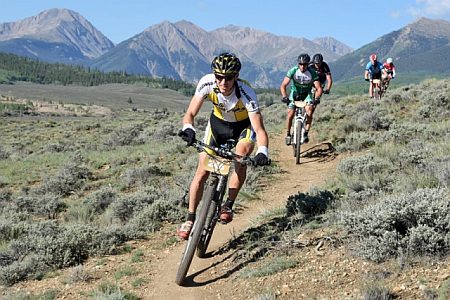 Kevin Kvalsten was one of a handful of Midwest riders to race the Leadville 100 and just posted a nice blog entry recap on the Freewheel site that is a good read (photo: Freewheel).
Looking Ahead
Seeley, WI is host to the popular Seeley Lions Pre-Fat, a nice little tune up for Chequemegon 40 -- which is fast approaching. Four different course options with great prizes and a nice option for a weekend of riding and racing on the great network of CAMBA trails.

Northwest Minnesota is host to two events this weekend: The Flugly on August 25th in Moorhead, MN and the Blacks River Crossing in Wadena on the 26th. We've been talking to riders associated with the courses and they have been working hard on course enhancements including berms and flow improvement. We've ridden both areas and anyone making the trek to check it out will not be disappointed!

WORS goes back to back, heading east to the Green Bay area for the Reforestation Rambler. Ramble is definitely a bit different than the rest with longer laps containing a nice mix of singletrack, double track...and the energy zapping rolling hills that have become a must have feature of the Reforestion Ramble. The laps are fast, the singletrack flows, the double track is wide open...the speed trap will be in full effect and pack racing may just be the ticket...if you can hold on to the wheel in front of you, reports race organizers.

Keep the wheels moving!
About the author...

Jay Richards maintains a very active lifestyle. He somehow finds time between managing a full-time resort (Maplelag) and bringing up a family of four boys with his wife Jonell, to compete in both mountain bike and a few cross-country ski races. Jay rides for Maplelag Resort, manages the Maplelag/Paramount mountain bike team and enters his 22nd year of racing and promoting mountain bike races.