Junior Nationals Recap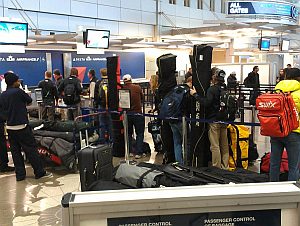 Our trip to Junior Nationals this year began unceremoniously and rather chaotically, when a group of more than 60 piled up in front of the lone, and most certainly mortified Alaska Airlines check-in attendant. But a few hours later when we boarded a plane that would eventually take us to Seattle, things seemed to be a little bit more official. With everyone in full team regalia and coaches checking names off of lists as we boarded, everyone could tell that something big was getting underway. However, not very many of us knew how big that week would end up being for the MW team, and how proud we would be when it ended.
We landed in a bitterly cold, and very quiet Fairbanks a little before 2 AM on Friday the 8th of March. When we arrived at the hotel around 3 o'clock, the hotel staff was surprised to see us, and had conveniently misplaced most of our room keys and reservations. Despite the troubles we made it into our rooms a little bit before 4 and even with the wild time change we had experienced, everyone eventually fell asleep. When we awoke later Friday morning we had our first team meeting, which set a tone for the upcoming week's competition. Our head coach Reid Lutter and the rest of the staff made sure we understood the rules, and then got us fired up to do some racing. The next few days were basically just easy skiing with everyone previewing their respective courses for the opening event, the individual start skate race.
I was nervous about the skate race for a few reasons. First off, individual start distance races had not been going consistently well for me this year - sometimes a good day would come, but it seemed like more often than not, they were bad. Though there were probably a lot of reasons for that, it was not any easier to convince myself that this would be a good day unlike the rest, and it was some great coaching from the Midwest staff that got me in the right state of mind before I leapt out of the starting gate Monday morning.
The Midwest started out the junior nationals with a bang when in the first race of the day Ian Torchia of Rochester, MN, brought home the gold! His 4th place finish behind 3 Norwegians gave him the American championship, and the J1 boys their first All-American of the trip.
The OJ boys were next, and as the 2nd distance seed, I was due to start 30 seconds in front of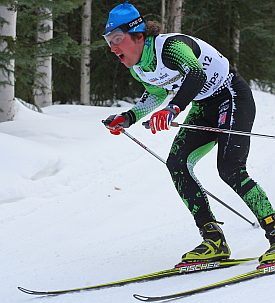 my great friend and chief competitor Logan Hanneman. I knew that because he would be able to chase me the whole way, I needed to try and get away from him early in the 10k to deprive him of that advantage. And early on, that's what I did. Through about 7k I held a 5 second lead over Logan, but as we made our way up the last big climb on the course, the wheels really started to come off and I began the agonizing process of bleeding time. By the time we reached the top, it was effectively over, and Logan had about a 15 second lead on me, which he only added to, before crossing the line 22 seconds ahead of me, bumping me down to second place. I can't say I wasn't disappointed, but when you go out and execute your race plan as well as you could, you have to be happy with the result. Alayna Sonnesyn also captured a national title that day winning the J1 girls race! In addition, the Midwest had Jan Ketterson, his brother Zak, Niki Reker, Rocci Wohlk, and Vivian Hett capture All-American honors for the day.
The second race of the week was the 3x3k classic relay. I was very excited for this race because over the years, my friends and I had always talked about finally winning a team race, and since this was our shot we desperately wanted to do so. Unfortunately not everything always goes as planned, and on the first leg of the relay the Alaskan scramble man Forrest Mahlen (my good friend from our European adventure) pulled away from the field and gave AK a gap it would not give up for the rest of the race. There was a strong race for second however and Chris Parr and Jan Ketterson skied two incredible legs and tagged off to me in 4th place about 20 seconds down on 2nd. I went out in a little bit of a rage, and caught everyone in front of me with the exception of the Norwegian team who stayed with me, and started to close on Logan and the AK team. On the final hill, I pulled away from the Norwegian and began to coast down the finishing stretch as Logan had already crossed the line first. Unfortunately, I broke the cardinal rule of finishing, which is POLE THROUGH THE LINE and the Norwegian ended up beating me by .08 seconds. However, as they were both J1's and guests, we finished 2nd on the day,providing my second silver medal in as many days.
The rest of the Midwest had a great day, with both J2 teams turning in 4th place finishes, the J1 boys finishing 6th, the J1 girls scoring 3rd, and the OJ girls taking 9th!
The third event of the week was the skate sprints. The qualifier went well for me, and I won it by 2.5 seconds over Logan, with 3rd place another 2 seconds back from him. Though we qualified early in the morning, we had heats scheduled for the evening, and most of us went back to the hotel to relax. The J2's went first, and we sent 5 women to quarters, where Rocci Wohlk eventually won the B final! The J2 boys also sent 5 to heats, and Zak Ketterson ended up 4th in his respective B final. The J1 boys qualified 5 for the heats, and unfortunately none made it out of quarters. The J1 girls were the stars of the day, sending 11 athletes to the heats! Kaley Shagen led the way in the end with a 5th place finish. The OJ girls sent all 3 members to the heats, and Niki Reker won the B final!
The final races of the day were OJ men's heats, and they didn't get off to a great start. In my quarterfinal, around an icy turn early in the race, an AK skier took an ill-advised line on the sheer ice and fell directly in front of me causing me to come to a dead stop. Somehow I was able to fumble around him and kill myself to get back up to rest of the pack and win the heat. Despite some awesome racing, none of the other 3 MW OJ's made it out of their quarters. My semi was far more routine and in line with what I had hoped for as the group took the sharp turn slowly and safely and then I skied away from the pack. I now only had the A-final left, and I was really excited because I truly believed that this race was mine to lose. As we blasted out of the gates, I knew that the turn would again require the utmost respect and began to take it slowly. At the last second the skier in front of me Tucker McCrerey of RM tried to cut inside and wiped out just as the Alaskan had done in my quarter! This time I was a little bit more prepared and managed to just step around his sprawling skis. From there on in, I knew I needed to go do everything I could to lose Logan before the final drag race in the flat 100m finish. The two of us left the field far behind as we went over the top of the course and headed into the finish almost dead even. When we hit the flats, I gave it everything I had. We hit the line simultaneously before crashing over from our boot throws.

It was a solid 20 minutes before the official verdict was in, and when it came it was crushing. Logan had beaten me by the length of 1 pixel on a computer screen. Though I was excited for my close friend to get his 3rd gold on his home course, I was disappointed to feel like I had lost yet another race. My coaches and teammates, made sure I didn't keep that negative mindset, and by later that night I had managed to refocus myself on the final race... the 15k classical mass start.
The Midwest had another killer day in the mass start classical racing, with the J1 girls placing 6 in the top 10 and 8 in the top 15 of their race, the J1 boys placing Tom Bye in 10th for All-American honors, the J2 girls with Rocci Wohlk topping out at 8th, Nora Gilbertson leading the OJ women in 16th place, and Zak Ketterson getting a silver medal in the J2 boys race.

The OJ boy's race was 15k, 3 laps of a grueling 5k course that had a lot of climbing in the opening 3k. The first two laps were very lackadaisical because anyone pushing the pace early was sure to fall off it late. Though the pack dwindled down to 8 men, no one was doing any real work until we began the 3rd and final lap. Logan and I had been waiting all race to make our move, and on the final pitch of the largest climb in the course we began to move, separating ourselves from the rest of the field. After that it was a two-man race for the last 4k. I was aware that since this was his home course Logan knew when to attack and move on the course, so I marked him, and made sure he never got any gap on me, because I believed that if we hit the final hill together I could outsprint him.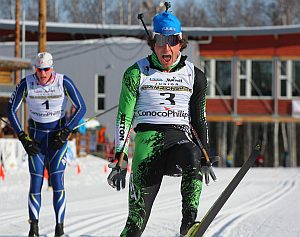 He worked hard to drop me on all the remaining climbs and came close once, but I could tell it was hurting him as much as it was hurting me, and managed to stay in contact the whole way. Right before descending into the final uphill, I took a few hard double poles to get in front and never looked back, when we rounded the corner, I punched it hard managing to gap Logan by about 5 meters. I never let up and when we hit the finishing lanes, I remembered to pole all the way through this time and when I crossed the line I had finally won my gold medal. After 3 agonizingly close second places, I had finally executed my race plan to completion and come out on top - for my coaches and I there was no better feeling! The only thing greater was turning around to see my close friend Chris Parr finishing in a career high 6th place. We had worked together so many hard summers to get here, and we had both skied our best races yet.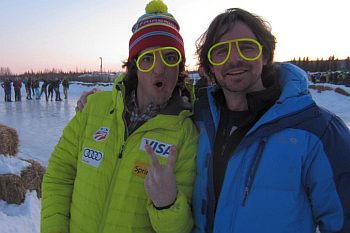 The week ended with a rather glorious banquet/bonfire/sledding/ice climb/wild dance, that doesn't need to be covered in too much detail with the exception of this wonderful picture of me and head coach Reid Lutter right before the dance, and this video of us "sledding".
I think the one thing I really learned from this week, was how important it is to have a great support around you. For example, we had an awesome cook with us (Doug) who made sure all of our meals were ready and hot and that we had as much as we could eat so we were ready for the races and didn't have to worry about food. We also had techs that gave us wicked fast skis every time, so we never had to worry them. My roommates always kept things interesting and light, and the whole Midwest team gave me a final Junior National experience that was better than any of the others. And every time I ever had doubts about my racing, or questions on strategy, I just went up to Reid's room, where any number of coaches (especially Reid and James Keyes) would spend time talking to me, getting me fired up, and thinking about the right things for the next race. These all seem like small things, but people underestimate how much a sense of family bolsters a team. The fact is, there is no foundation, no secure ground, upon which people can succeed today if it isn't a family. If you don't have the support and love and caring and concern that you get from a family, you won't succeed.
I was so proud to be a part of a team that finished 3rd place in the AK cup, aying a MW team's best placing (2011) since we last won in 1998. I will miss all of you like crazy, and you don't understand what these last 4 years have meant to me, I know you guys are all going to go on and do great things, just remember to stay a family.
Right now, I'm writing in Alaska where I've been staying with Logan and his family before I head out to the Olympic venue in Whistler BC for Canadian nationals! I fly out tomorrow, and I'll be checking in when I get there... till then, see ya!
About the author...

Minnesota State high school champion Ben Saxton, along with fellow Minnesotans Jan Ketterson, Zach Goldberg, and Jake Brown have delayed entry into college in order to chase their dreams of being the best Nordic Ski racers in the country. They are living in the northwoods near Hayward, training under the guidance of Bill Pierce, FAST Performance Training. Ben Saxton will be sharing his experiences this season as he trains and races across the country and hopefully the world.

Additional: Zach Goldberg's blog