Midwest MTB Racing Report
A relatively quiet weekend past with just a few events going. Once again Mother Nature made things wet on Sunday limiting mountain biking opportunities but Saturday was as good as it gets in the Crosby area for the cross country event as part of the Cuyuna Mountain Bike festival. This weeks report includes a recap from Cuyuna and a look ahead to already the middle of June!
Cruising Cuyuna
It has been a busy spring and not much time to race the mountain bike even though I have been riding whenever possible. I was stoked to see Buck Hill race #1 in the Minnesota series but a very late winter forced race organizers to move the event to later this month. Missing out on the first two MNMBS races, I finally had a open window to head over to Cuyuna for the cross country race on Saturday which was part of the Cuyuna Mountain bike festival.
The temperature never reached over 70 this past week locally but Cuyuna would be granted a perfect day of racing under mostly sunny skies, temps in the mid 70's and a perfect riding condition thanks to recent rain tacking the surface and leaving no hint of any dust on the oranglike surface. There were three races, a one lap beginner race, two laps for Sport of the same loop and a two lap race for Experts that include some additional technical sections.
I met up with Jake, who is working and training in Duluth this summer, and we were set for a fun hard ride on the Expert course. All racers met in the Crosby park and had a controlled rollout thanks to the Crosby police. Once we made it to the trailhead, there was a quick racers meeting highlighting the particulars of the course. The start was wide open and followed along fast rolling double track before cutting in to the purpose built singletrack. The selection was pretty much set once we hit the singletrack.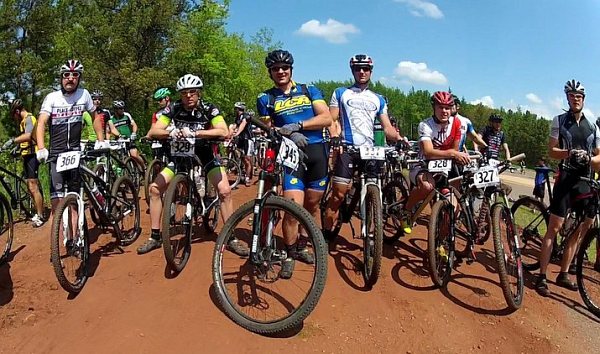 After slicing and dicing the first section of tight and twisty we popped back out on a service road and came to a intersection that had one arrow pointing right but a handful of riders including Jake and I went left. Going farther down the road left were the Bacso bros, Kasey and Mason, who would ride almost a half mile before turning around, loosing 3-4 minutes and eventually worked their way back up through the field to finish in the top five and see the winner cross the line on the finishing stretch. Once we were on course proper, Jake and I rode pretty much the entire race together, taking turns pulling each other through the course having fun riding hard and enjoying the sweet flowing singletrack.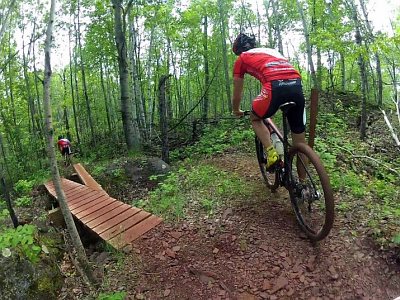 Cuyuna isn't super tight and technical like "raw" singletrack but at race speeds, everything comes at you quicker and there were many places riders were "flying" off course.
Overall it was a great morning of racing and good to see familiar faces. Big hats off to the race organizers and volunteers for pulling off the event.
Race to Sunset
There wasn't much sun action in the Race to Sunset in Bismarck this past Saturday and unfortunately rainy conditions caused the calling of the race on Saturday leaving riders short. Steve Wenzel provides a report:
9th Annual Race to Sunset is always a well attended ND event that never disappoints. The course is a 3.8 mile loop of single track on the SE corner of Bismarck – great location!
The weekend starts out on Friday evening with a TT style race with riders going out at 1 minute intervals completing a modified race loop as fast as possible. Local Fargo rider Zach Johnson topped out the podium at 13:02 on a fast dry course primed and ready for the big 10 hour event starting at 8:00am Saturday morning.
The options are many for teams or individuals to participate. 10 hour team, 10 hour single, 5 hour team, 5 hour single……something for all riders and abilities.
Friday nights radar was green in eastern Montana with a wet Bismarck forecasted for Saturday. The forecast held true with a wet course Saturday morning. The lemond starting first lap riders came through the start/finish with bikes packed with mud and grass and reports of slippery conditions throughout the course. The skies held back the rain, and with each loop of riders, the course was packing and tacking up nicely. By the 4th and 5th laps, bikes were coming through with clean drive trains and minimal mud – things were looking up with much better conditions and faster lap times.
4 hours in, the skies looked grim and it again started to rain. Riders going out were met with a packed course that was not taking in any additional moisture and the single track was more or less a stream of water. Crazy conditions!
Mountain biking is an all condition event, but with over 100 riders riding in the rain, ripping up the course, the organizers decided to call it a day. This was a first time in 9 years that shutting it down happened, the weather typically is ideal.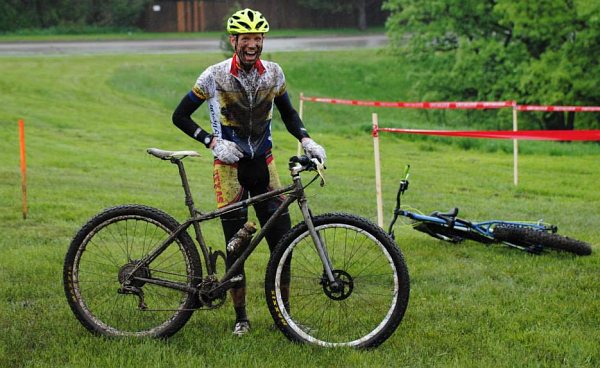 The day concluded with adult beverages, great food, swag and good conversation with like minded people. Nathan Kupfer and crew deserve a thumbs up for a well organized and enjoyable event.
See you at the 10th annual next year. (Photo: RTS)
Looking ahead
Attention kids of dirt! The Loppet Nordic Racing (LNR) program is in the middle of their weekly kids series featuring ideal distances for kids in the 8-13 age bracket. Next race is June 12th with a short track race at With Beach. YES...short track racing in the cities!!! Brilliant idea and would be great to see a mid week short track series evolve in the cities.
The Sisu foundation is starting up a brand new MTB program based at the Elm Creek bike park in Maple Grove. During the sessions coaches will go over many different aspects of mountain biking from technique development, to racing strategies, to training methods. The program will run from June 24-August 14 and the sessions are run on every Monday/Wednesday from 9:30 to 11:30.
The Wisconsin Off Road Series resumes this weekend with the Battle of Camrock held at CamRock Park in Rockdale, WI. The trail system at CamRock is a blend of wide and fast flowing single-track that runs through open fields of prairie grass, wooded single-track with bermed turns, and more technical single-track with a touch of roots and rocks. The Battle of CamRock's course contains some great downhill sections that will have you begging for another lap. The 2013 course will add 1.5 miles of super fast, wide double track, according to race organizers. One of the longer courses in the WORS schedule.
IMBA Upper Midwest Regional Summit
The third annual IMBA Upper Midwest Regional Summit will be hosted by the Chequamegon Area Mountain Bike Association (CAMBA) on June 15 and 16 in Cable, Wisconsin.

The summit is an annual gathering of mountain bike leaders from around the upper Midwest states. Previous summit sites have included Copper Harbor, Mich. and Cuyuna Lakes, Minn. The summit provides an opportunity for IMBA chapter leaders and members to share information and best practises, gain insights into the latest developments in the sport, and ride the local trails. IMBA regional director Hansi Johnson notes, "Camaraderie is also one of my goals – to get our regional folks together and share their passion for the sport."

This season the Summit wil be focused on IMBA chapters and clubs looking to become chapters. All other clubs or individuals feel free to contact IMBA Midwest Regional Director Hansi Johnson if you are interested in attending. About 30 to 40 participants are expected to attend the summit.
Elm Creek Mountain Bike Team 40/40
Elm Creek near Maple Grove, MN will be host to a 40 mile mountain bike challenge, time trial format, with up to three person team. Date of event is June 29th.
Reminder if anyone has any information they would like posted or would like to share a race report, feel free to send to or
Keep the wheels moving!
About the author...

Jay Richards maintains a very active lifestyle. He somehow finds time between managing a full-time resort (Maplelag) and bringing up a family of four boys with his wife Jonell, to compete in both mountain bike and a few cross-country ski races. Jay rides for Maplelag Resort, manages the Maplelag/Paramount mountain bike team and enters his 23rd year of racing and promoting mountain bike races.