Midwest MTB Racing Report
With series racing in Minnesota and Wisconsin taking a short break, many local riders were waving the flag as the away team, if you will, hitting up "epic" events in the Midwest and well as a few riders venturing west and east. This weeks report includes recap from Leadville 100, The Rusty Ride, Ore to Shore, the World Cup at Mount Saint Anne, Canada and a look ahead to possibly one of the busiest weekends of the summer.
Mike Berkopec made a return trip to Colorado to take on the Leadville 100 and provides a full report with interesting commentary on a Midwest connection:
Over the past few weeks, Colorado was suffering from daily rain storms and Saturday was expected to be the same. Rain coats were part of every rider's kit on the morning of race day. Turns out the weather was perfect, no rain, 35 degrees at the start with beautiful sunshine and little wind at 12,500 foot Columbine Mine turnaround. A new course record was set with an average speed of over 16 mph despite over 13,000 feet of climbing on rutted dirt with loose rock downhills, wow! For me the race was a "been there done that" sort of thing. I experienced the three biggies: the Columbine climb, the power line push at mile 80 (and beyond) and the satisfaction of riding the red carpet in Leadville. I went "independent", no crew. The aid stations looked like quite a party for crews and spectators alike, I assumed they were all cheering for me.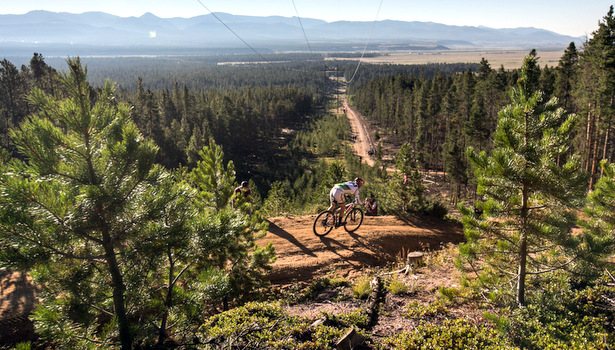 As to Minnesotans, the results list does not shown State so I can't give an accurate count, but their were "signs" throughout the day. A lot of Freewheel jerseys in the race topped by Kevin and Adam riding a tandem to an 8:36 super fast time. A special thanks to the Freewheel spectator who called me out in my Silver Cycling jersey a few times. He said the race was "just like Buck Hill". Then, on one of the pavement sections (yes, a very roadie friendly course), I tucked behind this HUGE guy with a MN State High School league jersey from Lakeville. I also saw a lot of Lutsen99er bottles out on course. My mysterious friend with the Flanders jersey was also there, someday, I am going to get his name.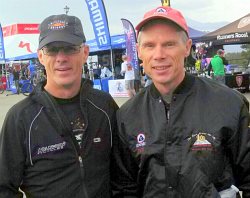 I did spend time with one transplanted Minnesotan before and after the race (he is the guy on the right next to me in the picture). Phil Schweizer grew up in Minnesota and moved to Colorado Springs about 20 years ago. He runs a company call
Koobi
saddles. It's a high-end saddle with some unique comfort features yet always race ready. You old timers may remember Phil as a monster on the high school cross country ski scene when classic was the only way to fly. He has completed 25 Birkies and this was his 17th Leadville 100! He makes the 50 plus crowd proud. Phil coached me pre-race on the in and outs of the race and it really helped. I recommend all first timers find a good veteran to help you understand the how the race works. Big confidence builder. He finished in 8:31, yet waited around almost 3 hours for me to finish. He also had a flat (when you see him ask about his "super secret" method to repair a sidewall cut without removing the tire), 8:20 next year - Phil.
The race is a big challenge for us mid-pack guys, but the experience was well worth. Do it or the do the Silver Rush 50 a few weeks earlier, both will provide any flat lander some great memories - and a t-shirt. By the way, I used
AirBnB
to find lodging and stayed with a great family in Minturn, CO. Nice, small town, just south and east of Vail. The real race up front was a slug fest, power meters on mountain bikes, See
velonews
for more.
(Photos: Mike Berkopec)
Cuyuna was host to the Rusty Ride, endurance racing which was highlighted by a 100 mile event. Greg Ames reports:
I signed up for the 100mi Rusty Ride thinking it would be a nice warm up for the MDH 100 coming up next weekend. The Rusty Ride course is comprised of 25mi laps starting in Ironton and looping through the Cuyuna trail system.
I lined up for the start with 40 or so other 100 milers, shuffling to the back of the order so as not to look like I had intentions of living up to the #1 bib number I was assigned. It takes 3mi or so of meandering out of town and onto gravel/double track before you hit the first singletrack bottleneck. So the start was pretty mellow, essentially a big group ride as people settled in for a long day.
That first singletrack section (Boot Camp Trail) is a mile or so long and strings out the pack, dumping us out single file for the long section of paved bike path and streets that connected the western section of the course in the Sagamore Unit from the main trail system. This section was roughly 6mi of mowed field and service road twisting around in a 3/4mi by 3/4mi area of the park north of the Sagamore Mine Lake. Living in Fargo for a while now I've not felt the need for a dual suspension bike, heck this is the first season in nearly a decade I've even run a suspension fork. But it's thumping through mowed fields like this where I think, yeah I'd like squishy bike right now.
After looping through the Sagamore section it's back to the street and bike path to return to the main Cuyuna trail section. The course did a great job of stringing most of the loops in this area into a long continuous section. If you've never ridden at Cuyuna this race would be a great opportunity to become familiar with that section of trail. That blissful 7-ish miles of singletrack leaves you back on the road into Ironton where you loop through the park and start/finish.
Crossing the line I only had 20mi on my GPS, and found myself starting lap #2 with no riders visible ahead of me, and a single SS'er that I passed on the pavement into town behind. So I spent the first 10mi of the course wondering if I had cut the course somewhere on the first lap or if Garmin was just out to lunch. It wasn't until the swichbacks and two way traffic sections in the Sagamore Unit that I was able to verify that the folks I knew were ahead of me were still ahead, and the same for riders that I knew were behind. I felt pretty good on the second lap, settling somewhere behind the lead group and the smaller group of strong riders who despite all the pavement were keeping pace on single speeds and fatbikes.
It was the 3rd lap where I came a bit unglued and started cramping up. I had to soft pedal much of the paved section, and crawled through the Sagamore Unit trying to get my legs back underneath me. On the pavement run back to the main singletrack unit my legs had only gotten worse despite my efforts to recover. With 10mi to go on the 3rd lap I decided that I'd quit at the end of the lap. I gave up on trying to recover and pushed hard in the last section of awesome Cuyuna singletrack, finishing the process of ruining my legs. I was able to really enjoy that singletrack section, and feel a *little* bit better about quitting since my legs were totally locked up by the time I crossed the line to not start lap #4.
So a poor showing results wise. But the event served it's purpose for me as nice safe shakedown run for the MDH100.
One of the "triple crown of mountain biking" events in the Midwest, the Ore to Shore, took place under premier conditions in the U.P. of Michigan. Hard Rock 48 winner Jenna Rinehart provides a quick recap.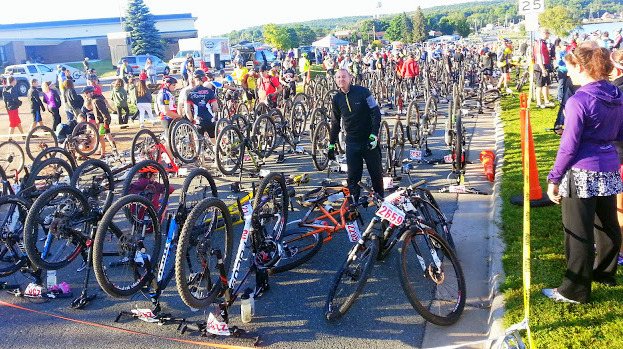 I'm very excited to have taken my 4th win at Ore To Shore this year. I haven't had a chance to race as much this year because I've been busy with the bike shop so I wasn't sure how I would do at the race. I had a great start and did my best to try and find a fast group of guys to ride with. There was one crash in front of me as soon as we hit the dirt that forced me off my bike for a bit but I did my best to stay calm. After we went through the town of Ishpeming I crashed while riding next to the railroad tracks. I unfortunately lost the group that I was riding with and started to panic a little. I figured Susan and Diana were close behind. After the race I found out that many of the riders behind me were forced to stop and wait for a train that apparently didn't know we had a race going on. I got back into the flow and eventually found another strong group of guys that I was able to ride with to the finish. After the finish I headed across the street to a nice sandy beach on Lake Superior. Doesn't get much better than that!. If you haven't had a chance to do this race I definitely recommend adding it to your calendar! (Photo: Dan Dittrich)
Bill Lane of the Gunflint recaps his version of the race on his website.
World Cup Mt Saint Anne
Wisconsin rider Joseph Maloney found himself at the start line in Quebec Canada for the Mount St Anne World Cup race, unfortunately he came down with a bug putting him not at 100% but he still gave it a go.
Bike Duluth has updated their website highlighting the numerous mountain bike trails and recommended road routes in the Duluth Area. Although I am a hard core mountain biker, I do log some miles on the road and earlier this summer I had a chance to ride the Lester River Road up to Strand hill, a popular cat 4 climb used by Nordic skiers for roller skiing workouts. It was a dandy and of course the descent down was a blast.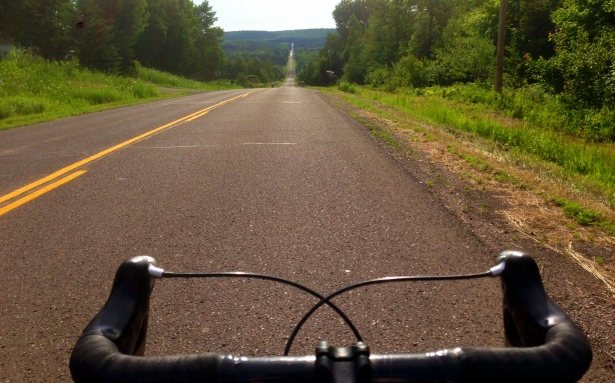 Looking Ahead
Wednesday night racing at Maplelag
Things are looking great for the upcoming Laddies Loppet stage race at Maplelag. This Wednesday we will be hosting a low key race on the Sport/Comp/Expert loop at 7pm, meeting at the trail head. The mileage on this years lap is around 7.5 miles including the infamous lakeside drops and the popular new twin lakes singletrack. A mass start will send riders quickly to the first lakeside drops in less than a minute!
Race organizers call the MDH 100 one of the "baddest and raddest" place and course in the country. Indeed the singletrack is demanding and talking to participants who have begged this event put this at the top of the list as one of the toughest endurance events around. (Photo: Greg Ames)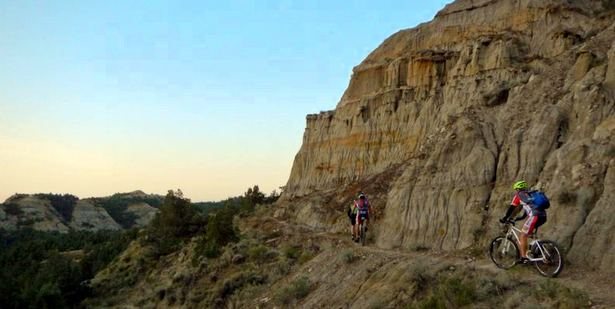 The popular Gear Grinder held at the Pipestem Dam just outside Jamestown, ND takes place on classic rolling prairie singletrack with challenging wooded sections in the coulees. A most demanding course will leave ever rider satisfied in the pain cave. Anyone up for racing more prairie singletrack after the MDH 100? (Photo: Gear Grinder)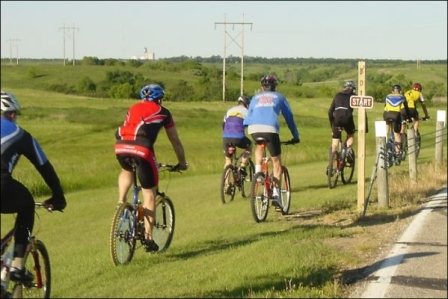 Not only will there be the series cross country race on Sunday at the Mon Du Lac ski area but the Dirt Spanker classic will also be hosting the State Championship Super D, the Dirtspanker Super D, on Saturday. The Super D will be day of registration and the cost is only $10. Registration goes from 8 am to 11 am and pre-riding is 9-12:30. Races start at 1 pm and there will be cash pay-out to the top 3 places. The cross country course is a five mile loop that consisting of leg burning climbs, screaming decents, and Mont Du Lac's trademark rolling singletrack.
Held at the Rock Sports Complex outside Frankling Wisconsin, the Classic features a burning climb right from the start, dizzying single track, and fast fire roads all in the urban setting of Milwaukee County. The Alterra Mountain Bike Team proudly presents a true mountain bike race.
Keep the wheels moving!
About the author...

Jay Richards maintains a very active lifestyle. He somehow finds time between managing a full-time resort (Maplelag) and bringing up a family of four boys with his wife Jonell, to compete in both mountain bike and a few cross-country ski races. Jay rides for Maplelag Resort, manages the Maplelag/Paramount mountain bike team and enters his 23rd year of racing and promoting mountain bike races.