Interview: Ian Torchia
November 10, 2013

For many junior skiers last season, the name Ian Torchia seemingly came out of nowhere to appear in the top of the results during the Junior National Qualifier (JNQ) races. Here was a kid from Minnesota yet most of the skiers had never seen his name in any of their results. As explained last year, Torchia lives in Rochester and does not have a high school program for which he can easily compete under. Thus he races primarily in citizen and JNQ races throughout the season.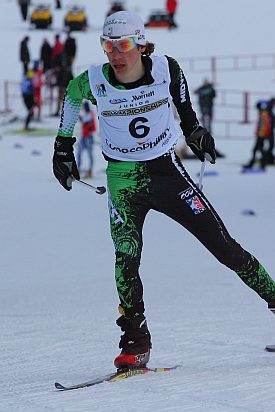 While some in the Midwest were surprised by Torchia last season, it was his Junior National performance that completely rocked the rest of the skiing nation. In his very first Junior National competition, Torchia lived up to his nickname, setting fire to the boys J1 field. While the results show three J1 skiers above him, all of those were special Norwegian guest skiers (and some of the best from Norway). Torchia finished within 11 seconds of them, and nearly 15 seconds faster than any US J1 skier. It was a truely impressive and inspiring result.
Torchia, now a senior in high school, has been busy this "off-season". He recently completed the cross-country running season, competing for Rochester Lourdes. In the State Meet a few weekends ago, he battled at the front of the race and finished third overall in the class A event.
We recently submitted a series of interview questions to Torchia...
While the Norwegian skiers at Junior Nationals last season might have stolen some of the spotlight, it was a huge achievement winning the boys freestyle J1 division title in Fairbanks last March! For many, you were an unheralded skier who shocked the entire field. Can you take us back to that race -- what worked, or what clicked, that helped you have score that enormous win?
For me, it was the perfect race. Everything came together at the right time and left me with a result I didn't ever think was possible heading into Alaska. I've never had such fast skis as that day so props to the Midwest wax team for working hard to provide that for everyone that day. I was literally one ski on the trail one ski off the trail on a sketchy downhill corner due to their ripping fast wax job! Another big factor was praying the Rosary the night before with Dan Delestry as we asked for strength from God for the race...really a special moment for me to share my faith with someone and I defiantly think it factored into feeling the best I've ever felt during a race the next day. Of course, a hilly uphill individual 10k skate race plays to every single one of my strengths so I was extremely lucky to have the format of race on that day. I just love individual starts and the struggle you have to endure for each one, so needless to say it was the most excited and nervous I've ever been before a race! One of the best parts of that race was on the second lap when the coaches realized I had something going and they started jumping up and down and screaming from the top of the long climb. Through my pain-filled vision to see them going nuts really got me up that hill and through the pain of the rest of the race! Collapsing after I finished, I knew I had given it all and that's all you need to be happy with your race. To later be coming out of the bathroom and have someone run toward you and say, "Ian, you're a national champion!" was surreal to say the least! To have my mom there in Alaska watching made it even better...I swear she had more fun than anyone else there! (Driving around in her rental truck she would get back to the hotel at 3AM after chasing the Northern Lights halfway up Alaska!) But what "that one Monday" really opened my eyes to was the support from the Rochester ski community to my development as a skier that allowed me to be where I am today. For that, I am so grateful.
How about your equipment -- there were rumors that you were getting upgraded equipment in the weeks or days (or even hours?) just before Junior Nationals? Can share some details? (And did you get new equipment this year?)
Before Alaska I stopped by Gear West to get my skis evaluated to see if I could ski on them for the next season. I quickly learned that both my skate (2 years old) and classic (my sister's and coach's) were ill-suited for my weight so I couldn't believe it when Lynne Cecil offered her skate skis for me to use and Jan Guenther her classics! Especially for Lynne, someone I was just getting to know, to offer her skis shows the true nature of the Nordic community. I ended up using Lynne's skis for the 10k skate and they were unbelievably fast -- so thank you again Lynne! I really can't put any blame on the various skis I tried using for the classic races as anything won't kick when you have bad technique! Thank you to Jan and Coach Poff (Andrew Poffenberger) for letting me use their skis for the classic races even if they weren't the best races I've ever had. I purchased a pair of Fischer classic and skate skis for this season and I'm really excited to see the results on skis that are suited specifically for me!
You and Alayna Sonnesyn were paired for the "date ski" the day before you both won National Titles -- any karma there?
Before Alaska, I only knew a couple of juniors from the Midwest, mostly from the J2 Maine trip the year before, which many of them set their goal for the next year as Alaska and made it! Everyone on the the trip was so welcoming and to meet people the same age as you with the same passion for skiing was an awesome experience. The date ski with Alayna was one of the highlights of the trip and when I saw she won I was so happy for her! I still think her dying the tips of my hair blonde (turned out orangish) made me ski faster!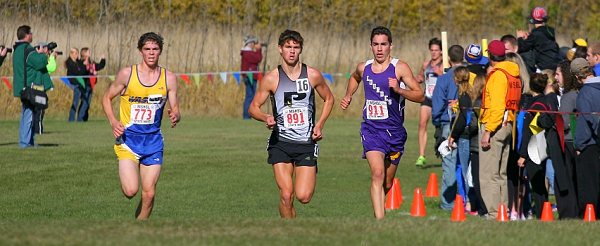 You've been busy this fall competing as a top-ranked cross-country runner (and the Torchia family has some great history there). Earlier this month you battled at the front of the boys class A field and finished third. What are your fall plans, especially for competing in some post-season cross-country meets?
To even run this season for Lourdes was a blessing as I didn't know if I would be able to after fracturing my hip growth plate at Sections for track last spring.
I'm taking some time off running and really focusing on skiing and regaining the upper body strength that I lost during the cross-country season. I'm planning on running throughout the Nordic season which is something I couldn't do last year due to (another) injury. I'm looking forward to seeing how it translates to added fitness during the season. I'll get back to running when I feel ready but I'm not concerned as Kenyans take a 2 month break at the end of their season to do absolutely nothing, and in their words, "get fat!"
Your situation is a bit unique in Minnesota, as your one of a handful of talented high school skiers that doesn't have access to an official high school Nordic ski team. You participate in some high school meets, and primarily JNQ and citizen races during the season. Any changes there this season?
The biggest change in my schedule is one I've been looking forward to and training for all year and that is competing at US Nationals. Loppet Nordic Racing (LNR) has been great in allowing me to jump on their trip and I'm really looking forward to competing with the nations best and hopefully surprising some people again. Of course I have goals for US nationals and the season but I'll keep those to myself for now. ;)
How did your summer ski training go, did you have any new activities or benchmarks?
This summer was the first summer I actually trained like a skier. I've never counted hours of training before (only miles) so it was interesting to see how many hours my body could handle before backing off. Because I couldn't run the first 2 months of the summer due to my hip injury I rollerskied more than I ever have before. I've found it interesting that for every running injury I've acquired (a lot) I've been able to ski through every single one of them. I take it as a sign from God that while my brother had gifts for running, He wants me to ski instead! I also did more ski related lifting than normal running core workouts which I found are a lot harder when you have your neighbor over to do them with you and you're laughing hysterically in the middle of your 17th V-Up! Due to my disappointment in my classic performances in Alaska, I classic rollerskiied far more than skate this summer. For every time I skated, I strided 3-4 times. I'm looking forward to seeing how it pays off this winter! Also the REG camp and especially the last FAST camp in Ironwood was the highlight of my summer. The REG camp was a good indicator of where I was with my training while the FAST camp was simply hard training, lots of core activation, and good times with everyone there. Rooming with the boys Zak, Scott and Sean was pretty great to say the least. While training with people is a heckuva lot more fun than training alone, I do enjoy training alone as I feel I push myself physically and mentally more solo. I find it pretty easy to get out the door for a 2 hour ski when you have someone there with you while doing that alone builds up your mental toughness. I was pleased with my summer training and how well the rollerskiing translated to running fitness when I eventually got back.
Where do you get most of your coaching - is it more self-directed, family advice, or some training program organization?
Most of my training consists of a grab-bag collection of knowledge from various coaches and people. For example, I structure my winter running plans based off what Joey Keillor (4:16 mile at age 40 = legend) advised with lower mileage due to my high injury rate with most runs in the 80% effort level while developing my pitiful lack of speed. I occasionally run with him and on speed workouts he drops me effortlessly while leaving me breathless on the recovery from laughing at his jokes.
For skiing, it's instituting what I've learned about technique every day on the trails. Usually I think up of a workout while driving to the trails based off my energy levels, and the workouts the days before and the days ahead. For me, it's about being creative and just getting out there and being consistent with your training. Just like with running, I like to keep the speed fast and the effort "medium" or 80% while attacking every hill for strength.
As a senior, the pressure on making post-secondary (college) plans is undoubtedly increasing each month. Any early thoughts on your career after high school?
As I write this, my mom (Trucker Tish) and I are driving up to Marquette, MI to visit NMU. I want to stay in the Midwest as being near my family is an important aspect for me. I'm also looking at St. Scholastica. While I initially ruled out running in college after Alaska, getting a call from the U of M coach makes me reconsider. But for right now, I'm planning on skiing in college and am very excited to follow that path!
I hope everyone has a great ski season and let it snow!
While he won't be competing at the Minnesota State Meet, watch for 'Torch' in the JNQ and National series this winter!