Birkie Trail Race Preparations
February 17, 2014

The new Birkie race director Ben Popp has his hands full these days, as the Birkie is rapidly approaching. We've been checking in regularly to get the latest on their trail conditions and grooming plans for the week.
Skiers, especially some of the most passionate Birkie skiers, love to fret over the exact trail conditions. And with warm temperatures in the forecast, and then major snow to follow, the anxiety levels skyrocket.
---
Friday Night Update
Groomers have been hard at work most of the day and expect to wrap up final race grooming around 3 am. Expecting some drifting near the start area and on Lake Hayward, but rest should be fine. With the low temps tonight, most likely the conditions will be soft and slow for the race, prepare for a longer than usual race and dress warm.
---
Friday Morning Update
The huge dump of snow and warm weather slowed grooming progress, but the groomers worked all night and have completed their first pass of the race courses around dawn this morning. They will be taking a short break, then expect to begin final race preparations starting at noon today. Grooming will then continue as long as it takes to prepare the best possible race conditions. Note: The race courses are now closed, both Birkie and Kortie, for final race prep.
Warning: High winds and heavy snowfall are making for extremely difficult traveling conditions. Please take extra precautions and alter travel plans as necessary.
---
Thursday Afternoon Update
5 pm update from race director Ben Popp: Groomers are out now - will groom until the snow stops.
Temperatures were just dropping back to freezing.
---
Wednesday Morning Update
As of Wednesday morning ....
The snowfall from Monday was groomed Monday evening. No grooming occured on Tuesday.
The warnings of major snow for Thursday are growing stronger as the NWS has issued Winter Storm Warnings for the region. Forecasters are call for 10-14" of snow by late Thursday night. As always folks, please adjust your travel plans and take additional precautions!
Grooming plan are as follows (watch for further updates)...
Wednesday: The trails will not be groomed until Wednesday evening. The groomers want to let the trails absorb some of the heat on Wednesday, and then plan to bring all five PistenBullys into action in the evening as the temperatures start to drop. This should help achieve maximum compression of the base, setting a very firm foundation for the expected snowfall on Thursday.
Thursday: Groomers will be at the ready on Thursday, watching the snowfall accumulations. Once snowfall totals have begun to reach several inches, all five PistenBullys will roll out for possibly a marathon packing session. The intention is to continue pushing and packing the new snowfall as it comes down. There may be some breaks in the snowfall, but quite likely the groomers could be on the trails from late morning Thursday until the early morning hours Friday, when the snowfall is expected to subside.
Friday: Assuming the snowfall wraps up early Friday morning, groomers will take a break after the marathon packing session. A final grooming is expected to begin late Friday afternoon, wrapping up hopefully early morning hours (well before dawn) on Saturday morning. This should give the trail system quite a bit of time to set up.
WARNINGS: The Birkie trail system officially closes to all skiers at 10 pm Thursday night. However, if you attempt to ski on Thursday, please be aware that there will be five PistenBullys on the trail, which could impede your skiing! And if the snowfall is heavy, visibility could be very limited, both for the groomer and the skier. Please try to stay near the trailhead areas, and take a very cautious approach while skiing, if you must ski on Thursday before official closure.
---
Monday Night Update
The Facts
- There is over a foot of firm packed base on the Birkie trail.
- The Cable area picked up 3-4" of new snow on Monday, which has already been groomed into the base Monday evening.
- Snow temperature measured on Monday morning was -2F!
Preparation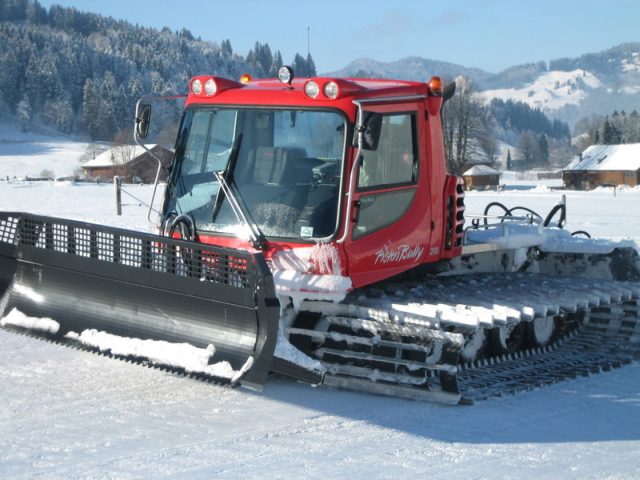 The primary goal of the race organizers is to provide a firm, solid base hopefully for all of the 10,000 plus skiers. Working to achieve that goal, they will have five, yes five, PistenBully groomers for bringing the trail to the final race ready conditions. This includes three PistenBully machines already in use by the Birkie, another former Birkie PistenBully now owned by CXC, and a fifth loaner from PistenBully USA.
As of Monday afternoon, grooming was planned for Monday night, Tuesday night, and if it snows Thursday, another passing Thursday night, and then the final grooming on Friday.
Note: All race courses will closed Thursday night at 10 pm for final race day preparations to ensure they can prepare the best possible race course!
The Panic
Forecasts for the Cable area as of Monday night call for temperatures in the upper 30s for Tuesday and Wednesday, then dropping back to low 30s Thursday, barely reaching 20 on Friday, and a race day high in the mid teens. In addition, there is some significant snowfall in the forecast for Thursday - perhaps as much as 6".
If you are at all panicked about a possible meltdown of the trail, you should seek out some professional help. With over a foot of snow, and less than 20 hours above freezing air temperatures, there is no way the trail will degrade in any serious manner. In fact, the warm temperatures could actually help to firm up the base, and if Thursday's snow is light (or none), should result in some transformed snow mixed in with the tilling to provide very fast conditions. With five PistenBully machines, it will not be hard packed or icy. For further comforting, read Maplelag head groomer Jay Richard's article on warm weathers and trail conditions.
---
As usual, stay tuned to the latest weather forecasts, and check back frequently on the Birkie trail page if you need reassurance.
Have a great race everyone!