Junior Nationals Preview
February 26, 2014

Junior Nationals this season seems to have almost leaped up on us, kicking off at the start of March instead of the more traditional mid-March timeframe.
Location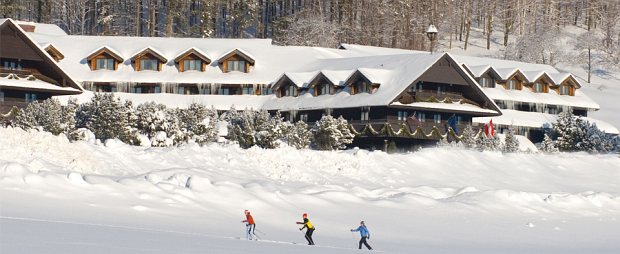 The 2014 Junior Nationals competition is being held in Stowe, VT, at the Trapp Family Lodge. Stowe is located about an hour east of Burlington, in northern Vermont, and is a very popular tourist destination. The Trapp Family Lodge is indeed related to the von Trapp family, made famous by the 'Sound of Music' movie and lays claim to over 60K of groomed trails and 100K of backcountry trails. The average temperatures for Stowe, VT, in early March is right around freezing (32F) for highs and nighttime lows in the single digits (but with the weather this season, all bets are off for those temperatures!).
Events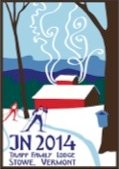 Junior Nationals officially runs from Saturday, March 1st, to Sunday, March 9th. The week is packed with events, including opening and closing ceremonies as well as parent events and citizen races. Of course, the core is the races...
Monday, March 3rd - Classical Races, Interval Start
Wednesday, March 5th - Classical Sprints (qualifiers, heats)
Friday, March 7th - Freestyle Races, Mass Start
Saturday, March 8th - Freestyle Relay Races, Mass Start
Review the full event schedule
Note: Perhaps some Junior Nationals (Junior Olympics!) diehards might be surprised by the terminology change that has come into full swing this season. A quick translation: J2 = U16, J1 = U18, OJ = U20, where Uxx means under the age of XX (i.e. U16, under the age of 16).
Midwest Team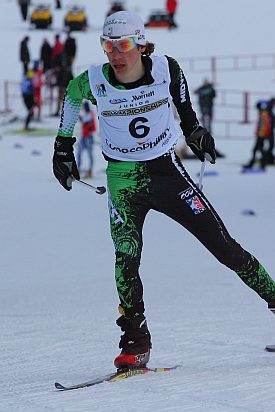 One of the best surprises last season was a pair of National champions in the freestyle races at Fairbanks. Ian Torchia turned a lot of heads as a relative unknown to many skiers and Alayna Sonnesyn showed her ability to peak for Junior Nationals. Both skiers will be returning to defend their U18 titles!
Over the past few years, the Midwest girls have proved to compete well against the best in the nation, and this year's field of U18 is one of the best. Vivian Hett, Mattie Watts, Alayna Sonnesyn, Rocci Wohlk, Caroline Brisbois and Anna French, combined with Allison Ternes, Margie Freed, and Erin Bolger could very well stack the top of the deck for many of the events. And we'll be looking forward to the final relays, where they should field at least two very competitive teams.
Both Mattie Watts and Vivian Hett were part of the exclusive U18 trip to Finland, and have been performing well all season, wrapping up their high school careers with first and second finishes at the Minnesota State Meet. If healthy, they should be in the mix for a podium placing along with Sonnesyn. Dropping a little younger, watch for U16 Hannah Rudd to pick it up again and be in the hunt for a podium spot as well.
On the boys side, eyes will be locked on Zak Ketterson and Ian Torchia. Ketterson, the Minnesota State Champ has been dominant most of the season, and Torchia, ineligible for high school competition, has been posting great times and an improved classical form. Both will be strong candidates for a step on the podium. Perhaps the biggest question will be which lucky fellow gets the draw to form the relay trio? Nick Gardner and Leo Hipp make the obvious leading candidates, but coaches will take in performances earlier in the week when making the final call. The boys also bring a strong U20 field, with the likes of Tom Bye, Luke Brown, Jan Ketterson, and Sam Elfstrom, and could field a top relay team from that crop, as well as a few individual medals. And it will be exciting to see how some of the rising stars in the U16 boys field shine against the national competition, many racing in their first Junior Nationals.
A big team like the Midwest's would be chaos without strong leadership. Reid Lutter has been the glue for years now, and is back in the role as head coach. He'll joined by Bonnie Fuller-Kask as trip leader. Leading the waxing crew, Chris Harvey (glide) and Bill Pierce (kick). The rest of the coaching field includes Ben Koening, Julia Curry, Jeremy Hecker, Deno Johnson, Dave Kask, and Nicole Lipinski, who will all be kept quite busy between leading training sessions, working with athletes and helping in the waxing trailer. Pete Zweig will be in charge of keeping the Midwest team fed this year.
Check out the full Midwest squad on the Midwest Junior National website.
Resources
Coverage
We're happy to announce we'll be on-site at Junior Nationals, covering the event for the fourth year in a row now! We plan to have photos and video from the major competitions, and hopefully a few trail reports and updates on the Midwest team along the way. Follow it all on this website, as well as our Facebook page.
Finally, big thanks goes out to all the parents and coaches that chipped in to help cover some of our costs, as well support from as the Midwest Junior National Committee and Maplelag Resort!