Olympic Heroes
April 21, 2014

Most of us watched some of the Winter Olympics and saw many of the United States best skiers competing on the world stage. In so many sports, these elite athletes seem so distant from us. Yet here is proof positive, if there ever was a doubt, that Nordic skiing has a fantastic community with so many of the US athletes as great ambassors, touching lives across generations, and in many ways that we never hear of. Craig Stolen allowed us to share one of these moments - a personal interaction with one of the incredible personalities involved in our sport, Sophie Cadwell ...
---
Thursday, February 13th
Dear Sophie
My 8 year old daughter, Siri, got up early to watch you compete in the Olympics sprints and you made a huge impression on her. The attached letter was her own idea and she wrote it without anyone knowing and then asked the rest of the family to add something on the back and mail it for her. If you send me your address I'll send you the original.
Congratulations on your great performance! I hope your success continues and look forward to watching you compete more.
Best Wishes
Siri, Kaisa, Kira, and Craig Stolen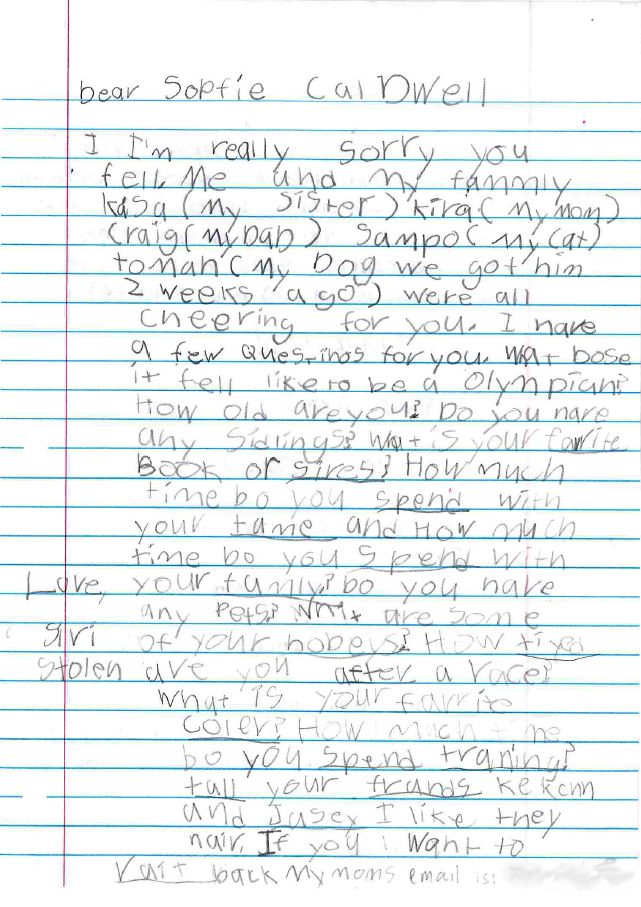 Transcription of Siri's letter:
Dear Sophie Caldwell
I'm really sorry you fell. Me and my family, Kaisa (my sister) Kira (my mom) Craig (my dad) Sampo (my cat) and Tomah (my dog, we got him 2 weeks ago) were all cheering for you. I have a few questions for you. What does it feel like to be an Olympian? How old are you? Do you have any siblings? What is your favorite book or series? How much time do you spend with your team and how much time do you spend with your family? Do you have any pets? What are some of your hobbies? How tired are you after a race? What is your favorite color? How much time do you spend training? Tell your friends Kikkan and Jessie I like their hair. If you want to write me back my mom's email is:
Love,
Siri Stolen
---
Friday, February 14th
Dear Siri,
Thank you so much for your letter, I loved it! Those are wonderful questions you have and I will do my best to answer them!
It is an amazing feeling to be an Olympian. I think I've dreamed of being an Olympian since I was about your age, so sometimes I need to pinch myself to remind myself that my dream is actually coming true! I am 23 years old and will turn 24 on March 22nd. I have two siblings. I have a brother and a sister and they are twins and two years younger than I am. I have a lot of favorite books, but I just read a great book called The Art of Hearing Heartbeats. My sister's favorite books are the Harry Potter Series and I think she has reread each book several times! I spend a lot of time with my team in the winter and a lot of time with both my team and my family in the other seasons. I am very close with my family, so I try to see them as much as possible when I'm home and miss them very much when I'm gone. My ski team has kind of become a second family though because they are some of my best friends and we spend 5 month in Europe together each winter! Growing up we had two dalmations for pets, but right now we have two cats. My cats' names are Dudley-Rose and Red. I love reading and doing a lot of other outdoor activities. I played a ton of different sports growing up and I love most things outdoors. I am usually very tired after a race, but it's a good tired. My favorite color is blue! I spend up to four hours a day training. Kikkan and Jessie say thank you!
Thank you for your questions and I hope to hear back from you again!
Love,
Sophie
---
Craig Stolen: We all wrote her [Sophie] thank you notes in return and sent them off in the mail expecting that to be the end of the story...
---
Sunday, April 20th
Siri had quite a surprise waiting for her in the mailbox when we got home today. It was a package from Sophie Caldwell.

She came screaming up the driveway so excited she got something in the mail from Sophie. When she opened it, she pulled out a ski bib from Falun, the last World Cup race of the season. Sophie signed it and thanked Siri for the letter she wrote during the Olympics. Sophie also said it would be nice to meet her someday. Siri could hardly contain herself. She couldn't stop smiling tonight. I've never seen her so excited. She's going to wear the bib to school tomorrow. So cool!