Midwest MTB Report
Mountain bike racers kept a keen eye on the weather this past weekend as early forecasts called for heavy rain which looked to make for an interesting race day on Sunday. For the most part, Mother Nature cooperated and the races went down and it was overall, a good weekend of mountain biking. This week's report includes a first hand report from the second race in the Minnesota series the St Croix Woolly, coverage from the Wisconsin series, another trail review and the look ahead.
St Croix Woolly
Race #2 in the Minnesota series jumped across the border to hit up the trails in St Croix Falls, WI known now as Woollyland. The early forecast did not look good but race organizers were confident the race would go down and kept positive about the weather and the fact the trails weather nicely in Woollyland. Troy Melhus reported:
Let's get it out there right now, the Sport racers took one for the team at the 2015 St. Croix Woolly" Marathon riders could be added to that group as well as a skies opened up and a ensuing downpour occurred during the races creating a muddy mess. The rain let up and eventually gave way to nice conditions for the elite class. Third place Womens elite rider Eleanor Bacso files a report from her race:
Rain or shine, this year's Woolly's race was a fun one. The Woolly Club had yet again put together another fun and excellent race course. Driving up towards St. Croix the weather was constantly in flux. There was heavy rain at points on 35W and then bright sunny open spots. I had no clue what to expect for a course.
When we arrived at the high school it was semi cloudy and windy. As we began to unpack our bikes we watched earlier racers coming back caked in mud but you could still see their pearly whites smiling. Still not knowing what Mother Nature was going to bring; the elite women lined up and dashed off to the single track at the sound of a whistle.
I was feeling good off the start and excited to start a fun day on the bike. I tried to ride within myself; although I was a little tentative because of the slickness of the trail. I rode with Megan Barr for a bit but lost contact along the way. The second lap I rode mostly by myself and I was starting to feel my legs slowly losing power. Luckily the trails were drying out nicely and the sun was coming out which helped quite a bit. During the second lap I was passed by Alicia Fiske who was also throwing down a great race. During the final lap, I held on for as long as I could as my legs worked their way towards empty. I was fighting stomach knots towards the of the race, but still managed to finish with a strong sprint. I was happy to finish 3rd behind two friends and strong riders of the day.
For those who have never made the trek to the Woolly trails, they are a lot of fun and worth the drive. You get a little bit of everything there from punchy uphill climbs to fast flowy downhills; and of course the flat straightaways where you have to put the hammer down. What made this race so interesting was the change in conditions from the first to the last lap due to the early rain and progressive drying of the course. Early on it was slick and difficult to maneuver, but by the last lap, it was tacky and fast.
Post-race was filled with many stories, both good and bad, and a lot of high fives. It was so great to see everyone enjoying the afternoon and seeing all of the hard work the Woolly crew had put into preparing the trails for an epic race. A big thanks to the Woolly club, volunteers and the Minnesota Mountain Bike Series. Next year's race is one that you definitely don't want to miss!
Crystal Lake Classic
The Rhinleander area, more specifically the Camp Tesomas trails, were host to race #2 in the Wisconsin Off Road Series. Like the Woolly, rain moved in making for changing conditions in the Elite Race but nothing short of good ol fashioned mountain bike racing.
Cooper Dendel from Marquette took the female elite win over Lindsay Guerra and Leia Schneeberger.
Second place finisher Nathan who was edged out by Cole House in a sprint finish, provides video from the start. WORS 2015 Race #2 Crystal Lake Classic in Rhinelander: Pro/Cat 1 start. Brian Matter rounded out the top three.
Goose Chasing Berry Picking
Last week I was in Moorhead and made time to stop by and check out the mountain bike trails at Gooseberry Park, located on the edge of the Red River that flows north. There are many small mountain bike trail systems throughout the country that fuel mountain bikers and typically maintained by the those riders. I first rode at Gooseberry back in college, mainly jumping around on the natural flowy pump track that existed just from people riding. There was no loop per se, just some areas to "jump". The FM Trailbuilders have worked up a 3 mile loop the past few years, adding new trail features along the way and recently marked this loop. When I rode it was not marked but was able to find my way around and made for a fun ride to break up the day from running errands. The trail is vulnerable to the rising Red River which just recently went from drought levels to near flood stage in a matter of a week. The trail builders should be commended for working around this and providing a dirt fix for local riders. The berm work was also much appreciated. The riding is fast when dry and uses every available feature to make for a challenging loop at speed.
I touched base with one of trail builders, Patrick Crary who informed me of the trail markings and a upcoming race: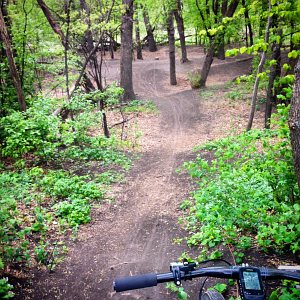 Next time you ride Goose you'll see our signs starting at the river bridge heading S. We placed about 8 signs leading from the river bridge into the most confusing part N of the Restrooms and then onto the back S area. I rerouted as one heads left and instead floated along the right side ridge line all the way below the old route but still on the same flood line. Then hook back on a left turn above low spots that returns on the next ridge line . It has about a 2 foot drop and some great flow ! Had a crew of about 5 on that mission. This then reconnects you to the previous entry point into the trees. A much needed "no brainer" route. Too much foot traffic, crud, garbage, bmxers and a dangerous down hill area so I dropped the "up and down path" and just made it simple and it turned into another kick ass line!!
As far as our race we're calling it "The Wild Goose Chase". There's going to be bands playing all race and music blasting. General bbqing good time. Les Dirty Frenchmen is one band so far, and DJ's. May get one more band to keep people pumping. Ten laps is going to be about 40 miles. I'm going to use as much of Gooseberry as possible to create some passing areas. Could utilize a few spots we never get to race through that are gnarly just like the whole trail. More to come!
Cable Area Off Road Classic Cancellation
Last week ready to highlight the 20th running of the Cable Off Road Classic but the night the article was set to publish, we noticed the race had been cancelled. We were not able to touch base with anyone that night but did make contact with the Cable Chamber of Commerce James Bolen who explained why the race wasn't able to happen this year:
It was disappointing that the race was cancelled this year. Susan Fibert, our race director took another job and is no longer able to serve as race director. We have struggled to find people to fill that position and volunteer recruitment was also very weak. There was a concern about delivering a good race, coupled with extremely wet conditions that may have forced us to not use single track again. As you know, having trails open is one thing but with wet conditions, running a few hundred bikes on a single course could do significant damage. It is very wet out there right now and heavy rain is forecasted. I have referred to it as the 'perfect storm'. Iffy conditions, short-staffed and low pre-registration numbers led the race committee to cancel it for this year.
I have heard from several riders who were planning on doing the race. Perhaps I can convince the race committee to do the race in 2016 and encourage typical racers to sign up earlier.
The CAORC was created 20 years ago to bring mountain bikers into the Cable Area. Over the past few years new races have been created offering riders several opportunities to explore trails in the Cable Area. Organizers say the race was originally created to draw riders to the area in the early season but that there are now multiple events in the month of May and nearly every weekend has an event. With a very strong calendar riders now have many choices and this is seen as a good thing. Organizers say that they will continue their efforts to bring visitors into the Cable Area of Northern Wisconsin.
The Dirt Cup: Mountain Bike Sprint Series
Test your speed and skill! Compete in a time trial format completing a 10.5-mile mountain bike single-track loop. Divisions include men's, women's, and U-17. Races alternate between Elm Creek Park Reserve and Murphy-Hanrehan Park Reserve. Starting Wednesday, June 3, from 6:30-8:30 p.m., at Elm Creek Park Reserve, Maple Grove, weekly competitors add up their top six finishes for a chance at being The Dirt Cup Champion. Awards, door prizes and good times at every race.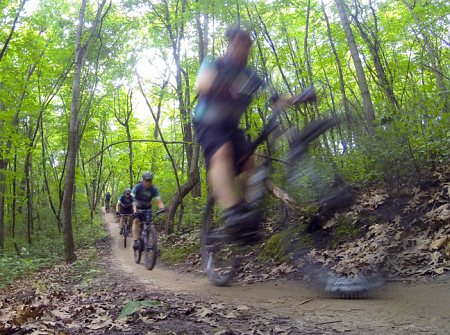 (photo: TwoWheelWeather.com)
Cost is just $12 for those who pre-register, or $15 for those who register on race day. Call 763-559-6700 to pre-register and reference activity number #323635-00. Race registration starts at 5:30 p.m. and race start is at 6:30 p.m. Races are open to ages 14+ and are sponsored by Maple Grove Cycling and Freewheel Bike. Race series details.
The Loppet Foundation - Adventure Camp
The Loppet Foundation is featuring an adventure camp this summer which includes mountain biking which is one of the more popular activities among the kids. The camp is held at the incredible Theodore Wirth Park which provides outdoor adventures in the heart of a major metropolis. Check out a video feature.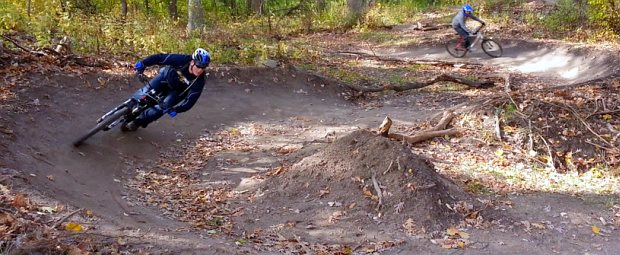 (Photo: mountainbikegeezer.com)
Passing Cyclists
Thoughts and prayers to family and friends who lost loved ones this past week while cycling. The Colorado incident is hard to grasp and Gary Crandall forwarded information about one of the Chequama Mamas:
Tuesday afternoon we lost a valuable member of our community as well as a friend and neighbor to those in in the Mosquito Brook community. Dave Cook suffered a fatal heart attack on his bike while heading out on old double "O" to ride Seeley Pass. Dave was an avid biker, skier, fly fisherman, and volunteer for numerous events and always willing to put in the many hours trail building. He will be missed as loving husband, father, and grandfather. Please keep wife Judy and his boys in your thoughts and prayers. We miss him already as a friend, volunteer, neighbor, riding and skiing companion and all around great guy. Arrangements are pending.
Looking Ahead
The Wisconsin Endurance Mountain Bike Series hits up the Reforestation Trails near Green Bay for race #2, the Stump Farm 100. The Reforestation Camp is a large plot of land in Suamico that is great for they endurance racing style that is WEMS. Fast flowing single track winding through pine and hardwood forest that open up to double track for passing or grabbing a drink of water if your doing the 100 mile race, according to race officials. God forbid anyone stop while riding 100 miles! Ha!
The day after I previewed the Movil Maze trails in Bemidji, I received word on a mountain bike race coming up in June. The Movil Maze will be host to a 2, 7 and 14 mile races. All proceeds will go towards the development of additional trail.
Keep the wheels moving!
About the author...

Jay Richards maintains a very active lifestyle. He somehow finds time between managing a full-time resort (Maplelag) and bringing up a family of four boys with his wife Jonell, to compete in both mountain bike and a few cross-country ski races. Jay rides for Maplelag Resort, manages the Maplelag/Paramount/Podiumwear mountain bike team and enters his 25th year of racing and promoting mountain bike races.