Submitting Race Results and Photos
January 25, 2006

Some notes and tips on submitting high school race results...
Results Data
The following information should always be included in the results:
Date of the event
Location (trail system used)
Meet title (conference name, etc.)
Format (skate, classical, pursuit, relay, etc.)
Distance (in kilometers)
Weather conditions (optional)
The results should be as complete as possible -- do not submit only the top ten, or only team results. Please include the skiers full name and school in the results, and optionally, the grade level. Times in the results should be generally of the format hh:mm:ss, or mm:ss. Please see the Tips section below for suggestions on how to best organize and present your results.
Results Format
Preferred format is a single PDF file with the complete set of results from the given meet. PDF allows you to format the results exactly how you want them to be viewed/printed. And PDF files are generally quite small -- usually under 50KB. Please do not insert logos or photos into the document, as this can greatly increase the size of the PDF file. See the Tips section below for some free PDF generators.
If you are unable to generate PDF, then an Excel spreadsheet is the next best choice (OpenOffice spreadsheets will also work). Spreadsheets can easily be converted into PDF. The spreadsheet file should contain all of the results. Results can be split into separate worksheets and is encouraged (see Tips below).
Word documents or text documents are also accepted. Be aware however that these generally do not format very well (columns might not line up well, etc).
When preparing the results, please keep them combined in one file (i.e. don't split the girls and boys and team results into separate files).
Photos
Selection
If there are photos from the meet, those should be submitted separate from the results. In general, we ask that photographers submit a representative selection. By this we mean, please don't send us a complete dump of all the photos -- weed out the bad photos first. Also try to eliminate some redundant photos (i.e. four shots in a row of the same skier).
If possible, please try to send photosets that include a range of skiers from the meet (i.e. try not to submit photos of skiers from just one team).
Sizing
Our preferred format for photos are images that have been resized to a maximum dimension (width and height) of 450 to 500 pixels. Free programs like Picasa or IrfanView can quickly resize a collection of photos. If you understand some of the advanced features of JPEG image manipulation: try to squeeze the compression down about 20% from the best quality and turn off EXIF data. This should result in photos that are 50KB or smaller.
Filenaming
We prefer that you do not rename the photo files, as we can use the original photo filename to sort the photos into chronological order.
Sending the Data

To send the results, simply attach the results file to an email addressed to . In the email, please include a short summary of the event: Meet title, date, location, format (technique), and distance. Optionally, you may include a brief highlight of the meet. This highlight should cover the meet basics (where, when, format, conference) with a recap on the winners and any other interesting tidbits. In general, try to keep the highlights to 3-5 sentences -- no more than 100 words.
Please try to submit only once. Double-check the results with the coaches for errors before submitting.
If sending photos, please attach those in a separate email. Please note the photographer's name in the email so we can give proper credit on the photosets.
---
Tips
Excel/Spreadsheet
Result data breakdown -- The results data should be broken into separate columns. Generally the columns should include: place, fullname, school, grade, and time. Bib number and points may also be included. Place team scores above or below the individual results (not in the same row as individuals).

Breaking down divisions -- Typically a high school meet has separate boys and girls races, and sometimes separate divisions for varsity, junior varsity (JV) and junior high (JH). You can put all of those events into one Excel file by using worksheets. Worksheets are those tabbed entries along the bottom of the window. You can create additional worksheets by right clicking on one of the worksheet tabs and selecting Insert. You can change the tab order by dragging a tab to the new position. You should have one division per worksheet.
Formating the times -- When entering times into Excel, if you only using two digit format, it will assume the time is hours and minutes (hh:mm). So for example, 18:03 is eighteen hours and three minutes. This causes problems with a skier has a time greater than 24 minutes. The way to avoid this problem is to enter the time in three digits, hours, minutes, and seconds: hh:mm:ss. So instead of entering 18:03, enter 0:18:03.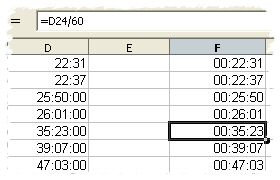 Fixing time values -- If you already entered a bunch of times in two-digit format (hh:mm), there is a quick way to convert them to hh:mm:ss. The steps are:
Create a new column next to the result times.
In that new column, create a simple formula: =oldtimecell/60
Change the formula column cell format to be hh:mm:ss.
The new column should now have the correctly formatted times -- copy those times.
Using the Paste Special, paste only the cell values into the old results column.
Change the cell format for the results to be hh:mm:ss.
Delete the column with the formulas.
Now you should have your times in hh:mm:ss format. These steps may be slightly different if you use OpenOffice.
PDF
PDF files are easy to generate. It basically works just like a printer, but instead the results get placed into a PDF file. There are a number of free PDF generators. If you use the free office suite OpenOffice, they have a PDF generation built-in. PrimoPDF is a popular free PDF generator that is simple to use and works with Excel and Word documents.
If you use Excel, you can generate a single file PDF from multiple worksheets. Simple choose to print the document to PDF and select the 'Entire Workbook' option. From OpenOffice, you can print multiple worksheets into one PDF by selecting all of the worksheet tabs before you print or export to PDF (hold down the Ctrl key and click on each worksheet tab).