Frankowski: Park City Camp -- Sixth Time's the Charm?
A funny – and unsettling - change occurred over the past couple years of my ski racing and training: I turned into one of "the older athletes". As a 28-year-old, I am by no means "old," but I'm no longer the raw-cookie-dough-eating, train-until-I'm-injured, has-to-win-every-workout puppy dog that I was just five years ago when I started my professional career; instead, I've accepted the role of team elder who has to impart some wisdom on the teenage aspirants. But I still eat raw cookie dough.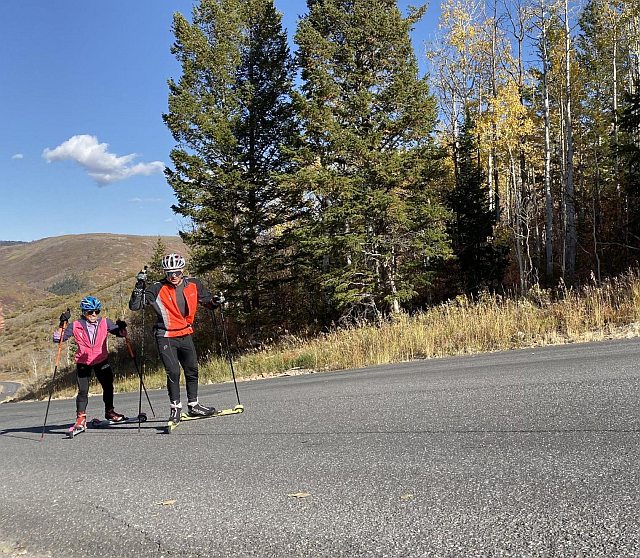 Five years ago when I arrived at my very first Park City US Ski Team camp I was a much different skier. I had never done a true altitude camp, had never been to Utah for anything but major races, and had hardly knew anyone on the US Ski Team. I discovered the incredible trail running, learned how to ski on the twisty turns of the Soldier Hollow rollerski track, and got my butt kicked by almost everyone at the camp. While I tried to follow some of the more seasoned skiers I could, I also didn't account for how tired living and training at 8,000 feet makes you, something my sea-level Midwestern body didn't anticipate.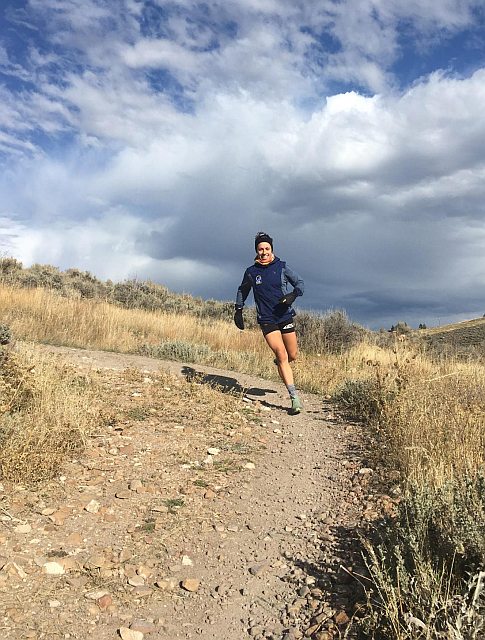 But the most unexpected stress of the camp came with anxiety within a team that grows as the race season sneaks up on everyone. Bad workouts, which earlier in the summer had been something you could shrug off the next day, suddenly became indictments of hundreds of hours spent "mis-training", often ending up in teary emotional breakdowns from athletes of all levels. Had I done too much volume? Was my balance of endurance and intensity off by a couple of percentage points? Had I contracted salmonella from eating too much cookie dough? It was an emotional rollercoaster, but one that brought with it a little bit of - dare I say – wisdom.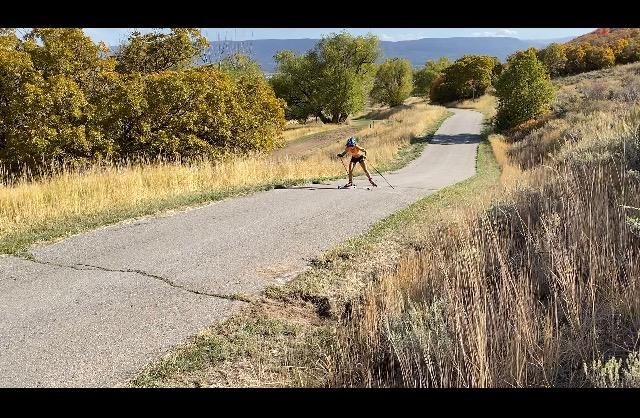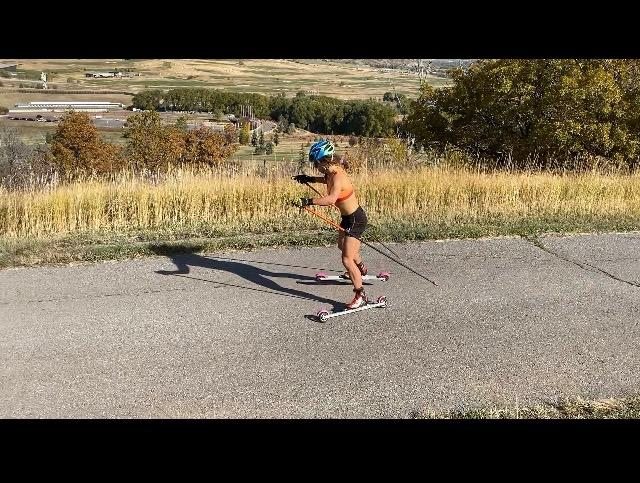 Five years later, I found myself solidly defined as an older athlete, with wisdom to impart to the upcoming generation. It's a role I'm not sure I embodied at the beginning of this year's camp. Despite the years and numerous accomplishments along the way, I still have insecurities about my own level and still doubt that I have skiing "all figured out." Five years ago I was invited to Park City camp as a National Elite Group (NEG) participant since I had qualified for and raced at the 2014 Under 23 World Championships. Since then, I have raced to top 25 in the World at both the 2018 Olympics, and the 2019 World Championships. I have won Supertours, podiumed at US Nationals multiple times, and usually finish just outside the points (top 30) on the World Cup. All of these accomplishments came because I trained harder and smarter each year, made huge gains in technique and fitness, and learned how to balance my life and ski training. I now feel comfortable calling myself a professional racer - just like Lebron or Steph Curry (okay, maybe I'm not quite at The King's level). But just as it did five years ago, Park City Camp intensified doubts that I am not ready for the big stage.
This year, I am teaching a college-level class online for the fall semester. It's a fair amount of work on top of my other part-time job, training and sponsorship-seeking, but teaching has its own special challenge as I have to teach the very students that are joining our camp for the first time. Now if I have a bad day, I am not only the emotionally-volatile older athlete on the team, I am also the emotionally-volatile professor whose authority is undermined by showing any weakness. One method I use to deal with this pressure is to create an environment of learning within my class, emphasizing that no one knows it all, and everyone has something to contribute. I found this idea easily shifted over to our camp environment this year, where the older athletes taught the younger ones about training, recovery, racing, and more, while the younger athletes brought their enthusiasm, youthful energy and openness to failure and (seeming) lack of self-expectation.
Funnily enough, I found myself feeling intimidated by the younger athletes, many of whom have found success far beyond anything I even dreamed about at their age, and so I shied away from assuming a teaching role in our large group workouts. It might not be evident from the outside, but I often feel embarrassed or out of place when everyone talks about their days as top junior athletes, or decisions around athlete development and the "right way" to reach the top level. These insecurities crept in at times when I am facing a learning or growth step in my own ski racing, and so right before I start Period 1 of the World Cup, infamously known as the hardest period of the season, of course they would surface.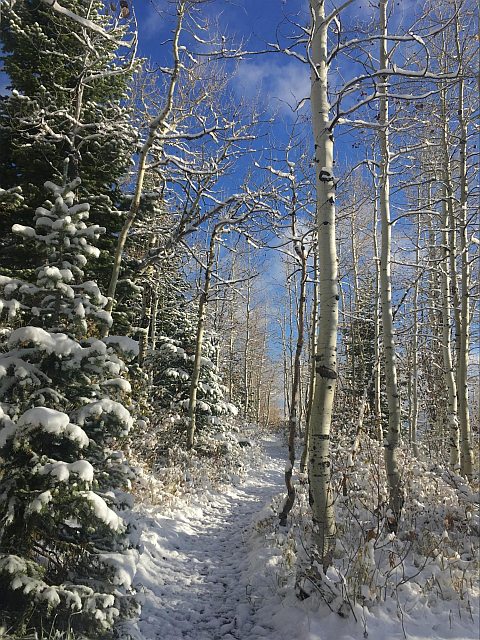 We always end Park City camp with a series of rollerski time trials. Because of a long-running shin issue, I skipped one of the time trials and instead went on a beautiful, snowy long run. When my teammates returned home with tales of victory or disappointment, one of my teammates came to me distraught over their performance. They felt they made big leaps and gains in their skiing this training season, and that none of it showed through their result in the time trial. I gave them the usual consolation talk: that rollerski wheel speeds drastically vary, that rollerski skill and power doesn't translate 100% into speed on snow, there's still plenty of time before the season, etc., but they couldn't shake the fear that they had "failed" the training season.
Since I hadn't participated in the time trial, I had an outside perspective about how much value and weight that result should have—which was none at all. The importance of the time trial was to get a strong workout in, and practice the art of getting nervous, warming up, and pushing yourself. This was especially true since we had trained a ridiculous amount of hours the first week of camp. I found myself playing therapist, a role I only have so much patience for, and ultimately, became a bit frustrated about.
After some time to cool off, I realized that part of my frustration came from seeing my own insecurities and irrationalities about my upcoming season in the words my teammate was using, and realizing that I was failing to allow ski racing to be a positive environment of learning, the same thing I have to do while teaching. From these same feelings of inadequacy and anxiety, I found myself unable to take a leadership role with the younger athletes—I felt that as an "older athlete" I was supposed to have it all figured out. "You've been to the Olympics, you've raced the World Cup, you should know how to find sponsors and book travel arrangements easily, and also how to jump-skate the hill perfectly and go the appropriate pace during a distance workout." If I couldn't accomplish all of these things, I didn't deserve to be imparting knowledge onto the next generation. (Disclaimer: I struggle with sprint jump skating, I stress a lot about travel logistics, I sometimes ski too fast in distance workouts, and I am scared to approach companies about sponsorship). I failed to put my own beliefs that we are all students, always learning, into practice in my athletic career.
Why should I expect to know it all? In my classes I am constantly looking up parts of the curriculum minutes before class starts; at work I google how to complete a task every other day; and I still constantly ask my coworkers for know-how. Why should ski racing to be any different? I think this is one of the secrets of these amazing junior athletes coming up in the US: they approach the sport as a learning environment and do not expect themselves to have all the answers. They build off of each others' ideas, are not afraid to ask questions, and are willing to try new, sometimes silly, techniques to find the fastest way to ski. Many "older athletes" feel we must know all the answers, or appear to know all the answers, and this puts so much pressure on us--it shows through our racing. I was offered discretionary start rights to the Period 1 World Cup races through a proposal by the US Ski Team coaches, and approved by a committee made up of coaches all over the United States. These start rights are not just given out to anyone; you have to show credible reason why you should be representing your country on the highest level of competition. This group believes I proved this last year, and the previous season, with my results at World Championships, the World Cup, and the Olympics. This summer I won every mountain running race I entered by a large margin, and set big records on two of the courses. I improved both skiing technique and coordination, and practiced fun tactics with my best sprinter teammate in every speed workout. I know I am more ready than ever to begin my season on the World Cup, yet I found myself forgetting the careful balance of play and experimentation, combined with preparation and hard work, that breeds confidence and success. My teammate's negative response to a bad day on the rollerski track, and the joy and lightness in the approach of the younger athletes to Park City camp, illuminated the need to take the pressure off, foster a learning environment, and have some confidence in ourselves.
I entered Park City camp feeling I must know the correct way, and I left understanding I need to take the pressure off and be ready to learn. I am walking away from camp very tired, but inspired by the young athletes, who are unselfconsciously still eating cookie dough with me. Now, I just have to remember these lessons in the final stages of preparation before jet setting off to Norway in a few weeks. Wish me luck!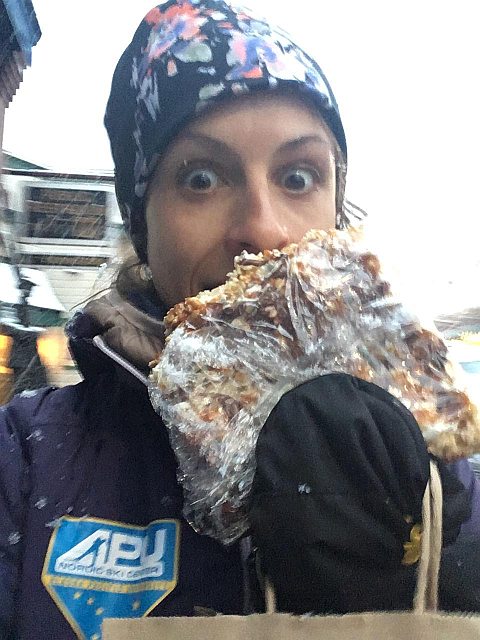 About the author...

Rosie Frankowski learned to ski on the trails of Wirth Park with the Southwest High School Nordic team, and now races for APU Nordic Ski Center and will represent the U.S.A. on the World Cup this season.

Support

As a non-National team member, Frankowski financially supports her own racing, including all travel, room and board, and wax support, by working throughout the year. That alone is not enough to cover racing expenses. She would be grateful for any contributions or support to help cover racing costs. Please reach out through her website.

Website: https://rosiefrankowski.wordpress.com/
Instagram: @frankowitz
Facebook: https://www.facebook.com/RosieFrankk/