Collegiate Racing Recap: EISA, CCSA, RMISA
While our Minnesota high school skiers were duking it out at Giants Ridge at the State Meet, past competitors and champions were continuing their collegiate careers across the country.
As we enter the championship season of collegiate racing, the NCAA qualification points lists will become the automatic home page for computers around the world. Bozeman will find itself needing to erect temporary housing for NCAA ski fans, ESPN.com will launch a new March Madness Nordic edition, and high fluoro waxes will be consumed by irons, air filters, and skiers looking for an edge. Hyperbole? Only time will tell. Only data will show. Only skiers will know.
It's Week 5 of collegiate racing.
EISA: Williams Carnival (Lake Placid, NY - Mt. Van Hoevenberg)
A lack of snow at Prospect Mountain, Williams' home course, forced a relocation to Lake Placid. However, because the usual Olympic courses (and the entire normal venue) at Lake Placid are under construction in preparation for the 2023 World University Games, EISA skiers raced across the road on the biathlon side of the park.
Day 1, 10/10k Classic Individual Start:
The Catamounts continued their domination, sweeping the podium in the men's race. Ben Ogden (UVM) won by fifty seconds over teammate Bill Harmeyer. Lake Placid local, Karl Schulz (UVM), rounded out the podium.
Minnesotan Christian Gostout (BOW) continued his impressive consistency placing 6th (would not be surprised if this is an EISA record number of 6th places for a season).
Gostout said, "Sitting in 6th every weekend has been pretty nice, but I do have my eyes set on cracking the top 5 at Midd. The 10k was so fun! I usually feel like striding is where I make time in races, so having an almost completely double pole course was a challenge. Honestly, the strategy for the race had to be just go all out constantly because the whole race was either flat double poling, or running up little steep pitches."
Gostout's teammate, Peter Moore (BOW) placed 16th. Will Bodewes (UNH) was 24th and Foss Kerker (CBC) skied into 30th (that a boy Foss!).
With Katherine Ogden over in Scandinavia for the World Cup's Ski Tour, the women's race lacked a consistent top finisher.
Anna Bizyukova (UVM, RUS) skied to first, twelve seconds ahead of Middlebury skier Alex Lawson (MID). Gabrielle Vandendries (BOW) proved herself as one to watch with a third place result.
Erin Bianco led a string of strong midwest performances striding to 5th place.
Bianco reflected on her race and looked ahead: "The race went super well! These last couple of races I've really been focusing on staying relaxed and being powerful and it seems to be helping a lot. During the race I was feeling super good and my coaches kept telling me I was in second so that just gave me more and more motivation throughout the two laps. My goal at the start of the season was to get a top 10 finish so I was pretty excited! Going into the championship season I'm looking forward to seeing how our team can do at regionals! I think we can be up there even higher in results so I'm excited for that!"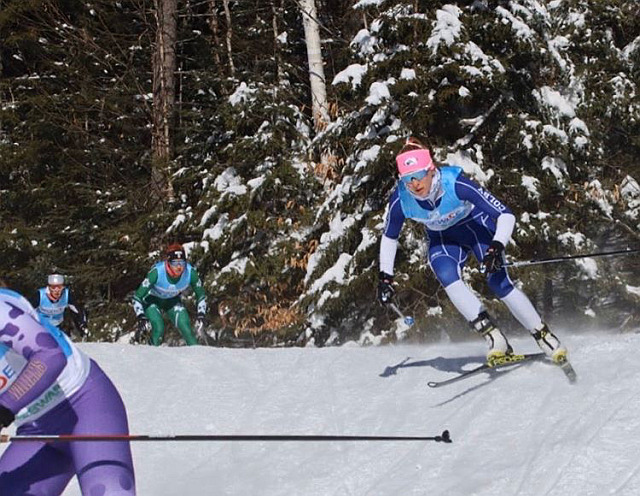 Margie Freed (UVM) followed in 6th, just ahead of Renae Anderson (BOW) in 7th. Ingrid Thyr (WIL) was 14th, Abby Drach (DAR) 15th, Luci Anderson (UNH) 16th, and Mara McCollor (DAR) was 21st.

Day 2, 3x5k Skate Relays:
Relays, while not counting for individual NCAA qualification are a major source of pride for collegiate teams.
The Middlebury women took the victory with a team consisting of Annika Landis, Sophia Laukli, and Alex Lawson. UVM (Margie Freed, Lina Sutro, Anna Bizyukova) placed second ahead of a Minnesota strong Dartmouth squad (Mara McCollor, Abby Drach, Lauren Jortberg).
It was no surprise that UVM (Ben Ogden, Karl Schulz, Bill Harmeyer) took the men's victory by over a minute. UNH's team of Scott Schulz (brother to Karl), Bryce Hartman, and Will Bodewes, took second ahead of Bowdoin's Peter Moore, Christian Gostout, Elliot Ketchel.
"The relay was a little more tense than most relays for us because we wanted a podium spot realllly bad and knew we could even go for 2nd," Gostout said. "Peter is our fast twitch boy so we had him scramble, and he had a flawless start, which was awesome. There was a little crash situation later in his leg which set us back a bit, but between us both we worked up again to leave Elliot in about 5th or 6th with quite a ways to 3rd. There was a hot second where I thought we weren't even going to get that 3rd spot, but somehow when Elliot came back at the finish he had pulled it off. Despite having our eyes on 2nd earlier, we were all beyond excited to stand on the podium. I think we're the first Bowdoin men's relay to do so, so it was a major win in our eyes, especially with our teammate Gabby also standing on the podium for the 10k."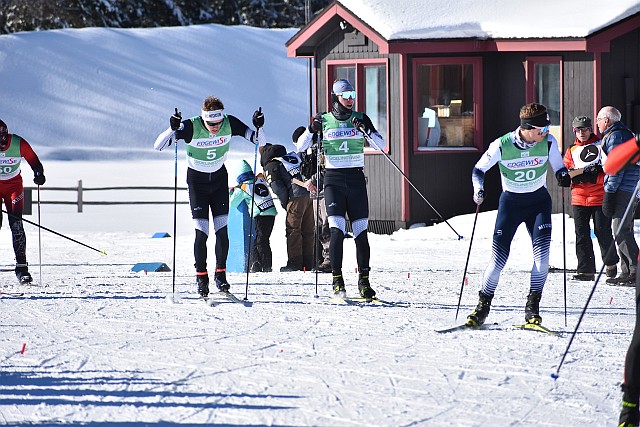 Nordic Men: 1. UVM (257), 2. BOW (196), 3. UNH (187)

Nordic Women: 1. MID (237), 2. UVM (224), 3. BOW (169)

Total Carnival (Alpine and Nordic): 1. MID (855), 2. UVM (843), 3. DAR (752)
Up Next: A week off before the EISA Championships at the Middlebury Carnival.

CCSA: CCSA Championships (Houghton, MI - Tech Trails)
The CCSA squad was back to the oh-so-familiar race trails in Houghton for their conference championships.
Day 1, 5/10k Skate Individual:
Mathias Rolid (NMU, NOR) took the victory in the men's race ahead of teammate Kjetil Banerurd (NMU, NOR). Reid Goble (MTU) was 3rd.
Past MN State Meet Champion, Xavier Mansfield (NMU), finished 4th for his best collegiate result of the season. Last year, Mansfield placed 2nd in Houghton at Regionals. Watch for him next weekend.
Mansfield said, "I knew I had my teammate Kjetil behind me, who has been racing very fast this year, so I just wanted to go out hard down Hairpin and hope to ski with Kjetil if he were to catch me. He did, and we were able to work together for a little over 7k, which was a lot of fun. On the last hill around 800m to the finish, I found myself with a lot of energy, and I was able to ski really strong into the finish."
Great work Xavier!
Patrick Acton (MTU) finished 8th, Mitch DeLong (MTU) 10th, Ryan Steger (CSS) 12th, Mark Ousdigian (MTU) 13th, Gus Schatzlein (CSS) 14th, Somer Schrock (MTU) 15th, Tamer Mische-Richter (CSS) 16th, Tres Green (MTU) 18th, and Ian Ivens (UWGB) was 20th.
In the women's 5k, Nadine Matter (NMU, SUI) took first followed by Malin Boerjesjoe (NMU, SWE) in second. Molly Miller (NMU, CAN) was third.
Amanda Kautzer (MTU) skied to fourth place just ahead of her teammate Sarah Goble.
Kautzer said, "I was psyched about the 5k. I haven't been doing well in individual starts, so it was nice to get a good result finally. The coaching staff got us wickedly fast skis, and I had so much fun racing because of it. While I'm very happy with the 4th place result, I know I can do better, and am excited for this weekend and NCAAs."
Emma Albrecht (MTU) was 15th, Emma Stertz (CSS) 16th, Mae Barnes (CSS) 17th, Annabel Needham (MTU) 19th, and Maria Schoening (UWGB) skied to 20th.
Day 2, 15/20k Classic Mass Start:
The men's mass start saw Mathias Rolid (NMU, NOR) take his second victory on the weekend. Aleksi Leino (MTU, FIN) finished second ahead of Nick Matelich (CSS) in third.
Reid Goble (MTU) placed 6th, Patrick Acton (MTU) 8th, Mitchell DeLong (MTU) 9th, Xavier Mansfield (NMU) 10th, Tamer Mische-Richter (CSS) 11th, David Jaszczak (MTU) 12th, Mark Ousdigian (MTU) 13th, Matthew Bourne (NMU) 14th, Ryan Steger (CSS) 15th, John Schwinghamer 16th, Tyler Radtke (STO) 18th, and Joshua Albrecht (MTU) was 20th.
Malin Boerjesjoe (NMU, SWE) won the women's race over a strong Amanda Kautzer (MTU). Molly Miller (NMU, CAN) placed third.
Kautzer reflected on the race and skiing on her home course: "Sunday's race was a lot of fun. Being a home race, I had a ton of friends, professors, and family out on course, which made it go by a lot faster. I felt very comfortable during the race, and ready to challenge Malin for the win, until we got tangled and I broke a binding."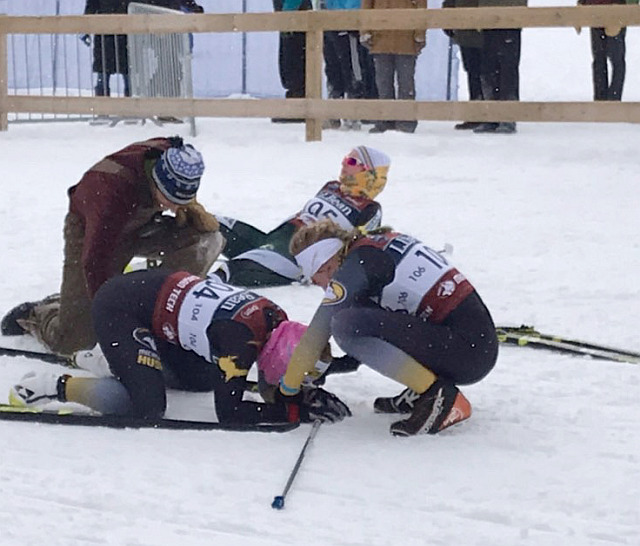 Sarah Goble (MTU) placed 6th, Annabel Needham (MTU) 9th, Mae Barnes (CSS) 13th, Emma Stertz (CSS) 14th, Erica Meyers (STO) 17th, Cheresa Bouley (SCSU) 19th, and Lucia Wyland (STO) placed 20th.
Nordic Women: 1. NMU (214), 2. MTU (182), 3. CSS (132)

Nordic Men: 1. NMU (198), 2. MTU (175), 3. CSS (157)

Combined Nordic: 1. NMU (412), 2. MTU (357), 3. CSS (289)
Up Next:
Feb 22-23: NCAA Regional Champs (Ishpeming, MI - Al Quaal Recreation Area)

Sat: 5/10k Skate Individual

Sun: 15/20k Classic Mass Start

RMISA: Utah Invitational (Midway, UT - Soldier Hollow)
RMISA skiers raced at the 2002 Olympic venue.
Day 1, 5/10k Skate:
Eveliina Piippo (DU, FIN) continued a late season surge, taking the win by twenty six seconds over Guro Jordheim (UU, NOR). Mariah Bredal (UU, NOR) rounded out the podium.
Hannah Rudd (UAA) placed 11th, with teammate and friend Michaela Keller-Miller (UAA) in 14th place. This was Keller-Miller's first races back since getting sick soon after US Nationals.
"My game plan for Friday's race was to start strong and try and hold on," she said. "I was able to get out well but unfortunately couldn't quite keep up the pace in the second half. Even though the race didn't go as well as I'd hoped, the course conditions at soldier hollow were awesome and super fast, so it was fun to get to race there this weekend!" - Keller-Miller
Anja Maijala (UAF) placed 21st.
Maijala, a graduate of Cloquet High School, said "It was nice to race at a big ski venue like SOHO and soak up some lower 48 sun! My main goal for this weekend was to get top 20 finishes… This was my first race back at altitude after a solid 2 week training block in Fairbanks so I think it was a bit of a shock to the system. I'm also not used to skiing on fast man-made snow so that alone made this an interesting weekend of racing for me.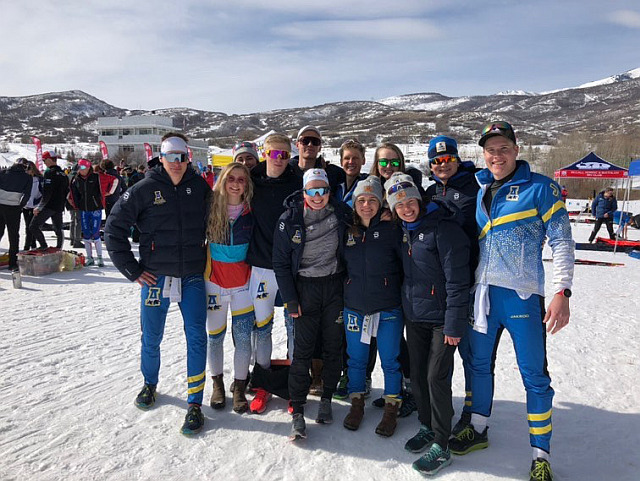 Sigurd Roenning (UAA, NOR) placed 1st for the men. Bernard Flaschberger (DU, AUT) was 2nd and Sam Hendry (UU, CAN) skied to 3rd.
Day 2, 10/10k Classic Mass Start:
Guro Jordheim (UU, NOR) returned to her winning ways, taking the victory over German Anna-Maria Dietze (CU, GER). Julia Richter (UU, GER) took 3rd place.
Anja Maijala (UAF) broke into the top twenty with a 17th place finish.
Maijala was pleased with her result given the circumstances. "I redislocated my shoulder 4 weeks ago, so classic skiing, specifically double pole, always seems to be a never ending battle," she said. "However, this course was in my favor as it mainly consisted of 3 climbs each with a downhill after, and very little flat. I always tend to race better on courses with long tough climbs, so I used this strength and pushed hard and made most of my moves on the climbs."
"Overall the season has been going much better than expected. It's been nice to have some new faces on the team! I've been close to my teammate Mariel in a couple races and it's been fun to push hard together! I've also really enjoyed Jennie Bender joining our team as assistant coach. Jennie has lots of experience racing at all levels so it's been cool to hear her perspective and learn from her."
Michaela Keller-Miller (UAA) finished 19th and Hannah Rudd (UAA) was 20th.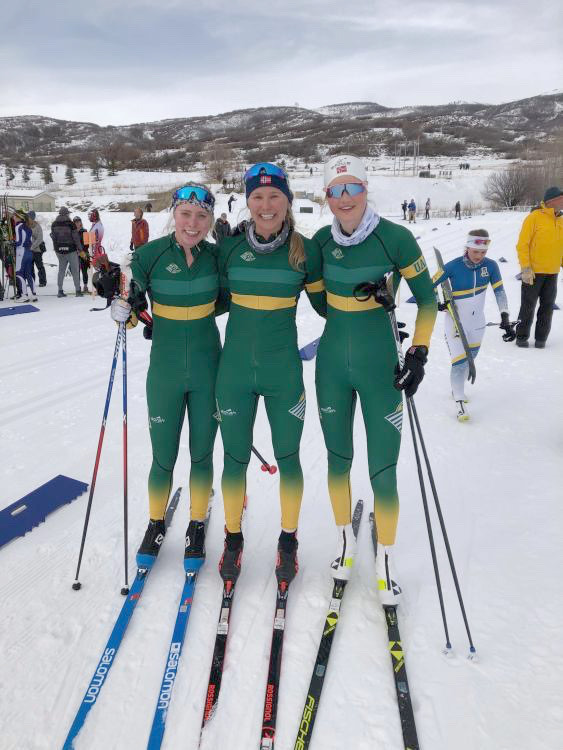 Maximilian Bie (UU, NOR) was first for the men, followed by Sigurd Roenning (UAA, NOR) in second and Espen Person (UAA, NOR) in third.
Nordic Women: 1. UU (199), 2. CU (149), 3. DU (146)

Nordic Men: 1. UAA (193), 2. UU (188), 3. DU (136.5)

Total Invitational: Alpine races next weekend for the points that count toward the Utah Invitational
Up Next: The RMISA takes a week off before their RMISA Championships in Bozeman, MT where they will get to preview the NCAA courses.
About the author...

Luke Brown, a graduate of Minnehaha Academy and Dartmouth College, is a skier and biathlete for the Crosscut Mountain Sports Center and the US Biathlon X-Team. He enjoys running in the mountains, writing, and eating cereal with whole milk. He lives in Bozeman, MT.