Midwest MTB Report
Hard to believe we are into the third week of August. Some of the best riding of the year is on tap for the next few months and with all the new trails in the Midwest, plenty of time to check out some new digs. The one and most likely only citizen race in Minnesota took place this past weekend at Giant's Ridge.This week's report includes a recap along with more racing opportunities, updates on more race cancellations, and a few mountain bike related items to note.
Giants Ridge Grind
Giants Ride successfully held a mountain bike race with some COVID modifications but reports from riders I talked to were all good. Mountain bike hall of famer Gary Shoquist conveyed in conversation: "Raced the GRIND on Saturday, and it was great! 37 miles and 1,455 ft of climbing, and lots of mud and standing water due to the heavy rain the night before. Benji got 125 or folks to show up, even with the Covid protocols. It was really good to see a race happen. There are a lot of new riders to the sport and it's important to have racing, I feel, to have events for riders to look forward to. I am also concerned that we might lose current racers in the future".
The father and dad team of Mark and Chase Sams also participated in the race and Mark provides a recap:
I woke up Saturday morning with the strangest feeling in my stomach. I'm not sure if was what nervous energy or the odd feeling that I was getting to race a bike again. This last six months has been strange to say the least, with so many races being cancelled, and a year when organized events of all sports have come to a halt. It felt great to have the opportunity race a bike again. It also brought back so may memories of previous races.
We loaded up the car to head the 75 minutes north with my son. We always have pre race traditions, from who's grabbing what supplies, to doing one last check over to make sure we have our riding gear, pumps, and nutrition. On the way to the race we love to listen to old songs from rock bands. My son likes to call them "bangers." One thing that was very apparent was that we were very excited to get into the mindset of racing and to ultimately see what the last 4 months of training has done and how we preform.
As we pulled into the parking lot, it was fun to see a lot of familiar faces that we haven't seen in a while. Most people we have met at the these races and they have grown to be friends. When we checked in, the race organizers had masks requirements and only two people were allowed to check in at a time. There were also very good social distancing measures put in place. Everything was incredibly organized. We registered late, so there was only one spot in wave 1, which I gave to my son, so I registered in wave 2. Each wave had only ten riders and there were three minute staggered starts between waves. Wave 1 went off like they were doing a one mile sprint. It was fun to watch my son get to race again, as the high school race season has been dumbed down to be pretty much non-existent. This might be the only race he gets for the whole year.
I gathered myself and got ready for my wave to start. Wave 2 gave way and we started racing. The kids in wave 2 went to the front in no time, as we continued to traverse though the parking lot. As we rode on a black top road for the first 5 blocks, I quickly jumped in behind them in 5th position as we maneuvered into the single track trails of Giants Ridge. The first three miles were cross country ski trails with significant rolling hills and climbing, and with a wet saturated ground from the previous days rain, it felt like it was robbing my momentum. My game plan wasn't to attack early, but the adrenaline and being in race mode took over. I climbed pretty quick with almost full effort to create a separation in wave 2, knowing that there were ten others riders ahead of me from wave 1. Within the first 2 miles I started reeling in some of the riders from wave 1, making up some time on the fast decent and rolling hills of the Northwoods. Around mile 4 we popped out into some rural gravel ATV trails, which we did from mile 4 to mile 9. The trails were filled with roots, rocks, and monster puddles from the rain the day before. I was keeping a record of who I was passing on wave 1. By mile 9, I had passed six people from wave 1 and ran into a couple young high school riders. It was pretty fun to pound some gravel with them. They were giving it their everything. I rode with one rider from mile 10 to mile 16. With about 3 miles to go, we started seeing more fans and families cheering us along. The terrain started changing more into the rolling hills, like at the start with more exposed rock.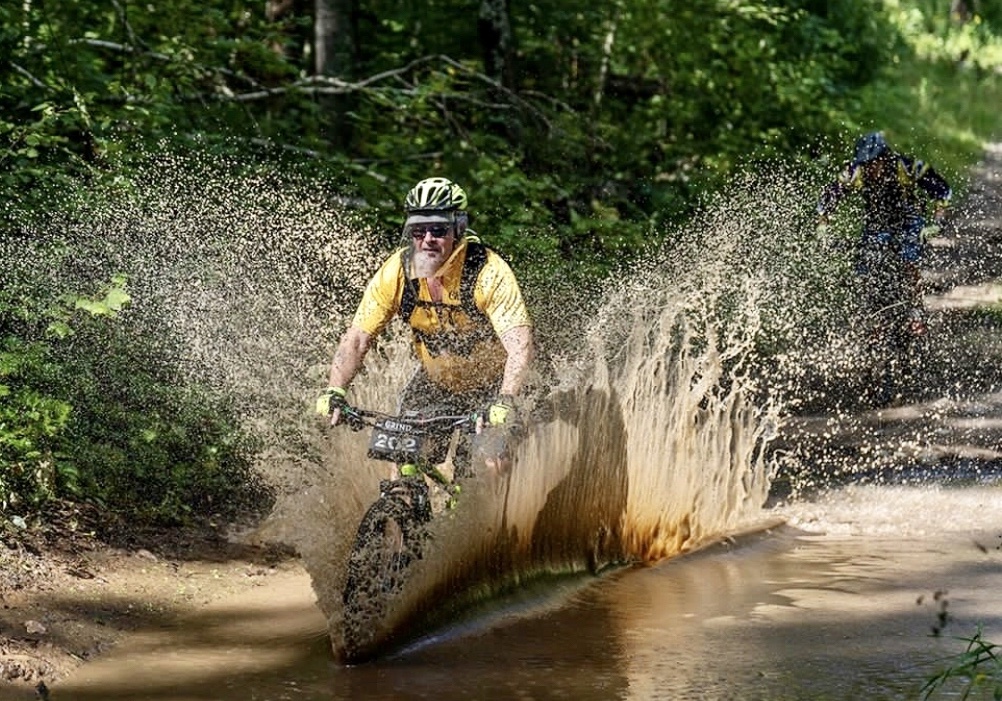 At this point I was relieved I was riding a full suspension XC bike. I had now separated from the high school kids I was riding with. I was starting to get tired because it was mainly a sprint the whole race, and I was giving it my all the whole time. I knew there was only about three miles left. I bared down and tried to give it a little extra to see if I could catch more riders. The last three miles went quick, and with only six blocks to go, you cross the highway and turn into the bottom of the ski hills. There were quite a few fans cheering us on. With one more sprint, on a very well marked course, and basically racing the clock, I left nothing on the table. I was greeted at the finish line by my son and a few other friends that had been cheering me along.
Shortly after finishing, we were looking at the electronic leader board, and it showed that my son had still beat me by 4+ minutes. We're pretty competitive with each other, so of course I wanted to beat him, but what a proud dad moment. I was just trying to hold onto that moment. We were both pretty excited with our results, but more than anything, I was so excited to be back on a bike. It made me realize all the wonderful people we have met through this sport. It was fun to hear how their summer has been going, what they have been doing, and how excited they were to be back at a race. The energy was in the air for sure .
All in all, it was such an amazing day. Because of other family obligations, we couldn't wait around and talk much with other riders. The organizers put all the awards online, and we already knew that we'd have to watch it that afternoon. The organizers put on a very safe, organized race. I know we will for sure be back next year. I'm so glad we were able to do this race because it gave us a much needed recharge to keep focusing on training and a push to keep improving.
Constance Shoquist was the overall female winner in the long race as Emmet Donahue took male honors
Loppet Foundation Mountain Bike Time Trials
Piotr Bednarski reports:
Wanted to give you all a heads up that the Loppet Foundation will be running a series of three mountain bike time trails at the area 36 trails at Wirth, starting this weekend, Saturday, August 22nd. One lap or two laps. Each lap is approximately 13-16 min depending on the athlete. We will add some additional trail sections like Wirth on Wednesday from last year.
I am pretty sure that we will completely fill all the slots, especially for the first weekend in August. So if you would like some or many of your athletes to race, we encourage you to register ASAP!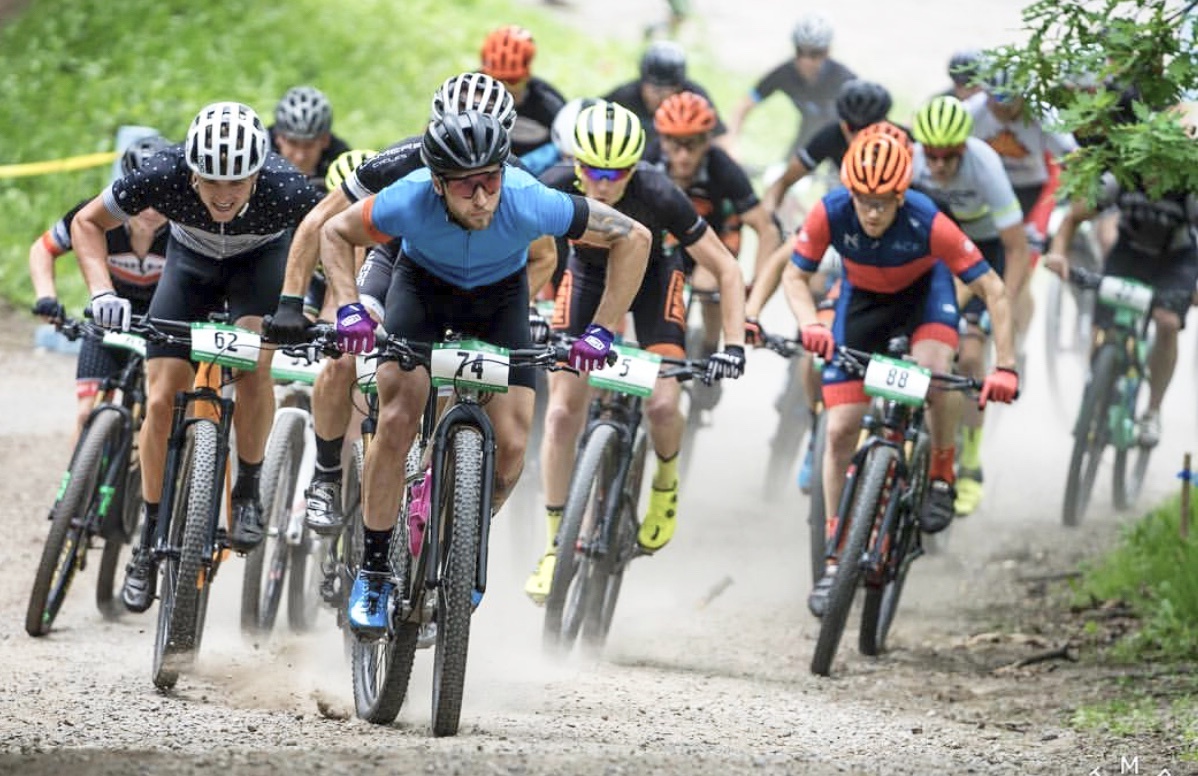 We realize that all the dates we have won't work for each NICA team, but should provide a little extra racing preparation - especially in the new TT format.
Note that registration closed Wednesday at midnight prior to the Saturday race date, and a start list (with exact start time for each racer) will be posted on Friday morning. Starts run from 8am till approx 12:30pm. Note all race days are Saturdays, with Sunday as a "weather backup".
Chequamegon Update
Last week the Chequamegon Fat Tire posted the formal cancellation of the event this year. In it's place will be a virtual race. "We're gonna miss seeing each of you this year! To scratch your Chequamegon itch, we're offering the Cheq Challenge 37.5! It's not a race, but it IS a chance to enjoy the trails, sights and sounds of the Wisconsin Northwoods. Ride the marked course on your own between September 4-20 and receive some Cheq MTB Festival swag! Head to our website for more details."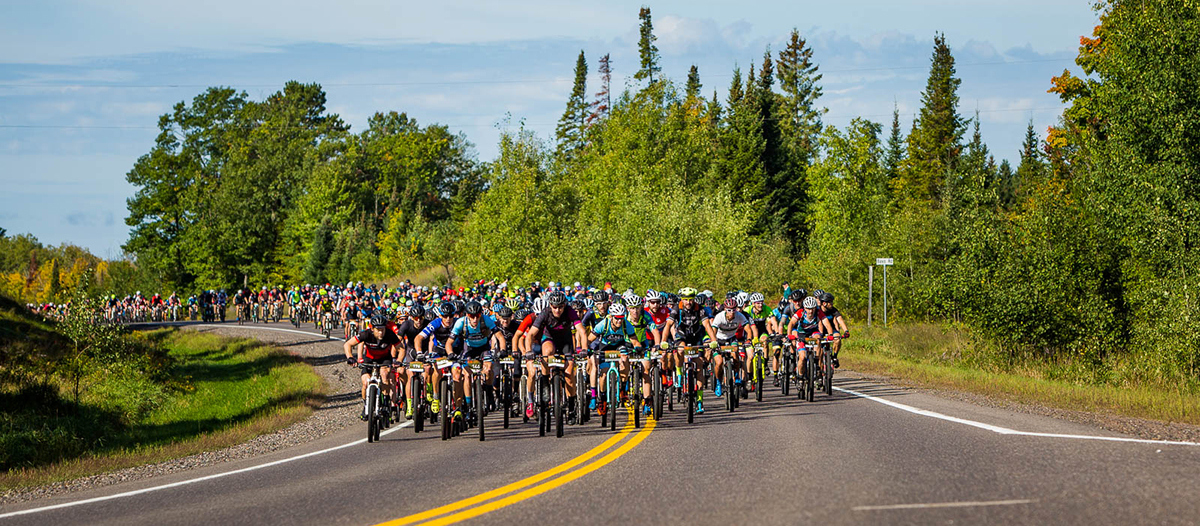 Double Downer
Not only has COVID altered operations for certain mountain bike venues Soldier Mountain Ski Area in Idaho was supposed to celebrate the grand opening of its new bike park Aug. 7 and 8. Instead, resort staff had to evacuate and close the access road on Aug. 6 due to a nearby wildfire that marched across the property over the weekend.
Three Rivers Carver Lake Singletrack
Three Rivers Park District is developing a singletrack trail within Carver Park Reserve in partnership with the One Track Mind Foundation.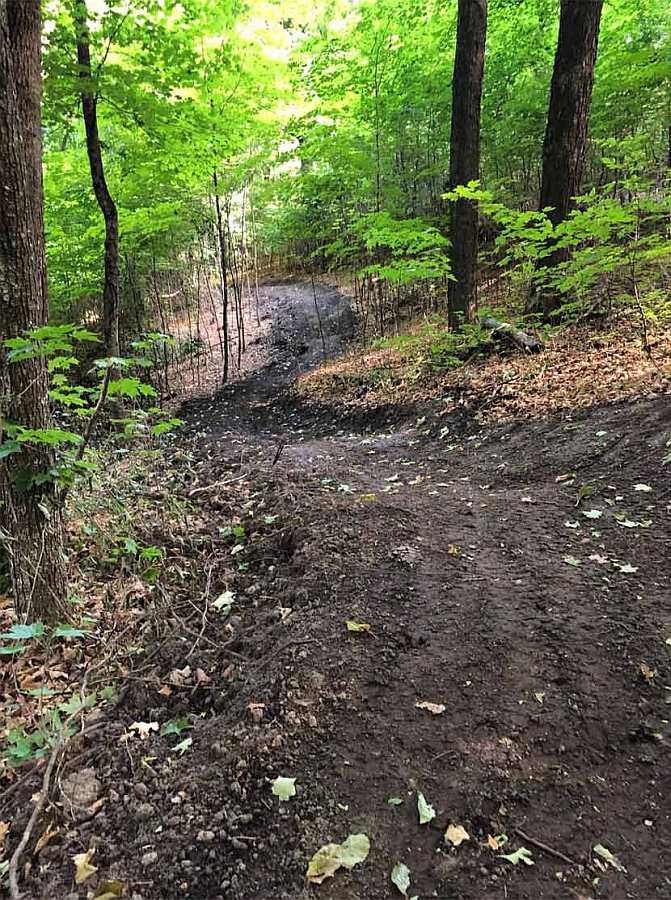 The singletrack trail will be located in the western portion of the park reserve and will be 10 miles long. It will be an off-road, unpaved, singletrack trail, similar to the trails at Elm Creek, Lake Rebecca and Murphy-Hanrehan park reserves, and it will be open year-round.
View Carver Singletrack Trail Map
Construction started in 2019 and is expected to continue through spring and summer of 2020. The trail will be open for riding in late summer or early fall of 2020.
New Trail in LaCrosse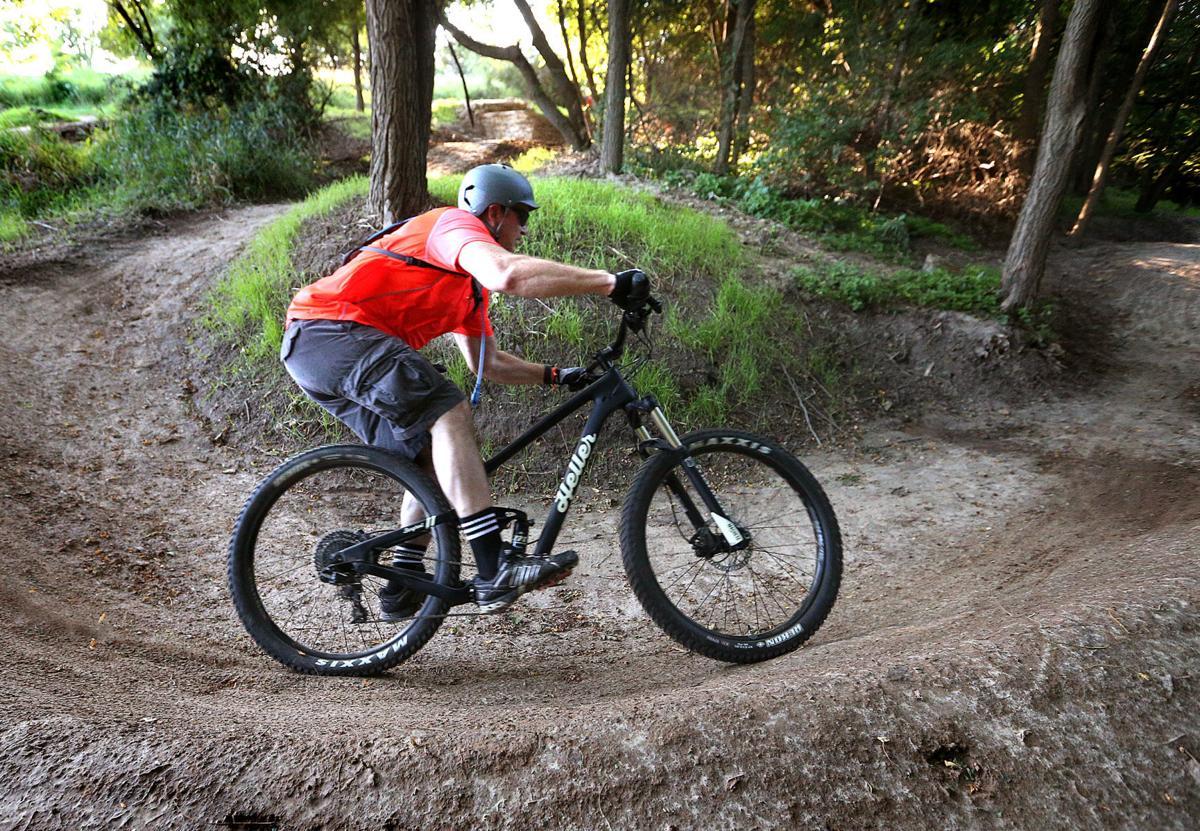 Rock Solid trails posted update on new trail in LaCrosse: "Exciting news for La Crosse, Wisconsin: a few of the trails we built at the Grandad Bluff Trail System are open! The Outdoor Recreation Alliance is still working on the names but currently there is a hiking only trail and an easy biking trail. The other trails are still being worked on, so please stay off of them during construction."
Related: New trails open in LaCrosse
Rogue Trail Building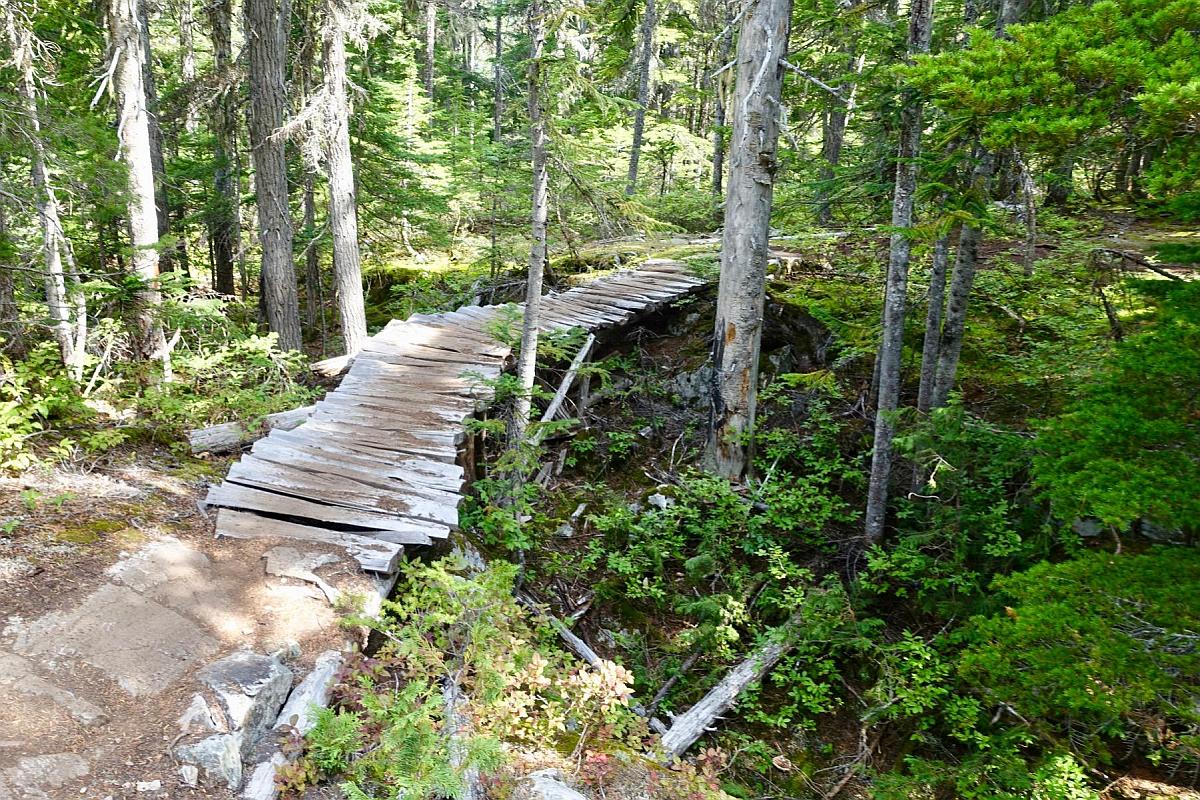 With more crowded trails, and fewer organized dig days everywhere, mountain bike advocates and land managers are seeing the result of a unique combination of circumstances; an increase in unsanctioned trail building. Singletracks.com recently posted an article on rogue trail building that is occurring across the country.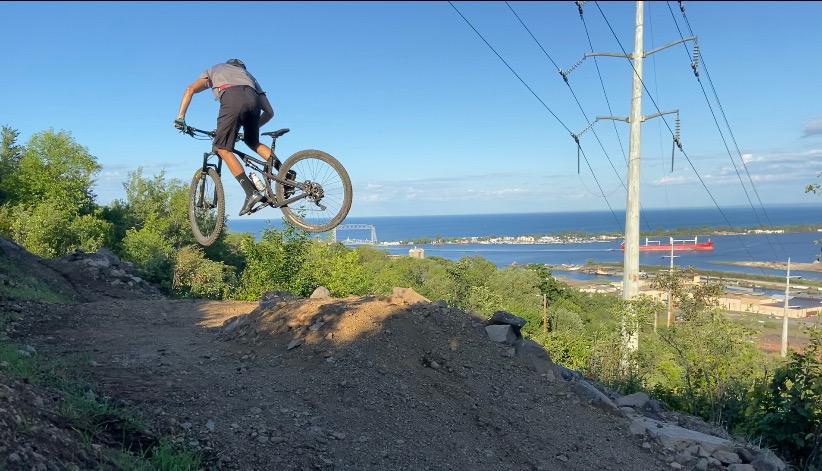 Related:
Rogue building in Duluth area
Dirty Needle Last Hits YouTube
Hell's Canyon Hidden Gem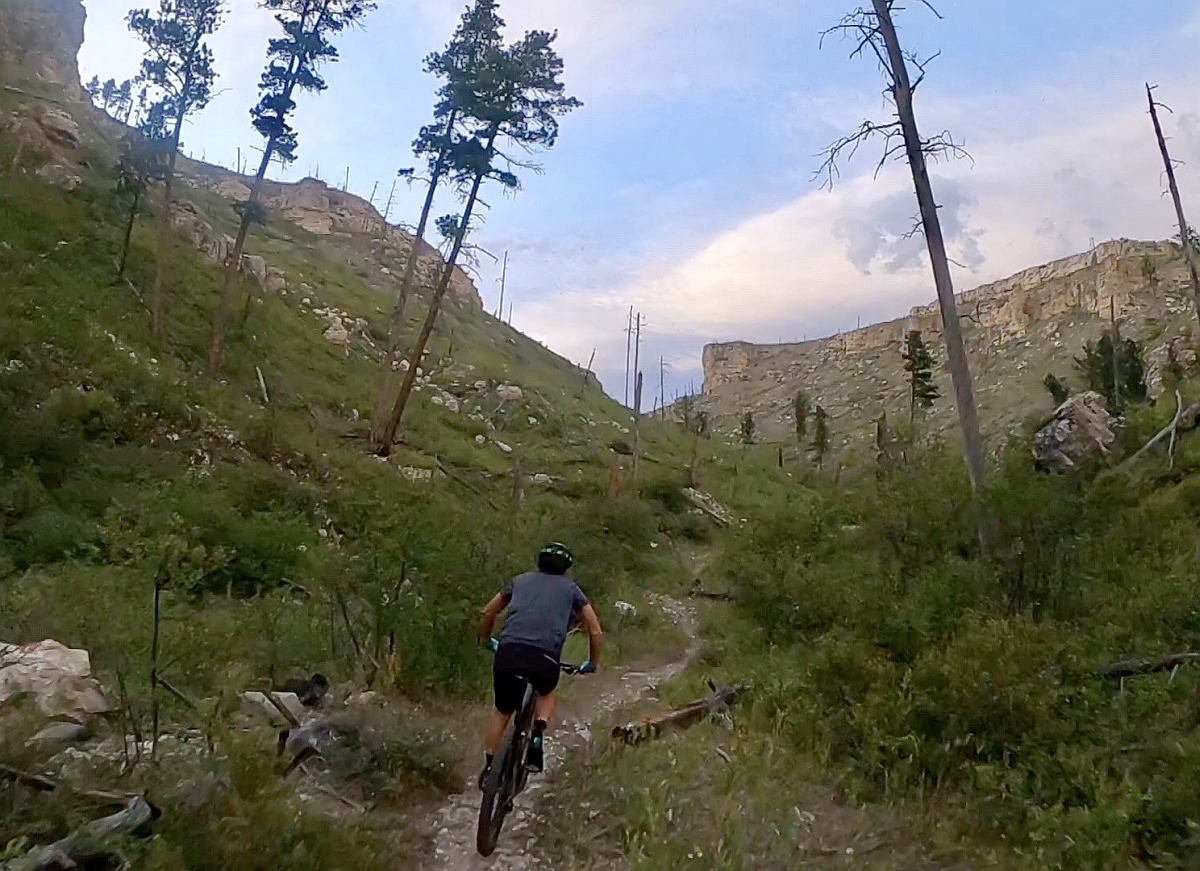 Took a quick trip to Colorado last week to visit family, sneaking in some short and sweet rides along the way and discovering more classic singletrack in the Badlands of South Dakota. The network of trails is expanding and the ride that stood out the most on this trip was an adrenaline filled ride at Hell's Canyon on the southern outskirts of the "Hills". The loop was just under 6 miles long but racing the sunset to get a ride in before dark and racing the light during the ride made for all the more exhilarating. After a gradual climb out of the canyon, suddenly there is a series of steep switchbacks to get you on top of the edge. The views are fantastic, the singletrack is classic, with plenty of white knuckle exposure. Although this wouldn't be destination ride, a must do if in the area or if heading out west and looking for a leg stretcher, put it on the list.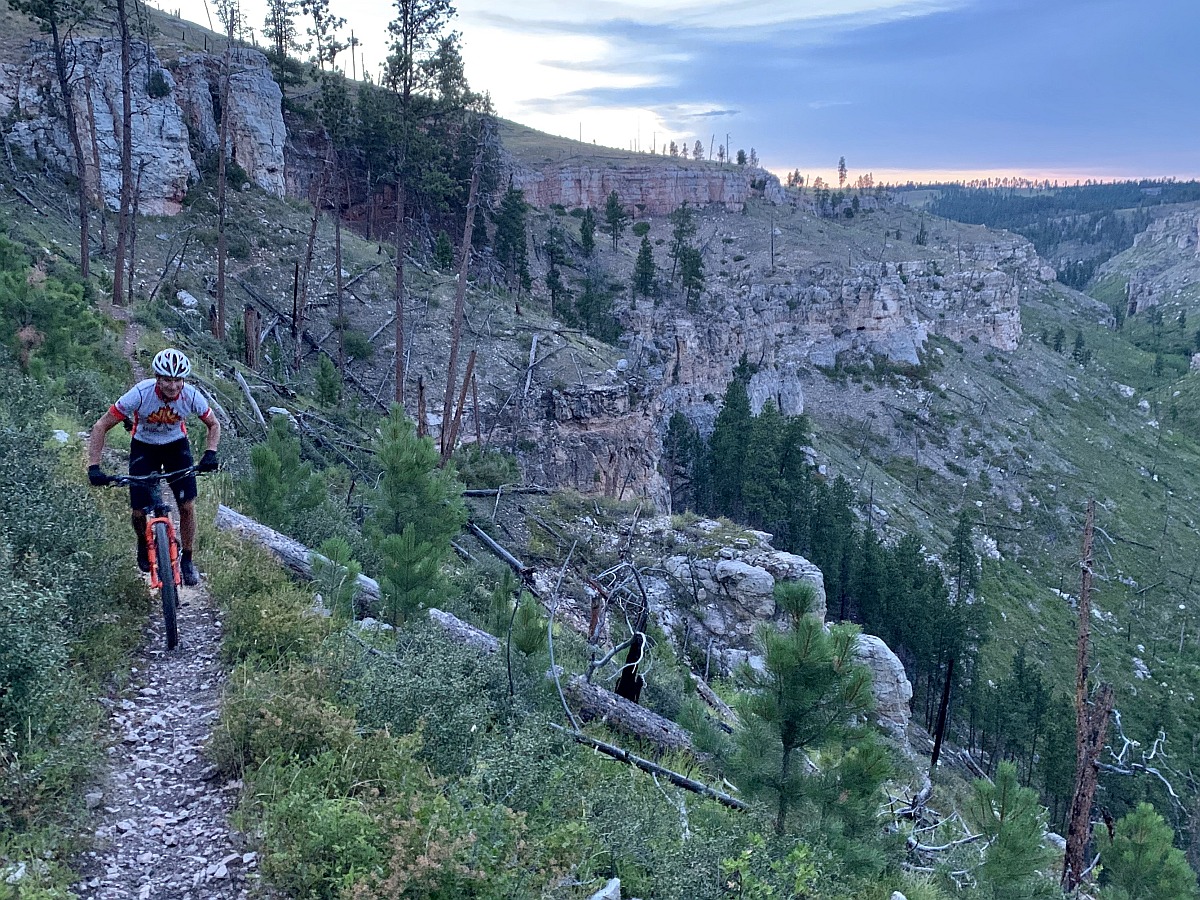 Keep the wheels moving
About the author...

Jay Richards maintains a very active lifestyle. He somehow finds time between managing a full-time resort (Maplelag) and bringing up a family of four boys with his wife Jonell, to compete in both mountain bike and a few cross-country ski races. Jay rides for Maplelag Resort, manages the Maplelag mountain bike team and enters his 30th year of racing and promoting mountain bike races.

Have an event or mountain bike related information to share from the Midwest? Feel free to contact Jay at