US Elite Racing: Season Preview
With the early snow that's been making the rounds throughout the US, thoughts of the upcoming ski season are starting to rush in. This season is shaping up to look drastically different at all levels of American ski racing, and the elite domestic racing scene is no exception. The U.S. Ski and Snowboard Association (USSA) announced in early September that all national cross-country races would be cancelled because of pandemic concerns and replaced with regional level competitions. This effectively erased the entire SuperTour schedule, including U.S. National Championships, originally planned for Houghton, Michigan in early January, and SuperTour Finals planned for Craftsbury, Vermont in April.
As SuperTour races are the typical pathway for athletes to qualify for World Cup starts, USSA plans to use discretion to select athletes for the 2021 Oberstdorf World Championships and 2021 World Cup races (A link detailing criteria and current World Cup qualifiers is included at the end of this article). This discretion will be based on the performances of athletes at regional races throughout the United States. Local organizing committees in each region have been working hard to ensure that there will be high-caliber competitions this season within each division. Many former Midwest skiers will be competing in their current respective regions in hopes of qualifying for international races. See below for a full roundup of where past Midwest skiers are racing now.
Midwest Skiers: Where are they now?
Women

Athlete

Current Region

Team

Former College

Instagram

Caroline Brisbois

Alaska

APU

Northern Michigan University '18

Rosie Frankowski

Alaska

APU

Northern Michigan University '14

Alayna Sonnesyn

East

SMST2

University of Vermont '18

Margie Freed

East

GRP

University of Vermont '20

Michaela Keller-Miller

East

GRP

University of Alaska Anchorage '20

Amanda Kautzer

West

Crosscut Elite Team

Michigan Tech '20

Anna French

West

Crosscut Elite Team

Montana State University

Felicia Gesior

West

Crosscut Elite Team

Northern Michigan University '16

Hannah Rudd

West

BSF Pro

University of Alaska Anchorage '20

Ingrid Thyr

West

Crosscut Elite Team

Williams College '20

Sarah Goble

West

SVSEF Gold Team

Michigan Tech '20

Men

Athlete

Current Region

Team

Former College

Instagram

Adam Martin

East

GRP

Northern Michigan University '17

Ben Saxton

East

SMST2

N/A

Ian Torchia

East

SMST2

Northern Michigan University '18

Kevin Bolger

West

SVSEF Gold Team

University of Utah '17

Christian Gostout

West

Crosscut Elite Team

Bowdoin College '20
We caught up with former Midwest skiers from around the US to see how summer and fall training has been going and to gauge what sort of regional events are set to happen this winter.
First, we checked in with Hannah Rudd, currently skiing for the newly formed Bridger Ski Foundation (BSF) Pro team. The team, coached by Olympian Andy Newell, is based out of Bozeman, Montana and has three men and three women. Rudd was drawn to BSF largely because of the location and the opportunity to learn from Newell's prior racing, training, and coaching experience. Now that Rudd has been in Bozeman for nearly six months, she reports that she is "getting into a good routine of training, working, recovering, and having fun." She mentions that Bozeman has one of the best training scenes she has ever experienced, "complete with lots of rollerski road options, endless mountain trails, and tons of skiers to train with." She's excited for the races this winter after getting in some quality training this summer and making improvements in both her fitness and technique.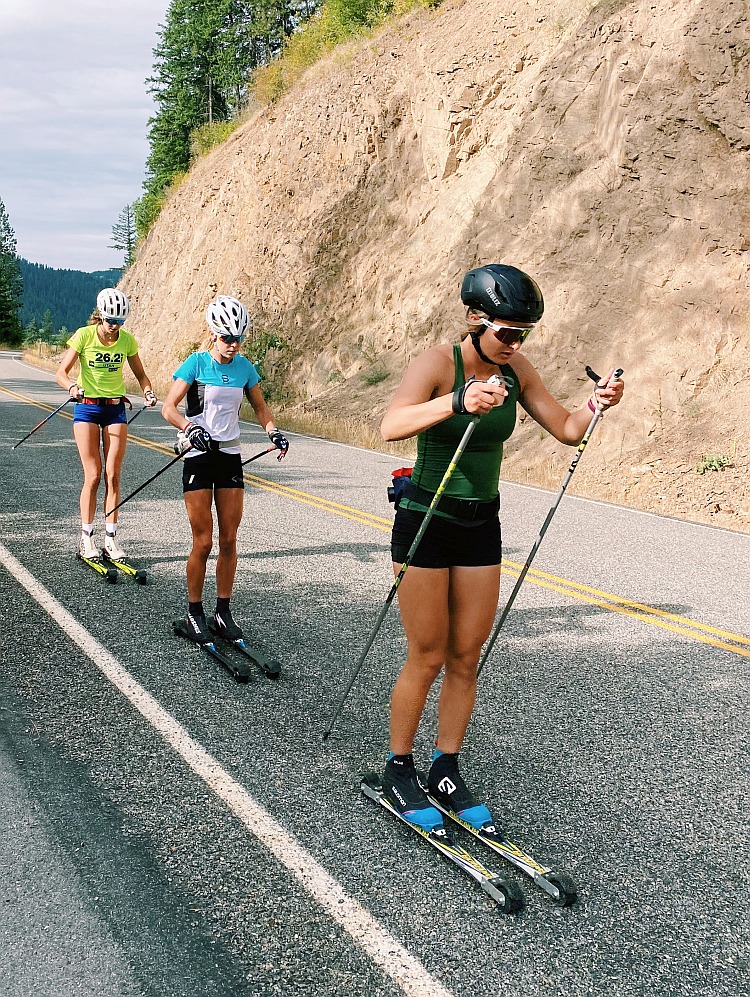 Despite her excitement for racing, Rudd says that Covid has made for an uncertain racing schedule this winter. "We will likely be attending a lot of regional races in the West. Our first race will be at the end of November in West Yellowstone." See the linked FIS calendar at the end of the article for a preliminary schedule of elite US regional races this winter. The West Yellowstone races are set to happen on November 28th. As of now, the women are set to race a 5k skate race and the men will be racing a 10k skate. Look out for former Midwest skiers in the Western region, as they will presumably be racing at West Yellowstone as well.
One such former Midwest skier is Anna French, skiing for the Crosscut Elite Team based out of Bozeman, Montana. The Crosscut Elite Team is now in its second year and is made up of both skiers and biathletes. French followed an unusual trajectory to reach her current status as an elite skier. Following her graduation from Wayzata High School in 2015, she competed as a NCAA D1 runner. Today, French continues to train for her final season of indoor track for Montana State University (MSU) while training to compete in ski races this winter. French says that she is "incredibly excited to race this winter, regardless of what the competition season may end up looking like." French plans to compete in a mix of Nordic and biathlon races this winter, although she cites her main focus for the season is to "get acclimated to ski racing and training again." She says, "Even if we are limited in racing opportunities, I will be happy with any chance to return to ski racing and am beyond thrilled to be a part of the Crosscut Elite Team this winter."
French's decision to rejoin the ski racing world seemed to be a natural choice, as she never fully gave up skiing throughout her time as a collegiate runner. After dealing with stress fractures and a torn labrum in her hip, French used skiing as a way to stay in shape for running. Both the necessity to use skiing as a way to cross train, her passion for the sport, and "desire to pursue skiing more seriously again" aided French's decision to join the Crosscut Elite Team this past summer. The team has been the perfect fit for French, as "the coaches, Seth Hubbard and Nick Michaud, are very flexible in allowing (French) to pursue skiing at an elite level while also running and doing research as a graduate student at MSU."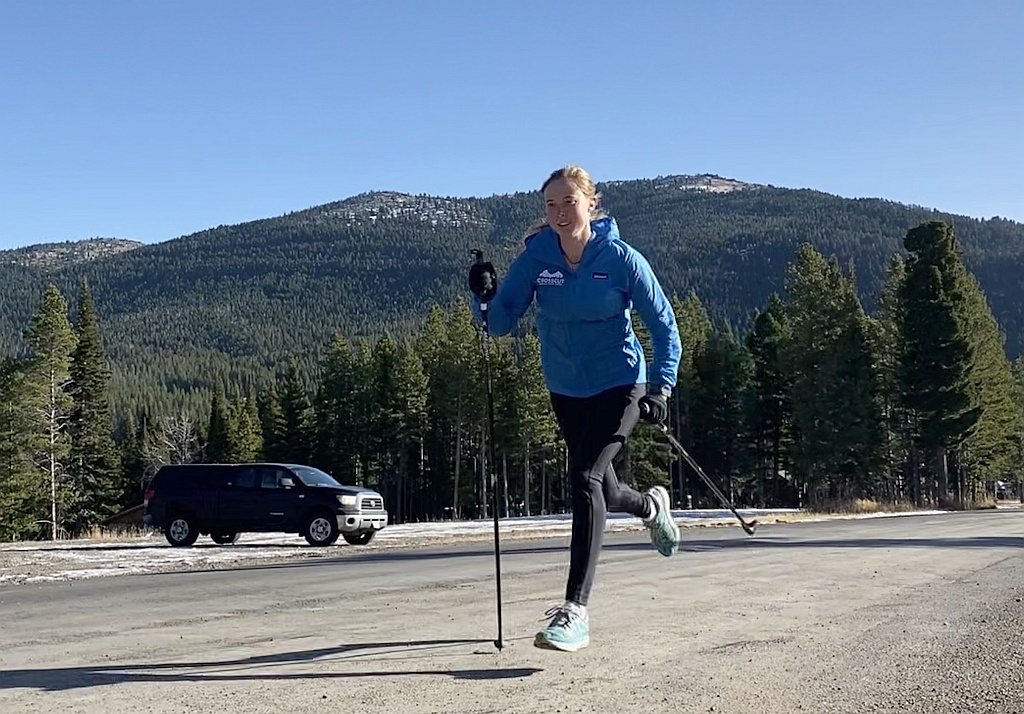 After a flare-up of a prior hip injury in June, French began exclusively rollerski training. The hip has since recovered, but French has still dropped her "previous years' (running) mileage from 75 miles per week to around 30." Despite these changes to her training, French says "this is the healthiest I have been in a long time and I recently ran a time close to my PR in a cross country meet for MSU." French's unconventional return to ski racing will be exciting to follow as she continues to represent both Montana State University and the Crosscut Elite Team.
Also racing in the Western region is Sarah Goble, a member of the Sun Valley Gold Team. Following her graduation from Michigan Tech University this past May, Goble made the decision to pursue elite skiing. Goble ultimately settled on the Sun Valley Gold Team after looking into several different programs. Goble says, "I have a connection to the area, as I've spent a few summers in Sun Valley and took a gap year here. I also wanted to be somewhere that would get me excited about getting out and training."
Since arriving in Sun Valley, Goble has been upping her training intensity and volume while being conscious about listening to her body. She mentions that she has "made some gains in technique and strength that are really cool to see!" As for her mindset toward skiing during a pandemic, Goble mentions that "you just have to remind yourself to remain positive and find ways to be excited about skiing in these tough times." This will certainly be helpful as Goble transitions into the uncertain racing season ahead.
Next, we caught up with Caroline Brisbois up in Anchorage, Alaska, who trains and races with Alaska Pacific University (APU). APU has been training hard with slight modifications to their typical routine because of Covid. Brisbois reports that the team splits training sessions "into smaller pods of similar abilities and speeds to limit overall group sizes and to keep good physical distancing." They've also had to get creative with backyard strength sessions, as their usual gym was closed this past summer. Even though Covid changed the way APU has been able to train, Brisbois says that the training in Anchorage has been great this summer and fall. Anchorage was lucky to avoid wildfires this year, making it easier to train safely outdoors.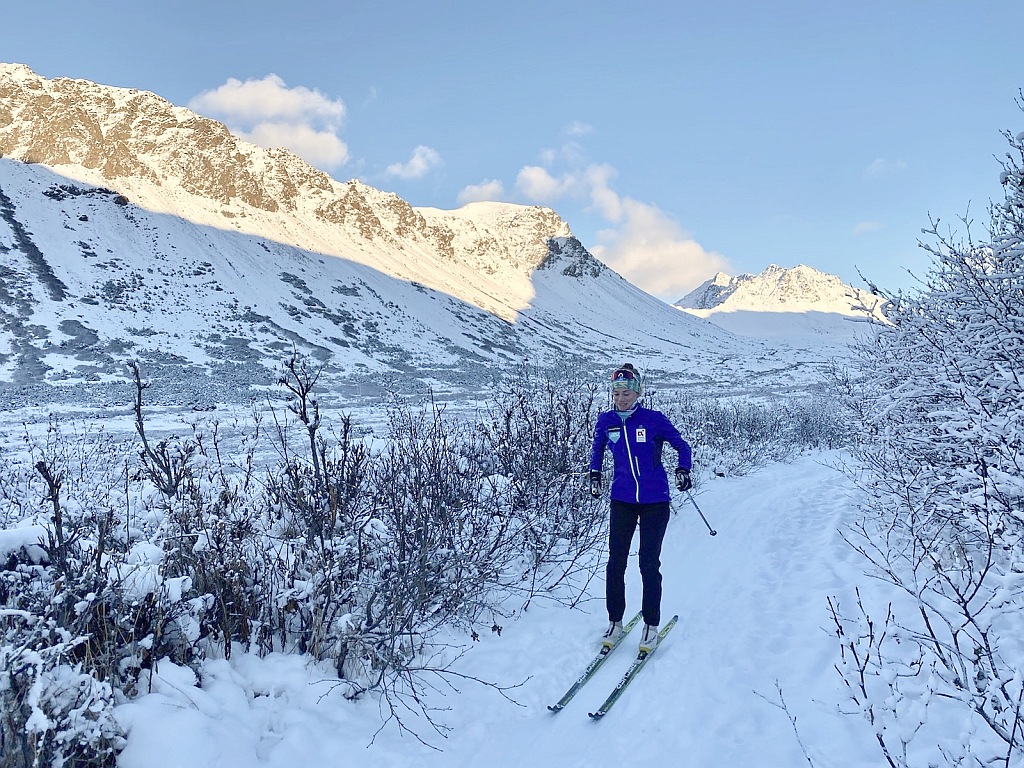 Looking forward to the racing season, Alaska is planning on having their own regional races to allow skiers the opportunity to race safely. There will be a series of early-season FIS races hosted at Birch Hill in Fairbanks. The first of these races will be a 5/10k skate race on November 21st. See the linked FIS calendar for additional dates and race types. As for the rest of the season, Alaska has also made all Besh Cup races (Alaska's JNQ races) FIS events. Additionally, Brisbois says that "there are safe plans in place for community races and college races," further adding to the racing options in Alaska. As for Brisbois' season, she says that she is most excited to race the Birkie this year because "50k's are such a fun challenge and adventure whether you have a bad day or a great day!" She's also excited to "have more time in Alaska this winter to backcountry ski and play in the mountains."
Jumping back across the country to the East coast, we see what Adam Martin of the Green Racing Project (GRP) has been up to. The GRP, based out of Craftsbury, Vermont, has been operating in a bubble to minimize risk of exposure to Covid. Martin says, "we're fortunate at the Outdoor Center to be in a place where, so far, we've been able to execute training largely unaffected. Highlights of the training year include the completion of a roller loop at the Center and a stronger team dynamic than I've felt in years past."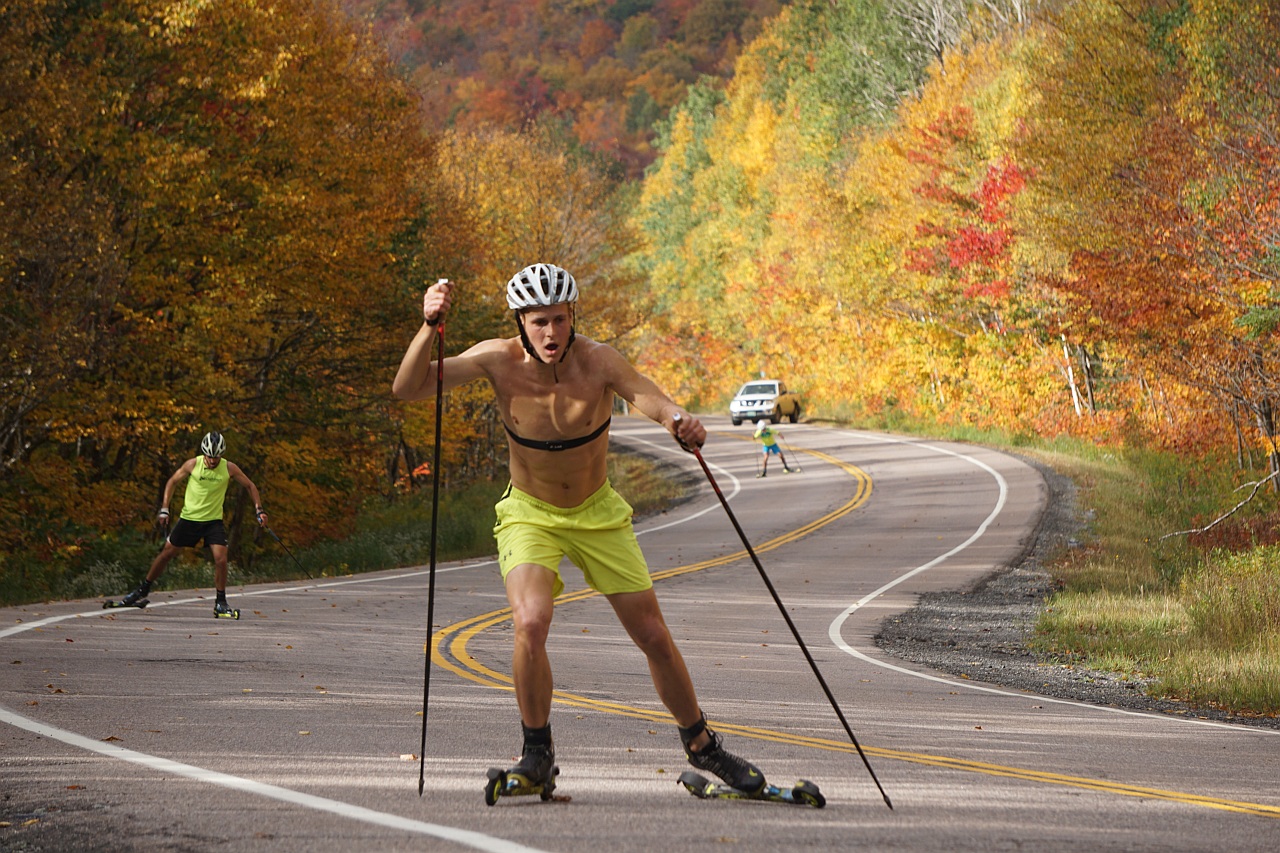 Martin will be starting the Lillehammer Skiathlon and Davos 15k World Cup races in early December. Following these races, Martin says he's "embracing an open mind." He "looks forward to any race opportunities we have and also periods with good conditions to enjoy the recreational aspects of our sport."
For those in the Eastern region not starting on the World Cup, there will be several regional FIS races instead. The first of these will be the Craftsbury Season Opener, in which there will be an individual skate race and a skate sprint qualifier, both on December 5th. There are several additional FIS races planned in December and January, but the remainder of the season is still largely up in the air.
Throughout the US, elite skiers are going into the season with a cloud of uncertainty. However, one thing is for certain, that this season is unorthodox. The cancellation of the SuperTour circuit was an unprecedented decision that left race organizers scrambling to create race opportunities for racers typically on the national circuit. Regardless of these changes, there will still be ample chances to follow elite American skiers as they chase their dreams.
About the author...

Michaela Keller-Miller, a graduate of Wayzata High School and the University of Alaska Anchorage, skis for the Green Racing Project based out of Craftsbury, Vermont. She's currently enjoying getting to know the East Coast and ski training full-time. Her ideal day would probably involve a long trail run followed by a stack of pancakes with maple syrup and a chai latte.