US Elite Racing: Mid-December Update
The 2020-2021 ski season is finally underway, as skiers across the country begin testing their racing gears in local time trial racing. Although many state restrictions prevent traditional races from being held, clubs are finding ways to provide safe time trial racing to take their place. The past couple of weeks have resulted in numerous time trials and races to break down. Official racing was held in Alaska, and time trial efforts popped up in Sun Valley, ID, Minneapolis, and Craftsbury, VT.
Midwest
With the cancellation of official early-season racing in the Midwest, skiers shifted their focus to quality training and self-timed race-like efforts instead. Renae Anderson, a skier for Bowdoin College, is currently taking a gap year prior to returning to Bowdoin for her senior year. Anderson has been training with Loppet Nordic Racing teammates during this time so that she is ready for whatever this ski season throws her way. Despite not having any official race opportunities in the early season, Anderson reports that she and her teammates, including Caitlin Gregg and Abby Drach, have been skiing "self-timed hard efforts."
While Minnesota regulations prevent even official time trials from being held, Anderson and Gregg are taking the opportunity to ski race-like efforts in a safe manner. These efforts involve skiing alone for four laps of a 1.4 kilometer loop (for a total of 5.6 km) anytime between 7am and 6pm, self-timed for their own reference. Anderson reports that she completed a skate race-effort one day and a classic effort the next. She says "It was challenging because it was mostly flat, with a few quick hills. It was very fast and my goal was to stay engaged in the longer flat sections and work the transitions! It was also fun with the added challenge of waxing our own skis in klister conditions." This is just one of the many adjustments that racers must navigate throughout this pandemic.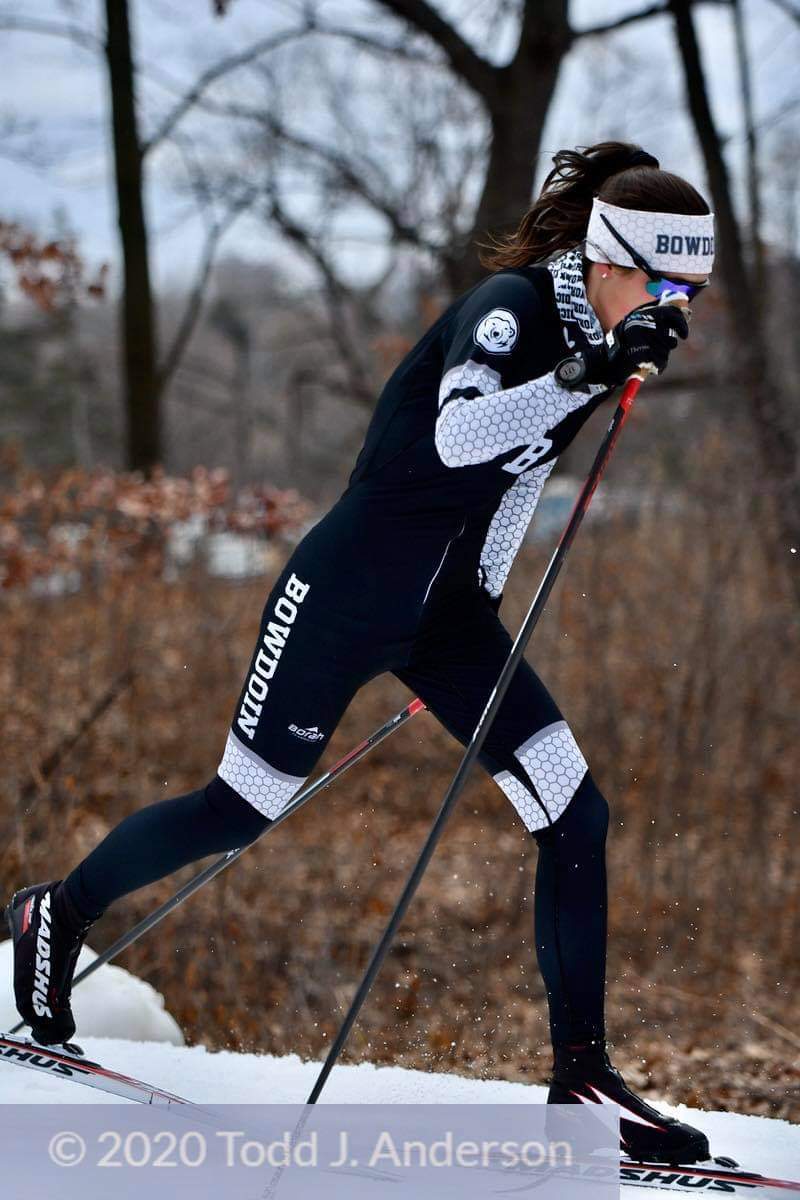 Gregg echoed much of what Anderson mentioned regarding this ski season. Despite the uncertainty, Gregg brought up multiple bright spots. She says, "Training has been going great this fall because we are focusing on the opportunities we do have. Our training has been extremely consistent and we have been able to focus a lot on our workout quality with a reduced racing schedule." In regard to the recent self-timed solo race efforts, Gregg mentions that they "require a little more grit to keep the effort going, but it has also allowed everyone to find their inner fire and drive." As for the rest of the season, Gregg is "as excited as ever to jump into whatever race or race efforts we will have in the future."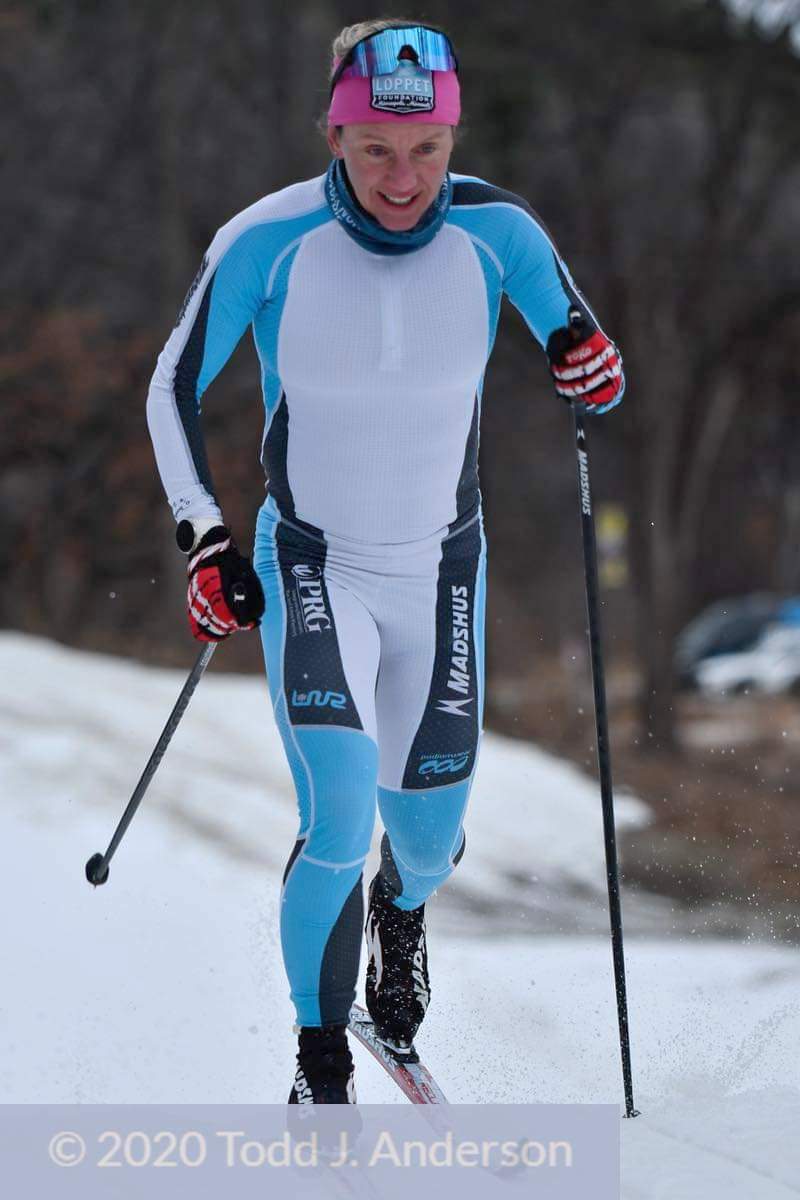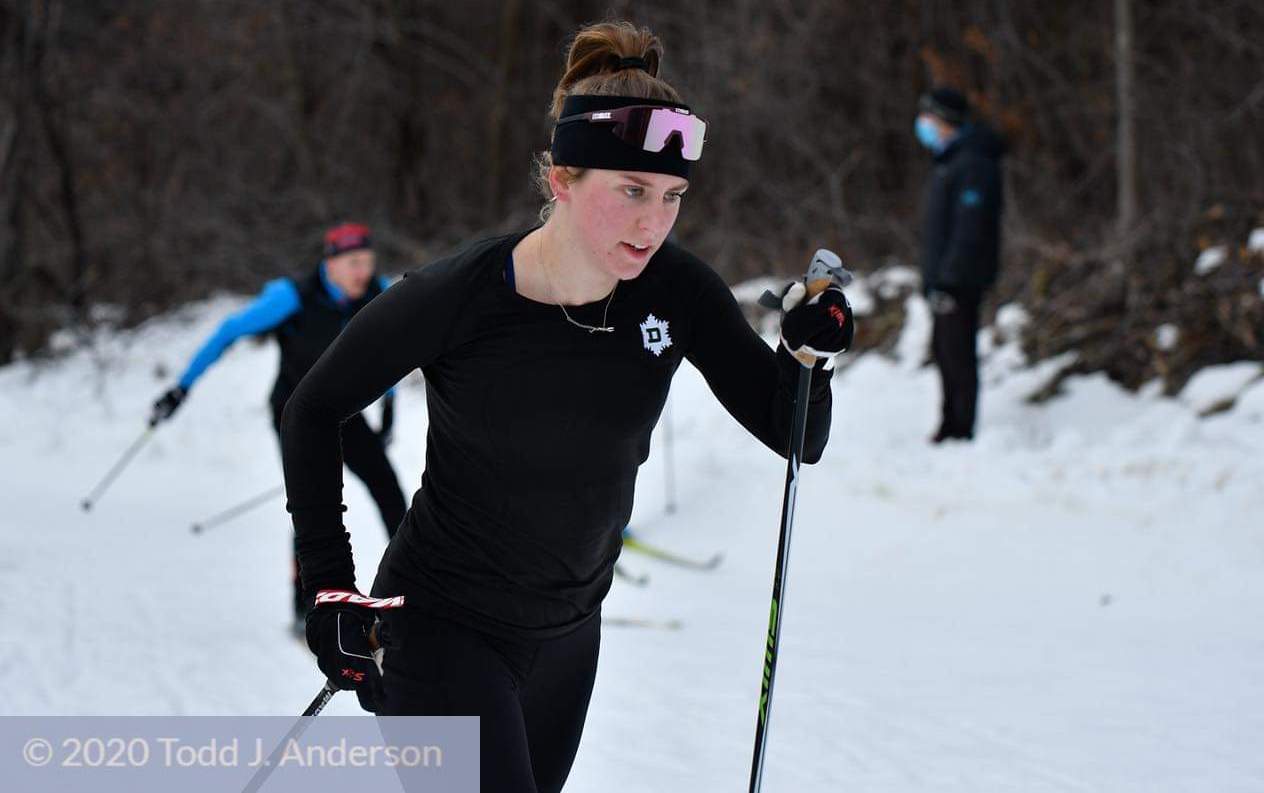 Western
Western time trials continued with a classic sprint on December 12th and a 10 kilometer interval start skate time trial on December 13th. These time trials were held in Sun Valley. Both the BSF Pro team and Sun Valley Gold Team were present, as well as several University of Utah and Crosscut Elite Team skiers. Hannah Rudd (BSF) reports that the time trials were a good opportunity to continue progressing her race speed against a competitive field. She mentions that she's starting to get her "race legs" under her when compared to the time trials earlier this season in West Yellowstone. In regard to the race course, Rudd says that the course is rolling with lots of transitions which led her to focus on skiing these sections well and pushing over the tops of hills. Looking forward, Rudd is happy to be back in Minnesota for the holidays and to "enjoy time with family and skiing the trails of Wirth Park." She is also excited to "head to Utah after Christmas to compete in my first FIS races of the season."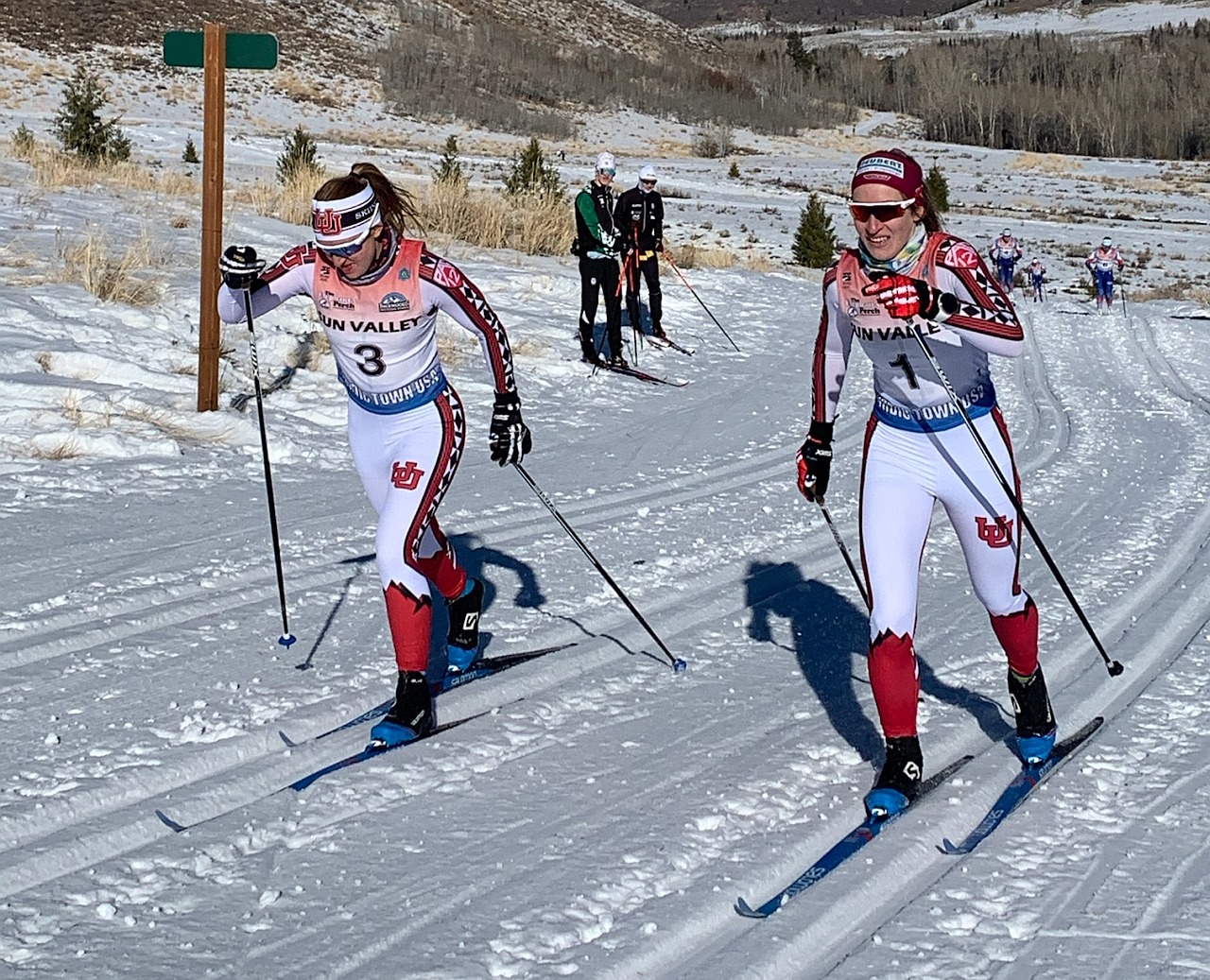 Sarah Goble of the Sun Valley Gold Team also raced in the time trials last week. Goble says the races were great and that "the coaches did a really nice job putting them on with a real race feel." She adds, "Both my races went well, but I was more excited about the feel of the distance race. I executed and skied parts of the course really well and got an idea of what I want to work on for the next race." Be sure to watch out for Goble, Rudd, and other Western skiers in the upcoming races at Soldier Hollow, Utah on January 2nd and 3rd.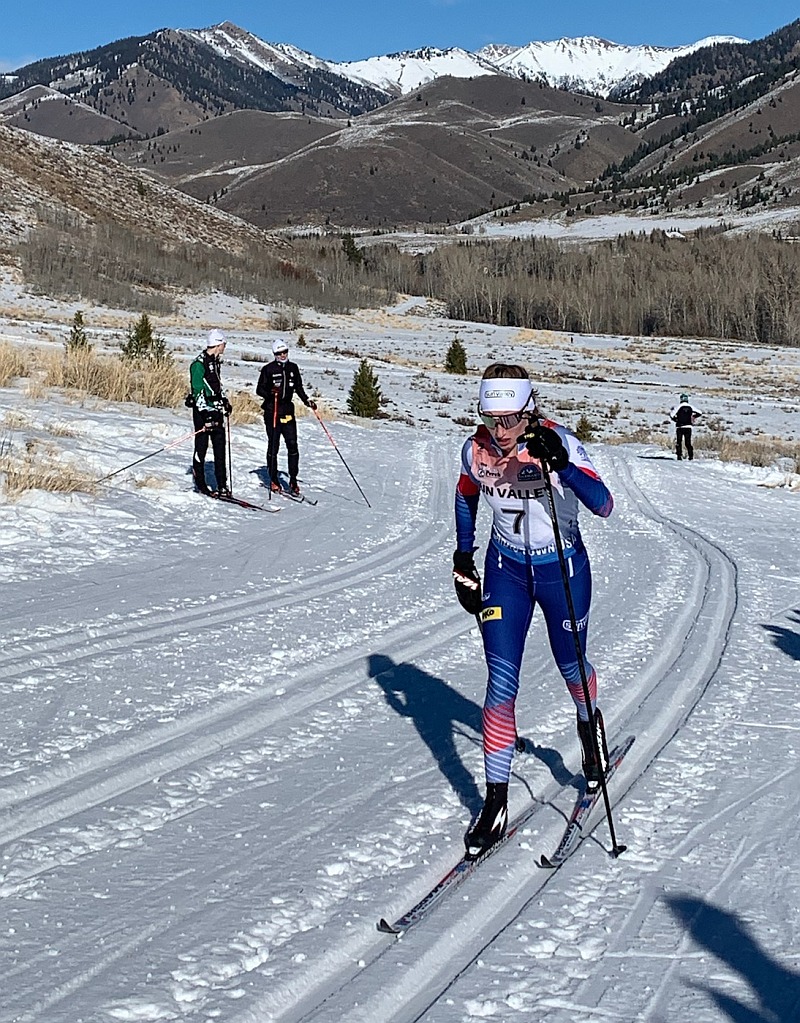 Alaska
After multiple weeks of racing time trials, Alaska is back with official racing. On December 13th, the Nordic Ski Association of Anchorage kicked off their Anchorage Cup race series with a 10 kilometer skate indvidual start race at Kincaid Park. The fields in both the men's and women's races were stacked, with APU Elite Team skiers, collegiate racers, and local citizen racers. The podium for the men's race went to Zanden McMullen (APU/MSU), Hunter Wonders (APU), and Kai Meyers (APU), respectively. In the women's race, US Ski Team member and Olympian Sadie Maubet-Bjornson (APU) raced to a sizable victory over Olympian Rosie Frankowski (APU). Fellow APU teammate Becca Rorabaugh rounded out the podium in 3rd place.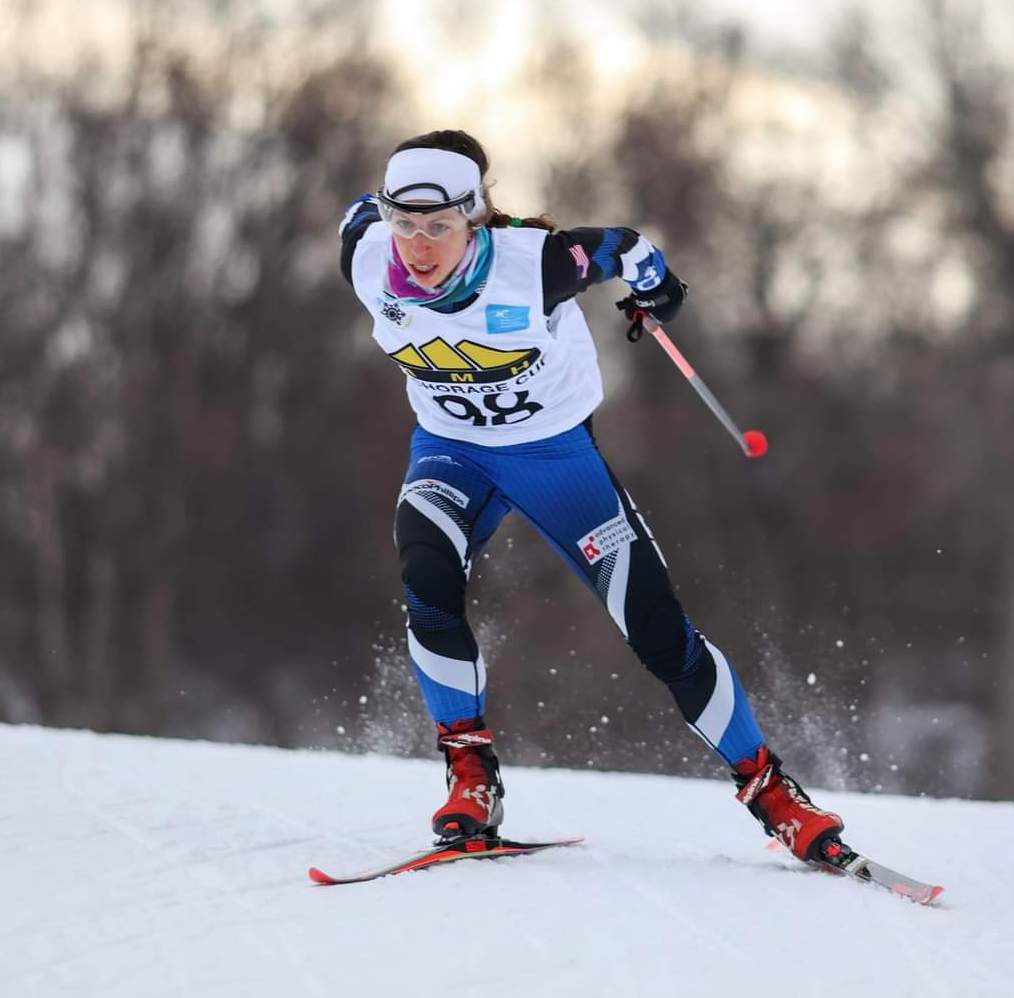 Frankowski made the decision earlier this winter to decline her start rights for Period 1 of the World Cup "due to uncertainty of COVID risks and changes, and the increased financial investment to race World Cup during a pandemic." Instead, she has been training hard and racing locally in Anchorage. Frankowski reports that "Alaska has been able to safely hold a couple of races" and that she "loved the creative format of racing last week where racers started 30 seconds apart, but within a 20 minute window. I got to line up with a bunch of boys and try to use them as motivation to ski fast." Frankowski also mentioned that, "We've had an amazing winter up here so far so while the racing has been limited, the skiing has been plenty." Looking forward, Frankowski is excited for more early-season local racing before hopefully heading to Europe later in the season.
This past weekend, there were FIS races hosted at Kincaid Park in Anchorage. There was a classic sprint qualifier on December 19th and a skate individual start distance race on December 20th. Saturday's sprint consisted of a 1.4km classic qualifier only. In the men's race, APU skiers swept the podium with Luke Jager taking the win. Jager was followed by Zanden McMullen in 2nd and Hunter Wonders in 3rd place. On the women's side, Sadie Maubet-Bjornson charged to the top spot of the podium, winning by an incredible 24.40 seconds. Rosie Frankowski once again showed her prowess by finishing second in front of Mariel Pulles of University of Alaska Fairbanks.
Following sprint day on Saturday was a 10 kilometer interval start skate distance race. The men's podium consisted of Wonders, McMullen, and Forrest Mahlen (APU), respectively. In the women's race, Maubet-Bjornson again took the win, followed by Frankowski in 2nd and Jessica Yeaton (APU) in 3rd.
Eastern
Both Stratton Mountain School (SMS) and Green Racing Project (GRP) racers competed in a series of four official time trials throughout the last two weeks. These time trials were similar to the Minneapolis race efforts in that skiers started on their own throughout the day. Prior to starting their race efforts, each skier picked up a chip to self-start and time themselves. SMS and GRP racers were joined by both collegiate skiers and junior racers who are Vermont natives. Week one consisted of a 10 kilometer skate time trial for the women, a 15 kilometer skate time trial for the men, and a skate sprint qualifier. These time trials took place from December 11th-13th to further stagger men and women.
First up, in the women's 10 kilometer skate race, Alayna Sonnesyn (SMS) finished in a commanding lead over Lina Sutro (GRP/UVM) and Alex Lawson (GRP/Middlebury). Midwest natives, Margie Freed and Michaela Keller-Miller, finished in 4th and 5th, respectively.
Sonnesyn has joined the GRP household bubble following a two-week quarantine in order to take advantage of man-made snow and training partners at the Craftsbury Outdoor Center. When asked about how the time trials went, Sonnesyn says "the time trials went really well and I was so happy to have the opportunity to test myself. There is a certain mindset and intensity that I get into for races that I can't quite bring myself to tap into for hard workouts. These time trials gave me the chance to get gritty and tough. Leading into them, I knew I had to take advantage of the race-like effort because I wasn't (and am still not) sure when the next opportunity will come."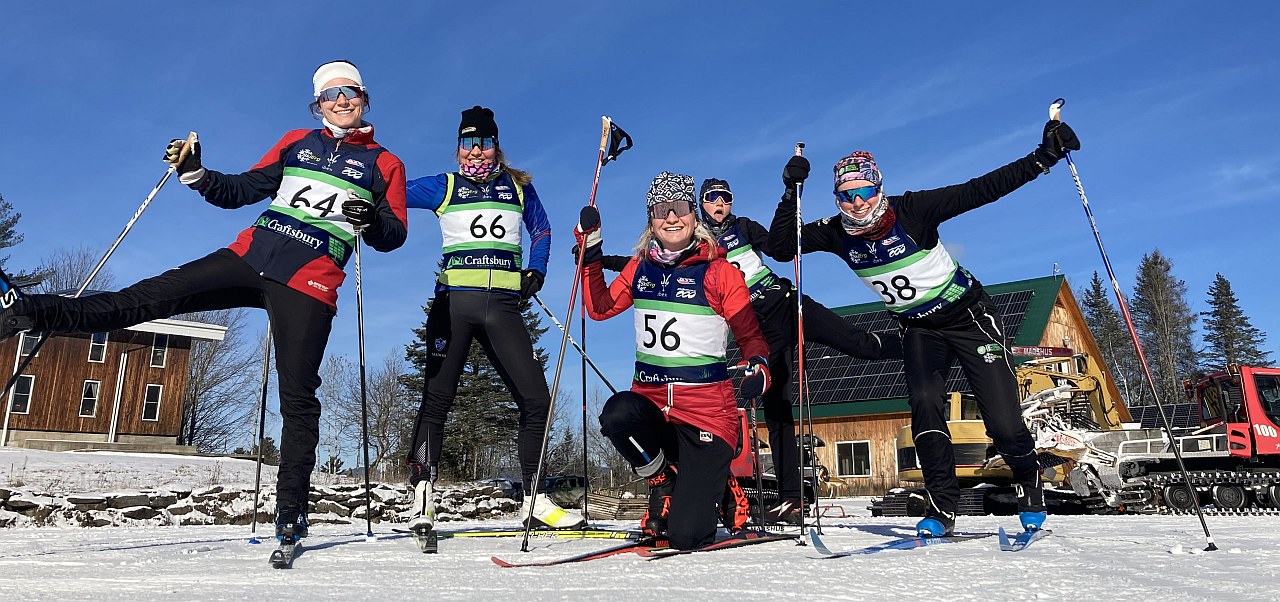 Everyone has been handling this irregular season differently, and Sonnesyn has been doing her best to go with the flow and stay motivated. Sonnesyn says, "Staying motivated for the season has come in waves. Everyday I either get a glimpse of hope or a crushing wave of disappointment and it's a difficult rollercoaster to ride. That being said, I know I have done absolutely everything in my control to open doors and the rest is not up to me. I will continue to push myself and focus on the variables that I can control, try not to stress about those that I can't, and hope that when the next opportunity arises, I will be ready." In addition, Sonnesyn has been working on staying not only focused, but relaxed and happy. She credits her coach, Pat O'Brien, with helping her strike this balance. Sonnesyn also mentions how grateful she has been to "be surrounded by so many of my life-long ski friends" in the Craftsbury quarantine bubble. Sonnesyn says, "It's times like these that make me cherish the ski community so much!"
In the day following the women's 10 kilometer skate time trial, both the men and women competed in a 1.2 kilometer skate sprint qualifier. Sonnesyn again won for the women, followed by Lawson in 2nd and Sutro in 3rd. Freed finished in 4th. On the men's side Will Koch (SMS) took the lead, followed by Ben Saxton (SMS) in 2nd and Bill Harmeyer (SMS) in 3rd.
After sprint day, it was the men's turn to put together a 15 kilometer skate effort. The conditions were less than ideal, as rain began trickling down with increasing intensity throughout morning. Braden Becker (GRP) was the top finisher of the day, beating out fellow GRP teammate (and Birkie winner!) Akeo Maifeld Carucci by just 11 seconds. GRP biathlete Raleigh Goessling (a former Minnesota Nordic State Champion!) finished in third. Midwest native Ben Saxton (SMS) finished in 5th.
Following a few days of recovery, the time trial racing resumed with a 10 kilometer classic time trial for the women on December 16th. In similar fashion to the previous week's 10km, Alayna Sonnesyn took the top spot. Rounding out the podium was, once again, Lina Sutro and Alex Lawson. Following close behind both Sutro and Lawson was Margie Freed. Finishing in the 5th position was Michaela Keller-Miller.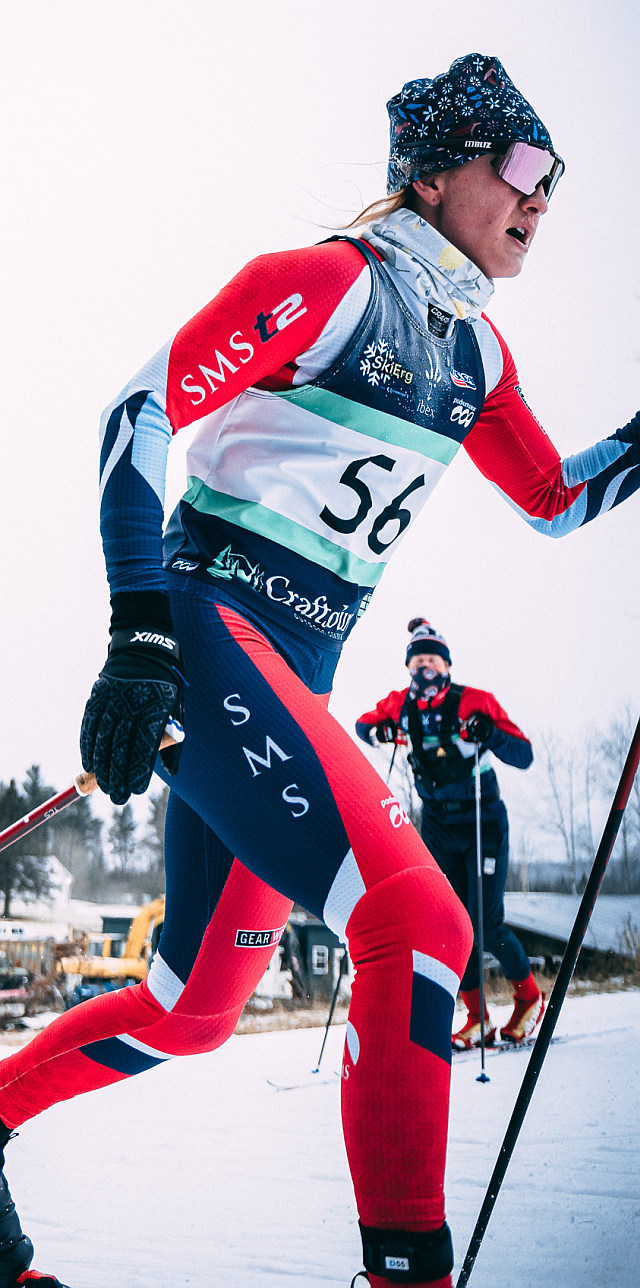 Similar to the first week of time trial racing, both the men and women competed in a sprint qualifier the next day. This week's qualifier was a classic race. Continuing her winning streak on the women's side was Sonnesyn. Lawson took the 2nd slot and Sutro finished in 3rd. Midwest natives, Keller-Miller and Freed, finished in 5th and 6th places respectively. In the men's race, Ben Ogden (UVM/SMS) won, followed by Ben Saxton (SMS) and Bill Harmeyer (SMS).
Finishing up the two-week block of time trial racing was the men's 15 kilometer classic race on December 18th. The first and second places were separated by a mere four seconds, with Ben Ogden taking the lead and Akeo Maifeld Carucci taking second. Rounding out the podium was Braden Becker.
Although there will not be January US National Championships to look forward to because of Covid-19 related concerns, racers will continue to hop in whatever race-like opportunities are available. Moving forward, several regions are starting to host official races again, albeit with safety precautions in place. With the New Year just around the corner, expect to see more racing on the domestic circuit.
The US Coaches' Discretion Working Group will be using race and time trial results through January 3rd to select athletes for World Juniors and World U23 Championships. This will likely place weight on the races and time trials that have already happened in Anchorage and Craftsbury, as well as upcoming time trials in the Midwest and the early January races in Soldier Hollow, Utah.
Craftsbury Virtual Marathon
For those looking to jump in a race of their own, the Craftsbury Outdoor Center is hosting a virtual marathon challenge from January 4th to February 28th. Skiers at all levels, from first-time skiers to seasoned veterans, are welcome to sign up for a chance at prizes for all finishers. Distance options include both a 25 kilometer and a 50 kilometer race, and skiers can submit their effort from any GPS sport watch or phone via Strava, Garmin Connect, Movescount, Polar Flow, etc. The virtual race effort can even be completed during another race (i.e. during a Birkie, Vasaloppet or City of Lakes Loppet attempt). Registration is just $30, and all category winners receive a handmade piece of pottery. Full category listings are on the event website at https://www.craftsburymarathon.com. There are also numerous raffle prizes that all participants are automatically entered to win! Whether your goal is to just complete the full distance (an impressive feat!) or to beat the clock, all skiers are encouraged to sign up. Registration link can be found at
https://www.skireg.com/21-virtual-marathon
.
About the author...

Michaela Keller-Miller, a graduate of Wayzata High School and the University of Alaska Anchorage, skis for the Green Racing Project based out of Craftsbury, Vermont. She's currently enjoying getting to know the East Coast and ski training full-time. Her ideal day would probably involve a long trail run followed by a stack of pancakes with maple syrup and a chai latte.