Giants Ridge Hosts World Cup
Now that Minnesota has received its first big snowfalls and cold temperatures of winter, it finally feels as though the ski season is underway. Unfortunately for many racers, this season will not resemble most, with racing opportunities limited by Covid. This is uncommon and uncomfortable for skiers here in the upper Midwest that have an attachment to racing. Long running events like the American Birkiebeiner, the Vasaloppet USA, and the Minnesota State Meet show the skiers here like racing and have a long tradition with it. Many were looking forward to the unique chance of a World Cup race in Minneapolis last March and to watch Scandinavia's best duke it out with hometown heroes in-person, when it was sadly cancelled at the last minute by the start of the pandemic.
However, that wasn't Minnesota's first shot at a World Cup. In fact, 35 years ago this month, Giants Ridge hosted an FIS World Cup weekend that was one to remember for all those in attendance. It had classic Minnesota weather, glimpses into the birth of skate racing, and Americans taking on the world. Stars of the era at the peak of their powers like Gunde Svan, Bill Koch, Torgny Mogren, Vladimir Smirnov, Marjo Matikainen, Britt Pettersen, and Marianne Dahlmo all put on a show for the Minnesotan fans.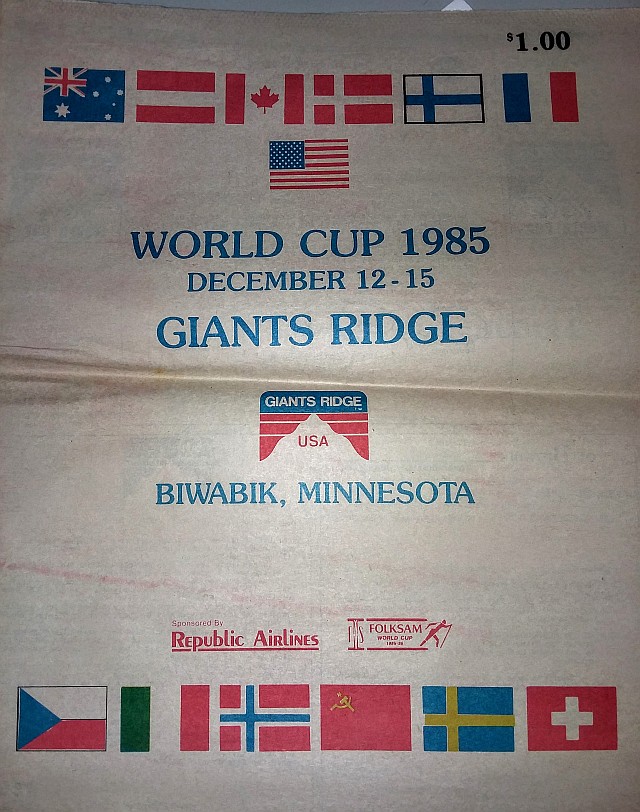 When the skiing world descended on Biwabik in 1985, they were treated to the true Minnesotan winter experience. Ask anyone what the races were like and the word 'Cold' will often be in the first sentence. It was so cold that weekend that the Men's 30km Freestyle race was postponed from Saturday to Sunday (along with the Women's 4 x 5km Relay). FIS Technical Director Bjorger Pettersen said that the -23°C (-9.4?) conditions were below FIS guidelines of -20? (-4?) and the race would be postponed for safety. The Women's 10km Classic had taken place on Friday at -19? (-2.2?), and a Swedish skier had reportedly damaged her eye due to the frigid conditions. Despite the postponement, race organizers weren't worried about revenue. Gary Lampaa, one of the promoters of the race said "We sold between 5,000 and 6,000 spectator tickets … only 7 asked for a refund"(Ralph Thornton, Star Tribune). When I asked Minnesotan and US Ski Team member Kevin Brochman about the event, he described the challenge of racing in the sub-zero temps as: "The problem with racing in that cold temperature was the lung damage. It took me a month to recover from that race". Minnesotan Angie Nistler, a skier at Bemidji State at the time, qualified for the World Cup from a tryout race held just days before the event to fill extra slots for Americans. On the topic of the weather, she had similar memories to Brochman: "The start of the race was borderline as far as safety goes, but they went with it. Many skiers had turned some frostbite on their noses and face. In a photo taken, my nose was white, but I was not aware until finishing." Clearly, the World Cup got the Minnesotan weather experience as locals in the Biwabik area (and pretty much everywhere else in Minnesota) are no strangers to sub-zero temps.
Not only was the Giants Ridge World Cup representative of its frigid setting, it was 80's skiing through and through with the fledgling skate technique on display. Skiers like American Bill Koch were still in the process of uncovering the best skate technique, producing some interesting results by today's standards. Youtube user BirkieBob has posted a taped recording of the ESPN broadcast of the race (Complete with Peter Graves commentary), where you can see the technique in all its glory [ videos at bottom of article].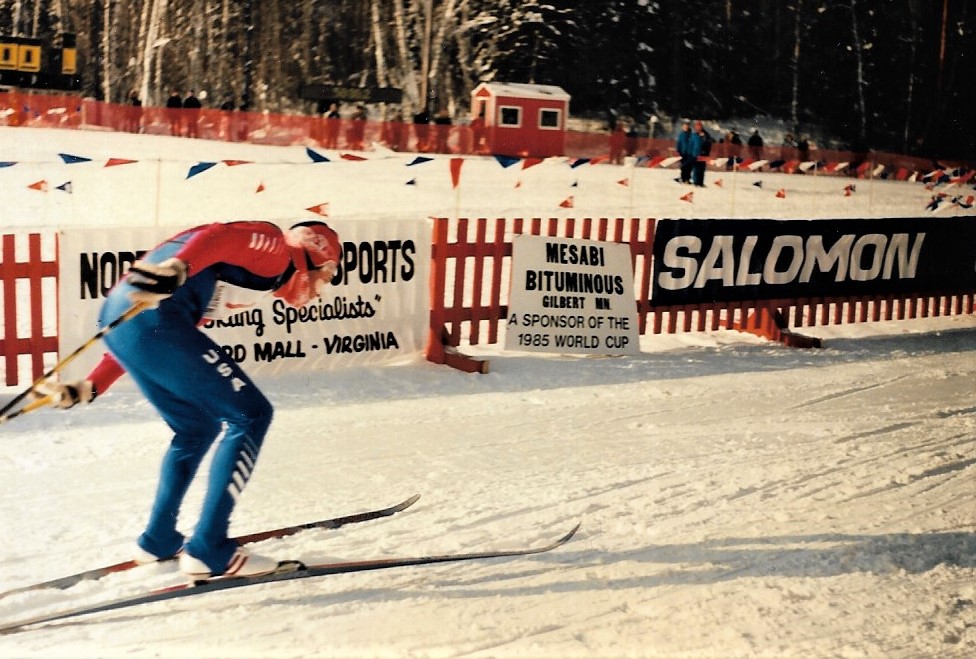 Each racer had their own approach to technique, some using a V1 on the flat sections while others opted for more modern V2 or V2 Alternate techniques. When faced with steep uphills, most racers reverted to their herringbone run to make it up the hills, an uncommon sight in today's freestyle competitions. Brochman recalled the variance in techniques that day: "Skating was at its infancy and people didn't really know how to do it. You would see a lot of bad technique and a couple of people even classic quite a bit during the race. This was not very fast and fortunately I beat those guys". Brochman skied to 39th place during Sundays 30km race, one of 13 Americans in the competition. When I asked Nistler about skate skiing at the time, she remembered being coached on skating for the first time by fellow top-level skiers during a camp in West Yellowstone, Montana only a month before the event, adding: "We did not even have skating equipment. When we were first skating at Giants Ridge that year, we didn't have skating skis yet so had to use our classical equipment". Angie wasn't the only one who felt new to skating, as the early 80's were plagued with controversy between those who wanted to push skiing forward and adopt skating, and those who felt rooted to the tradition of classic skiing. Before the 1985-86 World Cup season there were no Classic and Freestyle events, some people strode in the track while others skated over them; sparking anti-skating rules from FIS governing bodies. Effectively, athletes of the era were skating on classic skis; their boots had no cuffs, and they had no special skate poles or skis. Eventually, the agreement was created for Freestyle and Classic events to accommodate both innovators and traditionalists.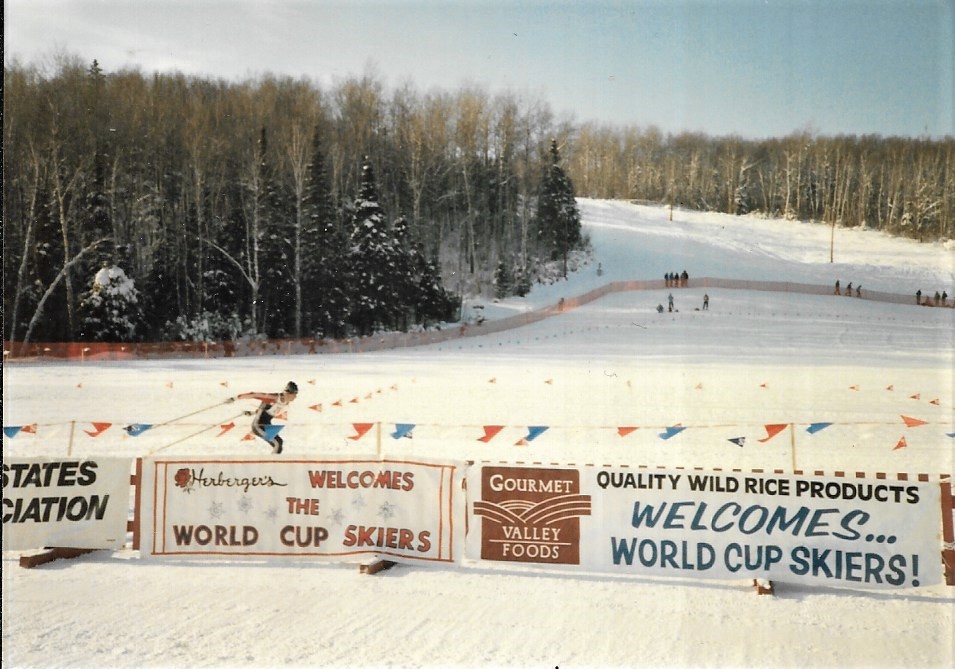 One of the most unique opportunities presented by having a local World Cup is being able to see the world's best up close, and Giants Ridge certainly did not disappoint. Gunde Svan of Sweden was arguably the biggest star at the race, and the heavy favorite to win the men's 30k came through with the fastest time of the day. As Kevin Brochman put it: "He was pretty much the best skier in the world from the time he was 19 until he retired". Svan went on to win the overall World Cup in 1986 (one of 5 in his career) and can count his win in Biwabik as one of 30 individual World Cup wins. Svan is ranked 4th all time in World Cups wins, and his plethora of Olympic and World Championships cement him as one of the greatest ever on snow. Other notable stars were Kazach Vladimir Smirnov and Swede Torgny Mogren who both rank in the top 15 all time World Cup wins. But perhaps most exciting for American fans was seeing Bill Koch in action. The 1976 Olympic silver medalist had just won the overall World Cup three years prior in 1982, and was still a force for the US team. If Peter Graves' commentary is anything to go by, the American fans were very excited to see a recognizable Olympic hero in action.
However, Koch certainly was not the only American man who competed in the Giants Ridge World Cup. Leading the finish order with a 14th place for the American men in the 30k Freestyle was Audun Endestad, a Norwegian-born Olympic skier for the United States. Endestad was coming off of his best World Cup season ever in 1985 where he finished 26th in the overall standings. Koch came in second for the American men with a strong 21st place. Finishing 36th and 39th for the US men were MN natives Todd Boonstra and Kevin Brochman, respectively. Boonstra, originally from Burnsville, graduated from the University of Vermont ski team and was a 3 time Olympian. Brochman, a Stillwater native, competed in the '84 and '88 Winter Olympic games. Then for the Americans were Mainer and Olympian Dan Simoneau in 44th, New Yorker Bruce Likly in 47th (he was a college student at the University of Vermont at the time), Current coach of CU Boulder Nordic Bruce Cranmer in 54th, and John Sackett in 55th. Josh Thompson, Mike Hussey, and Ben Husaby finished together in 60th, 61st and 62nd. Thompson went on to win medals at the Biathlon World Championships, Hussey was an All-American for the University of New Hampshire in 1985, and Husaby, an Eden Prairie Native, went on to make the '92 and '94 Winter Olympics. Rounding out the American results were Terry Daley in 68th, Sten Fjeldheim in 70th, and Joe Underwood in 72nd. Fjeldhiem started coaching Nordic Skiing at Northern Michigan University in 1986, where he is now seen as one of the best coaches in America.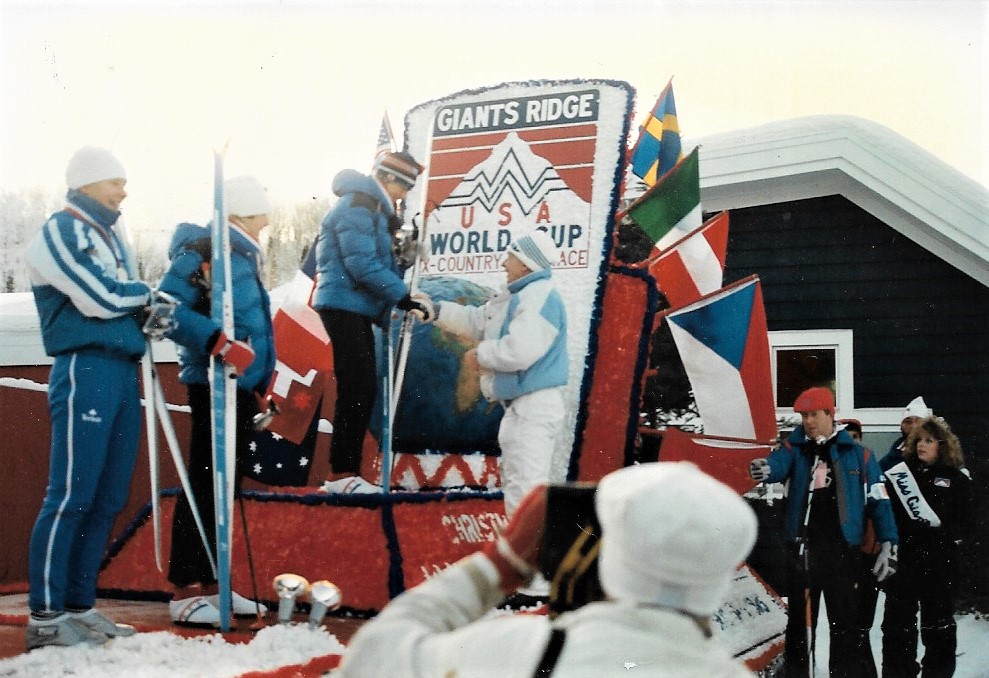 The women's races were not lacking in star power either, with elite European and American racers of their own. On the European side, Finnish skier Marjo Matikainen and Norwegians Britt Pettersen and Marianne Dahlmo were some of the biggest names. Matikainen anchored her 4x5km relay team to victory in Biwabik, while also skiing to third place in the 10km individual classic event. Maitkainen went on to win the overall title in that season as well as '87 and '88 and now sits 6th all time in overall titles. Pettersen had mirrored results to Matikainen that weekend, as she won the 10km Classic race and her and Dahlmo's Norwegian team finished third in Sunday's relay. Dahlmo finished second in Friday's 10k. These three standout women from the Giants Ridge weekend carried their momentum through the end of the year, taking the top three overall podium places (Dahlmo 2nd, Pettersen 3rd).
Similar to the men's races, the women's race contained scores of Americans. The US women had seven relay teams finishing in 8th, 9th, 11th, 12th, 13th, 14, and 15th place, totalling 35 skiers. The top American relay team contained Jay Jay Peat, Cami Thompson, Patty Ross, and Sue Long. The second team was made up of Pat Engberg, Leslie Thompson (a 1988 Olympian), Kelly Kimball, and Julia Wolney with Kris Ryan, Ericca MacDonald, Delilah Poupore, and Muffy Ritz making up the third US relay team. There were many Minnesotan and Midwestern women in the relay teams as well with skiers such as Kelly Kimball (Blaine), Lynne Cecil (Brooklyn Park), Terri Pauls (Minneapolis), Ann Jones (Stillwater), Lisa Borowski (Brookfield, WI), Lori Mommsen (Brooklyn Center), Lynn Capen (Marquette, MI), Mitzi Andrew (Duluth), Elizabeth Schluter (Oconomowoc, WI), and Jane Stevenson (Madison, WI) qualifying for the race via a tryout event only days prior.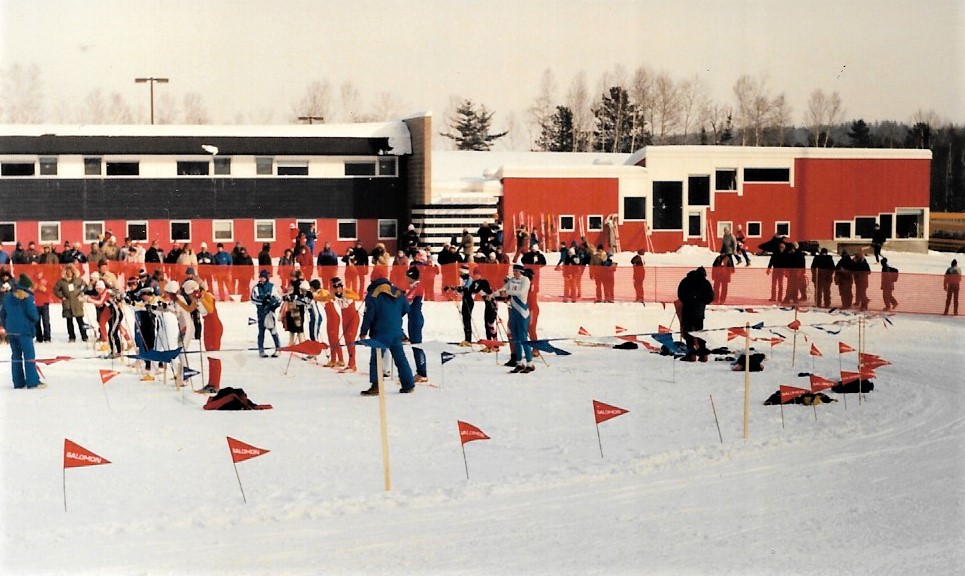 Despite the disappointment of this season's racing being limited due to the pandemic, looking back at the Giants Ridge World Cup provides some perspective on the tenacity and persistence that is rooted in skiing. Not only did racers at the event push through difficult weather and race cancelations, they used foriegn techniques, improper equipment, and many qualified only days prior. The skiing world made the trek to Biwabik, Minnesota that year to face the difficulties and ultimately the joys that ski racing has to offer. Maybe it provides some hope for ski racers and fans that adversity is nothing new to the sport, or that things don't have to be perfect to be enjoyable. We don't know how the World Cup would have gone in Minneapolis this March, but if the Giants Ridge World Cup is anything to go by, we certainly hope we don't have to wait another 35 years to see Minnesota host the World Cup again.
Videos
Results

About the author...

Cole Johnson is a graduate of Highland Park Senior High where he was a member of both the Mountain Bike and Nordic Ski teams. He currently competes for the Colby College Nordic Ski team in Waterville, Maine. He enjoys fruit snacks and sleeping only a little bit less than skiing.