Minnesota High School Nordic Skiing Preview and Rankings - Round 1
January 3, 2021

After two delays, the Minnesota high school Nordic skiing season finally gets underway for most schools on January 4th. We're making up for lost ground with a season preview and a first set of rankings!
Commentary
Well, this ain't going to be any kind of normal season now, is it? As of early January, there is no clear path for an official State Meet to be held given the existing restrictions and guidance from the high school league. And even if the first races of the season won't be held until the customary practice sessions have been run. If we're lucky, some form sections will be held. And even then, it's likely sections-type racing won't take place until early March. About the best we'll have this season for major head-to-head competition will be the Junior National qualifying races, assuming they can held (two Minnesota events were already cancelled or rescheduled).
But since this is all just shuffling names and numbers on paper, we're going to press ahead with our "normal" high school rankings!
Individuals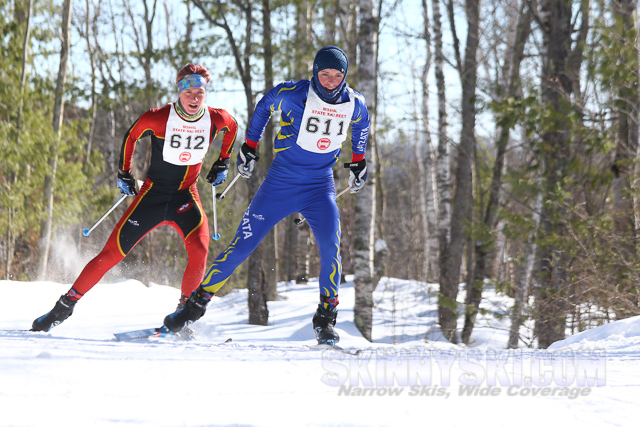 Reigning state champion Molly Moening, St. Paul Highland Park, doesn't appear to have eased up on her preparations for this season. On Sunday in Houghton's 10K freestyle race she clearly signaled her intention to stay on top, besting the U18 field by over two minutes! Speedy Jordan Parent, Forest Lake, looks to be her closest competition along with Wayzata's Lauren McCollor. MPA's Margo Nightingale could be making a move to break up that trio this season.
Wayzata's Colin Freed had a breakout season last year, and he has already shown he's ready to improve on that, posting the top U18 time in the 15K freestyle race at last Sunday's CXC Cup. Stillwater's Adrik Kraftson also had a great opener and can be counted on to challenge for the top position. Roger Anderson, Robbinsdale-Armstrong, and Jasper Johnston, Ely, will be in that mix as well. Also keep an eye on Freed's teammate, Daniel McCollor.
Teams
First out of the gate is the St. Paul Highland Park girls. They didn't lose a single skier to graduation, and appear to be the personification of "harder, better, stronger, faster"! They are the team to beat again this season. However, we imagine this doesn't sit well with the Forest Lake girls, who came within a dozen points of upsetting Highland Park last February. The Forest Lake girls posted their own set of impressive results from the racing in Houghton, and could hold the winning combination this season.
The boys side of the fence should be just as interesting. The top two teams from last season, Forest Lake and Minneapolis Southwest, both lost three skiers from last year's State Meet teams. So they will rely heavily on improvements in their top skiers, combined with some fresh blood, to give them that winning edge. This will be a very tight battle, with Minneapolis Southwest the early favorite.
Note: With the unusual season, and expected less head-to-head results, we're going to pair down the depth of our rankings, especially on the team rankings where we've dropped the cusp list.
So let's toss something up to get things started...
Girls Individual
Molly Moening, St Paul Highland Park, 11
Jordan Parent, Forest Lake, 10
Lauren McCollor, Wayzata, 12
Margo Nightingale, Mounds Park Academy, 10
Amelea Hauer, Forest Lake, 12
Maggie Wagner, Edina, 11
Ella Niznik, Forest Lake, 11
Zoe Devine, Ely, 10
Celeste Alden, St Paul Highland Park, 12
Chloe Koch, St Paul Highland Park, 10
Cusp: Etta Leugers, Minneapolis Washburn, 12; Kathryn House, Wayzata, 12; Linnea Urban, Hastings, 12; Lily Brown, Duluth East, 11; Lydia Skelton, Mesabi East, 12; Abbie Ishaug, Moorhead, 10; Sudie Hall, Minneapolis Southwest, 12; Makayla Fischer, Mahtomedi, 11; Anna Schmidt, St Paul Highland Park, 12.
Boys Individual
Colin Freed, Wayzata, 12
Adrik Kraftson, Stillwater, 11
Roger Anderson, Robinsdale Armstrong, 12
Victor Sparks, Minneapolis Southwest, 12
Jasper Johnston, Ely, 12
Isak Nightingale, Mounds Park Academy, 11
Cooper Camp, Minneapolis Southwest, 11
Magnus O'Connor, Prior Lake, 12
Jonathan Clarke, Bloomington Jefferson, 11
Daniel McCollor, Wayzata, 9
Cusp: Jonathan Hudrlik, Forest Lake, 12; Ben Lewis, Blaine, 10; Noah Erickson, Forest Lake, 11; Jackson Grant, Little Falls, 12; Jonny Saldin, Stillwater, 11; Sam Stertz, Grand Rapids, 12; Drew Sampson, Forest Lake, 12; Stas Bednarski, Minneapolis Southwest, 12; Declan Hutchinson, Marshall School, 12.
Girls Teams
St. Paul Highland Park
Forest Lake
Wayzata
Stillwater
Hopkins
Moorhead
Ely
Rosemount
Elk River-Zimmerman
Eden Prairie
Boys Teams
Minneapolis Southwest
Forest Lake
Cloquet-Esko-Carlton
Prior Lake
Ely
Little Falls
Wayzata
Robbinsdale-Armstrong
St. Paul Highland Park
Stillwater
Disagree with the rankings or notice a problem? Send your comments to