US Elite Racing: Early January Recap
With the new year upon us, racing has returned in parts of the country in full swing. Although this week would have brought the US National Championships in Houghton, Michigan, these were cancelled this past fall because of Covid restrictions. Instead, race organizers were able to successfully hold a two-day race series on January 2nd and 3rd in both Houghton and Soldier Hollow, Utah. Even though many athletes were absent from these races, notably club skiers from APU, GRP, and SMST2, both events drew highly competitive fields.
Jan 2-3 Houghton Races
Classic Sprint Qualifier
The races in Houghton brought junior, collegiate, and elite skiers alike to compete in two sprint qualifiers this past Saturday and a skate distance race on Sunday. On Saturday morning, racers tested their speed in a classic sprint qualifier. The women's podium went to Malin Boerjesjoe of Northern Michigan University (NMU), Caitlin Gregg of Loppet High Performance, and Amanda Kautzer of the Crosscut Elite Team, respectively. Other Midwest top finishers include: Anabel Needham of Michigan Tech University (MTU) in 4th, Jordan Parent (NordicWerks SkiKlubb) in 5th, Mara McCollor (Minneapolis Ski Club/Dartmouth College) in 6th, Molly Moening (Minneapolis Ski Club) in 7th, Luci Anderson (University of New Hampshire) in 8th, Gretchen Haggenmiller (NMU) in 9th, and Johanna Craig (MTU) in 10th.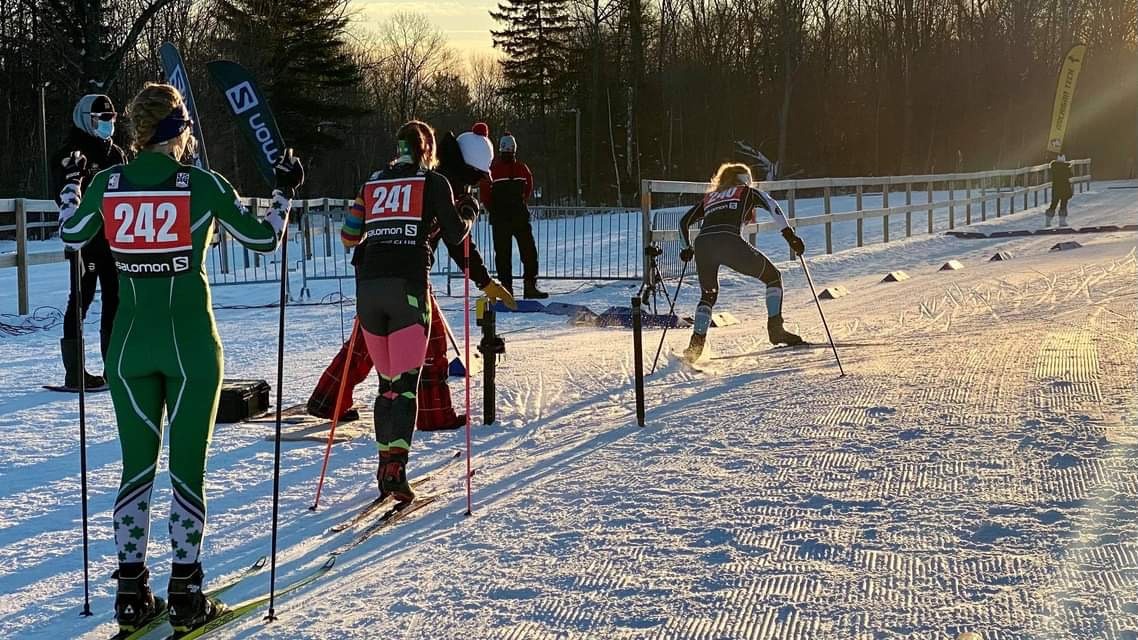 On the men's side, Tobias Moosmann and Kjetil Baanerud of NMU took the 1st and 2nd spots while Ryan Steger of Loppet Nordic Racing finished 3rd. Rounding out the top 10 were: Kristoffer Karsrud (NMU) in 4th, Cedric Keller (MTU) in 5th, Aleksi Leino (MTU) in 6th, Mark Ousdigian (MTU) in 7th, Joseph Lynch (Loppet Nordic Racing) in 8th, Patrick Acton (MTU) in 9th, and Sam Myers (Moose Nordic) in 10th.
Skate Sprint Qualifier
Later that same day, skiers raced yet another sprint qualifier, but this time in the skate technique. The women's podium remained unchanged, although this time Gregg took the win, followed by Boerjesjoe in 2nd and Kautzer in 3rd. Following close behind was Needham in 4th and Anderson in 5th. Additional Midwest skiers in the top 10 were: McCollor in 6th, Olivia Laven (MTU) in 7th, Parent in 8th, Moening in 9th, and Craig in 10th.
Gregg reports, "It was awesome to be back on the race course and competing again in Houghton. The snow was perfect and the weather was ideal. I am very grateful to all of the organizers, coaches, athletes, and the Houghton community for creating a safe and fun filled weekend of racing for our region."
The men's race saw a NMU podium sweep, with Moosmann again taking the top spot and followed by Baanerud in 2nd and Kristoffer Karsrud in 3rd. Just off the podium was Leino, who placed 4th, and Steger in 5th. Myers and Acton again finished in the top 10, placing 6th and 7th, respectively. Rounding out the top 10 were Brian Gregg (Loppet High Performance) in 8th, John Schwinghamer (Mora Ski Club) in 9th, and Ousdigian in 10th.
Skate Distance
After a full sprint day on Saturday was a 10 kilometer interval start skate race for the women and a 15 kilometer skate race for the men. Team Gregg swept the top spot in both the men's and the women's races, with Caitlin Gregg winning by nearly a minute in the women's field over Malin Boerjesjoe in 2nd and Mara McCollor in 3rd. Other notable finishes include: Laven in 4th, Needham in 5th, Kautzer in 6th, Anderson in 7th, Moening in 8th, Kristen Monahan (MTU) in 9th, and Abby Drach (Loppet High Performance) in 10th.
Following suit in the men's 15 kilometer race, Brian Gregg finished first. Baanerud skied to his third podium finish of the weekend, finishing 2nd. Rounding out the podium was Acton in 3rd. Just two seconds off the podium was Ousdigian in 4th. Additional skiers finishing in the top 10 were: Moosmann in 5th, Reid Goble (MTU) in 6th, Colin Freed (Loppet Nordic Racing) in 7th, Adrik Kraftson (Loppet Nordic Racing) in 8th, Victor Sparks (Loppet Nordic Racing) in 9th, and Keller in 10th.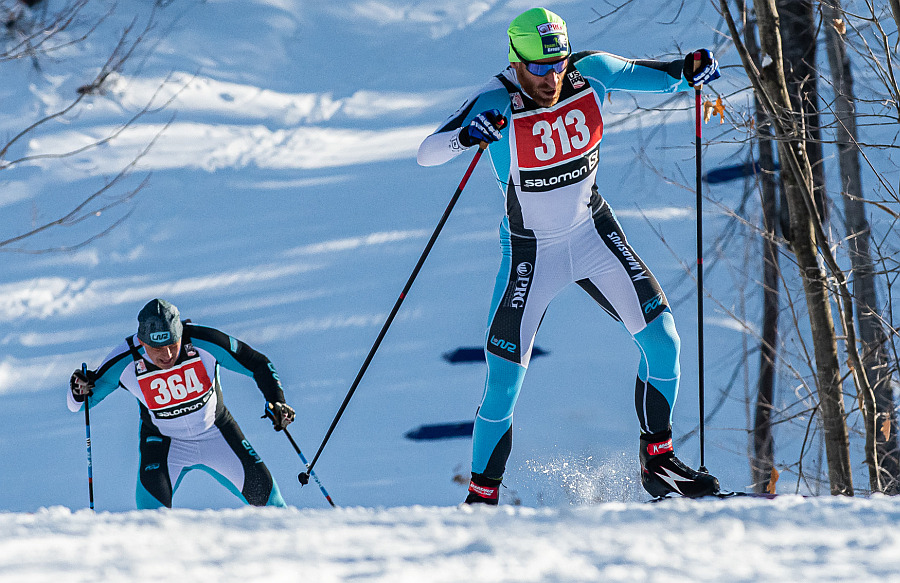 Brian Gregg comments that he was "grateful for the opportunity to race in a sanctioned event." Gregg's first races on the Michigan Tech trails were in 2007 at US Nationals during his first year as a professional skier. He adds that their already great trail system is continuously improving and how fun it is to see the same race organizers and community members year after year. This past weekend, Team Gregg had a number of additional elements to juggle, including self-waxing and travelling with their baby girl. Gregg says, "Our baby girl enjoyed the weekend too and now that she is walking added a new element to the race weekend. We were lucky that she slept in the KidRunner for the classic warmup and race. With different start times, we could switch off cheering on the racers with her." In regard to waxing, Gregg noted that, "The waxing at home with Toko Blue made the glide simple and fun to test out my new skis. I am impressed that the new Redline 3.0 skis beat my trusted favorites which are very fast. Without the fluoro in the wax, the hills seemed steeper than in my memory but that actually plays to my strengths."
Jan 2-3 Soldier Hollow Races
Skate Sprint Qualifier
Western racing also resumed this past weekend with a skate sprint in Soldier Hollow, Utah. Race organizers decided to forgo sprint heats because of Covid-19 concerns. The women's sprint podium went to a trio of Western skiers, with Novie McCabe of the University of Utah (UU) in first, Lauren Jortberg (BSF Pro) in 2nd, and Julia Richter (UU) in 3rd. Skiers with Midwest ties also saw strong results in a deep and highly competitive field, with Felicia Gesior (Crosscut Elite Team) in 10th, Renae Anderson (Loppet High Performance/Bowdoin College) in 11th, Sarah Goble (Sun Valley Gold Team) in 12th, Abby Jarzin (UU) in 13th, and Hannah Rudd (BSF Pro) in 25th.
After training with the Loppet High Performance Team in Minnesota this fall, Anderson made the drive to Utah to take advantage of an opportunity to race. She writes, "I am so excited that we were able to race! I've been feeling great coming off of high quality fall training, and it felt good to have a good racing experience at altitude and in a sprint." She notes that altitude has been a difficult adjustment in the past, so it was great to have a positive experience this past weekend. Anderson also mentions that "the conditions were absolutely beautiful and I was happy with how well organized and Covid-safe the race was."
The men's race predominantly consisted of Western elite, collegiate, and club racers. The race came down to the wire, as the top spot ended in a tie between Peter Holmes of the Sun Valley Gold Team and Logan Diekmann of the BSF Pro Team. Peter Wolter of Sun Valley SEF and Middlebury College finished in 3rd. Midwest native Christian Gostout of the Crosscut Elite Team placed 24th.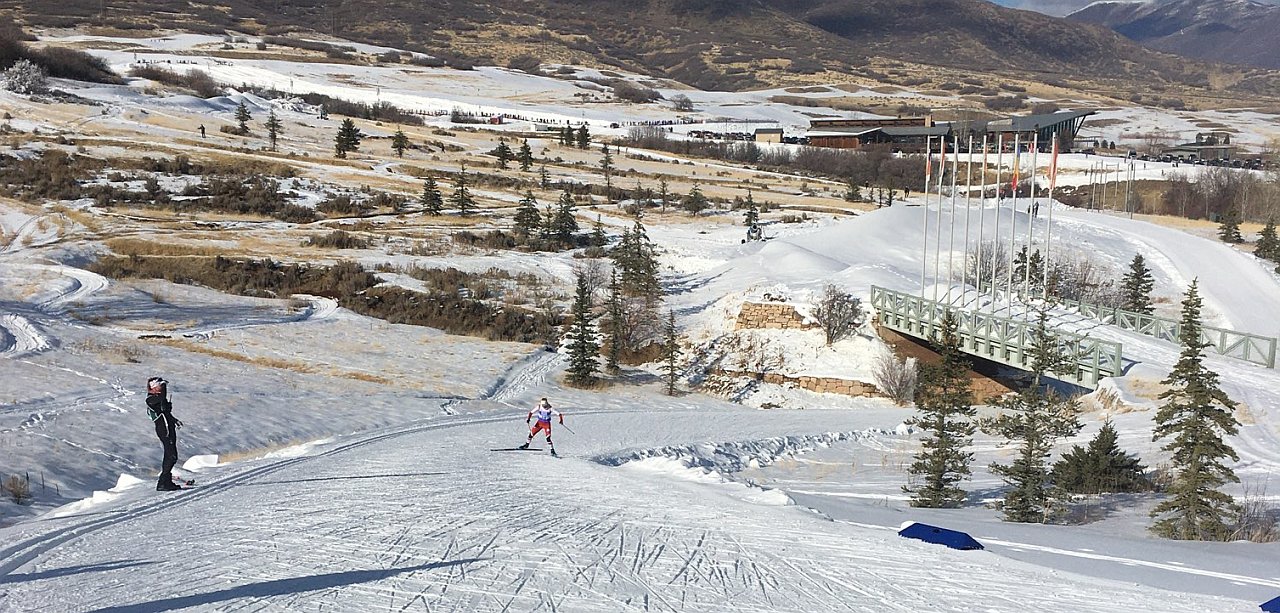 Classic Distance
Following Saturday's sprint qualifier, skiers raced an interval start classic race. Men raced 15 kilometers, whereas the women raced 10 kilometers. In the men's race, Wolter took the win, followed by Johnny Hagenbuch (Sun Valley SEF) in 2nd and Finn O'Connell (BSF Pro) in 3rd. Gostout cracked the top 15, finishing in 14th place.
On the women's side, University of Utah skiers swept the top four places, with the podium separated by just 19 seconds. Sydney Palmer-Leger finished first with McCabe coming in 2nd and Richter in 3rd. Many Midwest skiers also performed well; Anderson raced to an impressive top 10 finish, placing 8th. Goble placed 12th, Gesior finished 19th, Jarzin was 21st, and Anna French (Crosscut Elite Team) placed 24th.
Up next, look out for more FIS races in Soldier Hollow and Alaska on January 16th and 17th, as well as potential racing or time trials out East. Midwest collegiate and elite racers are also likely to race the upcoming CXC Cup in Cable, Wisconsin on the 16th and 17th.
About the author...

Michaela Keller-Miller, a graduate of Wayzata High School and the University of Alaska Anchorage, skis for the Green Racing Project based out of Craftsbury, Vermont. She's currently enjoying getting to know the East Coast and ski training full-time. Her ideal day would probably involve a long trail run followed by a stack of pancakes with maple syrup and a chai latte.