Collegiate Racing Recap: RMISA, Misc
As the winter weeks wind on, skiers are finding their rhythm: intervals, rest, race; starting on "go", then pushing the pace and flying on snow; it's the cadence, the tempo, and at times, the crescendo.
Welcome to week two of collegiate racing!
RMISA
The Western NCAA teams raced this past weekend at Maloit Park in Vail, Colorado for the Denver Invitational. Utah University took the overall victory with Colorado Boulder right on their heels.
Day 1, 5/7.5k Individual Start Skate
In the women's five kilometer race, the University of Utah's Novie McCabe took the victory by four seconds over Astrid Stav (UAA, NOR). Almost another minute back in third was Tuva Bygrave (UAA, NOR). Abby Jarzin (UU) placed 17th and Emma Albrecht (MSU) was 22nd.
Magnus Boee squeaked out a victory for the men, just one second over Canadian skier Sam Hendry (UU). Oyvind Haugan (CU, NOR) placed third.
Day 2, 7.5/10k Individual Start Classic
The second day of racing saw another distance individual start. Astrid Stav (UAA, NOR) broke UU's stronghold on the top step of the podium, with a win by four seconds over Novie McCabe (UU). Sydney Palmer-Leger (UU) finished third. Emma Albrecht (MSU) placed 20th.
Albrecht recently transferred to Montana State University from Michigan Tech where she had some standout results last year. "Transferring schools has been one of the hardest decisions of my life, and has provided many opportunities for character building," Albrecht said. "I remember when I first started thinking about transferring and I was really scared, it's a huge decision that takes a lot of insight into what I want personally but also what I need to grow as an individual."
While making this decision was not easy, Albrecht has proceeded into the season with confidence that her decision was the right one. And while transitioning to training and racing at altitude and a new school and ski team are challenging by themselves, Albrecht has also been recovering from COVID. "This is definitely going to be a recovery season for me, considering I had COVID the entire month of December... With the help of Montana State athletics I've been able to regain my fitness as quickly as I can, but of course without training for most of December I will need to get back into racing slowly. The races this past week in Utah and Colorado were challenging not only because of the altitude but also because my recovery from COVID will take time. In order to jump back into racing the most efficient way possible, I took most of my races as training L3s."
"I am also very fortunate to have such a supportive team and coach in a time like this because I know I could not have gotten through this past week without them," Albrecht said.
Good luck, Emma, we're rooting for you!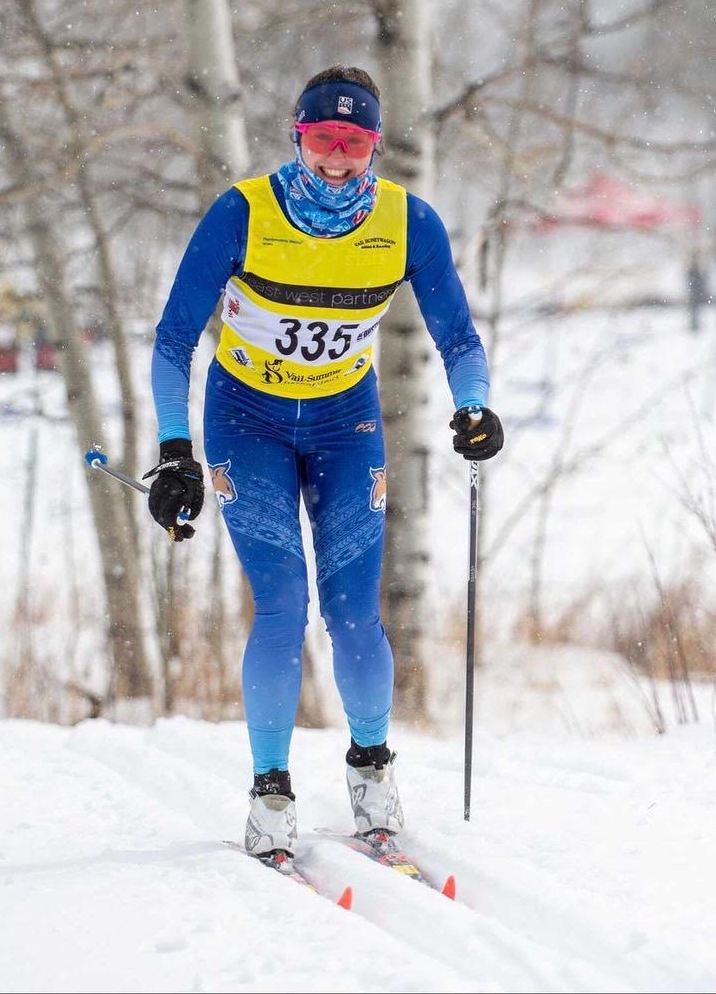 In the men's race, Magnus Boee capped off a strong weekend with another close win over Sam Hendry (UU, CAN), this time by two seconds. Hendry will undoubtedly be musing on the seeming insignificance of three seconds over the course of forty-six minutes of racing. Good thing there is a lot more season to come. Sigurd Roenning (UAA, NOR) was third.
RMISA's next race will be February 5-6 at the Aspen High School for the Colorado Invitational.
Miscellaneous Racing
While the EISA and CCSA had a weekend off from official racing, some skiers were able to put on a bib and give it another go to the finish line.
Up in Duluth, at the Grand Avenue Nordic Center, a group of college skiers competed in the CXC Super Cup. In Saturday's classic 10k, August Schatzlein (Bridger Ski Foundation), who is taking a year off from St. Scholastica, took the victory for the men. Lars DeWall (CSS) was only eleven seconds back in fourth. In the women's 5k classic race, Isabel Seay (Colby) was the top collegiate racer in ninth. Siri Bohacek (Williams) was thirteenth.
On Sunday, many of the CSS skiers took the day off of racing to focus on volume training before the upcoming racing block. However, Cody Schnieder (CSS) and Drake Hacker (CSS) were twelfth and eleventh in the 7.5km skate race. In the women's 7.5km skate competition, Isabel Seay (Colby) took the victory with Morgan Richter (Bowdoin/LNR) placing twelfth.
In other exciting news, Renae Anderson (Bowdoin/LNR) will be heading to race for the USA at the U23 World Championships in Vuokatti, Finland. Races will be held February 8-14. USSS announced the roster for U23s and World Juniors.
In the East, NENSA hosted the Vermont Cup for skiers within the state. Races were held at a snowy Prospect Mountain (William College's home course). On the first day of competition, racers skied two sprint qualifiers. Callie Young (DAR) won both qualifiers for the women with Zander Martin (Bates) ranking as the top college male with a fifth and sixth place. The following day, Rose Clayton (MID) was the top college woman in the 10k classic. Zander Martin (Bates) threw down another solid performance, placing second for the men at the same distance.
Most races that were scheduled for January in New Hampshire have been cancelled due to poor snow conditions.
Tune back in next week for collegiate race recaps after the CCSA hits Al Quaal and the EISA heads to Jackson XC Center, home of the 2021 NCAA Championships.
About the author...

Luke Brown, a graduate of Minnehaha Academy and Dartmouth College, is a skier and biathlete for the Crosscut Mountain Sports Center and the US Biathlon X-Team. He enjoys running in the mountains, writing, and eating cereal with whole milk. He lives in Bozeman, MT.