Junior World/U23 Championships: Classic Sprint Recap, Preview of Upcoming Week
This week's U23 and Junior World Championships are now underway, with classic sprint action this past Tuesday for the Juniors and today for the U23s. The Championships are being held in Vuokatti, Finland this year and Team USA is fielding a strong team of athletes, including Renae Anderson of Loppet High Performance. Anderson will be racing the U23 Skate 10-kilometer race on February 12th.
Anderson has been enjoying her experience at the U23 Championships and providing some updates on the Loppet Foundation website. She wrote, "The skiing here has been some of the most beautiful I have experienced. Vuokatti has 300k of groomed trails open, and with lots of snow, low sun, low temperatures, the views are breathtaking every day." She adds that, "The atmosphere is very fun" and "I am so excited for the opportunity to be part of this competition, and couldn't be more thankful for the help of the Loppet Foundation to get me here."
Tuesday brought the first day of racing at the Junior World Championships, as the best Junior skiers in the world raced a classic sprint. The men competed on a 1.4-kilometer sprint course, whereas the women raced on a 1.1-kilometer course. Unfortunately, three members of the women's US Junior team are in quarantine after one positive Covid-19 test and two possible exposures after contact tracing. As a result, American medal contenders Novie McCabe, Sydney Palmer-Leger, and Haley Brewster are unable to compete this week.
Representing the US in the men's Junior sprint was Zanden McMullen (Montana State University), Michael Earnhart (Alaska Nordic Racing), Finn Sweet (Craftsbury Nordic Ski Club), and Will Koch (Stratton Mountain School). Leading the American men was McMullen, who qualified in an impressive 11th place. After placing 5th in his quarterfinal, McMullen ended the day in 21st overall. Earnhart was just over one second from qualifying for heats, placing him in 37th overall. Koch and Sweet finished wellin 43rd and 44th places, respectively.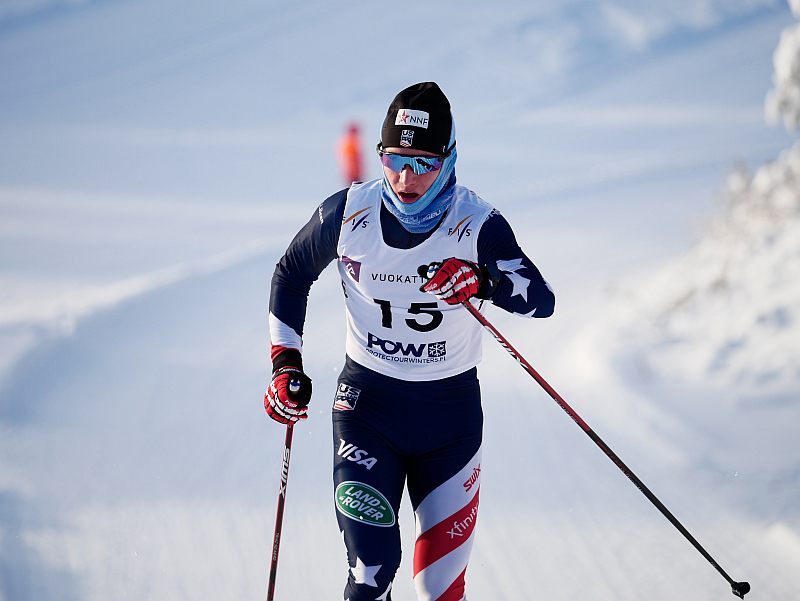 On the women's side, the three remaining US Junior women, Waverly Gebhart (University of Vermont), Nina Seemann (Craftsbury Nordic Ski Club), and Ava Thurston (Mansfield Nordic Club), raced the classic sprint. Gebhart started the week off strong, qualifying for the heats and ending the day in 25th place after finishing 5th in her quarterfinal. Thurston just missed qualifying for quarterfinals, placing 36th, and Seemann was close behind in 45th place.
The men's junior sprint podium saw a Scandinavian sweep. Niilo Moilanen of Finland took the win, followed by Lars Agnar Hjelmeset of Norway in second place and Emil Danielsson of Sweden in third. On the women's side, Poland had an impressive showing, with Polish athlete Monika Skinder in first, Swede Moa Hansson in second, and Polish skier Karolina Kaleta in third.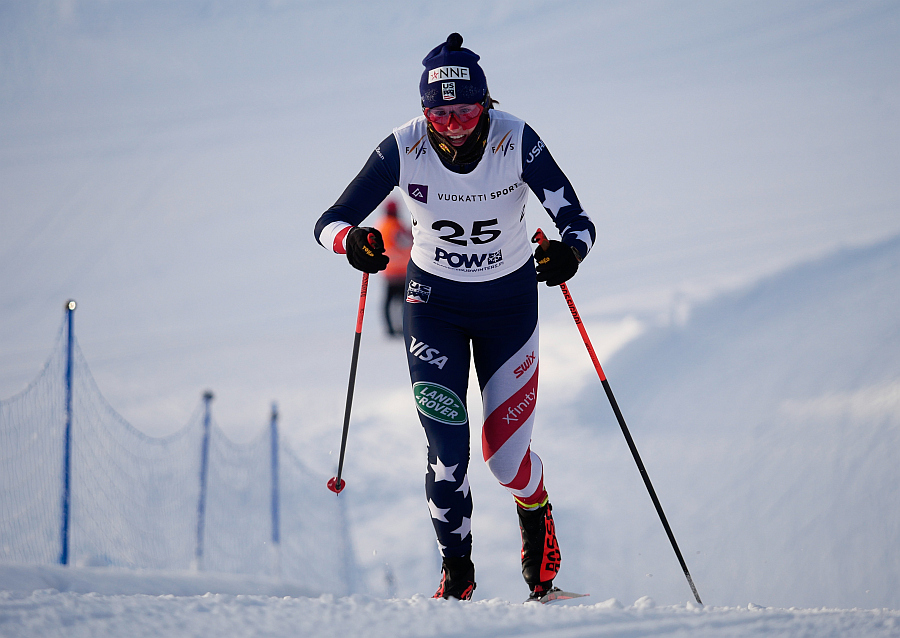 Originally planned for Wednesday, February 10th, the U23 classic sprint was delayed to Thursday after temperatures failed to rise above a safe racing temperature. The International Ski Federation (FIS) mandates that competitions are postponed or cancelled if the "temperature is below -20° C, measured at the coldest point of the course. With difficult weather conditions (e.g., strong wind, high air humidity, heavy snowfall, or high temperature) the Jury may postpone or cancel the competition." Temperatures remained frigid on Thursday and racers were seen sporting face tape and hats to stay warm. Hailey Swirbul, a skier for the US Ski Team and APU, said, "Today was COLD. We are lucky we got to race given the postponing from yesterday."
Racing for the US women was Swirbul, Hannah Halverson (APU), Alex Lawson (Middlebury College/Green Racing Project), and Sophia Laukli (Middlebury College). Swirbul and Halverson started off the day with a bang, qualifying for the heats in the 4th and 25th positions, respectively. After skiing her way into the semifinals, Swirbul just missed out on qualifying for the final heat by a margin of less than a second. Swirbul reports that, "Many of the heats came down to the final stretch of the Houghton-esque uphill finish." She speaks favorably of this terrain, as "a striding finish is always preferred." Following the heats, Swirbul ended the day in 7th overall. Halverson finished in 28th place, Lawson raced to 40th place, and Laukli finished in 53rd place.
Swirbul reflects on the day by saying, "I am happy with my efforts today, and I know some of our team is as well, but as a team I know we will be hungry for more over the next few race days! For my race, I tried to use my strengths and do the best I could elsewhere (aka double poling). I thought the techs did a great job with kick to help me make it up the steep climb, and they braved the elements for hours for us! Heroes!"
The women's U23 classic sprint was won by Lisa Lohmann of Germany. Hristina Matsokina of Russia followed closely behind in second and Louise Lindstroem rounded out the podium in third.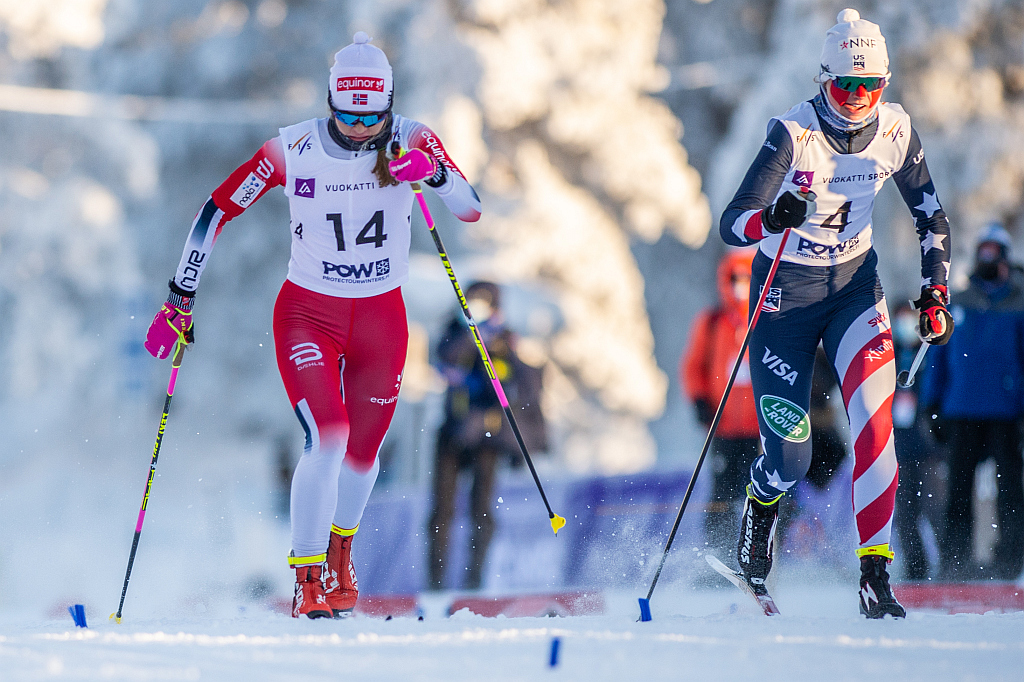 In the men's U23 race, the US was represented by Ben Ogden (University of Vermont), JC Schoonmaker (University of Alaska Anchorage), Luke Jager (University of Utah), and Gus Schumacher (Alaska Winter Starts). The American crew qualified strong, placing three men in the quarterfinal heats. Ogden qualified in the 3rd position, Schoonmaker in 7th, and Jager in 26th. Schumacher missed out on the heats, placing 41st overall.
Ogden powered to an early lead in his quarterfinal, dropping back to 3rd at the finish and earning himself a lucky loser position in the semifinal heats. After competing in his semifinal, Ogden finished the day as the top American in 11th place. Both Schoonmaker and Jager finished sixth in their quarterfinals after Jager suffered a fall mid-heat. Schoonmaker placed 26th overall and Jager placed 30th.
The men's final saw a dominant performance from Russian Alexander Terentev, who won the final heat by over five seconds. Terentev was trailed by Aron Aakre Rysstad of Norway in second and Sergey Ardashev of Russia in third.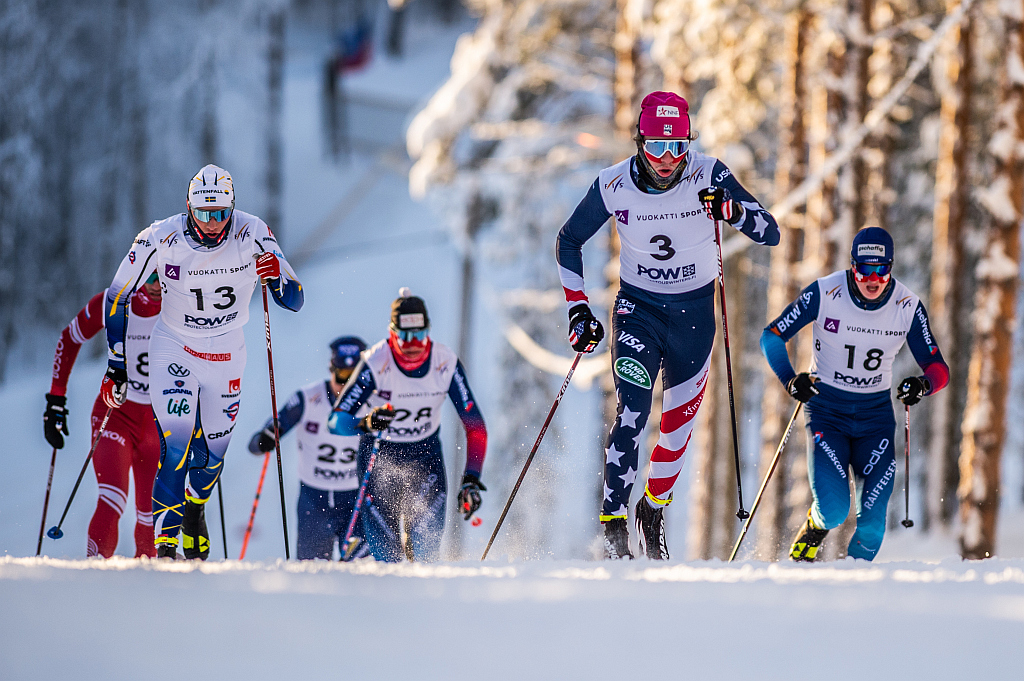 Follow along with this week's racing and results on the FIS website. Livestreaming is available at .
Full Overview of the Racing Schedule:
Tuesday February 9th: Junior Classic Sprint
Thursday February 11th: U23 Classic Sprint
Friday February 12th: Junior Skate 5km/10km, U23 Skate 10km/15km
Saturday February 13th: Junior Women's/Men's Relay, U23 Mixed Relay
Sunday February 14th: Junior 15km/30km Classic Mass Start
About the author...

Michaela Keller-Miller, a graduate of Wayzata High School and the University of Alaska Anchorage, skis for the Green Racing Project based out of Craftsbury, Vermont. She's currently enjoying getting to know the East Coast and ski training full-time. Her ideal day would probably involve a long trail run followed by a stack of pancakes with maple syrup and a chai latte.