Collegiate Racing Recap: CCSA, EISA, RMISA
Championship season is nigh and racers are working to put the final pieces of the puzzle together. The hard work is done and it is time to trust the summer hours, the video technique sessions, the early season intensity, the mid-winter racing blocks. Training hours drop, energy returns, and racers feel snappy once more. With only a few more weekends of competition left, skiers gave their all in week six of collegiate racing.
CCSA
The Midwest collegiate teams met up this past weekend at the Grand Avenue Nordic Center at the base of Spirit Mountain in Duluth, MN for the CCSA Conference Championships. Grand Ave, a relatively new trail system - redeveloped last year with snow making and a new chalet, features difficult climbing right from the start line.
Day 1, Classic 5/10k Interval Start
Anabel Needham (MTU) took the victory in the first race of the weekend, winning by just five seconds over her former teammate, Sarah Goble (Sun Valley). Goble was back in the Midwest preparing for the Birkie. Hilde Eide (NMU, NOR) rounded out the podium, just nine seconds back from Needham. Emma Stertz (CSS) placed 12th, Gretchen Haggenmiller (NMU) 13th, Maggie Whitaker (CSS) 16th, Mia Case (CSS) 17th, Mary Lyon (MTU) 18th, Johanna Craig (MTU) 19th, and Maj-Lis Helmer (CSS) was 20th.
In the men's 10k, Zak Ketterson (NMU) edged out his teammate Kjetil Banerud (NMU, NOR) by just three seconds for the victory. Emil Book Bratbak (CSS, NOR) returned to collegiate competition after a fall and early winter of training in Bozeman and took third, only seven seconds back from first. John Schwinghamer (CSS) placed a strong 6th, with Patrick Acton (MTU) in 9th, Reid Goble (MTU) 10th, Matthew Bourne (NMU) 12th, Lars Dewall (CSS) 13th, Mark Ousdigian (MTU) 14th, Joseph Walling (CSS) 16th, Ryan Steger (CSS) 17th, Henry Snieder (MTU) 18th, and Dale Baurick (CSS) in 20th.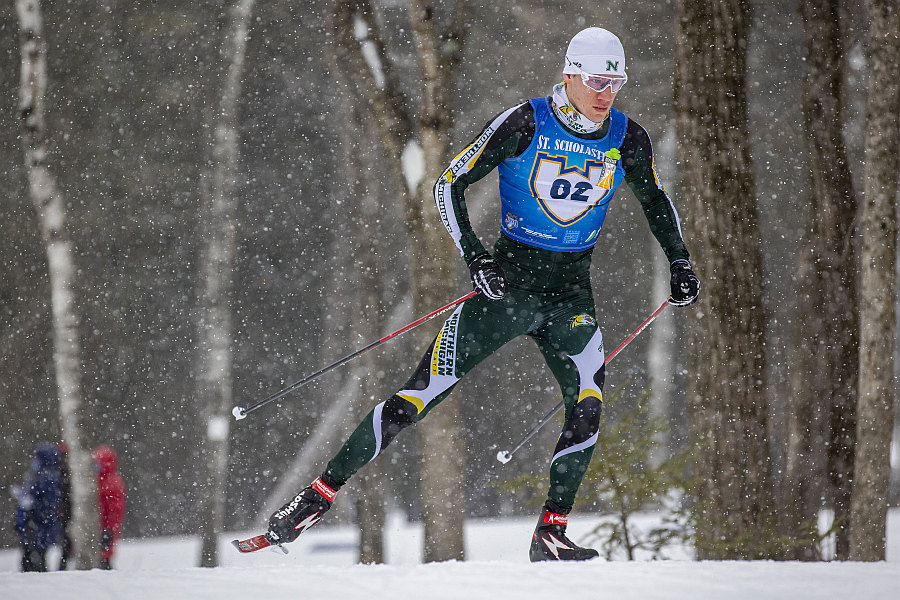 Day 2, Skate 15/20k Interval Start
The women's 15k saw first year Pearl Harvey (NMU) take her first collegiate victory by eight seconds over her teammate Malin Boerjesjoe (NMU, SWE). Hilde Eide (NMU, NOR) rounded out the podium to make it a Wildcat sweep. Anabel Needham (MTU) placed 6th, Emma Stertz (CSS) was 12th, Maj-Lis Helmer (CSS) 14th, Johanna Craig (MTU) 15th, Mia Case (CSS) 16th, and Mary Lyon (MTU) was 17th.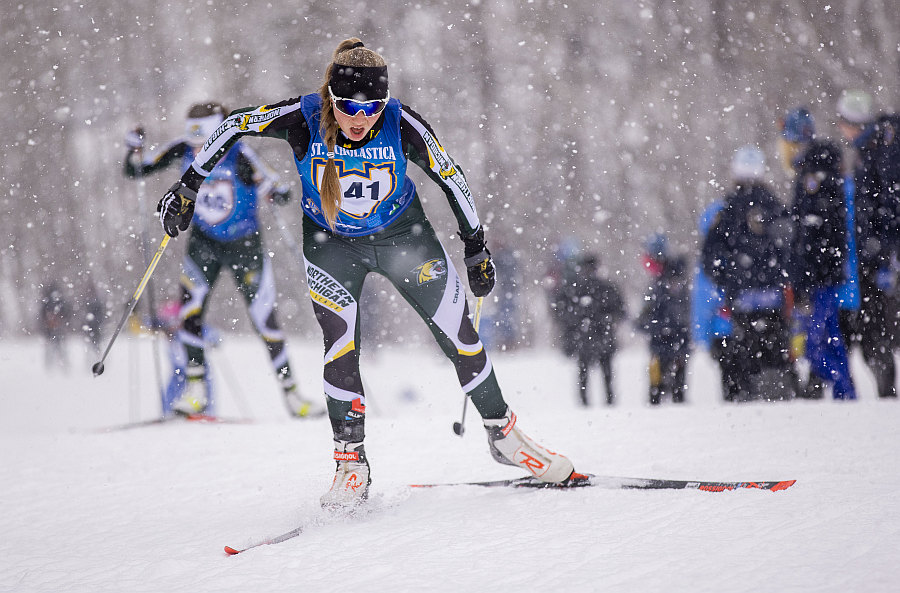 Zak Ketterson (NMU) dominated the men's 20k, winning by a minute and twenty-six seconds over his teammate Kjetil Banerud (NMU, NOR).
Ketterson, as quoted in the CCSA Conference Championships Review, said, "I felt pretty good this weekend, especially on Sunday! I'm still trying to dial in my classic skiing this year but skating has been working well so far. [The next couple of weeks] I'll be doing a lot less training to try to build up some energy and hopefully finish the season strong". Ketterson also credited NMU's strong and fun-loving team vibes over the weekend for helping his performances.
Emil Bratbak (CSS, NOR) finished up a solid weekend with another third place. Reid Goble (MTU) placed 6th, Patrick Acton (MTU) 7th, John Schwinghamer (CSS) 9th, Shad Kraftson (UWGB) 12th, Matthew Bourne (NMU) 13th, Lars Dewall (CSS) 14th, Ryan Thieme (UWGB) 15th, Mark Ousdigian (MTU) 17th, and Joseph Lynch (CSS) was 18th.
CCSA races again February 27-28 at the Tech Trails in Houghton, MI for the Regional Championships.
EISA
The EISA raced for the second time this year at Jackson XC in Jackson, NH. This will be the location of NCAA Championships in March so teams were eager to gain more experience on these trails. UVM, UNH, and SLU all competed.
Day 1, 15k Skate Interval Start
Jacob Nystedt (UVM) finished in first place over his teammate Matias Oevrum (UVM, NOR). These two Catamounts have taken first and second place in the last two carnival competitions. Scott Shulz (UNH) finished in third. James Schneider (UNH) was 7th and Charlie Reinhardt (SLU) placed 12th.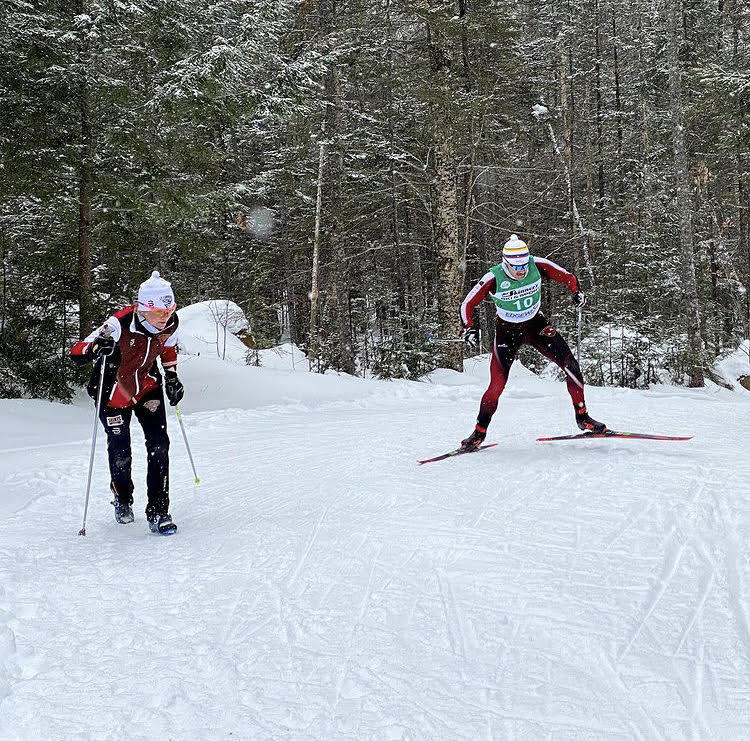 Anna Bizyukova (UVM, RUS) also won back to back carnival races, finishing the 15k fourteen seconds faster than Evelina Sutro (UVM). Jasmine Lyons (UNH, CAN) placed third. Luci Anderson (UNH) finished just off the podium in 4th. "I was happy with my performance this past weekend and I'm really excited to have had a chance to race one more time on the course before going into NCAAs," she said. "This last race has definitely made me more confident with my course strategy and hopefully in three weeks I can have a good race at NCAAs." Libby Tuttle (UVM) continued her strong season with a 6th place, with Alice House (UNH) 13th, Jordan Schuster (SLU) 17th, and Sydney Peterson (SLU) 18th.
EISA skiers will toe the line next on February 26th at Sleepy Hollow in Huntington, VT.
RMISA
Utah continued their team domination under blue skies at their home trails - Soldier Hollow. After being relocated from Bozeman, these two individual start races took place on Monday and Tuesday to avoid an already scheduled citizens' race on Sunday. The second race, while officially listed as an interval start, featured a team start format in which each team was given one start time. Skiers started with their teammates but their times were scored just like an individual start against all other racers.
Day 1, Classic 5/10k Interval Start
Magnus Boee (CU, NOR) continued his strong season, beating Sam Hendry (UU, CAN) by forty-five seconds for the victory in the men's 10k. Sigurd Roenning (UAA, NOR) rounded out the podium in third.
On the women's side, Novie McCabe (UU) placed first, just four seconds in front of her teammate Julia Richter (UU, GER). Vera Norli (DU, NOR) placed third, for her first podium of the season. Emma Albrecht (MSU) placed 15th with Abby Jarzin (UU) in 16th.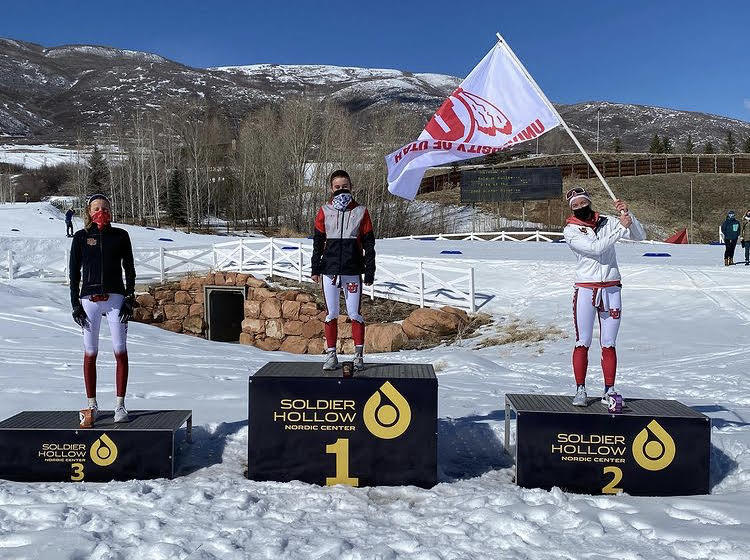 Day 2, Skate 10/15k Interval Start in a Team Start Format
Sam Hendry (UU, CAN) won the men's 15k showing that he will once again be a contender in the championship season. Bjorn Riksaasen (UU, FIN) placed second with Magnus Boee (CU, NOR) placing third.
In the women's competition, Novie McCabe (UU) won again, this time by almost a minute over Astird Stav (UAA, NOR). Mariah Bredal (UU, NOR) was third. Abby Jarzin (UU) placed 13th while Emma Albrecht (MSU) was 20th.
RMISA will race once more at Soldier Hollow this Friday and Saturday (Feb 26-27) for the RMISA Championships. These will be the final races before the NCAA Championships.
NCAA Qualification
As we head into the last races of the season for each of the collegiate conferences, the NCAA Championships loom large. Originally supposed to be hosted by Middlebury at Rikert Ski Center, the races have been relocated to Jackson XC, hosted by UNH. Every year, each conference gets a specific number of start spots for men and women determined by each conference's performance at the previous NCAAs. Because 2020 NCAA's in Bozeman were cut short, the NCAA decided not to change the allocated start spots for each conference. They will remain unchanged again next year because of COVID's current influence on participation. The number of start spots for this year (and next) are as follows: EISA Men - 15; EISA Women - 16; CCSA Men - 8; CCSA Women - 7; RMISA Men - 17; RMISA Women - 17.
It's also important to note that each team can only send three men and three women at most. Each conference publishes a regularly updated rankings list off of which skiers qualify for NCAAs. The only conference that has changed their qualification criteria this year is the EISA which is only taking into consideration a skier's one best classic race and one best skate race. The EISA will also be unable to fill all of their start spots because only four teams have competed this season.
Tune back in next week for an update on the Regional Championships as skiers put in their last hard race efforts before heading to Jackson.
About the author...

Luke Brown, a graduate of Minnehaha Academy and Dartmouth College, is a skier and biathlete for the Crosscut Mountain Sports Center and the US Biathlon X-Team. He enjoys running in the mountains, writing, and eating cereal with whole milk. He lives in Bozeman, MT.