Collegiate Racing Recap: CCSA, EISA, RMISA
It was the last weekend of collegiate racing in the regular season. Skiers on the bubble were fighting for NCAA qualification. Others were skiing for a confidence boost heading into the off-season or to achieve that results based goal they had set in the summer. Athletes at the top wanted to show that they would be ready to fight for the top spots in Jackson. But no matter their results this weekend or their position on the final ranking list, every skier should be applauded for navigating a unique and less than ideal season with perspective, patience, and passion. Here's to each of them and all the coaches, parents, and teammates who supported them and made this season possible.
And without further ado, it's time for the recap of week seven.
CCSA
The CCSA returned to well-known and snowy Houghton for the CCSA Regional Championships. Northern Michigan University continued to show their all around team strength and are poised for a solid showing at NCAA's.
Day 1, 5/10k Classic Interval Start
On the first day of competition, Anabel Needham (MTU) showed impressive form, powering to the victory. Molly Miller (NMU, CAN) placed second with her teammate Hilde Eide (NMU, NOR) in third. Emma Stertz (CSS) was 12th, Gretchen Haggenmiller (NMU) 13th, Maggie Whitaker (CSS) 14th, Johanna Craig (MTU) 16th, Mia Case (CSS) 17th, Maj-Lis Helmer (CSS) 18th, Samantha Benzing (CSS) 19th, and Leah Dutkewych (CSS) was 20th.
"I was really excited going into the weekend," said Needham. "But I was nervous for the 5k classic since the conditions were going to be different from anything we've skied on yet this year. During the race I felt great and the course was super fast! Leading up to NCAAs, first I'm going to get through this tough week of school. I want to focus on all the positive things from this season, and keep in mind how lucky we all are to keep having race opportunities!"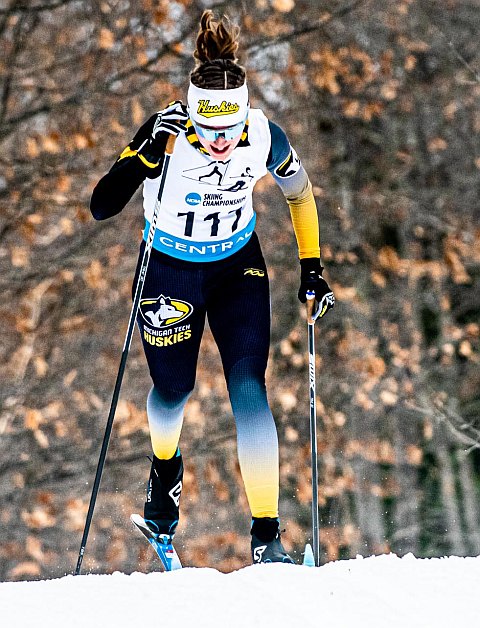 On the men's side, Zak Ketterson (NMU) won his third CCSA race in a row, finishing ahead of Kjetil Banerud (NMU, NOR). Emil Book Bratbak (CSS, NOR) rounded out the podium in third. Patrick Acton (MTU) placed 6th, with Reid Goble (MTU) in 7th, John Schwinghamer (CSS) 8th, Xavier Mansfield (NMU) 9th, Matthew Bourne (NMU) 11th, Ryan Steger (CSS) 15th, Mark Ousdigian (MTU) 17th, Lars Dewall (CSS) 19th, and Henry Snider (MTU) was 20th.
Day 2, 15/20k Skate Interval Start
On the second day of racing, snow conditions slowed down throughout the day due to falling snow. NMU's women team showed no signs of slowing as they swept the podium. Molly Miller (NMU, CAN) was first by over a minute with Malin Boerjesjoe (NMU, SWE) in second. Hilde Eide (NMU, NOR) placed third. The previous day's winner, Anabel Needham (MTU) placed 8th, with Maj-Lis Helmer (CSS) 11th, Johanna Craig (MTU) 13th, Mia Case (CSS) 15th, Leah Dutkewych (CSS) 17th, Maggie Whitaker (CSS) 18th, Emma Stertz (CSS) 19th, and Gretchen Haggenmiller (NMU) in 20th.
In the men's 20k competition, Kjetil Banerud (NMU, NOR) won by forty seconds over a hard-charging Patrick Acton (MTU). It was Acton's best result of the season which will provide a confidence boost heading for NCAA Championships in Jackson.
"It was my last weekend of racing at home and so I really wanted to be proud of my effort so I could end the regular season on a good note," said Acton. "I was very focused mentally and physically at the start of the skate race and the conditions were much faster than I anticipated so that helped to drive my energy through the first 10k. At 10k I was still getting splits that the race lead was within reach and so I closed as hard as I could for the last 2 laps. I also caught Maurus Grond (NMU) and he stayed with me through the remainder of the race so it was really energizing to have such a good skier breathing down my neck and be able to set the pace for him as well.
Tobias Moosmann (NMU, AUT) placed third. Xavier Mansfield (NMU) was 8th, Reid Goble (MTU) 10th, Ryan Thieme (UWGB) with a strong result in 12th, while Henry Snider (MTU) was 13th, Ryan Steger (CSS) 16th, Mark Ousdigian (MTU) 17th, Tres Green (MTU) 18th, Sam Myers (UWGB) 19th, and Benjamin Boelter (CSS) was 20th.
EISA
The collegiate schools in the East raced a 10k classic at Sleepy Hollow, a quaint venue in Vermont. The men and women did the same distance - something the conference has been trying out more this year as a test for future seasons. Sleepy Hollow features a lot of gradual climbing and descending, with one major climb.
Day 1, 10k Classic Interval Start
Matias Oevrum (UVM, NOR) continued his EISA winning streak, taking the victory by eleven seconds over Jacob Nystedt (UVM). Scott Schulz (UNH) broke up a potential UVM sweep by placing third. James Schnieder (UNH) was 5th with Charles Reinhardt (SLU) in 12th.
Anna Bizyukova (UVM, RUS) took the women's victory by thirty-four seconds over Jasmine Lyons (UNH, CAN). Evelina Sutro (UVM) placed third. Luci Anderson continued her strong season and was just off the podium in 4th. Libby Tuttle (UVM) was 8th, Alice House (UNH) 11th, Sydney Peterson (SLU) 17th, and Jordan Schuster (SLU) was 20th.
In an interesting twist, Clarkson's ski team showed up to Sleepy Hollow and will be sending a full team to NCAA's. Clarkson has occasionally competed in EISA carnivals in the past (the last time was in 2019) but this was their first race of the season.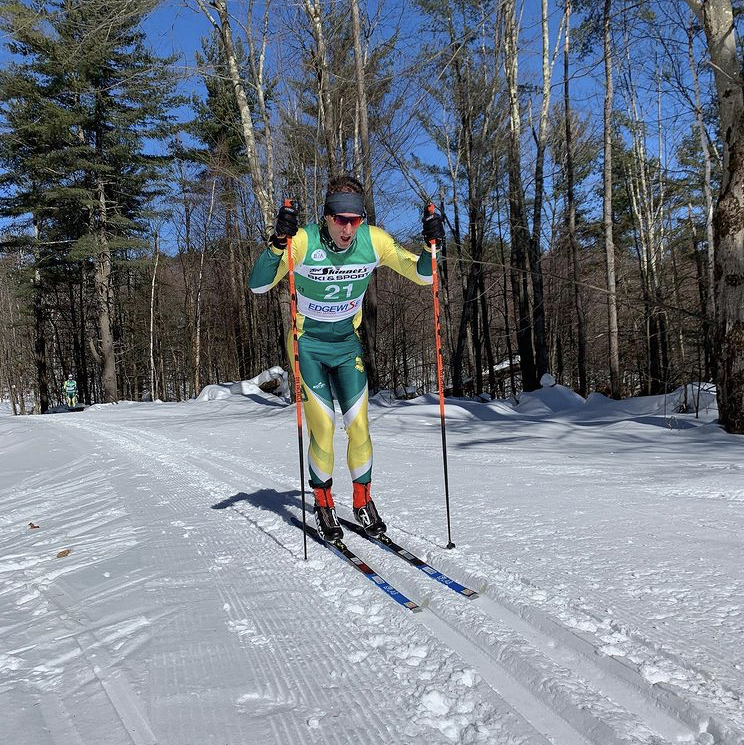 RMISA
In the RMISA Championships skiers raced at Soldier Hollow for the third or fourth time this season. If skiers don't have their strategy for this course nailed down by now, they need to get a new hammer.
Day 1, 5/10k Classic Interval Start
Sydney Palmer-Leger (UU) won the first day of racing for the ladies over her teammate, Novie McCabe (UU). Mariel Pulles (UAF, EST) placed third for her first podium of the season. Abby Jarzin (UU) was 12th with fellow Midwesterner Emma Albrecht (MSU) in 19th.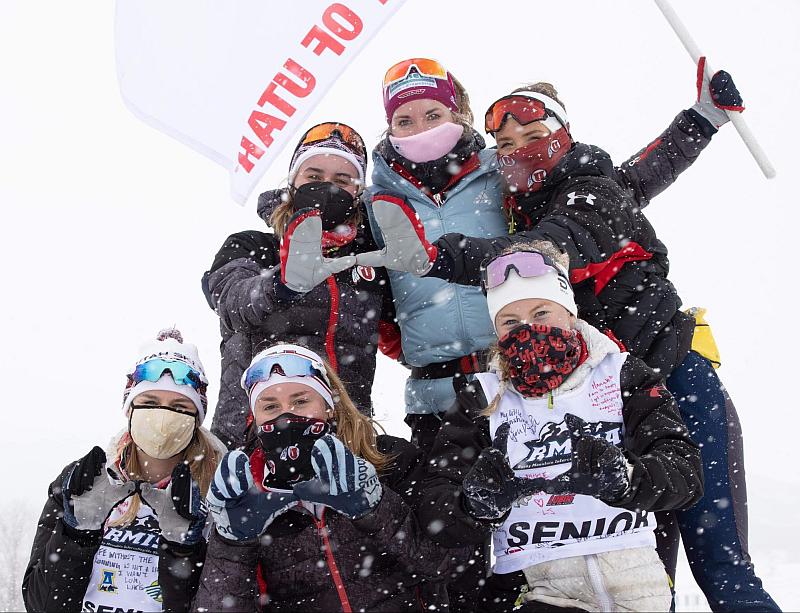 There were no surprises in the men's competition as Magnus Boee (CU, NOR) won by twenty-three seconds over Sam Hendry (UU, CAN). Sigurd Roenning (UAA, NOR) was third.
Day 2, 15/20k Skate Interval Start
In the women's 15k, the first and second place women from the previous day flipped places with Novie McCabe (UU) besting her teammate, Sydney Palmer-Leger (UU). Astird Stav (UAA, NOR) showed that she will still be in the mix at the end of the season, placing third. Abby Jarzin (UU) placed 17th with Emma Albrecth (MSU) in 21st.
Jarzin, content with her post-transfer season, shared some thoughts about her first year of racing with Utah. She said, "Overall I had a great first season with the University of Utah ski team. Our team skied so strong the entire season and it will be exciting to see them crush at NCAA's. As it was my first season back after taking a year break, I am very happy with how it went. The races were definitely tough some days and I think that I need a break from skiing at soldier hollow for a bit!"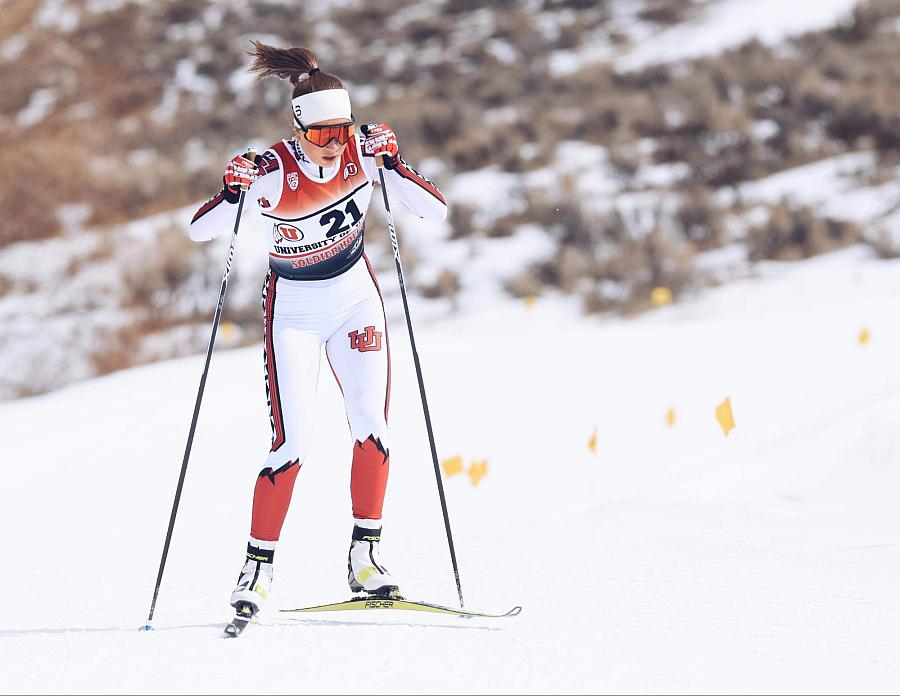 "There are definitely some places I want to improve in, however that's the beauty of being on a team like Utah where I have teammates who help push me and make this possible," she continued. "I am looking forward to more seasons with this team!"
Magnus Boee (CU, NOR) won again for the men, showing that he'll be a frontrunner at NCAA Championships. Sam Hendry (UU, CAN) was second with an improving Bernhard Flaschberger (DU, AUT) in third.
NCAA Qualification
After publishing last week's recap, we learned that some of the EISA's unused start spots for NCAA's will be given to the CCSA. Specifically, the CCSA will gain two spots for the women. The allocations now look like this:
CCSA Men - 8
CCSA Women - 9


EISA Men - 15
EISA Women - 13


RMISA Men - 17
RMISA Women - 17
NCAA Championships at Jackson XC in Jackson, NH will start up next week. The 5/10k classic races will be on Wednesday, March 11th with the 15/20k skate races on Saturday, March 13th. Keep an eye out for an NCAA Championships preview coming soon!
About the author...

Luke Brown, a graduate of Minnehaha Academy and Dartmouth College, is a skier and biathlete for the Crosscut Mountain Sports Center and the US Biathlon X-Team. He enjoys running in the mountains, writing, and eating cereal with whole milk. He lives in Bozeman, MT.