Minnesota High School Nordic Skiing Rankings - Final Round
March 8, 2021

This it is - the final round of rankings! Sections has provided a great deal of clarity, and perhaps some good insight into the State Meet.
Commentary
Well sections was… interesting. Perhaps to no one's surprise, warm weather rolled in for the pandemic delayed sections held the first week in March.
The sections blessed with racing on Monday had almost normal conditions as the temps stayed mostly below freezing. Fast courses and some fast results! In those conditions, Roger Anderson, Robbinsdale-Armstrong, took down Colin Freed, Wayzata. It was an impressive showdown with the results worthy of their top rankings. On the girls side, Sydney Drevlow proved she is the top contender with a clear victory in a very competitive field. Hopkin's Elsa Bergman hit the radar as she not only did well in sections, finishing third, but went on to post the top U18 in the Super Cup Finals classic on Saturday. Both Wayzata teams did well to capture the section titles. Also racing on Monday was St. Paul Highland Park, which received a little more competition that expected. Inga Wing, SPA, showed she'll be one to keep an eye on as she finished second to Molly Moening, St. Paul Highland Park. And Greta Hansen, Math and Science Academy, was a surprise in coming in third. Moening had a very strong performance, looking on form for the State Meet. St. Paul Central Boys showed they deserve more credit than previously afforded.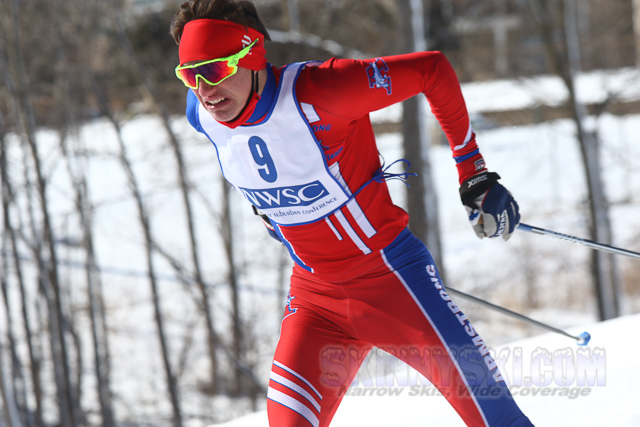 On Tuesday, the sections all got a taste of what the State Meet could be as temperatures soared well above freezing. Minneapolis Southwest boys looked very much on point, placing their top four within almost a minute time span, and all in the top seven of the section. But Cooper Camp, Southwest, needed a stellar skate leg to seal the section title over Eden Prairie's Benon Brattebo, who appears to be getting better each week. Edina's Maggie Wagner skied well against some top candidates. A well rounded performance by the Minneapolis Washburn girls nearly upset Eden Prairie for the section title. Down at Hyland, the O'Connor brothers Magnus and Evan, Prior Lake, put on a mini clinic over the boys field. And Prior Lake and Eagan both had pretty good results from their top four boys. Grete Engels, Lakeville, and Linnea Urban, Hastings, posted times within two seconds, which had us yearning for the normal pursuit format. And racing in slightly cooler conditions at Maplelag, Bemidji's Logan Jensen appears to be peaking at just the right time. Liliana Schaeffer, Brainerd, had a great day, raising her stakes in taking the section title over top biathlete Kasia Bosek.
Wednesday brought more of the same heat and sloppy conditions for the metro section meets. Ben Lewis, Blaine, and Hailee Zimpel, Elk River, both delivered the expected section victories. Forest Lake teams easily topped their section, clearly ready for State. Irondale boys provided the surprise, earning their trip to State as well. The shakeup in the Forest Lake boys results only goes to show how strong that group is. Forest Lake's Jordan Parent used a truly impressive classic leg in terrible conditions to take the section title. Section 7 perhaps received the closest simulation to the State Meet, racing in warm weather at Giants Ridge. Della Bettendorf, Proctor, grows strong with each race, winning a very tight battle over Lily Brown, Duluth East, and Zoe Devine, Ely. We look forward to that rematch at State! Ely's Jasper Johnston showed he is still the top dog in the Northern field, besting Marshall's Declan Hutchinson by a solid margin. Duluth East swept the team titles, proving what a perennial powerhouse they are. Sam Stertz, Grand Rapids, earned a trip to the Junior World Biathlon Championships, thus was unable to compete in sections and the State Meet.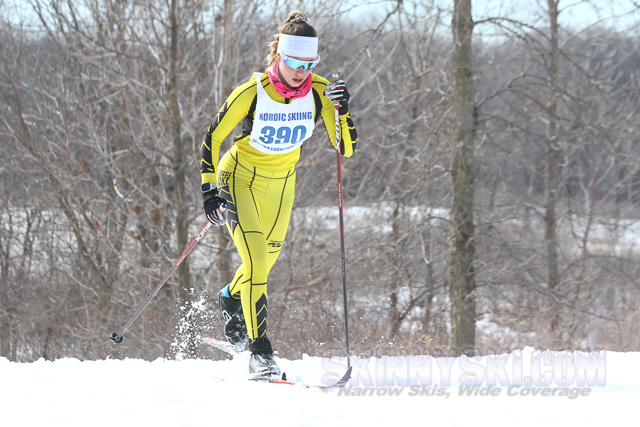 So how does all this play with the rankings? We definitely made some adjustments in the individuals, giving credit for some late season performances. And finally a serious shuffling of the teams, which are always a weak point for us.
State Meet Preview and our predictions, coming out Wednesday...
Girls Individual
Molly Moening, St Paul Highland Park, 11
Maggie Wagner, Edina, 11
Sydney Drevlow, Hopkins, 8
Jordan Parent, Forest Lake, 10
Margo Nightingale, Mounds Park Academy, 10
Lauren McCollor, Wayzata, 12
Ella Bakken, Eden Prairie, 12
Ella Niznik, Forest Lake, 11
Della Bettendorf, Proctor, 8
Amelea Hauer, Forest Lake, 12
Cusp: Lily Brown, Duluth East, 11; Margaret Dalseth, Visitation, 12; Inga Wing, SPA, 8; Zoe Devine, Ely, 10; Celeste Alden, St Paul Highland Park, 12; Elsa Bergman, Hopkins, 11; Chloe Erickson, Forest Lake, 9; Evelyn Hudrlik, Forest Lake, 10; Ingrid Halverson, Wayzata, 12; Hailee Zimpel, Elk River, 10
Boys Individual
Colin Freed, Wayzata, 12
Roger Anderson, Robinsdale Armstrong, 12
Cooper Camp, Minneapolis Southwest, 11
Jasper Johnston, Ely, 12
Victor Sparks, Minneapolis Southwest, 12
Declan Hutchinson, Marshall School, 12
Benon Brattebo, Eden Prairie, 10
Isak Nightingale, Mounds Park Academy, 11
Magnus O'Connor, Prior Lake, 12
Noah Erickson, Forest Lake, 11
Cusp: Davis Isom, St. Paul Highland Park, 10; Benjamin Bauer, Cloquet-Esko-Carlton, 12; Daniel McCollor, Wayzata, 9; Jonathan Hudrlik, Forest Lake, 12; Andrew DeFor, Edina, 10; Jonathan Clarke, Bloomington Jefferson, 11; Ben Lewis, Blaine, 10; Ian Morse, Duluth East, 11; Logan Jensen, Bemidji, 12; Evan O'Connor, Prior Lake, 10
Girls Teams
Forest Lake
St. Paul Highland Park
Wayzata
Duluth East
Hopkins
Eden Prairie
Grand Rapids
Brainerd
Ely
Rosemount
Boys Teams
Minneapolis Southwest
Forest Lake
Wayzata
Duluth East
Robbinsdale-Armstrong
Eden Prairie
Prior Lake
Cloquet-Esko-Carlton
Bemidji
Maple Grove
Disagree with the rankings or notice a problem? Send your comments to