Minnesota State Meet Preview
March 9, 2021

Well who could've imagined any of this? A worldwide pandemic strikes, the Minneapolis World Cup is one of the first victims, and soon we're all quarantining. Fall rolls around and we are still in the thick of the pandemic and the Nordic skiing season looks doubtful. Then in early January we hear the season will begin by mid-January, but most likely without any championship. And then rumors of sections and a State Meet! Now here we are, racing in March back at Giants Ridge for the State Meet!
First and foremost, congratulations to everyone involved in getting to this point -- the coaches, the parents, the volunteers, the planners and organizers, and all you skiers that stuck with the protocols and remained healthy to make it to this point! That alone is a huge victory.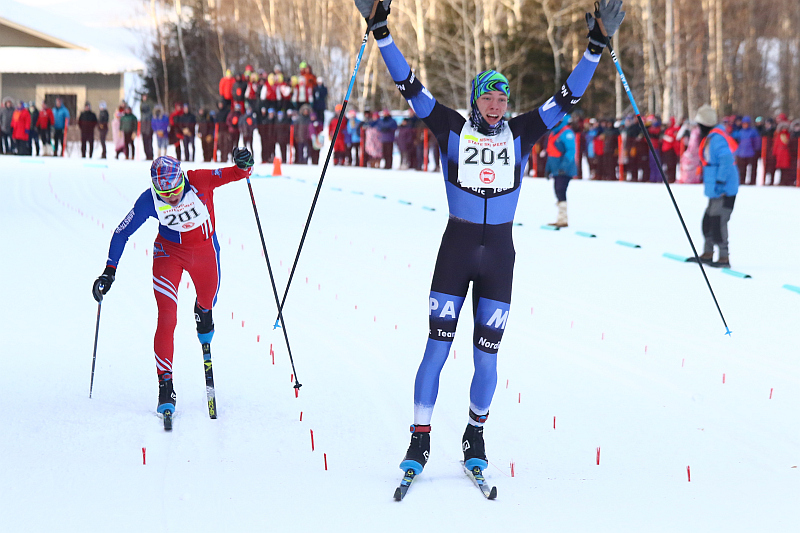 It goes without saying this is a State Meet unlike any other in history -- and hopefully never to be repeated. After a number of iterations, it was decided to run the State Meet with a full complement of section skiers, but splitting the girls and boys championships to separate days, and then running the races as two individual time trials, on a shorter course (4K), and with classic going first. With no pursuit format and a limited number of fans and media in attendance, skiers will have to rely on their own mental fortitude more than ever.
Finally, weather could well play a big factor as well. As of Tuesday evening, a major winter storm is poised to strike Wednesday night, bringing possibly as much as 6-8" of fresh snow onto the Giants Ridge course, with temperatures expected to then rise about freezing before the 1 pm start time. Uffda, the girls got it rough! The boys, racing on Friday, appear to be far more fortunate as temperatures are forecast to stay below freezing -- should be a very fast course come Friday.
As with much of the season, the exact courses are a bit in flux. Original plans had the classic race going on parts of the Gold course with the freestyle racing on the Silver trail, both very similar to the traditional State Meet courses but taking some cutoffs to shorten the distance. However, as of Tuesday evening reports were coming in that the warm weather had severely impacted the Silver course and plans were to use the Gold course for both races. Skiers should be prepared to race whatever course is presented, as organizers do their best to provide a quality experience.
Girls Preview
As the girls are racing first…
St. Paul Highland Park's Molly Moening was a minor surprise last season in taking the girls title. Now this year she wears the target on her back -- the one to beat. And the challengers field is deep. Perhaps the biggest threat is this year's sensation, Sydney Drevlow of Hopkins. This eighth grader has been skiing many years above her grade and continued to get better all season. Edina's Maggie Wagner had an excellent section championship in sloppy conditions, indicating she might just excel in Thursday's warm weather. Jordan Parent, Forest Lake, Margo Nightingale, MPA, Lauren McCollor, Wayzata, and possibly another eighth grader, Della Bettendorf, Proctor, all could make a run at the title as well.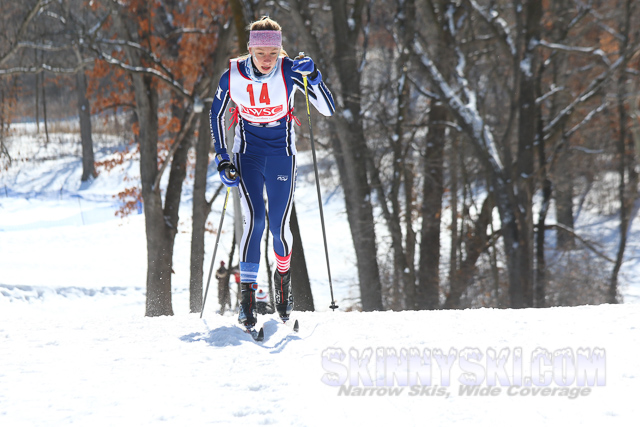 On the team side, everything indicates a close battle between Forest Lake and St. Paul Highland Park. While we recently boosted Forest Lake to the number one ranking, St. Paul Highland Park girls are a deep squad, and those 5-7 skiers could end up being the factor that seals a repeat victory. The difference between these two teams will be in the single digits. Wayzata has formed a great squad with the core skiers improving throughout the season. And of course, never count out Duluth East -- they will be making their presence known.
Predictions: Molly Moening first, Syndey Drevlow second, Maggie Wagner third. St. Paul Highland Park first, Forest Lake second, Duluth East third.
Interesting side note: Marshall School's Lucy Campbell will be racing on Thursday in her second State Meet in as many weeks! Campbell hails from Superior, WI, and raced last weekend in the Wisconsin State Championships, taking second place in the freestyle and fifth in the classic pursuit.
Boys Preview
Dang, the boys race is going to be intense....
Colin Freed, Wayzata, has been bulldog tough all season, rarely faltering. If he can come out of the classic race within seconds of the lead, Freed's skating prowess may just rule the day. But he will have some fierce competition. Robbinsdale-Armstrong Roger Anderson has been trying to unseat him most of the season, and succeeded at sections. In addition, it was Anderson that finished second at the State Meet last year in a near photo finish with Henry Snider. Minneapolis Southwest's Cooper Camp is another incredible freestyle skier and will be right in the mix, for sure. Benon Brattebo, Eden Prairie, is our dark horse. He's been taking names as of late and could be on the podium. Jasper Johnston is king of North, and Giants Ridge is his backyard, and what a fantastic way to conclude his senior year by standing on the top.
The Minneapolis Southwest boys have been waiting 13 months for their rematch against Forest Lake. These teams tied at the State Meet last year, with Forest Lake winning the time-based tie-breaker by less than eight seconds! The title will be decided by these two squads, with the rest of the teams racing for third. Wayzata, Duluth East, Robbinsdale-Armstrong are some of the favorites for taking that final podium spot.
Predictions: Colin Freed first, Roger Anderson, second, Cooper Camp, third. Minneapolis Southwest first, Forest Lake second, Duluth East third.
Coverage
We hope to be on course Thursday and Friday, gathering our usual same day photo coverage. In addition, there is a planned livestream (pay-per-view). And the league will have photos for sale, post event. Results, hopefully with live timing, will be by Mtec.
Wrap Up
As we said before, this State Meet will be like none other. In addition to all the points we previously made, it's also the final competition of the season for most juniors. There is no Junior Nationals competition this year, and clearly the State Meet was the most prestigious trophy of the season for a number of skiers who sat out the Super Cup Regional Finals last weekend. In some ways the State Meet is like your shot at the Olympics or World Championships -- you've only got a limited number of chances at it, and a single day to hit your peak performance. But while this will be the end of many skiers high school career, and each skier can only control their own performance, bear in mind there are unlimited opportunities to continue skiing in the future. There are Birkie champions that never won the State Meet, including some that never even finished in the top 25! Give it your best and let the results speak for themselves. Best of luck to all!