Minnesota State Meet Recap and Stats
March 14, 2021

The Minnesota high school Nordic skiing championships wrapped up at Giants Ridge with two days of racing last week. It ended a season unlike any in history, one which presented many hurdles brought on by a global pandemic, which officials, coaches, parents and students found ways to clear to bring us to a successful State Meet.
Recap
After a week of very warm weather, the Giants Ridge courses were showing wear but a miraculous winter storm swooped in the night before to cover the area with over six inches of fresh snow, restoring the look and feel of winter. Both days of racing were confined to a 4 kilometer course on the Gold trail, that was largely a gradual climb to the high point and then a descent back to the finish. And unlike previous seasons, the day began with interval start classic races, followed by interval start freestyle races (a roughly one hour rest in between for the skiers).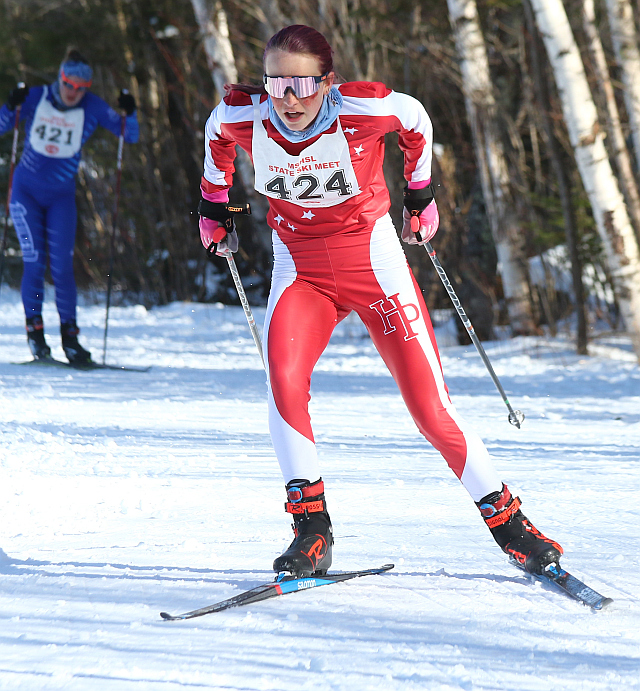 Thursday was the girls day, and top ranked Molly Moening, St. Paul Highland Park, made it clear why she's been number one all season. Moening went out double poling most of the classic course and came away with the top time, then turned around and skated to the best time again. Ensuring Moening earned the title, freshman Margo Nightingale, MPA, and eighth grader Inga Wing, SPA, moved up to take second and third place, 25 and 41 seconds back respectively. Interesting to note that Nighingale and Wing had faced off in conference races all season with close results, and were randomly paired to start together for the State Meet. The Forest Lake girls also confirmed their top ranking, taking the team title by 23 points over Highland Park, with Duluth East coming in third.
Overnight single digit temperatures resulted in a faster course on Friday for the boys events. As expected, the event came down to a friendly rivalry between Wayzata's Colin Freed and Robbinsdale Armstrong's Roger Anderson. Anderson posted the top classic time with a number of contenders within less than 10 seconds. In the freestyle race it was Freed that came gunning, hoping to erase a 12 second deficit. On the 4K course, Freed came up four seconds short, as last year's runner up Anderson sealed the victory with the third best skate time on the day. Cooper Camp, Minneapolis Southwest, made a great run at the title as well, moving up to finish third. Camp's upward movement helped Southwest secure the team title by just three points over Forest Lake boys, with Freed's own Wayzata taking third.
Movers and Shakers
Every year we crank out a set of extended stats on the State Meet. One of those stats is the 'Move' number, representing how much the skier improved their position in the second race. In the past this number has been based on how well they did in the classic pursuit. But with the format change, the 'Move' number this year reflects their individual skate performance. This year's high 'Move' numbers emphasize the importance of being a well rounded skier, and should give added motivation for increasing core strength and double poling power.
Overall, the biggest mover for the girls was Mary Beth Matthews, Bemidji, who climbed 20 places with her freestyle time. Greta Hansen, Math and Science Academy, had the biggest jump in the top 20, moving from 36th place up to 20th (16 places). Close behind, Liv Myers of Stillwater jumped from 22nd to 13th (9 places). Inga Wing jumped three places to secure her podium spot in third.
On the boys side, the biggest upward movement of the tourney came from Irondale's Declan Rodefeld, launching himself 40 places with his skate performance! The boys field had a stunning amount of strong skaters including the Robbinsdale Armstrong team that had four athletes moving up 20 points or more! In the top 20, Prior Lake's Magnus O'Connor shot up from 33rd place to 16th (17 places). And Colin Freed and Cooper Camp both had very strong skate races, moving up 4 and 6 places respectively.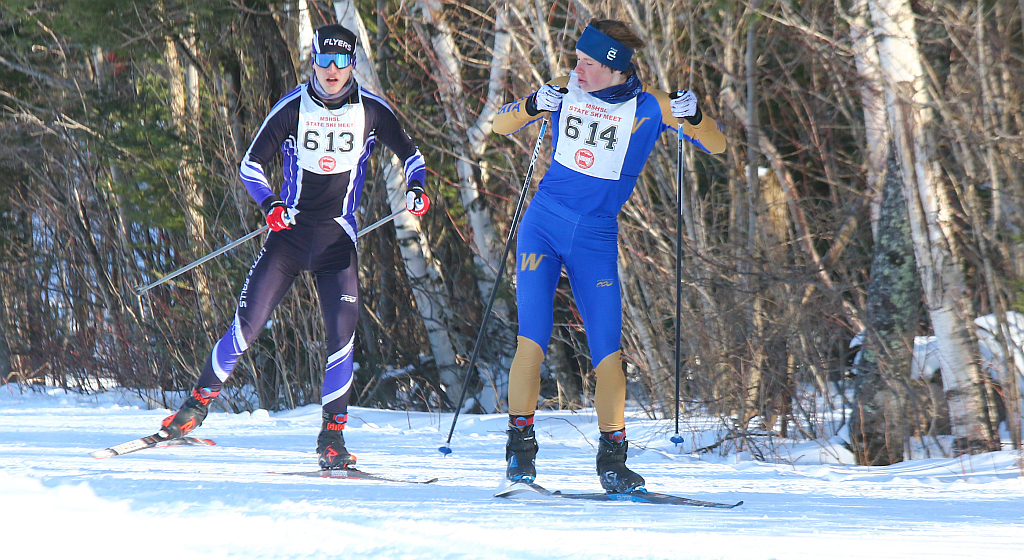 Each State Meet brings great surprises and even in a pandemic format, there were still some great stories. Little Falls Jackson Grant (unranked) rocked the boys field with a stunning classic race, perhaps pressed on by his pairing with Colin Freed. Grant, who won only one conference race all season, put in the performance of his high school career taking fourth in the classic and following up with fifth best in the skate to finish in fourth place overall!
Youngsters
There are a number of young stars that will warrant watching in the coming years. First is the crazy trio of eighth grader girls: Inga Wing, SPA, Sydney Drevlow, Hopkins, and Della Bettendorf, Proctor/Hermantown, who all finished in the top 12! This group, as well as some veterans, will make Molly Moening's chances of three-peating as champion all the more difficult next year.
On the boys side, a number of 10th graders shined, led by Eden Prairie's Benon Brattebo who was 9th overall. Ben Lewis, Blaine, was 11th, and Andrew Defor, Edina, was 13th. Could next season see the string of senior victories broken?
Teams, teams, teams
The expanded set of team stats are always interesting to delve into. The stats include team scores based on classic and freestyle races, as well as scoring the full set of team skiers and the total time of the top four. No matter how you slice it this year, the Forest Lake girls were tops in every way - best classic score, best freestyle score, best score for all team scoring, and best time. The Minneapolis Southwest boys were nearly that good, with depth their only Achilles' heel: they drop to sixth place when the entire team is scored. Forest Lake, Wayzata, and Robbinsdale Armstrong would have been the podium had entire squads counted for scoring.
We added one more team stat this season. We scored all the skiers as team skiers (traditional scoring only provides points to skiers on a State qualifying team). So instead of a maximum of 112 points, we started with 160 points. This allows us to compare the teams that had complements of four skiers or more and yet didn't finish as a top two section team. We scored them two ways, traditional four person and full team. On the boys side, Brainerd and Minnehaha Academy jump into the mix, Brainerd 8th in traditional scoring and Minnehaha 16th. When the full team is scored, Brainerd would score 10th. For the girls, St. Louis Park is the only squad with at least four skiers, and they would have finished 12th when just those four are scored, and 15th when full squads are scored. Finally, take a look at MPA: Their two skiers would have scored enough team points to put them in 16th place.
Tidbits:
MPA's Isak Nightingale pulled double duty at Giants Ridge, competing Wednesday in the Alpine State Meet where he finished 14th, and then took 12th on Friday in the Nordic State Meet.
Marshall School's Lucy Campbell, as mentioned previously, finished 5th at the Wisconsin State Championships, then four days later finished 19th at the Minnesota State Meet.
Minneapolis Southwest's Victor Sparks also earned a State Meet team title in 2017, when he was an eighth grader on the team.
Predictions
Finally, how poorly did we do this year with the rankings and our State Meet predictions? In the girls race we had Molly Moening ranked number one all season, and picked her to repeat as State champion -- Moening was our American Pharoah! We had Sydney Drevlow, Hopkins, second and Maggie Wagner, Edina, third. There those darn whippersnappers ruined our predictions, as Margo Nightingale and Inga Wing teamed up to take the final podium places. It should be noted Wagner had the second fastest classic time, and Drevlow the fourth best skate. For the teams, we tried to have our cake and eat it too: Our final rankings had Forest Lake girls first, but we leaned with our State Meet favorites St. Paul Highland Park to win -- should have stuck with the rankings! Duluth East girls came in as forecasted at third.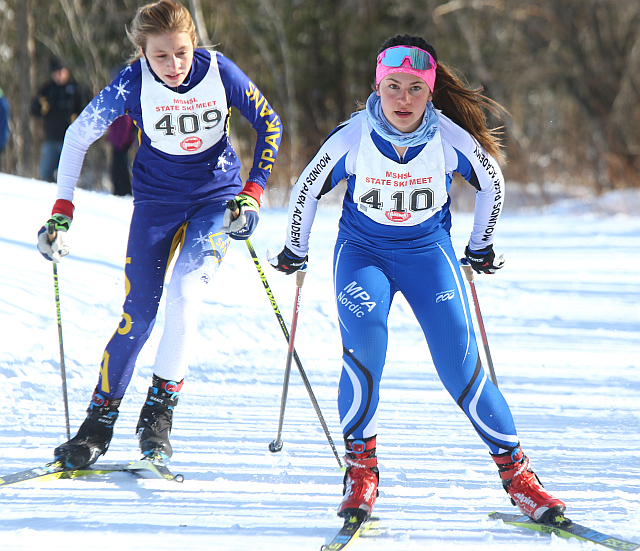 On the boys side, we are happy to admit we missed the trifecta; while we had the correct three boys selected, Roger Anderson cast off any doubts and finished first instead of our prediction of Colin Freed, with Cooper Camp making it all good as he came back in the skate race to finish third. As the saying goes, two out of three ain't bad: we predicted Minneapolis Southwest would take the team title with Forest Lake second, exactly how it turned out, but Wayzata proved to be the best of the rest instead of our pick, Duluth East.
Onward
Next year brings real changes to the State Meet, as the high school league switches to a new two-day format which will break the pursuit race over two days and incorporates team sprints for the first time ever. The crazy convolutions of this season should help prepare the coaches and athletes for this change come next fall. And while it will be exciting to see sprinting finally come to the high school system, much like the loss of the single classic hockey tournament, we'll be sad to see the end of the traditional one day pursuit format.
Thanks to all those that voiced support and sent in suggestions for rankings (even if most were proud parents). Athletes start making those plans for your summer training, and consider hitting those Junior National qualifying races next winter to punch your ticket to the top!