Midwest MTB Report
Greetings mountain bikers! Winter sure ended quick this year! A lower snow year and a quick melt of the snow with some warm temps has provided a early season for area mountain bikers. The southern locales are seeing trails opened up and the sandy areas in northwest MN in select state forest regions have also provided some early season riding. The stoke is cautiously getting elevated among local racers as all signs are a pointing a return to racing as races have already occurred in the western states. Racing will have a bit different feel in the Midwest but most racers are willing to do what is necessary to be able to toe the line. (be sure to check out the links at end of report for series racing updates)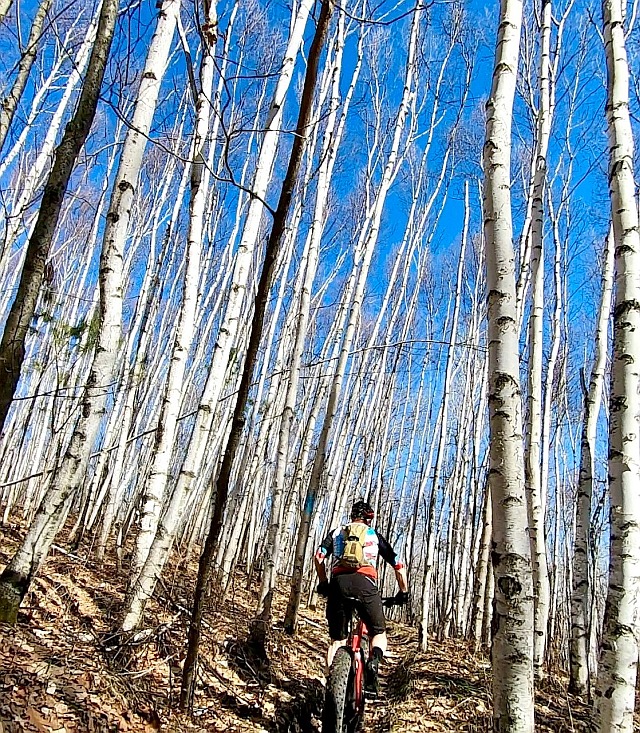 This years opening report takes a quick look at the early season upcoming events, a couple linked articles and the feature of this opening report, two interviews with hockey players that mountain bike!
Watch Out For Flying Pucks
Last summer when I was checking out the new Tioga Recreation area near Grand Rapids, MN. there was a trail aptly named "Hockey Hair" Reference to the "flow" of hockey hair and flow of the trail. It made me think of all the hockey players I have met over the years, including Jeff Hall, Brendan Moore, Jeff Bushey, Nathan Guerra, and Jesse Rients (to name a few) that now mountain bike! Having played hockey myself in high school, a year overseas in Norway playing juniors and then college, I've always loved the sport. Watching two of my boys go through the youth level and now playing college and juniors, I'm still deeply involved and connected. This is one of the best times of the year with playoffs and thankfully the high school season now able to host the state tournament this week. For me, hockey was a great background sport as I transitioned to mountain biking. The explosiveness but also endurance, a requirement of quick hand eye coordination and ability to handle things happening quickly were some of the similarities for me.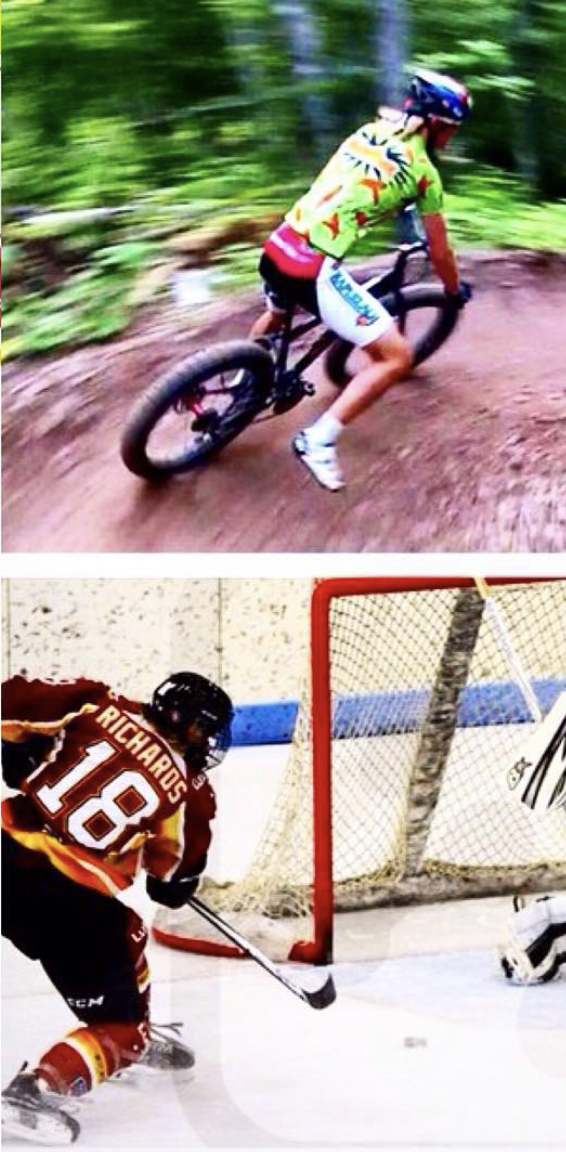 Last season I had plans to run a interview with two high school student athletes that play hockey and mountain bike. With the season put on hold, I never posted the articles but now with the mountain bike season cranking up and the state hockey tournament occurring I thought it would be a good time to share those interviews. Both these players are on teams that made it to the tournament which is happening this week: Hermantown and Gentry Academy! Unfortunately Hermantown had Covid issues and was not able to have their varsity team play but Gentry is fresh off a quarterfinal win as they look to make a run to the state tournament.
Barrett Hall
Hall is a junior forward for the Gentry Academy team. Hall was listed as one of the top 25 players to watch in the state tourney by MN Hockey Hub:
"If it seems as if every Stars player is incredibly fast, that's because it's most certainly true. But watch them long enough and certain players, blurry as they are because they are moving at mach speeds, stand out. Hall is one of those players. A mountain biking fanatic who has been ranked No. 1 in the nation for his age group, Hall not only has that extra set of jets, but regular 60-minute-or-longer bike rides have built his endurance to ridiculous levels. "That's why he can take two-minute shifts," Gentry Academy co-head coach Joe Cullen said with a chuckle. Hall, playing alongside sniper Nick Sajevic for much of the season, has 20 goals and 34 points."
Hall interview:
How has mountain biking helped you with hockey and how has hockey helped with mountain biking?

Mountain biking has helped me so much with biking, and vice versa. Mountain biking has built up my strength in my legs and has helped me become more explosive when it comes to playing hockey. Hockey has also helped with biking in the way that each shift is like a mini interval and that helps with the riding a ton.


Barrett Hall dangling the singletrack, Laddies Loppet 2019

What do you like best about hockey and what do you like best about mountain biking?

My favorite part about hockey is playing games against really good teams that will help better my ability, I also love to score and see my team succeed. My favorite part about biking is being able to rip through single track as fast as possible, I love the feeling of throwing the bike around in the air as well for some style points.

What similarities do you see in hockey and mountain biking?

The big similarity between hockey and biking is the interval aspect of a hard dig on the bike and a hard shift on the ice.


Hall moving up the ice (Credit: YouthHockeyhub)

What is your favorite NHL team and player and why?

My favorite NHL player is Connor McDavid because I love the way he plays and I really try and model my game after his.
Related:
Hall Continues to Climb
Chase Sams
Chase Sams plays for the Hermantown Hawks and provided an in depth background before the interview:
How did you get started in hockey?

I started hockey when I was around 5 years old when I lived in Esko at the time. I played there through minny mites and mite 1's and then we moved to Duluth schools where I played at a small association called glen Avon. I played there all the way through my mite 2 years and then moved to Hermantown right before the start of squirts. This was the year I had my first tryout. Not being as good as I thought I was I didn't make it through the first cut and was on the worst squirt B team that Hermantown had that year with about 3 wins. The next year I took private lessons from a guy named Sean Story. Being cut the year before really gave me motivation to prove people wrong and Sean helped me get my skills up to do that. I ended up making the squirt A team the next year. This was also the years I started biking. I went into Peewee's with everyone thinking I was the kid who got lucky to make the team the year before. I went into the tryout at around 4'6-7 and had a really good tryout and made the peewee AA team as a first year but was really over my head with the size and speed. I didn't score a goal the entire season. Bantams wasn't a lot different than peewees. I went into bantams at about 4'11-5'0 and had probably the best tryout I've had in my hockey career. This time though the coaches were looking for a team that didn't have much room for a small 100 lb kid. I made the bantam A team and had a pretty good season. My first and I think only season being on the power play and penalty kill. I also had the opportunity to play with Isaac Howard, Cole spicer and Ryan Chesley. Three kids that made the NTDP u16 team this year. My second year of bantams I made the AA team. My first year of high school hockey was a pretty cool year. I was a full time jv player which frustrated me knowing I was getting strong enough to play at the speed of a varsity practice or maybe even a game. The cool part about it was the fact that the jv and varsity team always did everything together so being with my cousin and being with kids like Blake Biondi everyday is a pretty cool experience. This showed me how many cool places hockey can take me. Hope it only gets better.

How has mountain biking helped you with hockey and how has hockey helped with mountain biking?


Hockey has helped me with mountain biking in many ways. One of the biggest ways hockey has helped me is it's taught me to battle through adversity. As great as hockey can be, there are also a lot of politics involved making it hard to climb your way up through the ranks. Some kids might not see things this way but when someone tells me I can't do something I use that as motivation for biking and other sports. This helps me for when I'm in pain while biking but I will just give it that extra 2% so when I'm done for the day I can tell myself that I proved them wrong.

What do you like best about hockey and what do you like best about mountain biking?


Mountain biking also helps me with hockey but it's mostly muscle related. Biking really helps me build up a big base for hockey. It also helps with my speed along with my power and endurance. Another big thing that people don't really understand is what some of us bikers put ourselves through so when your only in pain for 45 sec people just don't get why you can keep going because your so used to being able to hurt for longer periods of time.

Chase Sams focused on the trail

What similarities do you see in hockey and mountain biking?

Some similarities I see in biking and hockey are that they are both extreme leg workouts. Hockey is more quick twitch where mountain biking is a more long term leg workout.

What is your favorite NHL team and player and why?

My favorite NHL player is Connor McDavid, mostly because of his extremely quick hands but also because of his super quick edge work. My favorite team is the Chicago Blackhawks. I kind of jumped on the band wagon like most kids but I started liking them when my dad brought me to a game in Chicago for my 11th birthday. They've a really good last 10 years and I never really found a team I liked more.
Two Innovations That Have Made Mountain Biking More Capable
Progression is a journey, not a destination, and as riders we continue to benefit from countless innovations that have made mountain bikes ever more capable. Singletrack.com highlights two innovations that have changed the sport for the better.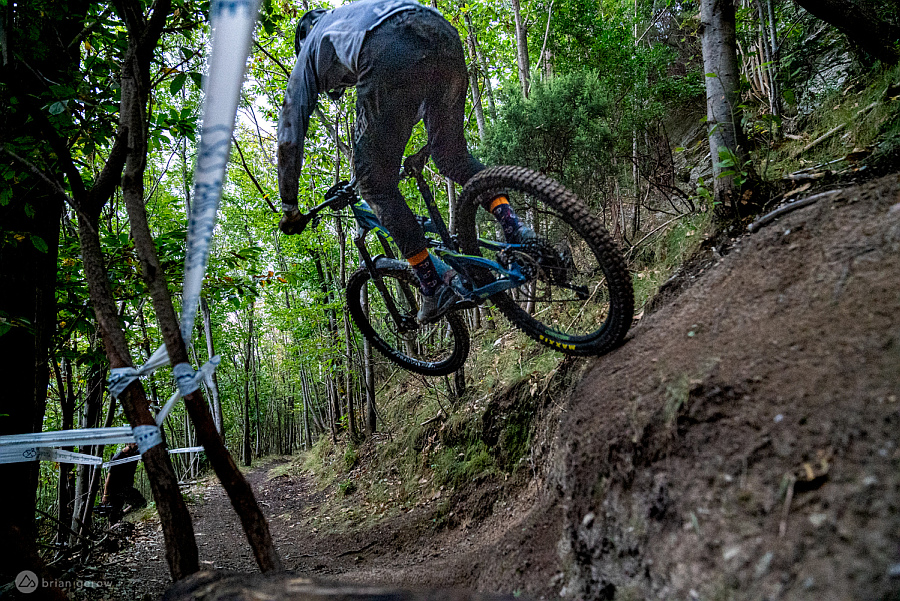 Borah Borah Borah
Borah Epic looks to return on the race calendar and is geared up for a fun weekend in Northwoods Wisconsin. Spots are limited, most proceeds go to the CAMBA trails and epic trails await. Registration is filling up, Borah Epic race kits are available Borah Epic Store and training plans are provided with a focus on preparing for the Borah Epic.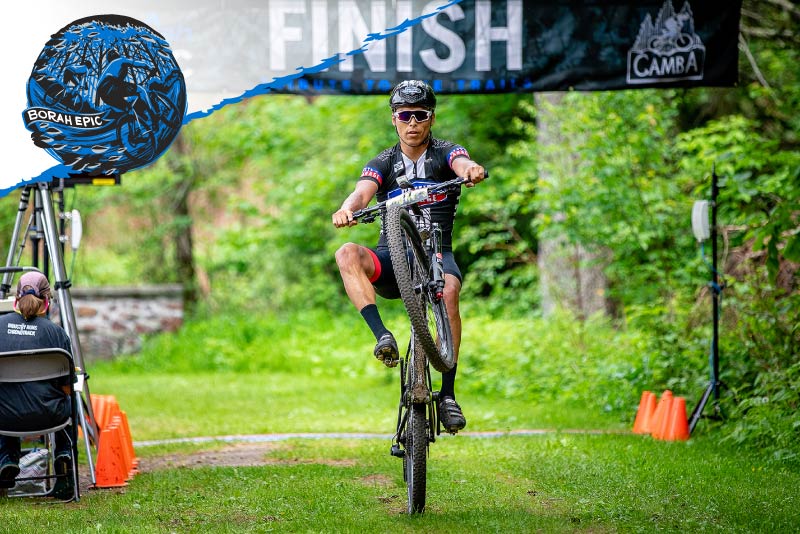 Minnesotans in the Mountains
Racing has kicked off in the arid states including the Intermountain Series. Last weekend two former Minnesotans, Samuel Elson and John Wessling now involved with coaching services, Wessling Fitness and Elson Endurace, toed the line in the Pro mens race battling on one of the "most scenic dessert races" in west. Elson and Wessling both put in strong performances with Elson just overcoming Wessling to score a second place finish with Wessling third just under a minute combined.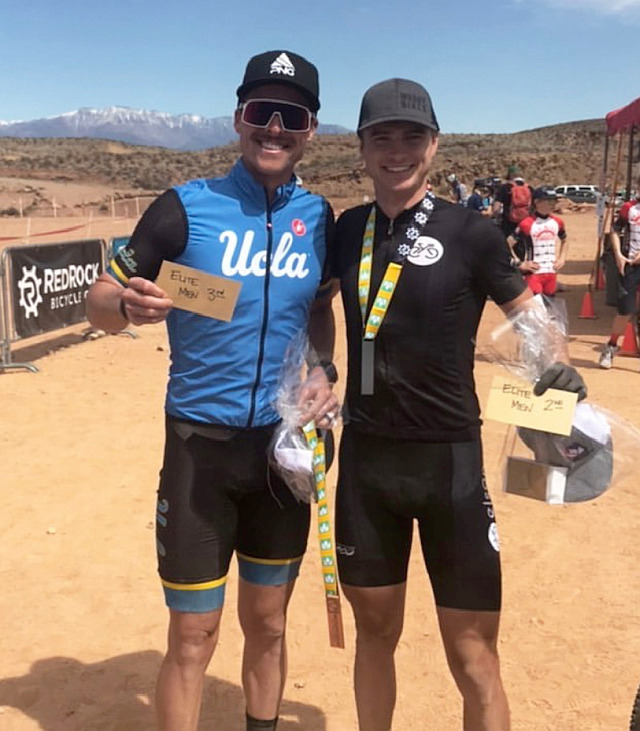 More MTB in Arkansas
Northwest Arkansas (NWA) is positioning itself to become a destination on both the international mountain bike and cyclocross racing circuits. Fayetteville will be hosting the UCI Cyclocross worlds in 2022 and the area recently built a European style world cup course which will be used in the upcoming OZ Trails US Pro Cup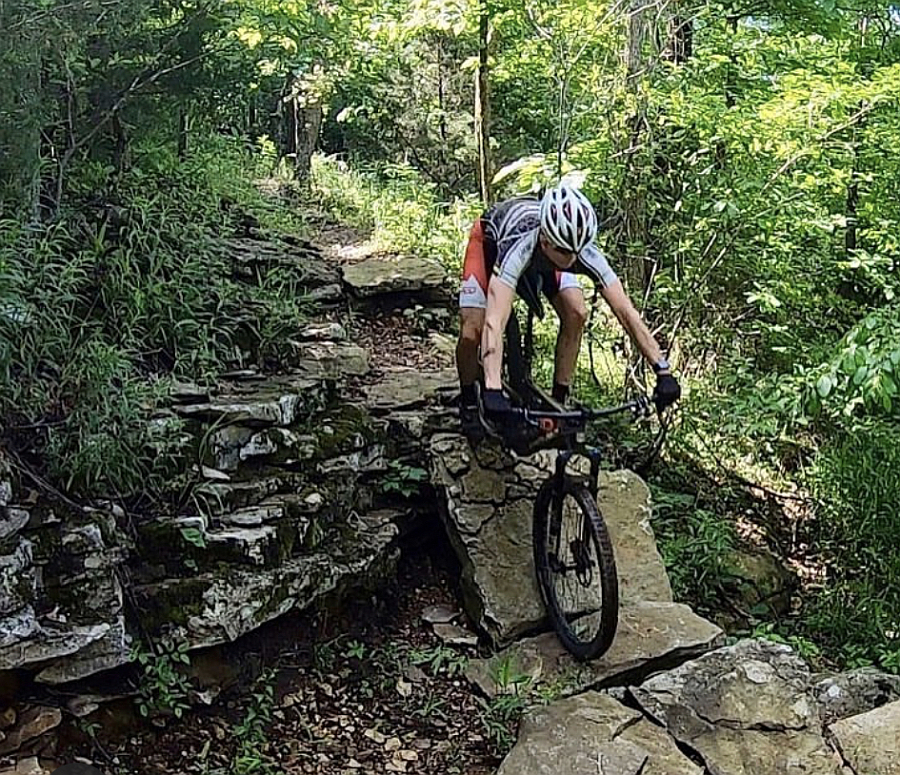 Ty Cady, US Cup Event Director, was recruited to consult trail builder "Rock Solid Trails" on constructing a world-class cross-country mountain bike circuit on Millsap Mountain in Northwest Arkansas.
"The goal was to build a U.C.I. XCO world cup style cross-country course here in America," Cady explained.
He told of the shortages of purpose-built cross-country venues existing in the states which are similar to those U.S. racers encounter competing in Europe on the World Cup circuit. This puts our riders at a disadvantage, especially for upcoming junior athletes who may not have had opportunities to compete in Europe. World Cup racing in Europe is much more technical than what racers traditionally experience here in the states. As a rule, European courses generally feature massive rock gardens, punchier technical climbs, and faster flowing singletrack.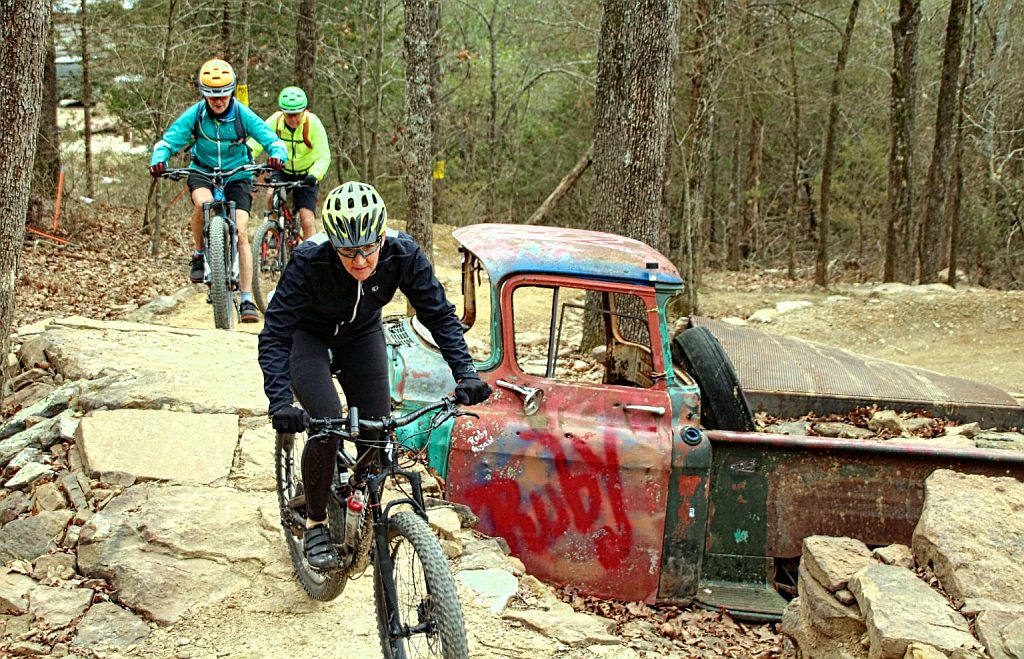 Read the full article: A New World-class, European Style XC Race Course Lands at Centennial Park in Arkansas
Looking Ahead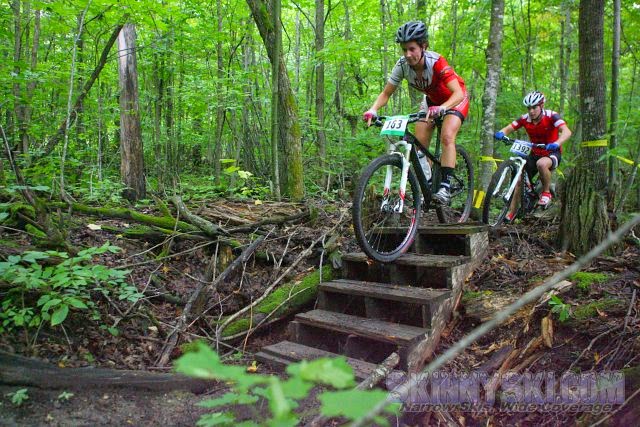 Both the Wisconsin Off Road Series and the Minnesota Mountain Bike Series are set to resume racing this year. The WORS kicks off with the Englewood Open on May 16th and the Minnesota Series tentatively plans to have the Woolly as the opening race in Wisconsin on May 2nd with May 16th as back update. Be sure to check the webpages for details on COVID restrictions etc. and the full schedule:
Keep the wheels moving!
About the author...

Jay Richards maintains a very active lifestyle. He somehow finds time between managing a full-time resort (Maplelag) and bringing up a family of four boys with his wife Jonell, to compete in both mountain bike and a few cross-country ski races. Jay rides for Maplelag Resort, manages the Maplelag mountain bike team and enters his 31st year of racing and promoting mountain bike races.

Have an event or mountain bike related information to share from the Midwest? Feel free to contact Jay at