Midwest MTB Report
A typical April is in place, which can be one of the most challenging months for a mountain biker, trails open, trails closed, warm days, cold and wet days. All good! It's the weather we get and making the most of what we are dealt is part of the opportunity to get and be better. This weeks report focuses on early season racing outside of the Midwest which includes recaps from a handful of area riders who were racing in the American Continental Championships in Puerto Rico and the US Pro Cup Series in Fayetteville, AR. Also highlighted in this report is registration details for the big races and two Midwest trails highlighted in the Backcountry Bike Challenge
US Pro Cup
The Bentonville, AR area has exploded as a hotbed of mountain biking in the country. The plethora of trails in the surrounding area is mind boggling and was a natural location for race #1 in the US Pro Cup. The community of Fayetteville was host to race #1 and a handful of Midwest riders made the trek south. There was also a large contingent of riders from the Midwest, in particular Minnesota that didn't race but instead rode the area trails and caught the racing action. The Pro Race was modeled after the current World Cup style course that features a shorter course that is pretty much all machine built with some major rock relocation.
Brian Matter of Chequamegon fame posted:
Deceivingly difficult is the best way to describe the race this past weekend. With all the berms and jumps the first impressions = this is going to be fun! Luckily Ive spent a lot of time riding Rock Solid built trails in the upper midwest, because the other half of the course is rock armored drainage ditches with hard 2 min punchy climbs that after 7 laps add up for some serious fatigue! Experience said stay within the limits the first 2 laps(and race the bigger bike) and then start moving on up! So fun to race this unique man made course with tons of cheers from the sidelines! Finished up 19th after a long drive from AZ
Ben Olson of Perham, MN was one of the riders that made the trek south and provides a full recap of his race and the general scene:
For a couple years our oldest son (Jake) has expressed interest in racing a national race. With last year and everything being shut down the anticipation of getting to one of these events has only grown. Originally, I wasn't planning to race, but with a year of no racing had an itch to scratch also. My wife Heidi plans all our trips and without her push and planning we probably wouldn't have made the trek. Very busy few days leading up to the race. We cut our ski trip to Red Lodge, MT short to allow the USCUP MTB experience to happen. Final ski day on the mountain was Tuesday. After a long drive home Wednesday and about 8 hours at home we (Heidi, Jake, Jacob Skatvold and I) were headed south to Fayetteville, AR.
With a late arrival to our Airbnb in Bentonville Thursday night we opted for a Friday afternoon preride instead of morning. Woke to an email from race organizers that weather would be rolling in mid-afternoon. With pro short track beginning at 11 we all quickly raced to the venue so we had a chance to see our course. Arrived with just enough time to get in a lap. Conditions were very dry with quite a few loose corners. Any moisture the storm would bring was much needed.
We were off course just as the junior women ST race was beginning and we went into spectate mode. The pros had a very fast and dry course. After cheering for fellow team rider Wyatt Horner in the U23 division it was time for the last race for the day - the pro men. We have followed Sam Elson and his racing for the past 5-6 years. Both in the MN Series and in NICA. It was super fun cheering for him along with all the other pros that we follow on social media.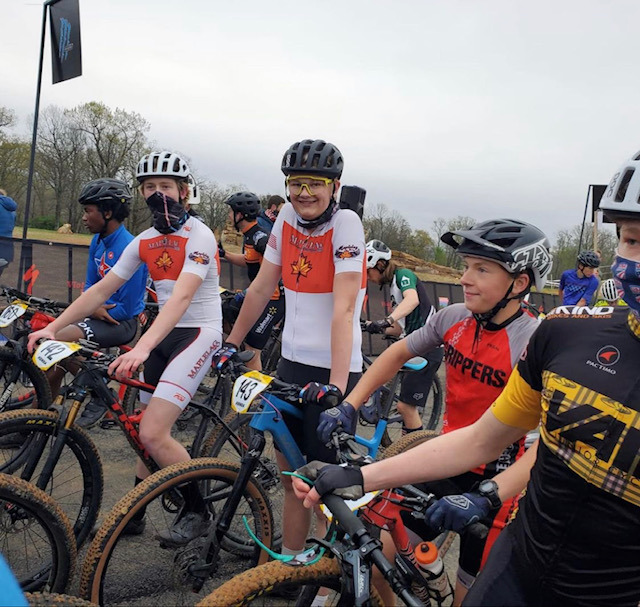 Saturday was race day for Jake, Jacob and myself. While Jake and Jacob went out for their warm up before their 8:30 race start I jumped on course and road about a mile of it to see just how much the rain had affected the trail conditions. Found the trail to be pretty slick with many puddles. Big change from the day before. Back to the start to watch Jake and Jacob's race. Heidi and I bounced around the course to watch their 2-lap race. Again, was so fun to finally be back at a race venue cheering racers! Jake finished in the bottom 1/3rd, but had a good race considering conditions. Many were DNF-ing due to mechanicals with mud build up on bikes. Unfortunately, that was the case for Jacob. He did need to DNF with shifting issues, but also enjoyed the racing up to that point. After a warm up it was time for me to get to the line. My 40-49 age wave was small with only 9 racers. Our XC course was mostly different from the pro XCO on Sunday. The course consisted of a very short flat sprint to the singletrack, followed by long flowing descents and gradual climbs with large berms and manmade rock gardens. After the sprint I found myself in 6th.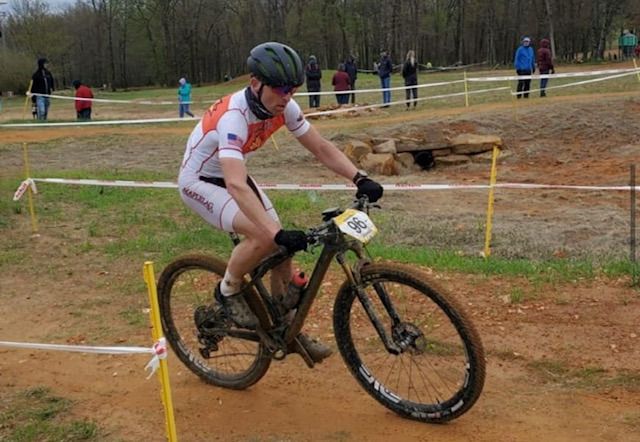 I found early on that the greasy conditions played to my strengths over the few riders ahead of me. I was able to catch three of them during the first two laps and move into 3rd and maintain that spot until the finish. The previous night's rain and more challenging conditions helped me secure the podium spot. Train regularly at Maplelag and you can ride anything! That along with the past couple years coaching from Brandt with Elson Endurance.
Sunday I volunteer to help in the feed zone for Sam in the XCO pro race. The view points for that race and the world cup type course did not disappoint. So fun to see those big guns throw down.
The week leading up to the race and all the driving seemed crazy, but was worth it! Only bummer is we won't be there next weekend to repeat the fun!
American Continental Championships
The American Continental Championships were in Puerto Rico this year (known previously as the Pan-Am) and featured the top riders in the "Americas". Caleb Schwartz of Madison, WI. made the trip and was the top American with a top ten finish. Schwartz posted on Instagram; "6th place for me at the Pan-American Championships. It's not what I came for but I'm still proud of the race I put together. To be fighting for the podium at one of the biggest events of the year is a damn good feeling after a year long COVID forced break from UCI racing. Mistakes were made, lessons learned, plenty of big and small victories in between. Thank you all for the cheers and support, now on to the next race".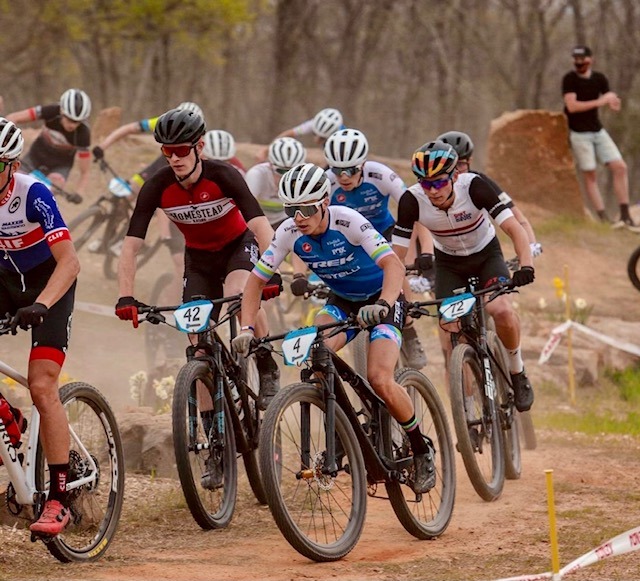 Backcountry Bike Challenge
The Backcountry Bike Challenge (BBC) is a collection of world-class backcountry mountain bike routes showcased to expand the community of backcountry cyclists. Two Midwest trails, the Duluth Traverse and the Maah Daah Hey are included on the list.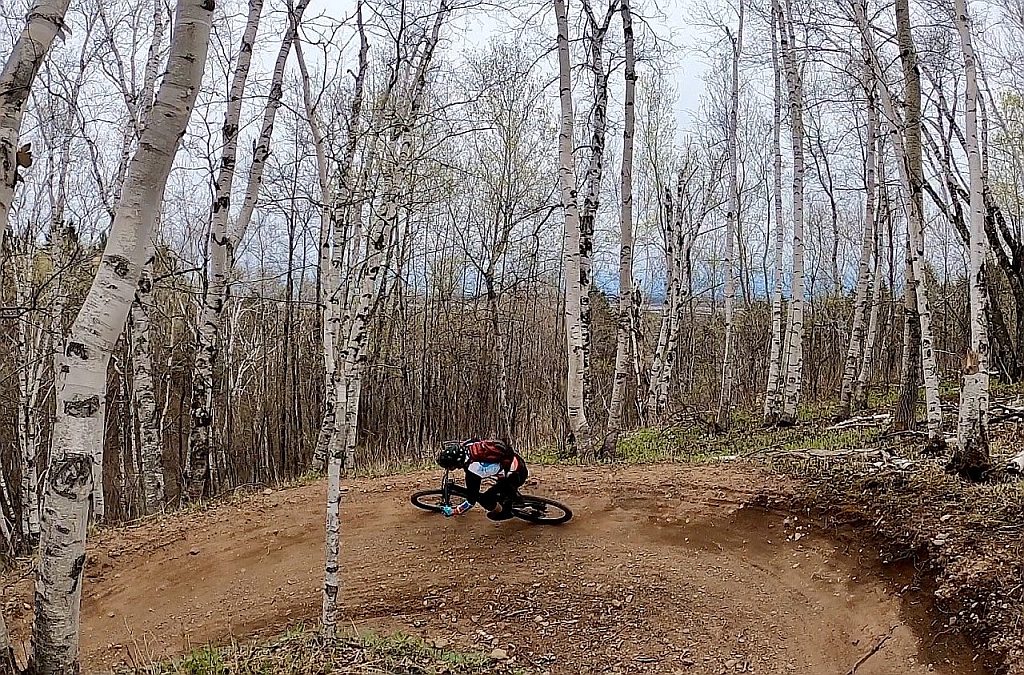 The BBC seeks to inspire riders of all backgrounds and abilities to find adventure through riding one (or many) of the BBC routes in any style they choose - via bikepacking, vehicle-supported travel, or chasing a fastest known time.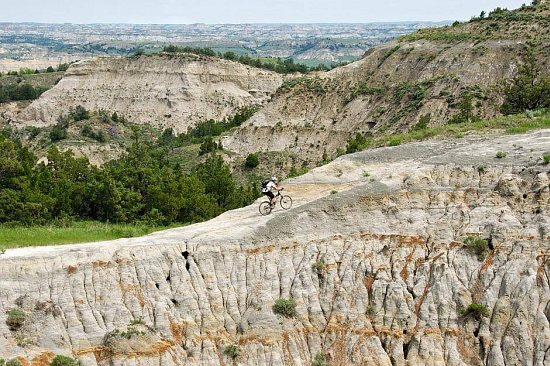 The series includes both classic and lesser known backcountry routes with the ultimate goal of inspiring mountain bikers to tackle challenging backcountry trails and experience the reward of exploring more rugged or remote landscapes. The series also serves to highlight and fundraise for the trail organizations critical to maintaining these routes.
MNMBS and WORS Updates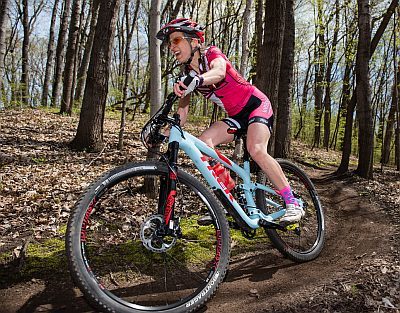 The start of the Minnesota Mountain Bike Series (MNMBS) and Wisconsin Off Road Series are quickly approaching with the first race on tap for May 2nd at the Woolly trails in St Croix Falls, WI. Per a social media post on April 13th, 100 riders had already registered. There is no registration day of.
Latest updates for registration on the MNMBS website
Ore To Shore Registration Update
The 21st Annual Ore to Shore is on track for August 14, 2021, and organizers are looking forward to welcoming racers back to Marquette, Michigan. "Obviously, as the COVID situation continues to evolve it may impact our ability to host the event in the traditional fashion. Some aspects — packet pickup, aid stations, awards, etc. may require adjustments to comply with whatever restrictions are in place at the time. Our goal is to deliver the quality event you expect while ensuring the event is safe for everyone — racers, volunteers, and our community.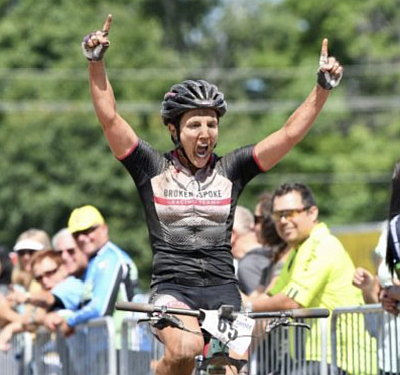 We are implementing a tiered registration process for this year to allow us to manage racers & events in context with ever-changing limitations."
Chequamegon Fat Tire Festival Update
All systems are go for the Chequamegon Mountain Bike Festival as weekly email blasts are going out to stimulate registrations; Planning is in full swing here in Cable and we are PUMPED to get back to racing and riding in the Northwoods of Wisconsin!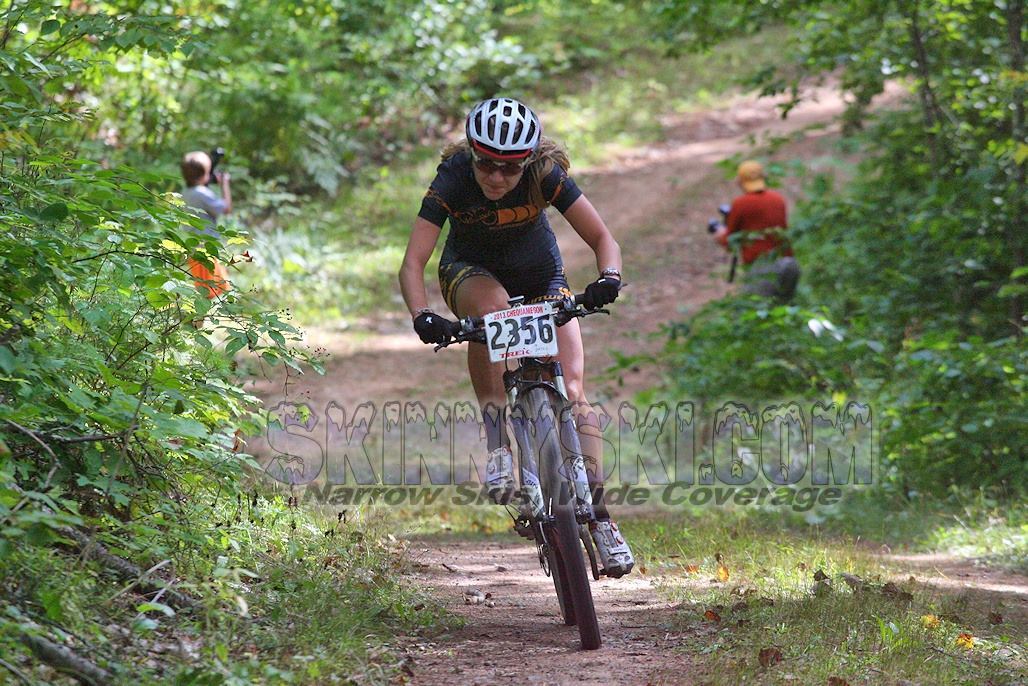 We hope you'll join us for our 38th annual Chequamegon MTB Festival presented by TREK in the woods this fall! If you deferred your 2020 entry, you are not automatically signed up. If you haven't signed up for the 2021 event please reach out to Treva at cheqmtb@ltevents.zendesk.com!
The weekend doesn't end with the races! Grab your friends and family for a weekend of live music, craft beer and savory food trucks. Turn the race weekend into a long weekend vacation! Northern Wisconsin offers something for everyone.
Keep the wheels moving!
About the author...

Jay Richards maintains a very active lifestyle. He somehow finds time between managing a full-time resort (Maplelag) and bringing up a family of four boys with his wife Jonell, to compete in both mountain bike and a few cross-country ski races. Jay rides for Maplelag Resort, manages the Maplelag mountain bike team and enters his 31st year of racing and promoting mountain bike races.

Have an event or mountain bike related information to share from the Midwest? Feel free to contact Jay at