Midwest MTB Report
Cooler weather has moved back in the Midwest, slowing the drying process and delaying the opening for trails waiting to open up but still plenty of riding of opportunities. This weeks report includes a recap from Minnesota native John Wessling who was one of many riders in Fayetteville, AR for the US Pro Cup #2. Other highlights include updates on the PRO XCT series race at Englewood Farms in Wisconsin, a few articles of note including the upcoming International Women's Mountain Bike Day.
US Pro Cup #2
The new hotbed of mountain biking in Bentonville, AR was host to race #2 in the US Pro Cup after successfully hosting round one the weekend before. Minnesota native and St Scholastica graduate, John Wessling who now operates Wessling Fitness, and coaches the UCLA cycling team, provides a recap of weekend two:
The US Cup in Arkansas these last two weekends were full of excitement and great racing! I decided to make a big trip out of it and spent 10 days sloshing through the mud and floating over rock gardens in Fayetteville, Arkansas.
A friend of mine from Southern California, Ty Kady, was in charge of the course set up and ran the races for both weekends. I knew we were in for a good one as Ty Kady comes from a motocross background and is an 8x XC Mountain Bike national champion. The story of the week was rain... and then more rain... Luckily there were a ton of people racing and for the amount of rain we actually got each day, the course was all-time come race day.
If you enjoy the Duluth singletrack trail system, this is a very similar flow and build. Don't quote me on this, but I believe the same guy or group who built most of Duluth's trail system also built the trails in Fayetteville and Bentonville. For the races there were more man made features than I've ever seen. Multiple rock gardens, rock drops, A/B line jump gaps, and everything in between. On both weekends, UCI Pro's and Juniors raced short track on Friday and XC on Sunday. Cat 1/2/3's were on Saturday both weekends. All of the races were action packed and were spectator friendly with a lot of laps!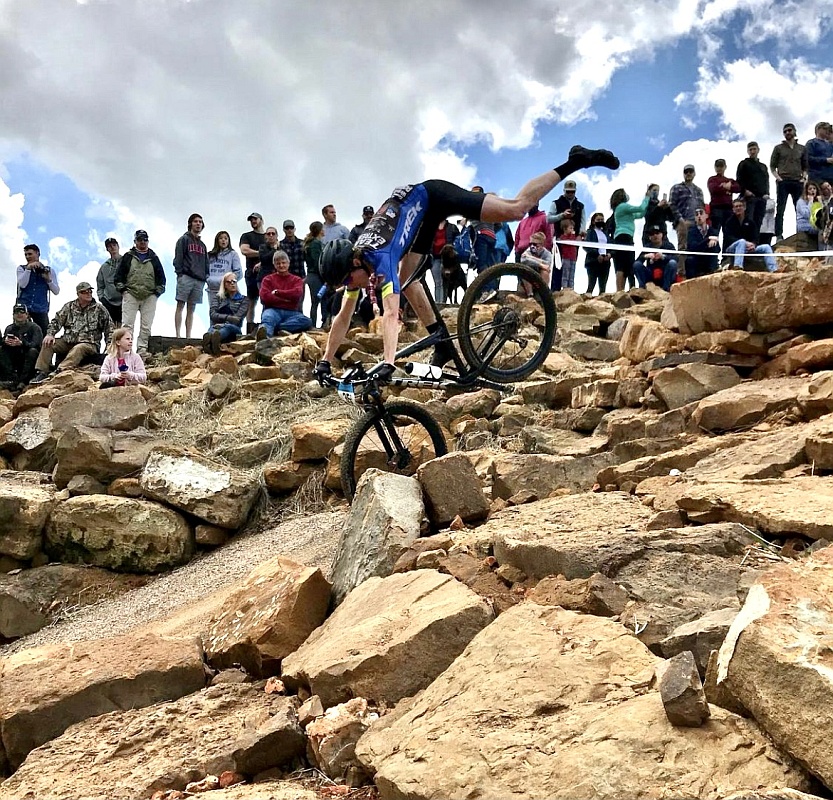 I stayed in a house with some of my friends from California, along with UCI juniors Blake Wray and Ethan Vilaneda. Out of the four races, those two guys took home three out of the four UCI junior wins! Blake won the second short track race and Ethan won both XC races. As for my races, the first weekend I snapped a chain ten minutes in due to mud I believe and the second weekend I had an epic battle with Specialized's R&D specialist Brian Gordon in the Cat 1 30-39 category, but ended up just short of the win in second place.
Overall the atmosphere and trails made for one of the most epic weeks of riding and racing. Fans screaming all around the course, tons of style points from racers off of the big gaps, and great racing in all classes. I hope nationals end up in Arkansas one of these years, because the course crew and promoters deserve it. If you've never biked in Bentonville or Fayetteville, put it on your bucket list. You won't be disappointed!
Pro XCT Englewood Open
After heading west to Utah this weekend for the SoHo bike fest race at Soldier Hollow, the national series will head to the Midwest for the Englewood Open which is also the opener for the first race in the Wisconsin Off Road Series:
Englewood Grass Farm will host a full weekend of racing in 2021. Saturday features a new addition to the USA Cycling Pro XCT series and a UCI Junior race. Sunday will be the first WORS race of the year with USAC cycling points available. This will be a great opportunity for Midwestern Pro and Junior Cat 1 racers to showcase their talents against the fastest racers from across the continent on their home turf and a great spectating opportunity for the WORS community. New technical features have been added to the Englewood trails to create a course that is enjoyable for spectators and racers alike. Grass fed beef will be served all day long.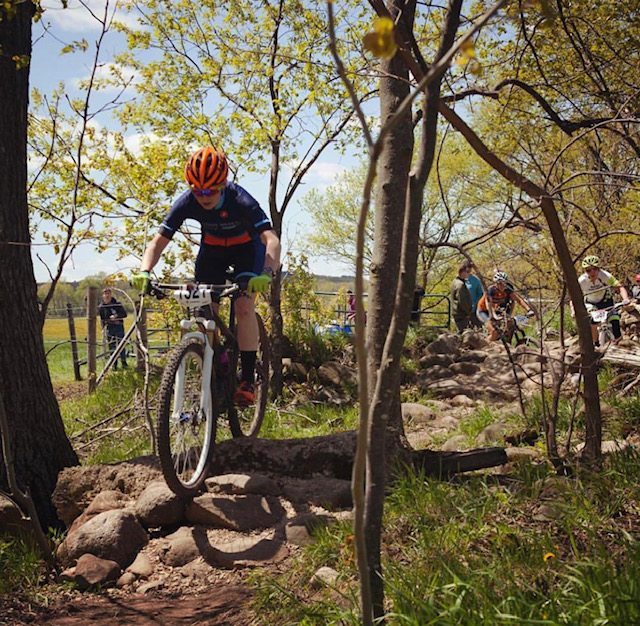 With the event affiliated with UCI, a mandatory mask protocol (outside of racing) is in place:
Per UCI event guidelines for COVID, this will be a mandatory mask event. We will allow racers to remove masks 30 seconds before their race, and expect them to mask up after they are done. We also ask that everyone observe social distancing while on our property. Anyone attending should bring enough water for their races as we will not be doing a water station on course this year. We thank everyone for their cooperation, and look forward to seeing you all on May 15-16.
Strava Ride of the Week
The Strava Ride of the Weeks makes a comeback! This weeks ride is from Jenna Rinehart who along with her husband spent the weekend riding the technical trails at Levis Mound, WI over the weekend and posted some great photos.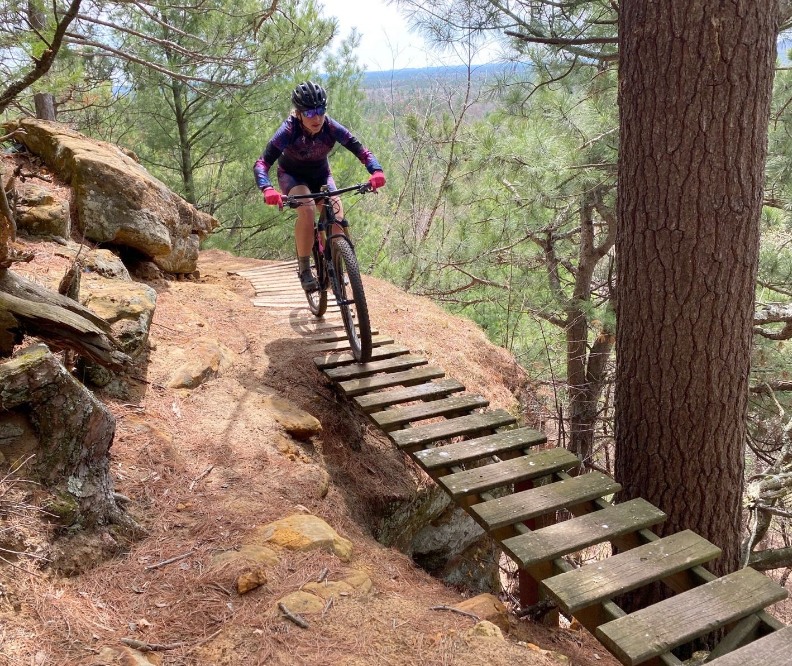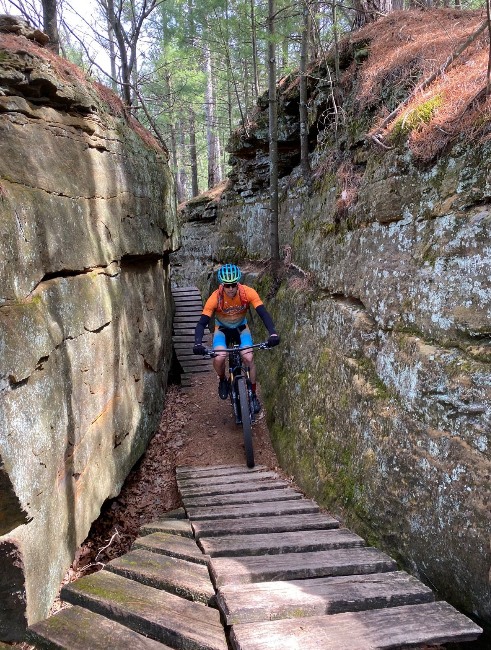 Focus on the Process
"Get Pocket" recently posted an article about having goals, focusing the on the process and not always the results. "Focusing on the process means breaking down a goal into its component parts and concentrating on those parts. It's an incredible focusing mechanism that keeps you in the here and now, even during the pursuit of distant goals".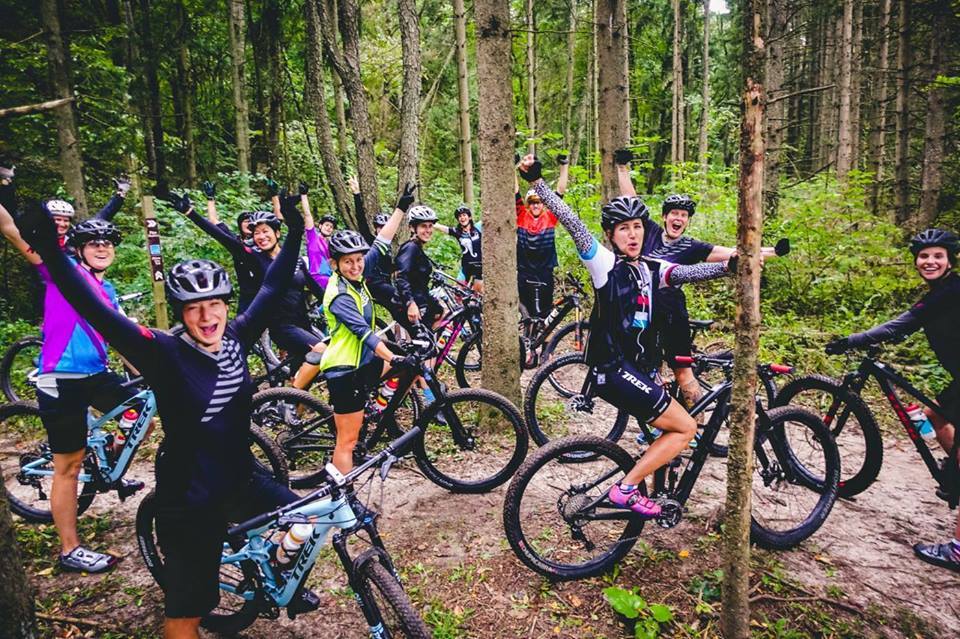 International Women's Mountain Biking Day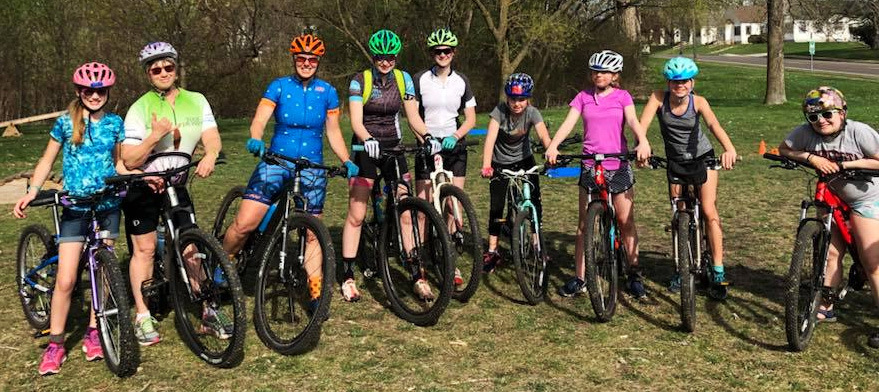 International Women's Mountain Biking Day is a celebrated annually on the first Saturday in May. This year, Women's MTB Day is on Saturday, May 1st, 2021. It's a day for riders who identify as women to gather, experience, and share their stoke for mountain biking! Women's Mountain Biking Day originated from the 2018 IMBA UPRISING event—our first-ever women's conference. Attendees were asked to share their best ideas for engaging more women in mountain biking. A day dedicated to women enjoying mountain biking with each other and encouraging fellow women to join them was dreamed up by Andree Sanders of Trips for Kids Metro New York.
Related: More women racing Enduro
Keep the wheels moving!
About the author...

Jay Richards maintains a very active lifestyle. He somehow finds time between managing a full-time resort (Maplelag) and bringing up a family of four boys with his wife Jonell, to compete in both mountain bike and a few cross-country ski races. Jay rides for Maplelag Resort, manages the Maplelag mountain bike team and enters his 31st year of racing and promoting mountain bike races.

Have an event or mountain bike related information to share from the Midwest? Feel free to contact Jay at