World Cup Coverage: Season Preview
The next FIS Cross-Country World Cup season is right around the corner with the first race kicking off in Ruka, Finland in late November and the 2022 Beijing Olympics just months later. For many, this season offers a chance to showcase their true abilities after last winter's COVID season full of cancellations, last minute changes, and missed races.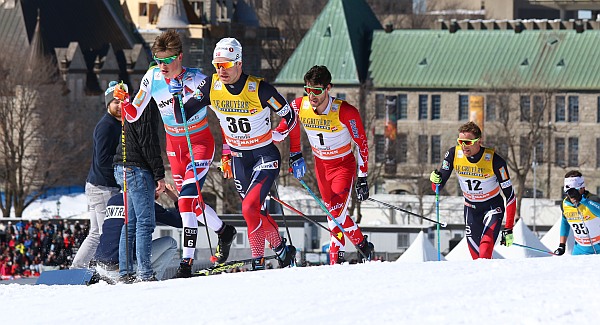 The Ruka Triple opens the season again this year on November 26-28 with a classic sprint, classic 10/15km distance race, and skate 10/15km pursuit. The course is about as close to the Arctic Circle as it gets, with snow skiing beginning in October most years. The opener offers a fairly comprehensive look at where everyone stands coming into the new season, but results may be affected by different training choices — especially in an Olympic year, some may be racing it with the intention of building their fitness to peak later in the season. We'll see if Norwegians Therese Johaug and Johannes Høsflot Klæbo have what it takes to defend their 2020 titles.
Period 1 does not slow down with another three-day event in Lillehammer, Norway from December 3-5, featuring a skate sprint, 15/30km skiathlon, and a 4x5/7.5km relay. The next two weekends in Davos, Switzerland and Dresden, Germany will also feature skate sprints, in addition to distance skate and team sprint races. The Tour de Ski begins shortly after, with American selections announced on December 13. Two quick weekends in Period 3 bring the season all the way to the Beijing Olympics, which will take place February 4-20. The cross-country events take place all throughout the Games, starting with the women's 15km skiathlon on February 5. This year's Olympics feature skate individual sprints and long distance events with a classic team sprint and 10/15km, as well as the skiathlon and four-person relay.
In the women's field, all eyes are on American sensation Jessie Diggins, who finished last season with overall and distance World Cup wins. She certainly won't be without competition, though — after missing much of last season due to COVID regulations, Norway's Therese Johaug is sure to fight for the victory this time around, along with Sweden's Frida Karlsson, one of a select few who's been able to challenge Johaug for the win in distance events. US Ski Team veteran Rosie Brennan will also be one to watch as she comes off of a stellar season and a fourth place in the 2021 overall World Cup standings, alongside teammate Hailey Swirbul, who earned her first World Cup podium last December.
Notably absent from the field is the Swedish sprinting phenom Linn Svahn, who boasts six wins from the 2021 season alone. After suffering a shoulder injury in Ulricehamn last February and undergoing surgery in September, Svahn will be missing from the startline in November. She has also announced that she won't be competing in the Beijing Olympics.
On the men's side, Alexander Bolshunov will surely be vying for the overall title again after dominating the 2021 World Cup scene, but with Norway and Sweden back on the circuit he'll have to fight hard. Norwegian Johannes Høsflot Klæbo returns to stoke their rivalry, and with the likes of Ivan Yakimushkin and Artem Maltsev joining Bolshunov on the Russian team, competition will be stiff.
American Gus Schumacher will also be one to watch this winter after delivering a breakout 2021 season with two top ten finishes and a historic 18th place in the Tour de Ski. He will race for the US Ski Team's A team this year alongside teammate JC Schoonmaker, another up and coming star to keep your eye on — Schoonmaker's sprinting abilities led him to several notable results last year, including scoring points in his first ever World Cup race.
This year's US team has big shoes to fill after last year's retirements of Sadie Maubet Bjornsen, Sophie Caldwell, and Simi Hamilton. "It's tough to see them go," said Alayna Sonnesyn, one of Caldwell's former teammates on the SMS T2 team. "The team is now looking very young which brings a lot of new and fresh energy."
Many Development Team members will be starting in Ruka, including SuperTour leaders Ben Ogden and Novie McCabe. Returning skiers Kevin Bolger, Logan Hanneman, Scott Patterson, Julia Kern, Sydney Palmer-Leger, and Katharine Ogden will also be racing Period 1 of the World Cup as members of the B team.
Preparations are now at their peak for the opening World Cup races, with many teams coming off of training camps and putting in hard efforts to get ready for the season. "The SMS T2 team has been firing off time trials and hard intervals the last few weeks in preparation for Period 1 on the World Cup and domestically," said Sonnesyn. "Period 1 can be a shock to the system so I know my teammates are working hard in the final prep before travelling." Sonnesyn is an alternate for the Period 1 sprint races, and SMS T2 teammates Jessie Diggins, Julia Kern, Katharine Ogden, and Ben Ogden will be starting their seasons in Ruka.
This season is sure to be an exciting one, with everyone looking to prove themselves coming off of an unpredictable season and going into an Olympic year.
About the author...

Erika Peterson is a senior at South High School in Minneapolis. She skis for Loppet Nordic Racing as well as her high school team. When she's not out on the trails, you can find her listening to Lorde and creating oatmeal recipes.