World Cup Report: Davos Recap, Dresden Preview
The World Cup continued in Switzerland last weekend in Davos, a longtime December race venue where many will stay through the holidays. The Swiss team delivered some strong performances on their home course, including those of Dario Cologna and Laurien van der Graff, who will retire after the weekend's races. The US team had a strong showing as well with four top-ten performances and several season bests.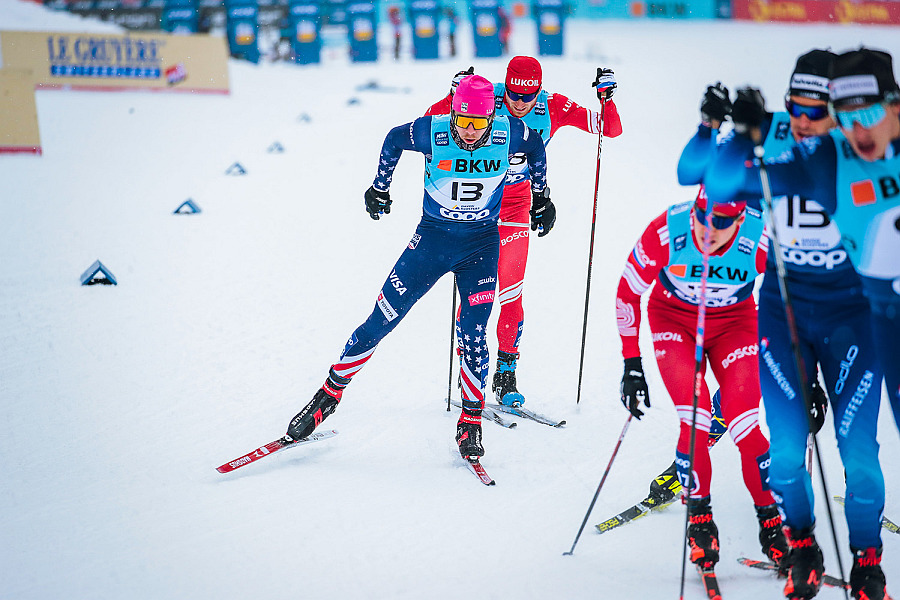 Davos
December 11 Freestyle Sprints
December 12 Freestyle 10/15km Individual Start
Freestyle Sprints
Saturday's 1.5km course consisted of two main hills, the second of which was often the crucial point in the course for tactical choices. Elevation was also a factor as athletes had to adjust to the new 5,100-foot location. American Rosie Brennan tackled these challenges successfully to hammer out another excellent race, proving her unwavering strong form. After qualifying fifth, she joined teammates Jessie Diggins and Hailey Swirbul in the heats, winning hers to move on to the semifinals. Diggins and Swirbul were unable to advance, however, despite strong finishes from both. Sprint leader Maja Dahlqvist advanced easily to the semifinals alongside two of her Swedish teammates, as did Swiss favorite Nadine Faenhdrich. The two semifinals were fairly evenly matched with times within a second of each other and one lucky loser per round—In the first one, Brennan made a move on the final climb and nearly held her lead to the line but took second to Dahlqvist in the end with Faenhdrich close behind in third. The second semi was a battle between Slovenian Anamarija Lampic, Swede Emma Ribom, and Norwegian Tiril Udnes Weng for the top two spots, but all three ended up advancing.
Lampic and Dahlqvist took the early lead in the final round, and Brennan used her powerful V2 technique to make her way to the front just before the last climb again. A misstep at the crucial moment led Brennan to face plant just before the top, however, and she was out of the running for the win. Lampic and Dahlqvist tangled poles briefly on the downhill, but both remained upright with nothing broken. Dahlqvist used her signature final kick to take the victory, with Faenhdrich taking second on her home course and Lampic rounding out the podium in third. Thanks to a quick recovery and a strong push at the end, Brennan was able to rally for fourth.
"It was so tough today, this course is harder than you think," said Dahlqvist in an interview with FIS. "There's altitude too so it's tough; I wanted to puke after every race."
The men's quarterfinals were full of chaos with several falls and one racer's ski becoming detached mid race, but many were able to navigate the heats smoothly. Ben Odgen was the lone male qualifier from the US, skiing well in the fastest quarterfinal and advancing to the semifinals as a lucky loser. The Norwegian men continued to deliver strong performances, qualifying three through the semis to the final round including sprint leader Johannes Høsflot Klæbo. Ruka sprint champion Alexander Terentev was also able to advance after failing to do so in Lillehammer, while renowned Italian skate sprinter Federico Pelligrino just missed out on the semifinals with a close third place finish. In the semifinals, Klæbo advanced easily, sitting near the back at first and coming around on the final corner to take the victory. His round was the fastest of the two and contained both lucky losers. France's Lucas Chanavat won the second semifinal, controlling the race from the beginning and holding his position to the line. Terentev was unable to advance, however, taking third with too slow a time to move on. Ogden was also knocked out in the semifinal rounds and placed 12th overall. In the final, Chanavat took to the front initially, but it was Sergey Ustiugov of Russia who pushed the pace on the climb. Klæbo followed, maneuvering his way to the front on the final corner yet again to take his second straight sprint victory this season. Ustiugov came in second with Frenchman Richard Jouve in third.
Freestyle Distance
The distance course in Davos featured a 5km lap with net climbing through the halfway point and a rolling descent back to the stadium. The day was filled with several outstanding performances from the US women, with Diggins finishing second, Brennan fourth, and Hailey Swirbul sixth. Therese Johaug's climbing abilities and tempo were put to good use on this course, as she led the race at every checkpoint and finished first by a 14.5 second margin. Diggins and Brennan posted similar times at most of the checkpoints, but no one could match Diggins' extra kick in the last kilometer and she took second with Brennan in fourth. Johaug's main rival Frida Karlsson skied a strong race as well, coming in 17.1 seconds behind Johaug in third place and maintaining her position as the overall World Cup leader. In the same venue that she earned her first podium in 2020, Swirbul delivered another breakout race to take sixth, her best result of the season. Americans Sophia Laukli and Novie McCabe also had season-best results, with Laukli placing 19th and McCabe scoring her first World Cup points in 28th.
The men's race was predictably dominated by the Norwegians, but other nations had standout races as well. Norwegian Simen Hegstad Krueger blew the field away to finish with a 22.9 second lead, but the race for the rest of the podium was a bit closer. Klæbo came in second, a notable result from the sprinter that earned him the overall World Cup lead. Ustiugov took third at 27.2 seconds off of Krueger, closing out a strong weekend of racing for him, and Norwegians Amundsen, Holund, and Roethe claimed the next three places. Gus Schumacher was the top American in 29th.
Dresden Preview
December 18 Freestyle Sprints - heats 4:30 am CST
December 19 Freestyle Team Sprints - heats 5:00 am CST
The last races of Period 1 take place in Dresden, Germany next weekend with another freestyle sprint and a two-person team sprint. Although there will be no fans in the stands in Dresden due to COVID concerns, 'supporter tickets' can be purchased instead to raise money for young German skiers. Historically an underattended race, many are expected to be absent, leaving the potential for up and coming athletes as well as veterans to claim spots on the podium. Taking advantage of the double sprint races, many of the usual Swedish favorites will be in attendance, including Jonna Sundling for the first time this season as well as Maja Dahlqvist. Others such as Johaug, Brennan, and Klæbo plan to skip the races in Dresden, with some returning for the Tour de Ski and others waiting until Period 3 to race again.
About the author...

Erika Peterson is a senior at South High School in Minneapolis. She skis for Loppet Nordic Racing as well as her high school team. When she's not out on the trails, you can find her listening to Lorde and creating oatmeal recipes.