US Elite Racing: Sovereign Lake/Sun Valley SuperTour Recap
Sovereign Lake
The SuperTour season started in style in Canada at Sovereign Lake Mountain Resort/Silver Star Provincial Park. A mix of Midwestern athletes skied their way into top ten finishes throughout the weekend, showing off their form early in the season. Winter was in full swing at the start of the classic sprint on November 30th with fresh snow and temps around -10 degrees Celsius (14 degrees F).
Classic Sprint
Margie Freed, Minnesota native competing with Green Racing Project (GRP), had ambitious but tempered expectations ahead of the first race of the season. "I was a bit apprehensive on how things would play out after some injury and illness during the early fall" she wrote in an email after the first day of racing. "I was looking to make my way onto the podium, after tasting success last year but wasn't sure how soon it would come!" She didn't have to wait too long and picked up where she left off last year, finishing just over two seconds away from podium position. Freed put up the 4th fastest time in qualifying, 5.13 seconds off Hailey Swirbul's top time on the 1.3km course, and opted for the second quarter final heat: "For the heats, I focused on staying relaxed during my double pole, and that really worked to conserve energy."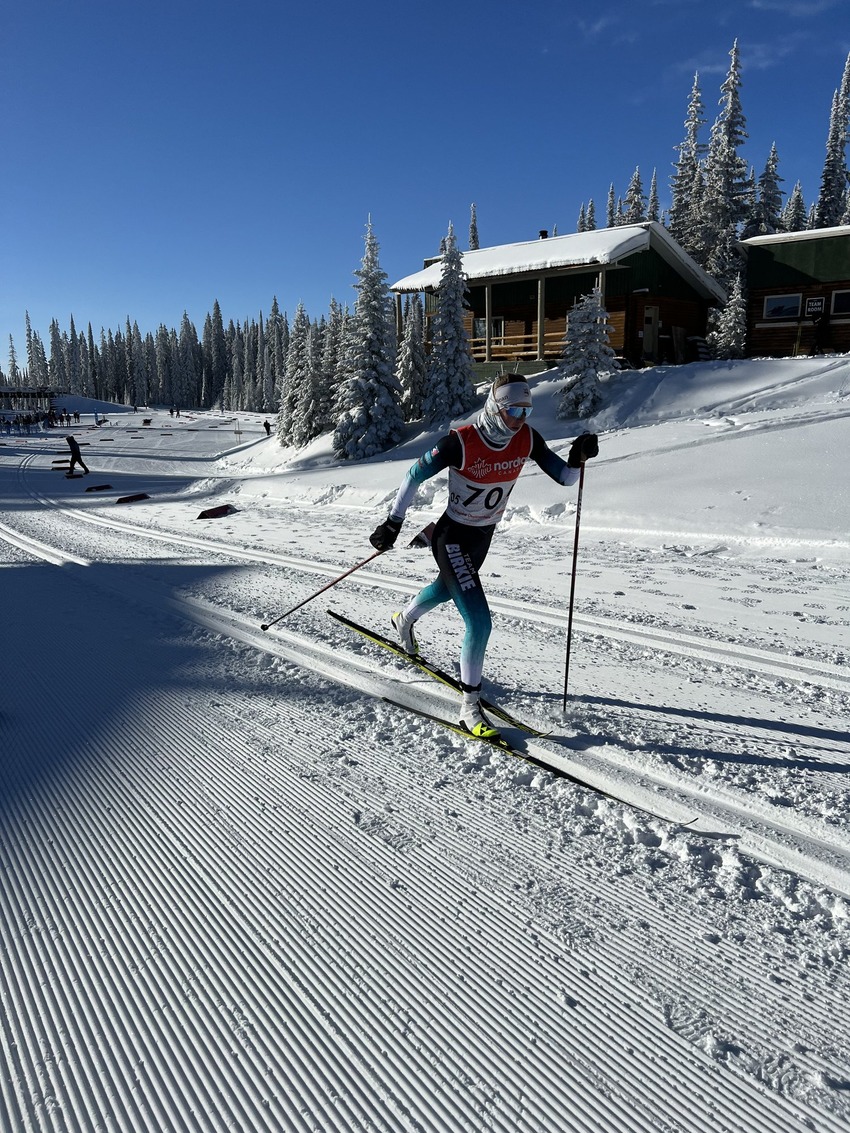 Midwestern women represented well in the heats. Margie Freed, Sarah Goble of Bridger Ski Foundation (BSF), and Erin Bianco (Team Birkie) filled out the top three in quarter final two; Renae Anderson (Team Birkie) won quarter final three; and Hannah Rudd (BSF) took 3rd in quarter final five. Margie Freed advanced out of the semi-finals and finished the day in 4th place behind Anna-Maria Dietze, a German who races for the University of Colorado (CU), in 3rd, Sydney Palmer-Leger, University of Utah (UU), in 2nd, and winner Hailey Swirbul, Alaska Pacific University Elite Team (APU) who was unbeaten on the day. Renae Anderson and Sarah Goble were in the top ten at 8th and 9th, respectively. Other top results for Midwestern skiers include: Erin Bianco, 13th; Hannah Rudd, 15th; and Michaela Keller-Miller (GRP), 22nd.
Hailey Swirbul is a notable name on the SuperTour start list. She has the palmarès to be competing on the World Cup circuit, but opted to take an alternative approach to the beginning of the season. She wrote in an Instagram post: "I decided to forgo starting on the World Cup this year to find my peace with skiing again on my own terms. Here's to the start of the season with my team by my side, beautiful snow in the trees, and fast skis on my feet. I wouldn't have it any other way!"
Peter Wolter, Sun Valley Ski Education Foundation (SVSEF) was the fastest qualifier in a competitive men's field. The top 30 spots were tight; Garrett Butts (APU), the last skier to make it into the heats, was just 12.03 seconds off of Wolter's time. Reid Goble, Michigan native skiing for BSF and Sarah Goble's younger brother, qualified in 14th, 6.87 seconds down. Goble went through to the semi-finals and finished his day in 10th place.
In the heats, it was a duel for the top spots between Zanden McMullen (APU) and Magnus Bøe (UC). McMullen and Bøe went one-two in the first semi-final, but ultimately Bøe claimed victory in the final. Magnus Bøe is an accomplished skier and holds dual citizenship in South Korea and Norway. He competed for Korea in the 2018 Winter Olympics in PyeongChang. Xavier McKeever, Alpine Insurance Alberta World Cup Academy (AIAWCA) snuck into the finals as lucky loser out of the second semi-final behind Russell Kennedy of the Canadian National Team (CNT), and Will Koch (CU), but reversed his luck in the final, taking 3rd ahead of Koch in 4th and Kennedy in 5th.
10km Freestyle Mass Start
Frigid air greeted racers on December 1st with the temperature hovering around -17 degrees C (1.4 degrees F). Luckily the skiers had 10km of racing to keep them warm.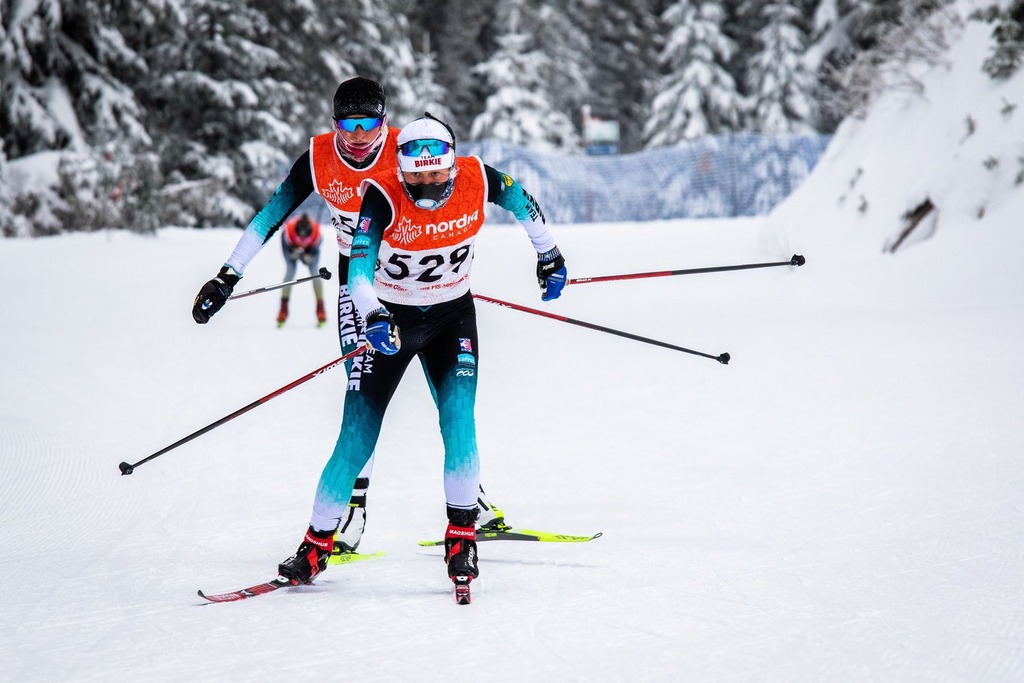 After two laps of the 5km course, it came down to a sprint finish to decide the winner of the women's race. The competition remained tight during the first lap with the top fifteen skiers all within 10 seconds of each other. The pack stretched out slightly during the second lap, however, and Anna-Maria Dietze, Sydney Palmer-Leger and Karianna Dengerud, a Norwegian national skiing for the University of Utah, came into the finish just a couple of seconds ahead of Sarah Goble. Dietze would prevail over the two Utah teammates, Palmer-Leger and Dengerud, posting the winning time of 29:59. Palmer-Leger and Dengerud finished 0.6 and 1.1 seconds back, respectively, Sarah Goble finished in 4th place just 2 seconds off of the podium and Hailey Swirbul was in 5th at 8.4 seconds behind Dietze. Margie Freed slipped into the top 10 in 9th position and Hannah Rudd ended up in 13th. Other top finishes for Midwestern skiers: Michaela Keller-Miller, 20th; Renae Anderson, 22nd; and Erin Bianco, 24th.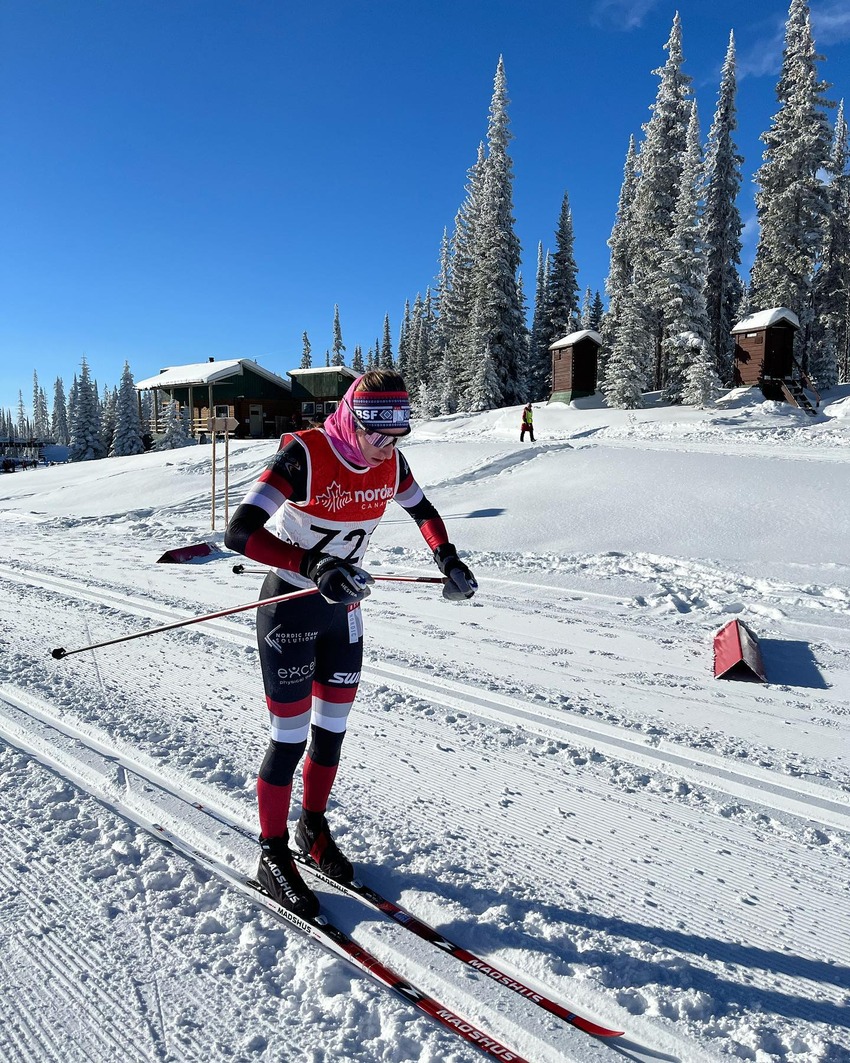 The men's race played out in similar fashion to the women's. A group of 22 skiers finished the first 5km lap together. The finish was a battle between French skier Tom Mancini, currently skiing for the University of Utah, and John Steel Hagenbuch of the Dartmouth Ski Team with Mancini taking the win by just half a second. Don't let Mancini's label as a freshman at Utah deceive you. He is a former biathlete and was crowned freestyle sprint champion at the 2018 World Junior Championships shortly after switching to cross country. He made his World Cup debut in 2019 with a freestyle sprint 8th place finish. Russel Kennedy rounded out the podium in 3rd place, 4.7 seconds behind Hagenbuch. Reid Goble matched the result of his sister and BSF teammate, Sarah Goble, with a 4th place finish.
Freestyle Sprint
On December 3rd, skiers returned to the sprint course. Hailey Swirbul again put down the fastest qualifying time on the 1.2km course, followed by Renae Anderson, just 0.09 seconds slower. Sarah Goble was not far off the pace, qualifying 5th at 1.55 seconds back. Erin Bianco qualified in 11th and Margie Freed in 15th. Bianco opted for quarterfinal one, where she finished in 2nd, just behind Swirbul to advance to the semi-finals. Goble and Freed both chose quarterfinal two, which Goble won ahead of Anna-Maria Dietze. In a particularly speedy quarterfinal 4, Anderson finished in 3rd place behind Sydney Palmer-Leger and Katie Weaver (AIAWCA) but advanced to the semi-finals as lucky loser. Sarah Goble put down an impressive sprint in the first semi-final to beat Hailey Swirbul and secure her place in the final. Erin Bianco finished behind Swirbul in 3rd place but would go on to advance as both lucky loser spots came from the first semi-final, unlucky for Anderson who finished the next heat in 3rd, behind Sydney Palmer-Leger in 1st and Weronika Kaleta, skier for the University of Colorado and 2022 Winter Olympian for Poland.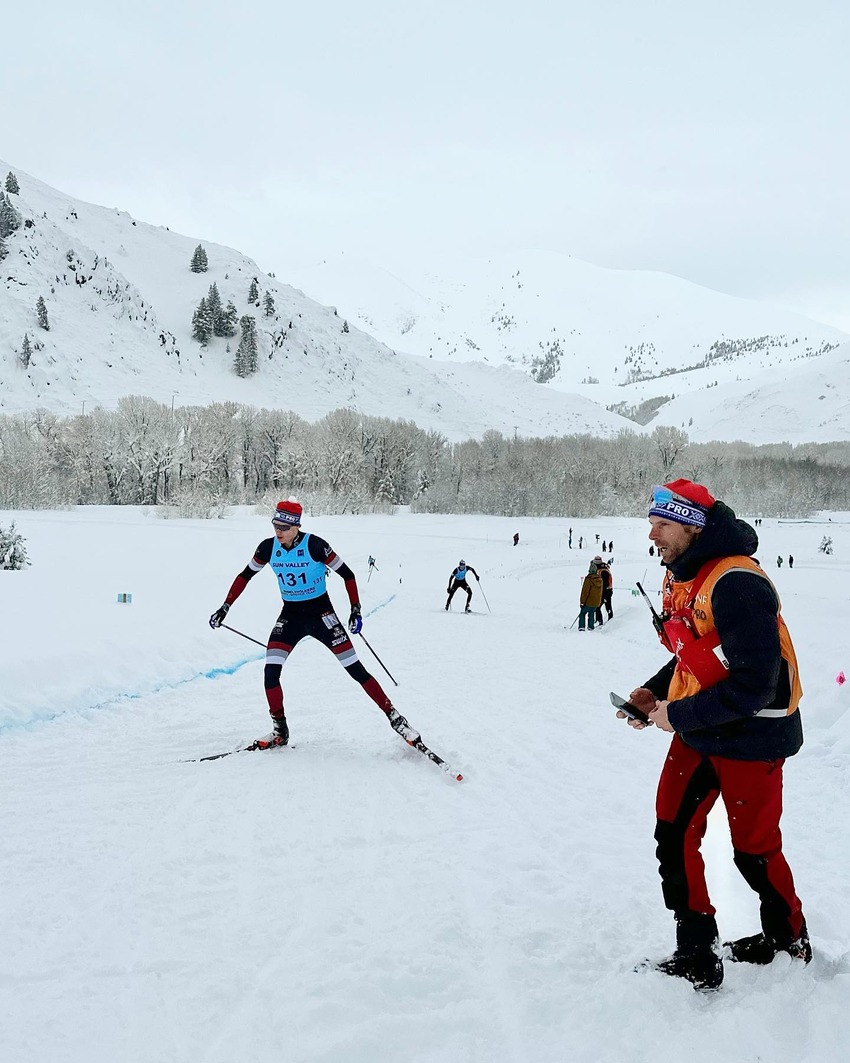 In the final, Swirbul and Goble reversed their semi-final positions and Swirbul continued her dominance in the weekend's sprints. Goble took 2nd to cap an excellent day and Kaleta finished on the podium in 3rd. Erin Bianco was slightly off the pace and finished in 6th position. Bianco was happy with her performance, she said in a blog post for Team Birkie. "The heats are always fun to try out different tactics. I usually like to draft but this time I tried leading. It was a good learning experience even if the final didn't end how I wanted it to but I was still happy to have made it that far!" Other results for Midwestern skiers: Margie Freed, 17th; and Michaela Keller-Miller, 25th.
How much their sprint performances have progressed is also not lost on Margie Freed and Renae Anderson. Freed said she and her former Loppet Nordic Racing teammate found some time to reflect on their journey over the weekend: "Renae and I laughed about how we used to be on the 3rd page of results for sprints, and now are right near the top! It's great to see how hard work pays off for things like this." This progress is evident in result sheets so far this season, where Freed and Anderson, joined by Sarah Goble, have consistently been competitive in both sprints and distance events.
In the men's race Max Kluck (BSF) posted the fastest qualifying time, followed closely by John Steel Hagenbuch and Andreas Kirkeng, Norwegian national skiing for the University of Denver. Reid Goble snuck into the heats at 28th, 8.43 seconds back in a tight field and ultimately finished his day with 3rd in the fifth quarterfinal and 15th overall. Julien Locke (Team Black Jack out of Canada) won the first semi-final ahead of Graham Houtsma (BSF). semi-final two was a fight between Kirkeng, Hagenbuch, Tiom Mancini, and Finn O'Connell (BSF), finishing in that order. Mancini and O'Connell both made it out of the semi-finals as lucky losers. Andreas Kirkeng kept up his momentum from his semi-final and skied to victory in the final, beating John Steel Hagenbuch in a photo finish by a mere 0.07 seconds. Julien Locke came across the line a whopping 0.48 seconds later to complete the podium.
10km Classic Interval Start
The final race of the weekend brought blue skies as skiers returned to the course they faced for the freestyle mass start race, this time with classic tracks. Hailey Swirbul finished her weekend as she started it, with a victory. Swirbul was the penultimate skier on the course and claimed victory after two laps of the 5km loop, beating the previous fastest time of Hanna Abrahamsson (University of Colorado skier from Sweden) by 23.6 seconds. Sydney Palmer-Leger posted a time that was 1:12.5 out of first place.but ended up being enough to keep her on the podium at the end of the day. Margie Freed put up the fastest time out of the Midwestern women, 1:28 behind Swirbul, and ended her weekend in 5th place. Sarah Goble was 17.3 seconds behind Freed in 7th. Other top Midwestern results include: Hannah Rudd, 19th; Renae Anderson, 20th; Michaela Keller-Miller, 21st; and Erin Bianco, 22nd.
Andreas Kirkeng showed dominance again on Sunday after his sprint victory the previous day. He secured a commanding win over Finn O'Connell, who had posted the fastest time earlier in the day but ultimately would be 53 seconds slower than Kirkeng's time of 27:17.7. John Steel Hagenbuch started one minute ahead of Kirkeng, but was overtaken on the course by the Norwegian skier who made up 1:08.6 on Hagenbuch, who was able to hang on to the third step on the podium. Reid Goble rounded out the top ten, 1:48.2 behind the winning time.
Sun Valley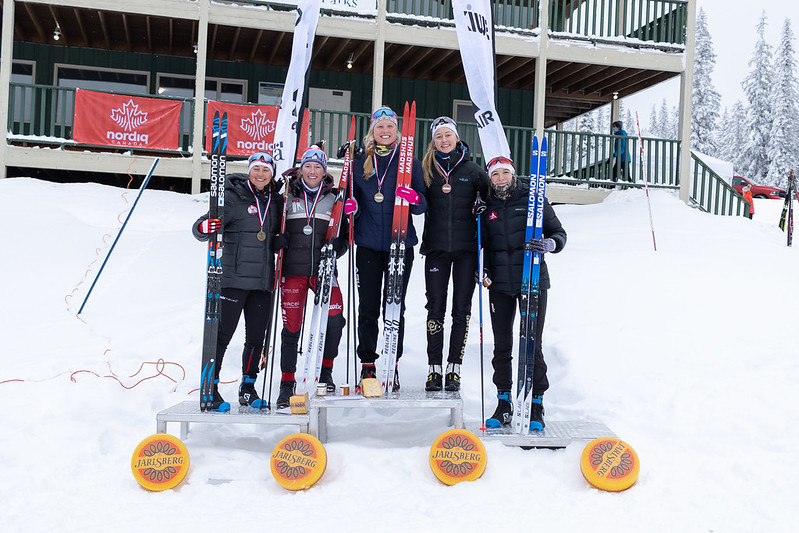 After the inaugural weekend in British Columbia, SuperTour racing continued last weekend in Sun Valley, Idaho. Conditions held for the first race on Thursday, December 8th, but the weekend would bring a blizzard with ample fresh powder for skiers to contend with.
15km Classic Mass Start
Hailey Swirbul and Sydney Palmer-Leger picked up right where they left off in Sovereign Lake for the first race in Sun Valley on Thursday. The two dueled through all six of the 2.5km laps of the 15km classic race that culminated in an exciting sprint finish. In the end, Swirbul edged out Palmer-Leger for the photo-finish victory. The two put a 38 second gap into the competition, with Samantha Smith (SVSEF) taking 3rd place. Sarah Goble continued her string of top ten finishes with 6th place. Margie Freed was just 19 seconds back in 8th. Hannah Rudd and Renae Anderson finished in 12th and 14th, respectively.Michaela Keller-Miller finished in 18th.
In the men's race Finn O'Connell took his first SuperTour victory. Racing with visions of World Cup starts in his future, he broke away from the semi-retired David Norris (Steamboat Springs Winter Sports Club), who was racing with an inactive FIS license, Peter Wolter (SVSEF), and BSF teammate Reid Goble. Norris finished in 2nd, 24.6 seconds back, Wolter in 3rd, and Goble a few seconds later in 4th. Xavier Mansfeild (Team Birkie) earned some points, finishing in 20th.
Classic Sprint
A blizzard made things complicated for race organizers on Saturday but the classic sprint went on despite the heavy snow.
After knocking on the door for the past two weekends, Sydney Palmer-Leger came away with her first SuperTour victory in what is becoming a familiar battle with Hailey Swirbul. Alex Lawson (GRP) secured a spot in the finals by beating Swirbul in the first semi-final. Sydney Palmer-Leger and Samantha Smith secured their finals berths alongside lucky losers Nina Schamberger (Summit Nordic) and Sarah Goble out of sem-final two. In the final, Palmer-Leger beat Swirbul by a toe, coming in 0.3 seconds ahead. Sarah Goble finished in 5th place. Renae Anderson finished her day in 8th after making it to the semi-finals. Erin Bianco finished in 15th, Michaela Keller-Miller in 18th.
Xavier McKeever improved on his 3rd place finish the previous weekend, winning the first semi-final and staying hot through the final. After winning his own semi-final, Tom Mancini came away in an extremely tight 2nd place, just 0.03 seconds behind McKeever. Mancini's University of Utah teammate, Walker Hall, finished in 3rd. Reid Goble made it into the semi-finals but finished his day in 12th place.
10km Freestyle Interval Start
The start of Sunday's 10km freestyle race was delayed by an hour due to the blizzard, which reportedly left 3 feet of snow and challenging conditions, to say the least. The interval start race which concluded the Sun Valley weekend got underway at 10 am mountain time and Alexandra Lawson claimed the victory in the women's race from Hailey Swirbul by only 8.3 seconds. Sydney Palmer-Leger continued her string of podium appearances (six out of the last seven, matching Swirbul) with a 3rd place finish, 31.7 seconds off of the time set by Lawson. Margie Freed had a solid day, finishing just off of the podium in 4th place, followed by Sarah Goble in 7th, who has not finished out of the top ten in SuperTour races yet this season. Other top results for Midwestern skiers include: Hannah Rudd, 9th; Michaela Keller-Miller, 16th; Erin Bianco, 17th; and Renae Anderson, 20th.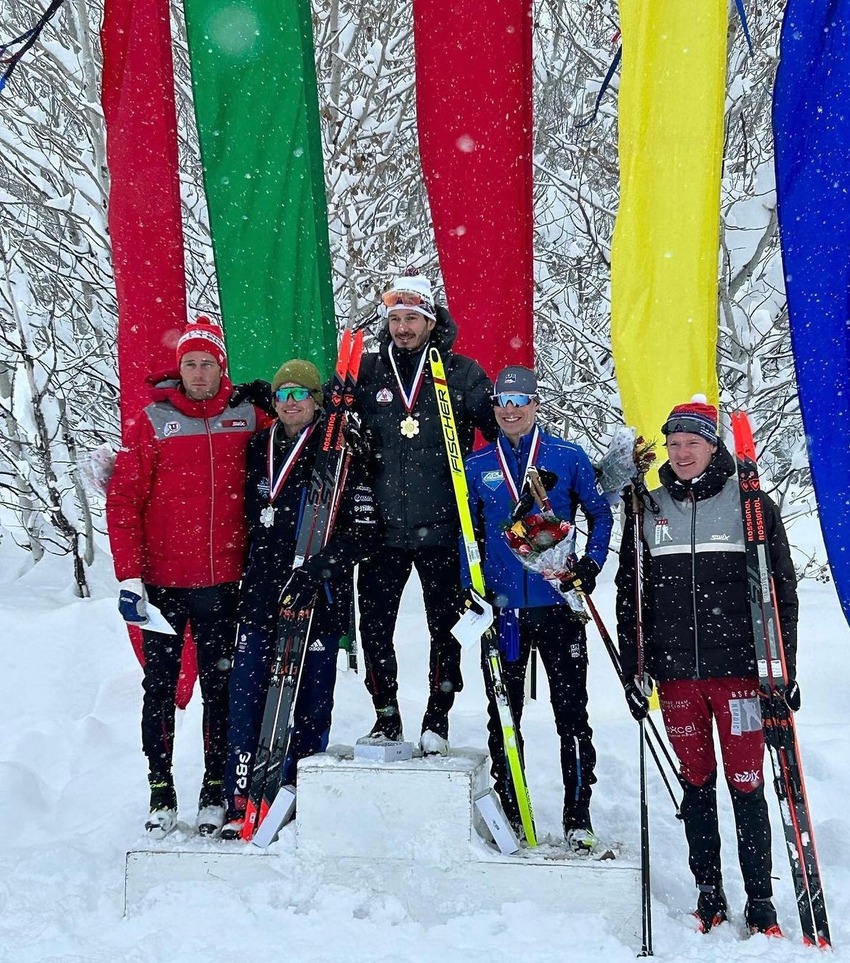 For the men, Tom Mancini returned to the top step of the podium after two laps of the 5km course, setting a time that would not be beaten. David Norris who repeated his second place finish from Thursday, finishing 30.6 seconds slower than Mancini's winning time and edging out Zanden McMullen who dropped to 3rd, 10.9 seconds behind Norris. Xavier Mansfield finished in 25th.
Overall Standings
After two weekends of SuperTour Racing, overall leaders, male and female, will have the opportunity to start in Period 2 of World Cup competition, the Tour de Ski. Hailey Swirbul, who turned down racing World Cup Period 1 to refresh her relationship with skiing, leads the overall points race for the women. Swirbul is followed by Sydney Palmer-Leger, Sarah Goble is in the mix at 3rd, and Margie Freed sits at 5th.
In the men's standings, Tom Mancini is in the lead. However, as he is a French national and therefore ineligible for the U.S. National Team Finn O'Connell will likely get the opportunity to race the Tour de Skil. O'Connell boosted himself into 2nd with his victory in the 15km classic race on Thursday. John Steel Hagenbuch is in 3rd position and Reid Goble sits in 8th.
Official Results:
Sovereign Lake SuperTour Sun Valley SuperTour Overall SuperTour Standings
Next: U.S. National Championships
SuperTour racing will continue after the New Year at the U.S. National Championships in Houghton, Michigan. Look for an exciting week of racing as Midwestern skiers will be keen to impress close to home. Competitors will look to build on the successes and struggles of these first two race weekends and boost their chances for World Cup Period 3 selection. Racing kicks off on the Michigan Tech trails January 2nd with a 10km freestyle interval start.
About the author...

Adam Bodensteiner is an Iowa native but fully accepted the cross country skiing lifestyle in Madison, Wisconsin. He is currently based out of North Liberty, Iowa and still finds snow as much as possible despite the almost tropical latitude. In addition to skiing, Adam enjoys running and taking his road bike on gravel rides.