US Elite Racing: Seeley Hills Classic SuperTour Recap, World Junior Championships Preview
Wisconsin Weekend
The SuperTour came to Cable, Wisconsin on January 14th-15th for a weekend of classic racing. After the intensity of Nationals week, a good number of competitors chose to take the weekend off or were competing elsewhere. Western university teams, like University of Utah, returned to the collegiate circuit. And other skiers were representing the U.S. or other nations at the World University Games in Lake Placid, New York, including a couple of Team Birkie's top racers, Erin Bianco and Renae Anderson. Only three pro teams were present for the women: BSF, Craftsbury GRP, and Team Birkie. For the men, all of those plus Sun Valley and APU were competing. The rest of the field was dominated by strong skiers from local schools such as St. Scholastica, Michigan Tech, Northern Michigan, UW Green Bay, and St. Olaf and despite the thinner field the competition was still fierce.
Seeley Hills Classic 32 km Mass Start
After the Birkie week races, the Seeley Hills Classic is one of largest events on the Birkie trails. This year, SuperTour athletes joined the fun on Saturday kicking off from the Kortelopet Stadium for their 32 km race before the 42 and 29 km citizen events.
The men's race got underway first at 9 am. The APU men opted to forgo kick wax and double-poled over the Birkie Trail's rolling hills. However, Peter Wolter's (Sun Valley) choice of kick wax earned him some small advantages on the climbs. It was a hard fought battle but in the end Wolter was able to fend off APU skiers Zanden McMullen and Garrett Butts, who finished in 2nd and 3rd. Coming in with his BSF teammates Logan Diekmann and Graham Houtsma, was Reid Goble who finished in 5th just behind Diekmann.
Hannah Rudd had a strong performance and pulled off her first career SuperTour win. In a blog post for Team BSF, Rudd attributed her experience on the trails while growing up just a couple of hours away in Minneapolis as an advantage going into the weekend; a sentiment no doubt shared by many of the other Midwestern skiers. Rudd also shared in the post that she overcame a fall with about 12 km to go while taking a feed. She was able to reconnect with her BSF teammate Mariah Bredal and GRP skier Margie Freed with about 7 km left in the race. She wrote: "I am really proud of myself for staying mentally tough and not giving up during any point of the race. At the 20k marker, both Mariah and Margie had formed a substantial gap on me and I wasn't sure if I would be able to catch up… I tried my hardest to continue pushing as hard as I could, and eventually was able to catch back up to the group." Not only did Rudd close the gap on the other two women, she had enough energy to break away and stay away on the final climb before the finish at the OO Trailhead, claiming victory over Bredal and Freed, who finished in 2nd and 3rd. Michaela Keller-Miller (GRP) finished just a few minutes behind in 4th place and made it three Minnesotans in the top four. Keller-Miller finished just ahead of St. Scholastica skier Victoria Klevan Dybwad and her GRP teammates Annika Landis and Alexandra Lawson who finished 5th and 6th, respectively.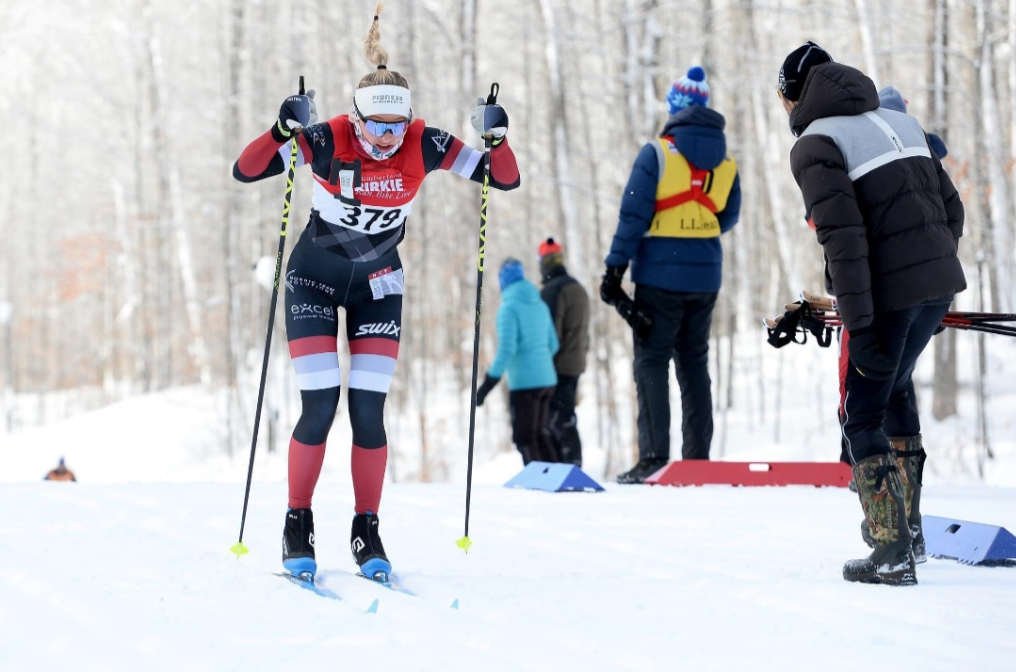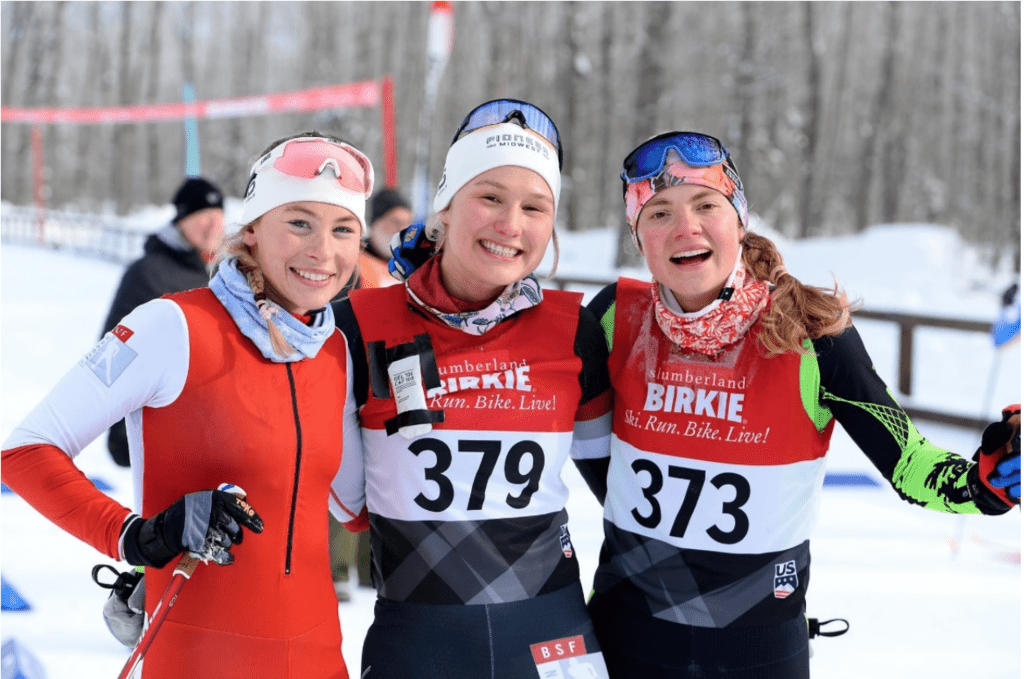 Seeley Hills Classic Sprint
More classic racing was on the agenda for Sunday. SuperTour racers took over Telemark Village and the Birkie Trailhead for a 1.3 km classic sprint.
Margie Freed was fastest in qualifying for the women and again in quarterfinal 1, advancing with Mariah Bredal. Julie Ensrud of Team Birkie won quarterfinal 2 ahead of Marie Soelverud Wangen (Michigan Tech). In quarterfinal 3 Michaela Keller-Miller moved on with her GRP teammate Annika Landis. Sarah Goble (BSF) won quarterfinal 4 with fresh legs after not racing the distance event the previous day. She advanced with Alexandra Lawson and lucky loser Katerina Hyncicova (Northern Michigan). Riding high after her Saturday victory, Hannah Rudd won the final quarterfinal ahead of Evelina Sutro (SMST2) and lucky loser Lily Brown (Northern Michigan).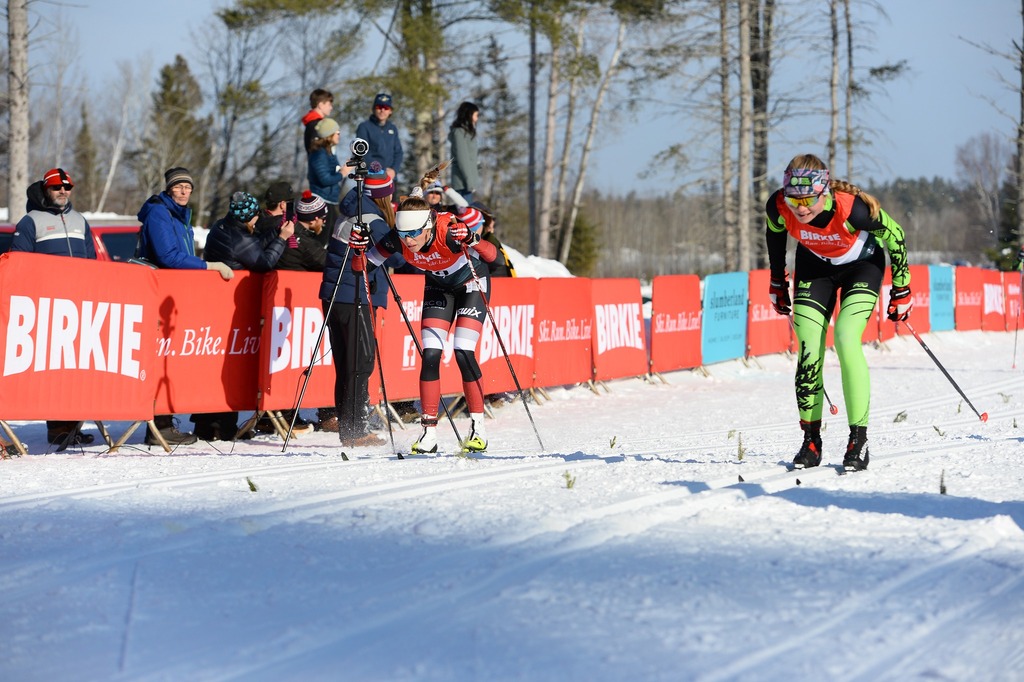 Freed won again in semi-final 1; a few seconds ahead of her teammate Keller-Miller. Bredal and Ensrud rode the heat's quick pace and claimed the lucky loser spots. Goble and Rudd took semi-final 2 to complete the finals lineup.
The women's final brought some excitement. The Birkie's trail cam captured a minor pileup as the skiers raced to the finish, showing a BSF skier fall coming off of the bridge in the stadium, taking out a Craftsbury GRP skier. Judging from Goble's DSQ and the makeup of the results, it seems that she was the one to crash and cause Keller-Miller to fall. All of this happened behind Rudd, who skied her way to her second victory of the weekend. Freed and Bredal were able to avoid the crash and finished in 2nd and 3rd respectively, reversing their positions from the previous day. Keller-Miller recovered from the crash and crossed the line in 4th, just ahead of Goble who was disqualified. Ensrud finished in 5th place.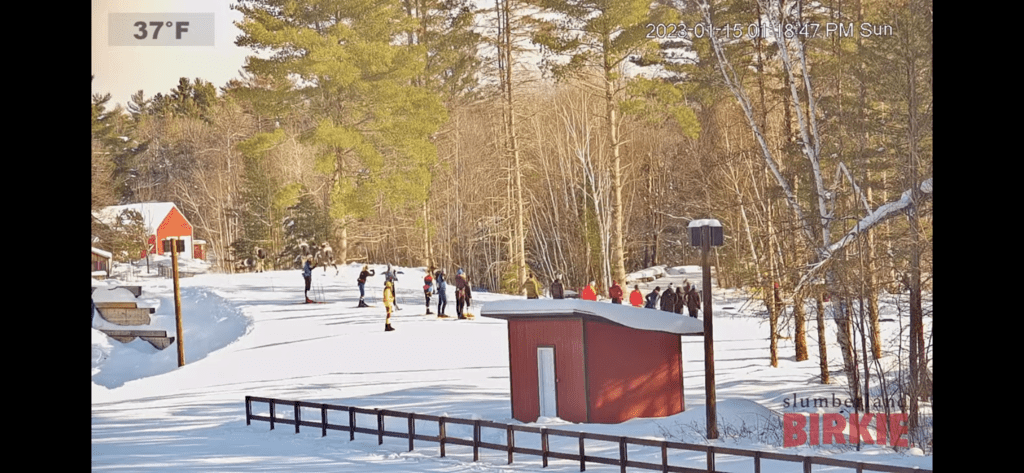 For the men, Graham Houtsma and Ivar Dragerengen (St. Scholastica) qualified from quarterfinal 1 with lucky loser Daniel Streinz of the Dazed in Duluth club surviving. Zanden McMullen and Andy Newell, who took a break from coaching the BSF team, handily moved on from quarterfinal 2. Thomas O'Harra (APU) and Peter Wolter qualified from the third quarterfinal. Michael Earnhart (APU) edged out Reid Goble (BSF) for the top spot in quarterfinal 4. They moved on with lucky loser Garrett Butts. In quarterfinal 5 Logan Diekmann and John Schwinghamer (St. Scholastica) advanced.
In semi-final 1 McMullen won easily over Houtsma. Earnhart and Diekmann took the top two spots in semi-final 2 but Goble and Wolter were able to advance as lucky losers.
In a competitive final, Earnhart beat out his teammate, McMullen by half a second. Next was Diekmann followed by Wolter and Houtsma. Goble finished his weekend in 6th place.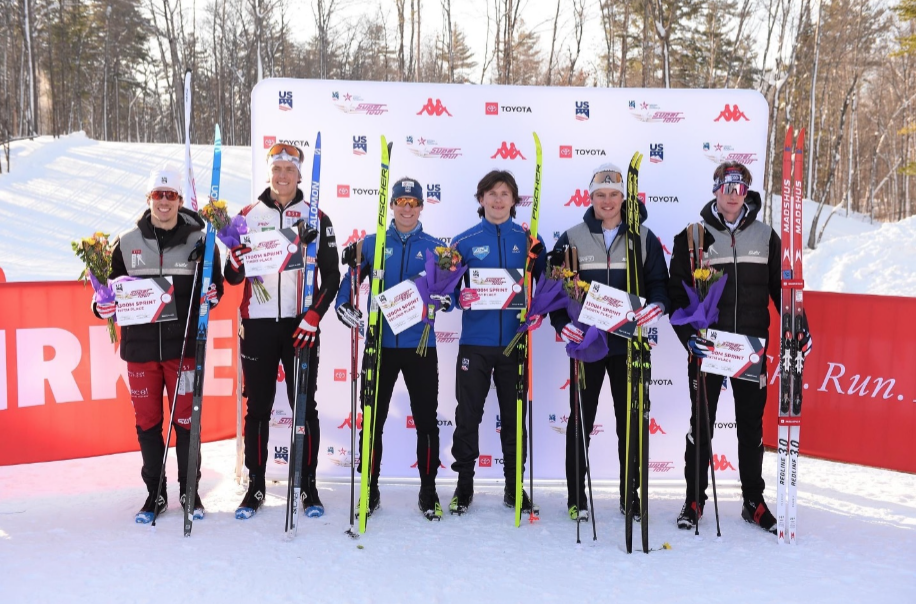 SuperTour Standings
At the end of Period II Zanden McMullen leads the men's overall standings. Reid Goble sits in 6th. For the women, Hailey Swirbul leads. Margie Freed is in 4th, Sarah Goble in 5th, and Hannah Rudd in 12th.
Official Results:
Seeley Hills Classic SuperTourOverall SuperTour Standings
Next: World Junior and U23 Championships
Earlier this week the U.S. Ski Team announced the finalized list of competitors for World Junior and U23 Championships which will take place January 28th to February 4th in Whistler, British Columbia, Canada. Among these names are a couple of Midwestern natives. Anabel Needham was named to the U.S. U23 team. She skis domestically for Michigan Tech and is from Houghton, Michigan. She qualified for the trip with some solid results over the U.S. National Championships week. The rest of the U23 Team includes: Sophia Laukli, University of Utah; Novie, McCabe, University of Utah; Sydney Palmer-Leger, University of Utah; Kate Oldham, Montana State; JC Schoonmaker, Sugar Bowl Academy; Gus Schumacher, Alaska Winter Stars; Luke Jager; University of Utah; Zanden McMullen, APU; and John Steel Hagenbuch, Dartmouth College.
Adrik Kraftson was named to the men's Junior World Championship Team. He posted some top results over the U.S. National Championships week for Northern Michigan; enough to earn the top qualifying spot for the men's Junior Championship team. The rest of the Junior team includes: Samantha Smith, Sun Valley; Nina Schamberger, Summit Nordic Ski Club; Haley Brewster, University of Vermont; Ava Thurston, Dartmouth College; Rose Horning, Ski and Snowboard Club Vail; Hattie Barker, University of New Hampshire; Anders Weiss, Montana State; Max Kluck, BSF; Jack Lange Dartmouth College; Jack Conde, Montana State; and Luka Riley, University of Colorado.
Festivities start with opening ceremonies on Friday, January 27th and racing gets underway the following day. The cross country competition schedule is as follows:
- Monday, January 28th: Junior classic sprint.
- Sunday, January 29th: U23 classic sprint
- Monday, January 30th: Junior 20 km classic mass start
- Tuesday, January 31st: U23 20 km classic mass start
- Thursday, February 2nd: Junior 10 km interval start
- Friday, February 3rd: U23 10 km interval start
- Saturday, February 4th: Junior and U23 mixed gender 4 x 5 km relay
Live Streaming of all events and a full schedule are located here.
World Cup Period III Call-ups
A few Midwesterners are currently in Europe with the U.S. Ski Team for Period III of World Cup racing. Based on her SuperTour distance results and nationals placement, Sarah Goble was named alternate for the Les Rousses and Toblach 10 km freestyle races and the Les Rousses 20 km classic mass start. Margie Freed was named for the Les Rousses classic sprint after her nationals sprint performance. Caitlin Gregg was named a Trail to Gold Fellow and is interning with the U.S. Ski Team for the Livigno and Les Rousses weekends.
About the author...

Adam Bodensteiner is an Iowa native but fully accepted the cross country skiing lifestyle in Madison, Wisconsin. He is currently based out of North Liberty, Iowa and still finds snow as much as possible despite the almost tropical latitude. In addition to skiing, Adam enjoys running and taking his road bike on gravel rides.