Wisconsin High School Nordic Championship Prediction
BAM! POW! SHAZAM! Like the sharp twist of an action movie plot, the Wisconsin Nordic High School League coaches have reshaped the championship predictions. At the spring meeting of 2022 they voted to combine the points awarded at the sprint championship, currently in Middleton, with the pursuit distance places at the Birkie Start in Cable, effectively smashing my antique crystal ball to smithereens.
This historic and unprecedented action will have far reaching ramifications. First, a heck of a lot more kids and teams will be showing up in Middleton. If you want to play the game in Cable and have a chance of placing, for both teams and individuals, the first step is sprinting. Current entries show 280 skiers versus 130 last year.
In some ways, the individual calculations are pretty straightforward. Win the individual sprint title in Madison, head north next weekend, win the distance pursuit, Voilà: State Champion, The Grand Poobah, the Sultan of Skiing, Wisconsin High School Nordic style. Further down the line, closer to reality, points become important.
Using the World Cup points system, 1st=30 points, 2nd=29 pts, 3rd=29 pts, down to 30th place. This works well for the individuals as the Pursuit portion is really two races in one and thus the points in Cable will double: 1st=60 pts, 2nd=58 pts, etc., down to 30th=2 pts, and that's with individuals and guest class eliminated.
As far as teams, hang in there with me here. At the sprints, classic team sprints are on Saturday. Each state team can enter up to three teams for Boys, Girls, and Mixed classes, however only the top two from each team can count toward points total. Here the points are 1st=45 pts, 2nd=43pts, down to 21st=1pt. Mixed relay scoring numbers are 1st=87, 2nd=85, down to 20th=49. Right….got it.
And not to confuse the linear flow of thought, but the sprints on Sunday will be individual freestyle, with team points added in at the end that will be familiar to some where the top three individual place scores will be added together.
If you want more details, being that sort of person, check out the WNSL Rules of Competition for an entertaining read.
Of course the drama doesn't end in math class, history is also exciting, and among the potential pile of individual contenders two jump out, Casey VanHefty, Lakeland, for the boys and Fran Peterson, Chippewa Valley Nordic for the girls. As last year's champions, the obvious choices, now favored heavily as both won at the Middleton individual sprints. Van Hefty also won the team relay title with ski buddy Leo Rotar for the weekend leading up to the distance races at Cable.
Strong, healthy, peaking, what could possibly go wrong? A herd of thundering skis in the rear view mirror comes to mind.
The sprint weekend, aside from Fran and Casey's pleasing results, yielded motivation for the Cable affair. Those relegated to chasing bibs in Middleton are looking for revenge in a longer 7.1k deal amidst the Birkie terrain. Sprint days require four times full out around a course ranging from 1-1.5k, somewhat like running 800m to 1500m in track as far as a time/energy expenditure, four times in a day's competition. Many skiers with a preponderance of slow twitch muscles but proper conditioning will be thinking,"My turn!" So let the fun begin.
One skier turning heads this year is Ben Dohlby, Peak. He's beaten Van Hefty a number of times in both skate and classic techniques, which will be the Saturday individual starts and Sunday pursuit style this year. For a skier seventh at state last year, quite a jump. This could be interesting. His teammate, Easton Tolbert, is close behind and also could make a run at the top ten and perhaps podium.
Other names that quickly come to mind are a pair from Ashwaubenon Nordic Ski Team; Joe Stumpf and Noah Jahnke. Both have had a whack at Van Hefty this season and come out on top here and there.
The Iola Winter Sports Club has a clone machine of tall, thin, lanky boys. The numbers keep building and they're due for some top places soon with the likes of Charlie Vater and Bode Erickson. Waiting in the wings, ready to pop a good one, are Ian Anderson, Huba Bodar-Gasztony, and Cole Anderson. Plenty of firepower there.
Another boy's team looking fantastic in their self designed new teamuni's are Aiden Ecker, Jack Dahlbey and Kristian Hudacek; podium possibilities.
So for the boy's individual title I'm calling Casey Van Hefty as he seems to have it all together for both sprints and distance, and is a well rounded skier in both techniques. Chasing him for places will be any of the above mentioned names, plus Dietrich Mattison, Blackhawk.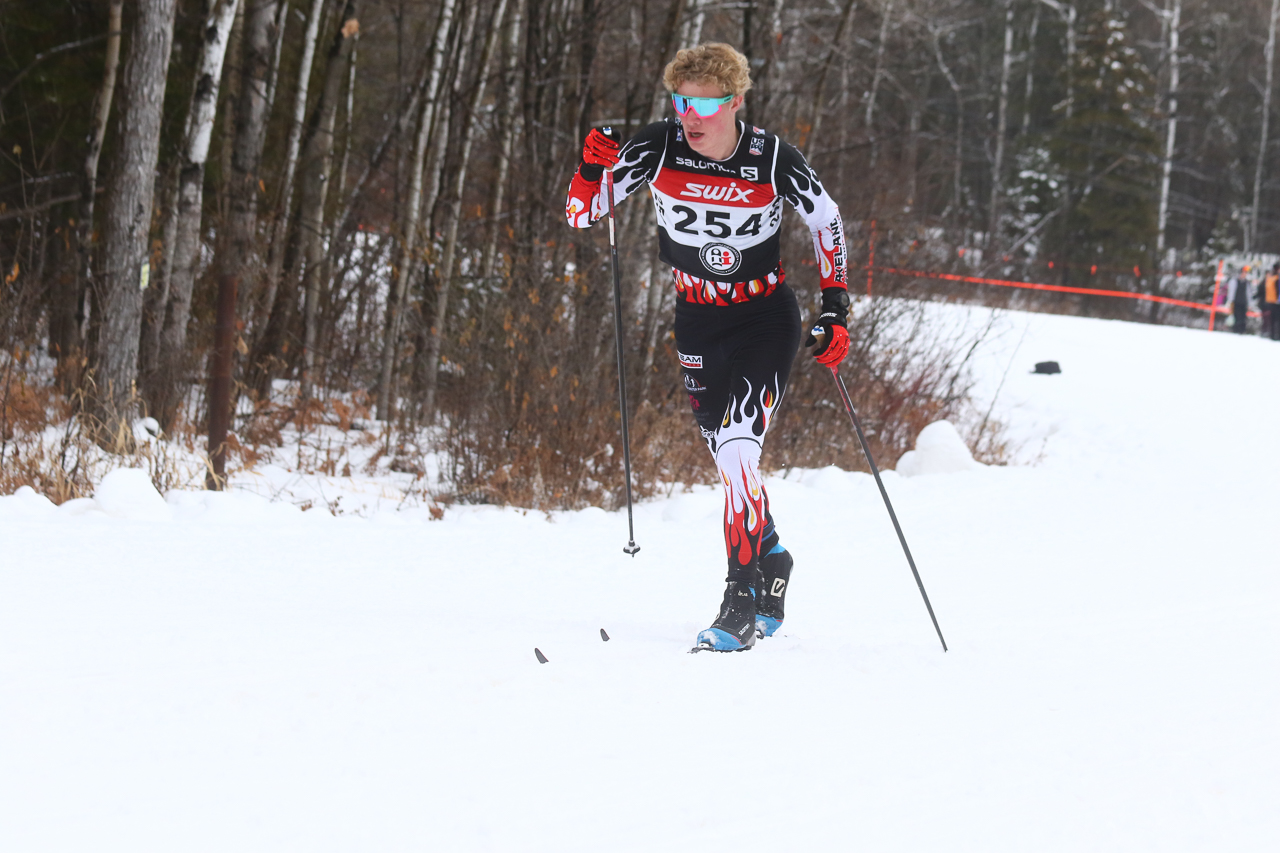 The girls will have their hands full with Fran Peterson and my bet's on her. Just like Casey, she can handle most anything and with a state title under her belt is not likely to give up places easily. Skiing hard is her teammate Mady Rosenberger, fourth in the individual sprints and training with a teammate like Fran, she'd like nothing more than to share podium hugs and smiles as seniors.
Over at Lakeland, Grace Kern, and skiing sisters Sylvia and Stella Meza are flying high from the sprint title last weekend. A team threat for sure in the distance race.
Not too far back in the points Wausau Nordic United has three girls who have flown under the radar, but are starting to turn heads. The trio of Eleanor Bennett, Tori Meyers, and Margaret Bennett came in second at the Middleton sprints, edging out the likes of perennial girl's powerhouse, Peak, and the girls from Iola Winter Sports Club, Josephine Kwazny, Greta Dickman, and Margaret Friese. Impressive!
The girl's top three after Peterson is wide open. Peak has Anne Straka and Krin Blegen, the Iola girls, ANST with Lilly Franzen, Lauren Carlton, all ready to go. Sophie Stevenson, Blackhawk comes to mind, along with Lakeland's three some. Any of them could have a good weekend and show off their powers, but what of the numbers? I need a new computer and a grandchild to help me out on this one.
I need to mention the incoming class, in a year or two. This is a high school championship, but differs from many sports as we include a middle school class. While they are not a part of the changes mentioned with a combination of sprints and distance results, I think they are still worth mentioning as they are the wave of the future. No high school without a middle school. No middle school without an elementary. Each level should be recognized and reinforced locally. It's the only way we grow sustainably, and that includes the coaches.
And speaking of unsung heroes, team managers are unheralded and under appreciated. They take on the responsibility of herding sheep, feeding the flock, managing accommodations, family needs, and team drama. God bless them.
Finally a historic touch, my minor, and dear to my heart, if not my memory. Checking various documents and records, it appears that a "three peat" champion is a rare commodity in the state. Do your own research, but checking back I see a fair number of two time state champions, boys and girls. Three peat? Not so much.
Among the girls, Heather Ashby/Higgens,(Lakeland) 1990,1992,1993, and Aniya Dietz ("The Aniyalator") Fifield, 1997-1999. For the boys, Simon Shepard, River Falls, 1983-85, a mere forty or so years ago. This year? We'll see.
Drama, math, and history all coinciding in Cable, February 11-12, 2023. Be there or be square.