Minnesota State Meet Preview
February 13, 2023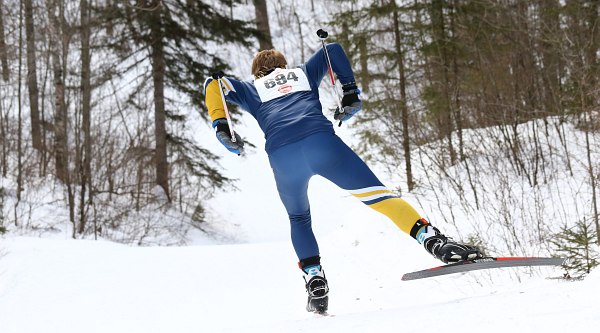 The huge Minnesota High School High School Nordic Championship is this Wednesday and Thursday, February 15-16th, at the traditional venue of Giants Ridge. This season marks the second year of the new State Meet format which now includes team sprints. Right off the bat, there is a change. The Minnesota High School League adjusted the meet schedule, basically swapping the team sprint finals and classical races; the qualifying and team sprint finals will all be held Wednesday, and Thursday then looks like years past, with the pursuit races happening on a single day.
Last fall the Minnesota High School Nordic Ski Coaches Association voted in favor of a number of proposed changes, but those proposals will have to be approved by the High School League before they could go into effect next season.
Weather, as always, appears to be playing a role, although hopefully a minor one. As of Monday night, forecasts were calling for a rain/snow mix Tuesday night into Wednesday morning, then "brutal" cold weather for Thursday as morning temps could be near zero (a shocking change for this season). Weather may cause some changes and/or delays on both days, so stay tuned!
Schedule
Wednesday
Qualifying team sprints start at 11 am
Team Sprint finals start at 2:15 pm
Thursday
Classical races start at 10 am
Freestyle pursuit races being at 2 pm
Individuals
The easy bet? We'll have new state champions. Last year's winner, Hopkin's Sydney Drevlow, along with the top returning male, Davis Isom, St. Paul Highland Park, were selected to represent the United States at the U18 Nordic Junior Competitions being held in Jyvaskyla, Finland this weekend.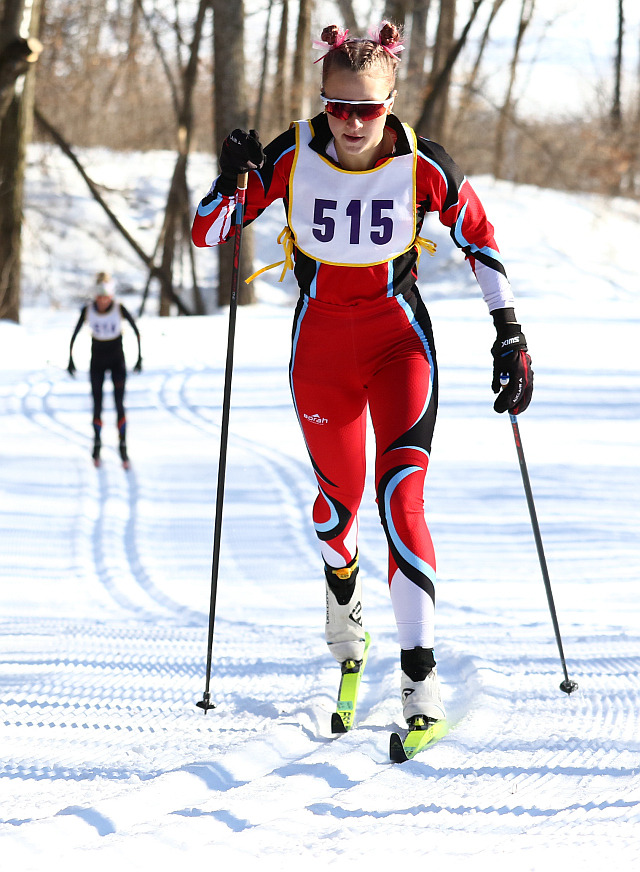 On the girls side, the favorites are Greta Hansen, Math & Science Academy, and Elk River/Zimmerman's Hailee Zimpel. Hansen has perhaps a slight edge, but it could be quite the battle on the Silver course in the afternoon. Also in contention for podium positions: Wayzata's Audrey Parham, St. Paul Highland Park's Hanna Koch, Brainerd's Annelise Baird, and Chloe Angerman, Minneapolis Washburn. Hoping to break into that field, watch for Ely's Zoe Devine, Forest Lake's Jordan Parent, Stillwater's Lily Ward, and Rowan Bixler, Duluth East.
Prediction: Hansen, Zimpel, Parham.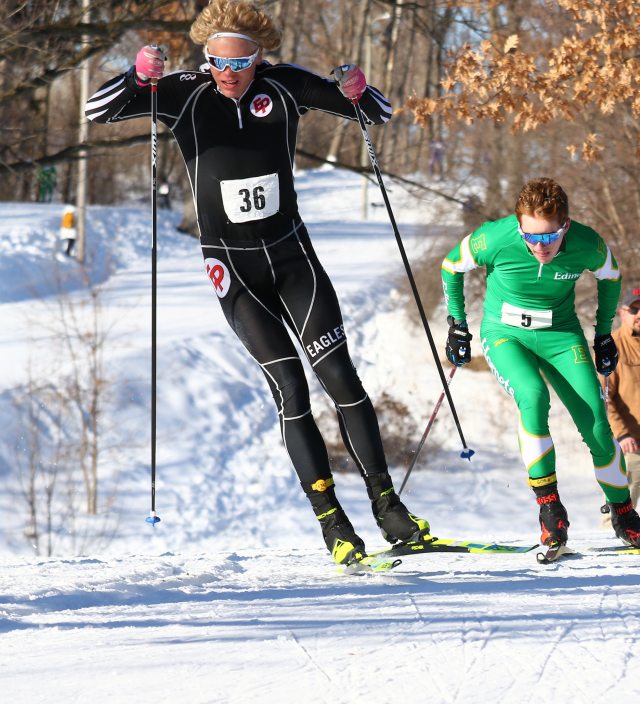 The boys pursuit race should be a nail biter. There is no clear favorite but rather a deep field of contenders. Andrew DeFor, Edina, Ben Lewis, Blaine, Daniel McCollor, Wayzata, Benon Brattebo, Eden Prairie, and Oliver Miatke, Duluth East will be the likely pack racing to be top dog on the podium Thursday afternoon. Skiers looking to break into the mix include Eddie Snider, MPA, Miles Miner, Orono, Evan O'Connor, Prior Lake/New Prague, and Anders Westanmo, Bloomington Jefferson.
Prediction: DeFor, Lewis, McCollor.
Teams
With the new State Meet format, the "art" of predicting a team champion went from nebulous to tarot card readings. This year, we're betting the house on Duluth East. The Duluth East teams are very deep, as their top skiers filled the section leader board with an impressively narrow split range. They also fielded strong sprint teams. After being runner's up for both the boys and girls teams last year, everything points to them closing the deal for a sweep of the titles this year.
On the boys side, the best competition appears to be coming from St. Paul Highland Park, Wayzata, and Eden Prairie.
Prediction: Duluth East, Wayzata, St. Paul Highland Park.
St. Paul Highland Park girls hope to repeat as champion and represent the greatest challenge to Duluth East. But the girls field is solid with Minneapolis Washburn, Elk River/Zimmernan, Wayzata, Brainerd and Stillwater all holding potential for the upset.
Prediction: Duluth East, St. Paul Highland Park, Minneapolis Washburn.
Miscellaneous Notes
Every year there are amazing stories coming out of the section championships. Section 5 had three teams tie for second place overall - Champlin Park, Irondale, and Rogers, with Champlin Park prevailing (the tie breaker rules could change for next season if the proposed changes are approved this summer).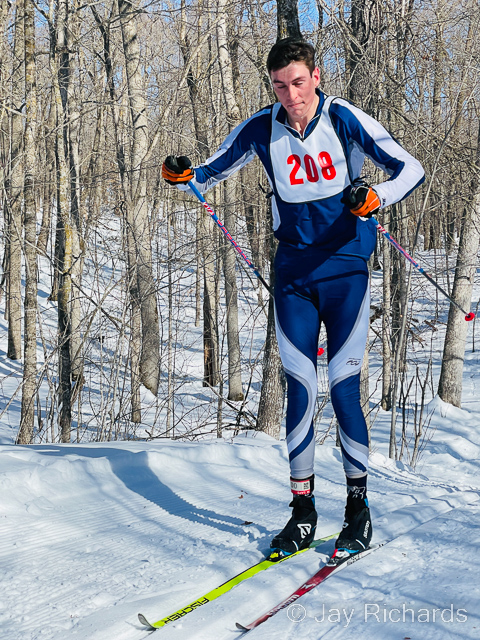 Equipment issues aren't that uncommon in any ski race. But, at Section 8 Bemidji's Louis Morrissey broke a binding shortly into his classic start. He swapped a classic ski with a coach, finishing the race on the mismatched pair, and amazingly went on to earn a spot as an individual qualifier for State!
While he didn't qualify for State, all the admiration and respect for Zhenghong Schlechte, Mahtomedi. Schlechte was born without a left arm. Last Thursday raced classic and freestyle events on the very hilly terrain at Battle Creek West! Expect to see more from him, as he is hoping to compete in the Paralympics.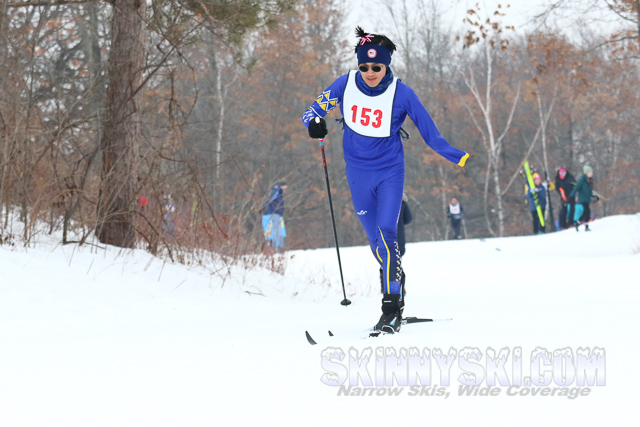 A couple of behind the scenes appreciations:
A big thanks to Jackie Schneider! Schneider has shared photos with us for many years, covering Midwest juniors. During the City of Lakes Loppet races the weekend prior, we discovered our primary camera lens had developed a serious focusing issue. Schneider graciously loaned us the lens off her camera, allowing us to shoot all of the Twin Cities section races.
If you looked at the section schedule on Tuesday, you may have noticed there were three metro area championships. While one photographer can generally cover two sections in a day, this situation definitely required two. Bjorn Adelsman used one of our old DSLR cameras to provide us some great photos from Section 3 – big props to a guy covering his first event and with old equipment to boot!
While we usually try to offer some sage advice on handling the nerves and pressure of sections and the State Meet, this year we're turning that over to Allie Rykken. Rykken is a former Minnehaha Academy skier, and she shares her view on loving skiing in the post high school world.
Best of luck to all the athletes, coaches and supporters – first and foremost, enjoy the experience of the greatest high school championship in the Nation!
Watch for coverage from both days of the State Meet.
Resources