FOR IMMEDIATE RELEASE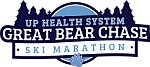 Great Bear Chase this Saturday in Calumet, Michigan
There are a few spots left in the 50km skiathlon, part of the UP Health System Great Bear Chase at the Swedetown Trails in Calumet, Michigan. Registration continues to be open for all races: 50km, 25km, and 10km distances for both classic and freestyle skiers.
You can register at GreatBearChase.com through midnight (Eastern time) March 9, or in-person on Friday, March 10. The first race goes off at 8 am on Saturday, March 11.
This year's race returns to the traditional in-person pasty luncheon, which is included in your registration fee. The luncheon also includes a variety of baked goods and gluten-free options. Other features include:
2023 Great Bear Chase T-shirt for each skier
Awards for overall winners, plus top three in each age group
Many raffle prizes, including two sets of Salomon skis and a pair of poles from the
United States Pole Company
Great grooming and friendly volunteers
For more information, visit GreatBearChase.com or email info@greatbearchase.com.