FOR IMMEDIATE RELEASE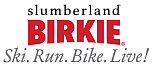 National Guardsmen Complete the Birkie in Iraq
An Nasiriyah, IRAQ, February 24, 2007 - At midnight on Friday, February 23, as Subaru American Birkebeiner skiers in Wisconsin were sleeping, a very different Birkebeiner started more than 5,000 miles away. Maj. Paul Peterson and Staff Sgt. Bill Snellman, Minnesota Army National Guardsmen, completed their own full-length Birkie on a 1.3 kilometer stretch of pavement in Southern Iraq.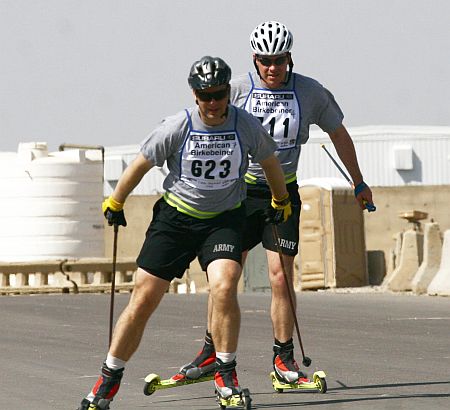 Maj. Peterson, a top-100 Birkie veteran and Cottage Grove, Minn. science teacher, and Staff Sgt. Snellman, a former Jr. National Biathlon Team Member and chemical engineer at Cargill, serve together as members of the 134th Brigade Support Battalion at Tallil Air Base outside An Nasiriyah, Iraq.
One afternoon in January, Paul was enduring a monotonous run on the pancake-flat base when he came across a small, straight stretch of brand new pavement and had an idea. Why not rollerski the Birkie right here in Iraq?
Within days he had recruited Bill as a race and training partner and the two pitched their Birkebeiner in Iraq idea to Ned Zuelsdorff, Executive Director of the American Birkebeiner Ski Foundation.
"The course, which is 5 kilometers wide by 6 kilometers long, is very secure and at the center of our base," Peterson said. "This is the same stretch of road used by Morale, Welfare and Recreation (MWR) to conduct other 'sister' events in Iraq including the Boston Marathon, Twin Cities Marathon and Race for the Cure."
Zuelsdorff gave them the green light, sent two Birkie bibs to the Guardsmen, and will award completion medals and pins when Peterson and Snellman return from their tour of duty. While no Birkebeiner credit will be given to the service men, the two were thrilled to get the go-ahead for their Birkie in Iraq. They worked out the logistics to have rollerskis, boots, and poles sent to the Middle East.
"No matter what each of us thinks about the war in Iraq, we all support our troops, and this was an easy way to show that support," Zuelsdorff said.
Today Paul's idea came to life at 9 a.m. Iraq time when he and Bill started the first of 20 laps, which would make up their 2007 Birkie. They skied into the desert wind and sun, then back; over and over. The race was monotonous, but Paul and Bill were enjoying a very unique Birkie experience nonetheless. After completing 20 laps, 40 lengths of their out-and-back desert Birkie Trail, the two soldier-skiers finished the 51-kilometer race in 2:57:45.
The two celebrated the accomplishment with their one-man pit-crew and
Photographer, Spc. Mark Kolle. They posed for a few quick photos then
headed off to the showers, into uniform, and back to work.
Paul and Bill said they are proud to represent both the United States Army and the American Birkebeiner, but they hope this is the last time they need to do both at the same time.
The skier-soldiers expect to return home this summer after almost two years
away from Minnesota.
"We want to thank the American Birkebeiner for its support and look forward to racing the Birkie from Cable to Hayward next year," they said.
In Wisconsin, 6,704 skiers participated in a shortened 25-kilometer Subaru American Birkebeiner and its sister race, the shortened 18-kilometer Kortelopet sponsored by the State Bank of Drummond and Cable Chamber of Commerce. Both races started at the Cable Union Airport. The Birkebeiner finished at Highway OO in Seeley while the Kortelopet finished at Telemark Resort in Cable.