Midwest MTB Report
With the mountain biking season as busy as ever this time of year, warm and humid conditions greeted riders in both the Minnesota and the Wisconsin series this past weekend. This time of year also sees groups from the Midwest heading west to the mountains for cooler riding and high country experiences, as well as the high school season starting up, which kicks off this week.
This week's jam-packed report includes highlights from both series races and the usual mountain bike related links and upcoming events which include the USA Cycling Mountain Bike National Championships, at which a good-sized group led by Bruce Martens of the National Center for Youth Development will compete.
MNMBS #5: St. Croix Woolly
The Woolly trails in St. Croix Falls, WI were host to race #5 in the MNMBS over the weekend. The popular trail systems always brings in good numbers and this years version, rescheduled from a previous date due to the late winter/spring, was no exception.
Hot and humid conditions greeted racers before a thunderstorm forced the marathon race to be called. The weather eventually pushed through and the Elite race went off, albeit a bit "muddy". Local resident, Woolly club member, and mother of five, Alicia Fisk put forth an impressive day on the bike to take the win in the Elite class after a six year racing hiatus. Fisk recaps that win with an exclusive report:
"The day started like a typical July day in Woollyland. Temps were hot and steamy as racers navigated parking and commenced bike set up. At 9am, Kids Comp lined 'er up. I had my three older kids racing. Conditions were superb during the kids' race. Their course was perfect! A mix of fun single track and wide open sections for fast passing."
"Soon after their race completed, Marathon lined up. We cheered as we sent dad, Mat Fisk, out for his grueling 4 hour venture. We stuck around, watching the Sport Race send off. A super great turn out!"
"While Mat raced, I did fabulous pre-race things, like feed kids lunch and make sure that they were set, so I could do a proper warm up. It all was coming back to me, like racing never stopped. However, my last race was the Woolly Race 6 years ago, when I was expecting the twins. Pre-race jitters were real. It felt fun and calming to see familiar bike family faces. As Elite Women were staging, thunder was heard. Radars were checked. A 'nice' rain was heading our way. The Race Official decided to pull the Marathon class and at the very least delay Expert/Comp start time. The reliable weather channel assured us the rain was passing. Instead of our regular 1:10pm race time, Expert men heard their whistle at 1:45pm. Women started shortly afterwards, with Comp close behind. Expert men and women led with a start lap, followed by full laps."
"Woolly trails are as diverse as any trails. Some do extremely well with a little rain, some get greasy and slick. I fully expected to have hero dirt on some sections and slick corners on others. What I wasn't fully expecting was more rain to fall during our first lap. That made things a little more amusing."
"Since it's been a while, I didn't have a super great start. Passed a few girls around the lower meadow. Coached a couple of other girls through Riegel and Erratic Rock. Once we hit Big Oak, things became interesting for me. Rebecca Sauber was stopped at the top of Big Oak. She said nothing was wrong as another Girl Fiend rider, Nicole Werts, and I passed her. At the bottom of the switch backs, there's an A line and B line. This was where I made one of two decisive moves. The 'A' line put me slightly ahead of Nicole; she was able stay on my tail until West Ridge."
"West Ridge needed rain and I knew I would have the hometown advantage. Some of the rutted down hills sections are where I feel comfortable opening up and letting go. I caught, what I didn't know was, the remaining gal, Cate Koelzer, at the bottom of West Ridge's second very steep and rutted up climb."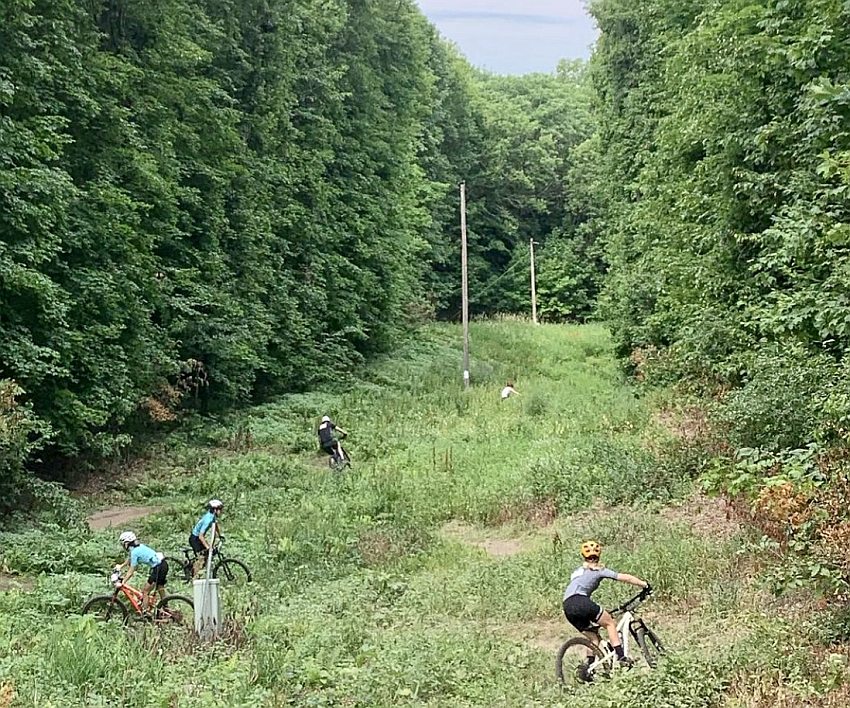 "She needed to get off and walk. My second decisive move was knowing my line and seizing the opportunity to ride away."
"Since Mat wasn't racing, he was able to offer hand ups and give me time splits. When he said I have a minute and thirty seconds and then two minutes, I totally thought that I was trying to catch someone else. To my complete amazement, I had two minutes and then almost four minutes on the other ladies. Over my several years of previous racing, I had been first in age category several times, top 5 several times, and had generally done well pretty well. Being on home course and taking my first elite win was a dream come true!"
WORS #5: Colectivo Coffee Bean Classic
Marcus Warrington checks in once again with an update from the latest WORS race, race #5 in Minooka Park:
"Beautiful weather greeted the nearly 700 riders who trekked to the western Milwaukee suburbs for round #5 of the WORS 2022 season. Racing was fast at the beautiful venue in Minooka Park, on trails that were in near-perfect condition."
"As with all WORS races, the juniors kicked off the day at 9:30, and with a field of 116 riders, it was the largest of the year for the 14 & under category. It's been so fun to see this category continue to grow and watch the future of the sport flourish right in front of our eyes. I try to make a point of catching the finish line for this race, where this weekend I once again saw an overwhelming number of smiling faces."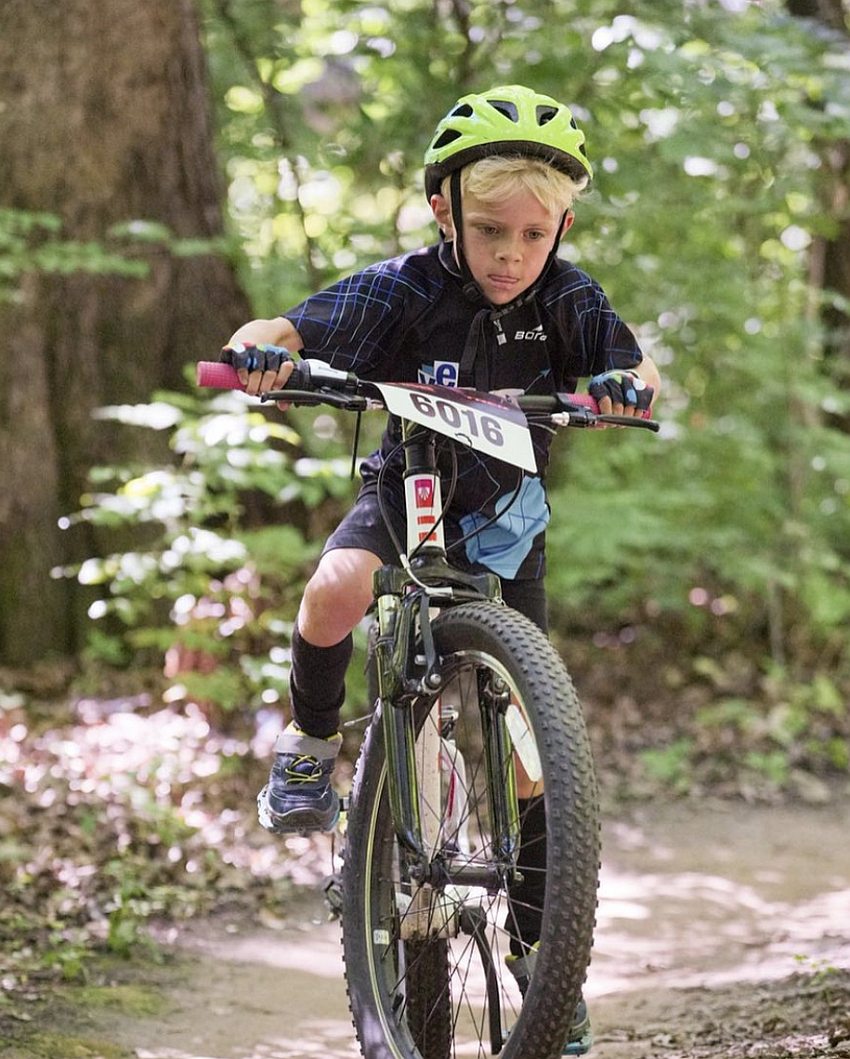 "Another category seeing record numbers is the "Try-It-Out" category, which took off with the Citizen field at 10:00. The heat was already being felt at this hour in the morning, and no doubt was already playing a factor for riders, who have had to endure a few weeks of hot and muggy temperatures here in the Midwest."
"At 11:30, it was Sport riders' turn to take to the course. Leaders in this category clocked in at just over an hour in two laps of racing on some of the best singletrack trails in southeast Wisconsin. I was able to sneak over to the starting hill for this race, where crowds were forming to watch riders charge up the quick but brutal stretch of wide doubletrack."
"Last to the starting grid was the Comp and Elite categories, taking off for their somewhat lengthy race at 1:30. No changes to the Series points classification this week for the Elite Men and Women, with Shelby Spaciel and Ben Serkerik both taking 1st this weekend to further build on their strong leads."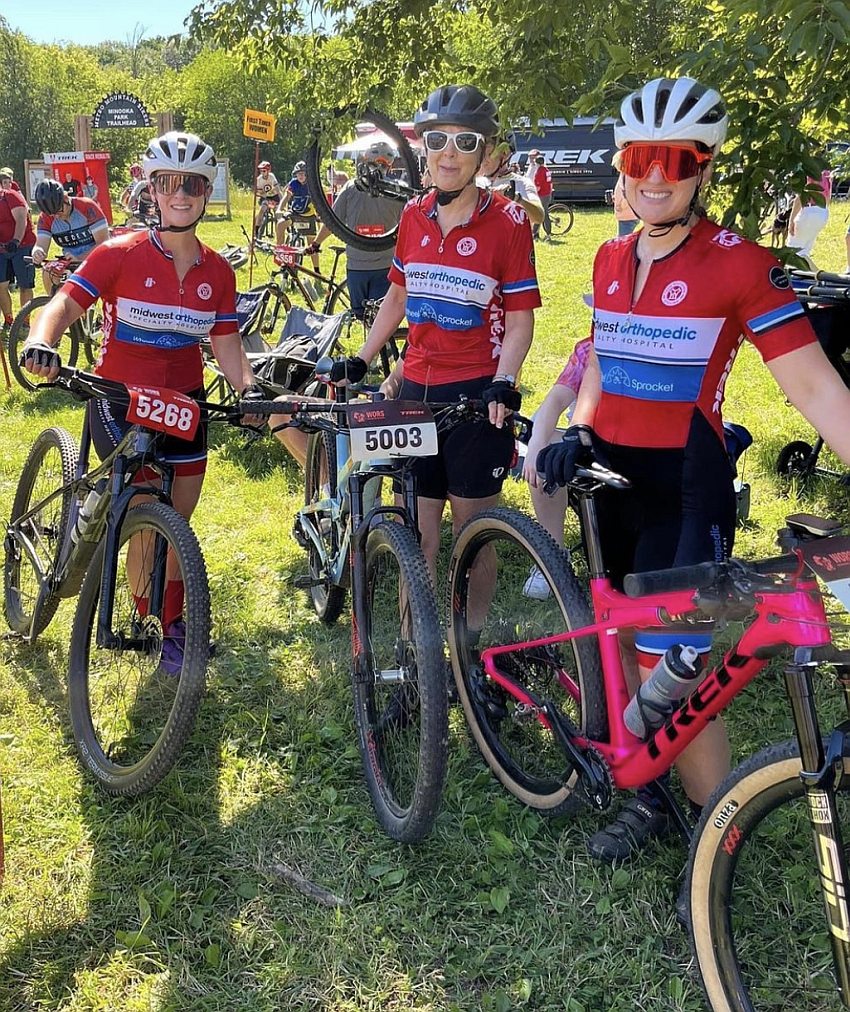 "The Colectivo Coffee squad is one of the largest and fastest mountain bike racing teams in the Midwest. As it turns out, they also organize fantastic events and are some of the most fun people I've had the pleasure of working with. The WORS crew is very much looking forward to future years at Minooka Park, and with the same weather too, of course."
"The series will take next weekend off before heading to the former home of the Subaru Cup at Nordic Mountain for the Mt. Morris Challenge. This is one of the hilliest and toughest races on the circuit, so make sure to bring your climbing legs!"
Duluth Enduro Series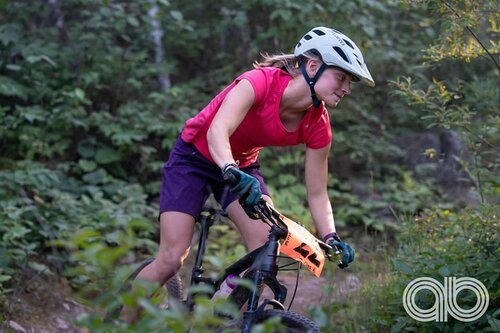 The Duluth Enduro Series is off and running with record turnouts as it reaches the halfway point. The midweek race series that hits multiple trail systems in the Duluth areas is seeing around 100 riders each evening as riders race a mostly downhill track, taking multiple runs with combined time determining the winner. A membership to COGGS is required to participate.
Bentonville
Long before the 1st mile of mountain bike trail had been developed in Arkansas, the southern states were a draw to up north cyclists wanting to get a jump on their spring training. Over the years, as mountain biking has become more popular, Bentonville has invested millions of dollars into trail production and infrastructure.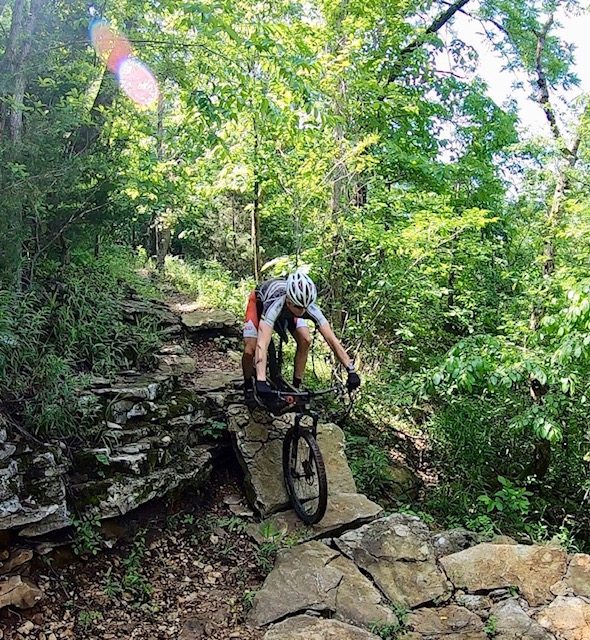 A few years ago, Jonell and I made the trip there to check out some of the trails that I had highlighted in a previous Midwet MTB report. During our stay, I encountered areas that were seeing trail building and determined that it would take a couple weeks to really check things out. My favorite area was the trails at Kessler Mountain that were mostly handbuilt, classic/old school style trails. It is safe to say the area has become a hot spot for Midwest riders to check out in the spring, as well as the fall.
Chris Hecker and his brother and dad all decided to take a mid-summer break and check it out, and the New Moon Bike and Ski Shop recently featured their experiences in the most recent newsletter.
Hall Drafted in the 2022 NHL Draft
MN hockey star Barrett Hall was drafted last weekend in the NHL entry draft by the Seattle Kraken in the 6th round, 164th overall. Hall was a standout hockey player at Gentry Academy during High School before playing a spring of juniors with the Minnesota Wilderness.
Hall spent much of his youth up until the 2020 season racing mountain bikes at a high level, including top-10 finishes in the MNMBS and NICA and competing at the national level, and was featured in a previous Midwest MTB report. Hall will play another season of juniors before transitioning to college where he committed to St. Cloud earlier this summer.
Video: Gentry Academy's Barrett Hall continues climb as elite mountain biker
Movil Maze Mountain Bike Race
The Bemidji High School Mountain Bike Team is hosting a team fundraising race/ride event that is being held at 11:00am on July 30th at Movil Maze Recreation Area, 8 miles north of Bemidji. The course is approximately 10-11 miles, with 50/50 singletrack/doubletrack ski trail. There will also be an alternative, easier course option that is approximately 5 miles.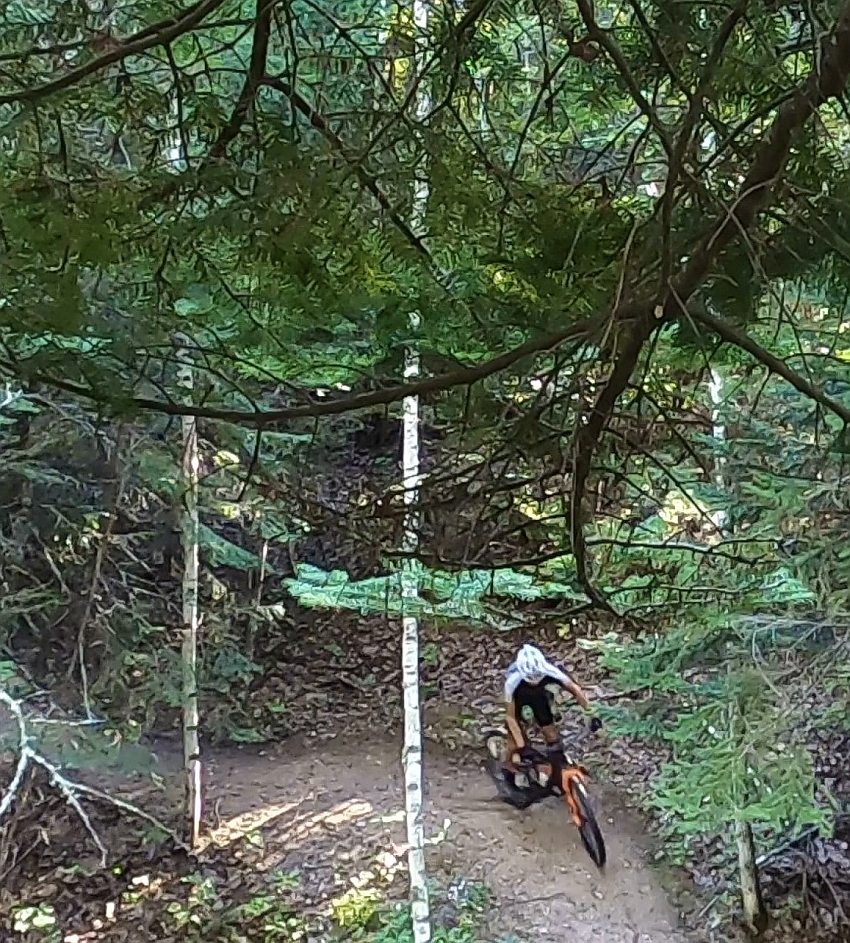 Fee will be free will donation, with all donations going directly to the team, food / lunch afterwards. Contact Brad Kuzel at bradley.kuzel@gmail.com with any questions.
Related: Movil Maze trail review in Midwest MTB report
Wausau 24 Featured in Silent Sports Magazine
The Wausau 24, an endurance event located on the 9 Mile Trail system outside Wausau, WI is one of the few 24-hour mountain bike events remaining in the Midwest. Silent Sports recently highlighted the event that has maintained a loyal following in one of their latest issues.
Looking Ahead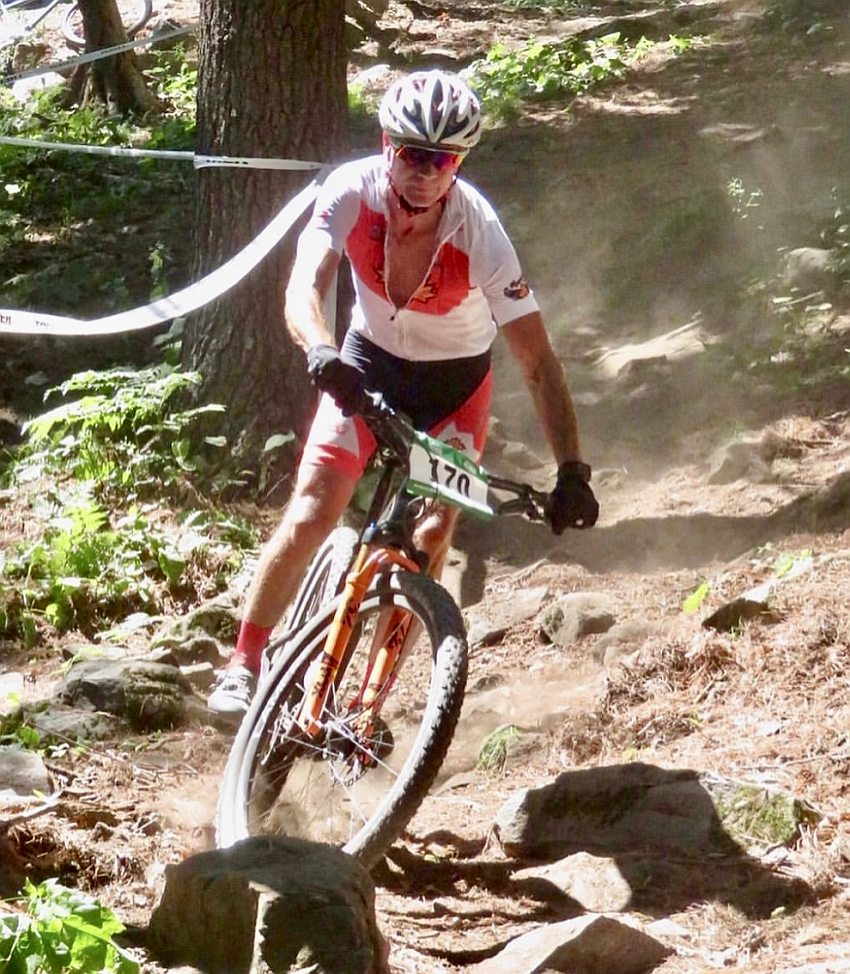 Many eyes are on the north shore of Minnesota this weekend as the new Split Rock Wilds trail will kick off its grand opening with the Rock Splitter race, while race #6 in the MNMBS will take place at Spirit Mountain.
Keep the wheels moving!
About the author...

Jay Richards maintains a very active lifestyle. He somehow finds time between managing a full-time resort (Maplelag) and bringing up a family of four boys with his wife Jonell, to compete in both mountain bike and a few cross-country ski races. Jay rides for Maplelag Resort, manages the Maplelag mountain bike team and enters his 32nd year of racing and promoting mountain bike races.

Have an event or mountain bike related information to share from the Midwest? Feel free to contact Jay at