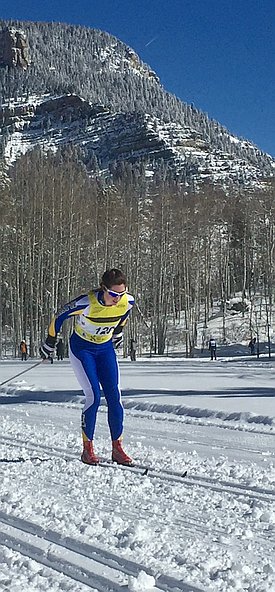 Anja Maijala, Denver Invite, February 11, 2018 (Photo: Mary Kozloski)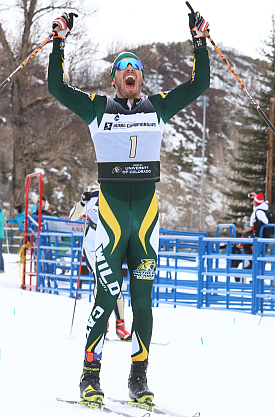 Ian Torchia, men's 20K freestyle champion, NCAA Championships, March 10, 2018 (Photo: Jackie Schneider)
Junior Nationals Coverage
March 12, 2018
A summary of the coverage we featured on the 2018 Junior Nationals competition at Soldier Hollow, as well as some notes and even recipes from the cooks, Pete and Dollie Zweig.
USCSA Championship Results
March 12, 2018
Mitchell Miller reports: St. Olaf had a very successful week at the USCSA National Championship in Lake Placid, NY. Some highlights include: Tyler Radtke, 1st place Classic Sprint, 1st place 15K Classic, 2nd place overall; Erica Meyers, 3rd place Classic Sprint; Stephanie Balas, 3rd place 7.5K Skate; Women's team, 1st place Freestyle Team Sprint, 1st place overall; Men's team, 1st place Freestyle Team Sprint, 2nd place overall. Note: Minnesota native Anna Johnson, skiing for Western State won the women's classic sprint.
NCAA Championships Freestyle Recap
March 10, 2018
Mary Kozloski recaps the NCAA Championship freestyle races, including quotes from men's champion Ian Torchia.
Junior Nationals Relays Coverage
March 10, 2018
Junior Nationals competition wrapped up on Saturday with 3x3K classic relay races at Soldier Hollow in Midway, Utah. The Midwest had top ten results in the boys U20 (7th, 10th) and girls U20 (7th) races with the best result coming in the girls U18 race as the trio of Kelly Koch, Mara McCollor and Luci Anderson finished 5th. Results linked in, photosets from all six relays posted.
NCAA Championships Freestyle Coverage
March 10, 2018
An incredible day at NCAA Championships Saturday as Northern Michigan's Ian Torchia grabbed the men's 20K freestyle victory! Americans also took the top of the podium in the women's 15K at Katharine Ogden, Dartmouth, and Hailey Swirbul, Univ of Alaska-Anchorage, finished 1-2. Vivian Hett, NMU, had the top Midwest result, finishing 20th. Results linked in, along with photos from Jackie Schneider.
Junior Nationals Freestyle Coverage
March 9, 2018
A fantastic day for the Midwest squad on Friday as they overcame some brutal conditions to place skiers on four of the six podiums and scored numerous of top 20 finishes in the freestyle mass start races at Junior Nationals. The top performance on the day was Anja Maijala breaking away with teammate Erin Moening by the midpoint of the race and going on to be crowned the National 10K U20 champion, with Moening taking third! Every bit exciting, the U18 girls race saw Mara McCollor take the race by the horns from the opening gun, eventually joined by Luci Anderson, they finished third and second respectively. Xavier Mansfield podium action going in the opening race, the boys U20 15K, where Mansfield and Patrick Acton skied with the lead pack, finishing third and fourth. As the temperatures skyrocketed into the 50s, Cooper Lennox survived the U16 slog through two 2.5K laps to take second. In the two races the Midwest did not podium, they came very close: Libby Tuttle was 4th in the girls U16, and Anders Sonnesyn notched 9th in the boys U18. Results linked in, big photosets (split into individual races) posted.
NCAA Championships Classic Recap
March 8, 2018
Mary Kozloski provides a recap on the first day of the NCAA Championships as Midwest skiers cranked out top ten finishers in the high elevation and weather warm of Steamboat Sprints, Colorado, Thursday.
Junior Nationals Date Ski Day Coverage
March 8, 2018
Part of the Midwest Junior Nationals tradition is a fun "date ski" event where juniors dress up crazy and ski with someone they might not know that well. This year, with the terrain park like features on the Soldier Hollow course, a lot of skiers also took a few shots to catch some air.
Related:
Photoset:

Date Ski - 102 photos,

Big Air - 128 photos
Photoset:

Top Picks (high res) - Date Ski,

Top Picks (high res) - Big Air
Photoset from Kim Rudd:

Date Ski
NCAA Championships Classic Coverage
March 8, 2018
The NCAA Championships held the classic individual start races on Thursday at Howelsen Hill in Steamboat Springs, CO on Thursday morning. Katharine Ogden, Dartmouth, returned to her top form, taking the women's 5K classic in dominating fashion, a victory margin of over 45 seconds over Norwegian Anne Siri Lervik, CU, with another American, Hailey Swirbul, UAA, third, just 4 seconds out of second place. For the Midwest, Vivian Hett, NMU, lead the way in 10th place, Alayna Sonnesyn, UVM, finished 15th, with Nicole Schneider, NMU, at 20th. In the men's 10K, foreign skiers secured the podium and top 4 spots, Martin Bergstroem, UU, first, Petter Reistad, CU, second and Dag-Frode Trolleboe, third. Minnesotan Ian Torchia, NMU, was the top American finishing 5th, with fellow Midwesterner Luke Brown second American at 9th. Results linked in, along with photos from Jackie Schneider.
Junior Nationals Freestyle Sprints Coverage
March 7, 2018
A stronger showing for the Midwest team on Wednesday in the freestyle sprint races. Luci Anderson had the top result, narrowly missing the podium in the girls U18 final to finish 4th. Torsten Brikema, U20, and Anders Sonnesyn, U18, made their respective finals, both finishing 5th. Anja Maijala, U20, also made the finals, finishing 6th. Other Midwest skiers making the B finals: Libby Tuttle, FU16; Foss Kerker, MU20; Peter Moore, MU18; Erin Moening, Samantha Benzing, FU20; Kelly Koch, Leah Rudd, Sarah Olson, FU18. Results linked in, along with photosets from qualifiers and heats.
Junior Nationals Classic Coverage
March 6, 2018
Junior Nationals racing at Soldier Hollow in Utah fired up Tuesday morning with individual start classic races. Crisp temperatures overnight followed by a bright, sunny day provided a fast, firm course for the opening races, slowing down a little by the time the boys U18/20 field rolled out in the afternoon. Libby Tuttle scored the first Midwest podium, taking third in the U16 division. Other top 20 results on the day: Lauren McCollor, 20th, FU16; Mara McCollor, 15th, FU18, Kelly Koch, 18th, FU18, Luci Anderson, 19th, FU18; Erin Moening, 5th, FU20, Anja Maijala, 6th, FU20, Samantha Benzing, 19th, FU20; Victor Sparks, 13th, MU16, Cooper Lennox, 18th, MU16; Peter Moore, 20th, MU18; Xavier Mansfield, 7th, MU20, Patrick Acton, 11th , MU20, Mark Ousdigian, 19th. Results linked in, plus Midwest and Great Lakes photosets.
NCAA Championship Preview
March 5, 2018
A brief summary on the NCAA Championships including schedule, course maps, live stream, and a look at some of the favorites.
Junior Nationals Preview
March 3, 2018
The 2018 edition of Junior Nationals fires up this week beginning on Tuesday. We highlight a few non-race changes this year and provide a breakdown on the team along resources for following the action.
Midwest Juniors Team Sprints Coverage
February 28, 2018
With the Midwest Junior National team flying out to Soldier Hollow, Utah, on Saturday, many of the skiers got together on Wednesday afternoon for one last group practice before packing up their gear. Using pairings assigned from the coaches to "level the playing field", the athletes did their best Jessie Diggins impression with team sprint relays. A cool down and some refueling, and many of the skiers went back out to pair up with MYSL skiers for a Skiing with the Stars fun race to wrap up the evening.
Related:
Photoset:

Team Sprints - 218 photos
Photoset from Loppet Foundation:

Skiing with the Stars
Collegiate/Elite Racing: EISA, RMISA Regionals
February 26, 2018
The collegiate regional racing season wrapped up last weekend in the East coast (EISA) and Rocky Mountain (RMISA) divisions, with skiers earning their start line positions at the NCAA Championships coming up in March. Caroline Brisbois provides a summary of the racing action, along with highlights and interviews with the Midwest skiers from those divisions. Plus some photos from the EISA races, by Linda Kerker.
Related:
NCAA Skiing Championships Qualifiers
Final Rosters for Junior National and U16 Championship Teams Named
February 22, 2018
The Central Cross Country Skiing (CXC) together with the Midwest and Great Lakes Junior Committees are pleased to announce this year's Midwest and Great Lakes Junior National Teams that will be competing at the 2018 US Ski & Snowboard Cross Country Junior National Championship March 4-11th at Soldier Hollow (Utah), along with the U16 Championship Team competing at Gore Mountain Nordic Center in North Creek, New York.
Collegiate Racing Recap: CCSA, EISA
February 19, 2018
The Midwest collegiate scene, under CCSA, wrapped up its regional racing a series in Ishpeming, while the East coast college skiers raced in the Williams Carnival, as they have just one more weekend of racing left. Mary Kozloski has the recaps and quotes from Midwest skiers.
Related:
Collegiate Racing Reflection: Kayla Billett
Midwest Junior National and U16 Championship Teams Announced
February 19, 2018
After the final JNQ races at Mt. Itasca on Sunday, the points were tallied up and the Midwest team was announced, along with the preliminary roster for the U16 Championships. Note that this list will likely change some as there may be a few collegiate skier additions, and possibly some declines.
Related:
Midwest Junior National Team Info, Forms
Coleraine JNQ Freestyle Races
February 18, 2018
Wrapping up the JNQ series on Sunday, Mt. Itasca hosted 5K and 10K freestyle races. Luci Anderson skied to the top of the women's 5K field, posting the only sub 17 minute time with Mara McCollor just 3 seconds back. Showing the depth of the men's U18 field, Peter Moore took the 10K race today with James Schneider second, along with two Mt. Itasca skiers, Alex Kelling and State Champ Garrett Beckrich, who all skied under 30 minutes. U16 victories went to Cooper Lennox and Mia Case.
Related:
NCAA Regionals/SuperTour 5K, 10K Classical Results
Coleraine JNQ Classical Sprints
February 17, 2018
Mt. Itasca was host on Saturday for classical sprints in the Midwest Junior National qualifying. Mt. Itasca's own Alex Kelling won boys U20/U18 sprint final with Peter Moore, 2nd (top U18), and Ryan Mead third. The girls U20/U18 final was all U18 as State Champ Mara McCollor took the victory, followed by Triana Willmert and Regan Duffy. Daniel Huhtala and Libby Tuttle won the U16 finals.
Related:
NCAA Regionals/SuperTour 15K, 20K Freestyle Coverage
Send Skinnyski Back to SOHO
February 13, 2018
We are working on plans to cover Junior Nationals again this season, back at Soldier Hollow! However, this is a major financial commitment for us, so we're asking for your support. If you'd like to see us out at Junior Nationals with our usual coverage, please consider your contribution.
Collegiate Racing Recap: CCSA, RMISA, EISA
February 12, 2018
Another full weekend of racing on the collegiate circuit as all the major divisions were in action. Mary Kozlowski brings us up-to-date on the winners and Midwest performances across the wide span of races.
CXC Cup Seeding Rules
February 11, 2018
CXC's Director of Athletics, Joe Haggenmiller, has issued an statement clarifying the CXC Cup seeding policies. The final Midwest JNQ will be next weekend at Mt. Itasca.
Collegiate Racing Recap: CCSA, EISA, RMISA
February 5, 2018
Collegiate racing action across the nation picked up again last weekend in all three major divisions. Mary Kozloski has the breakdown on each series, including some stellar performances by Midwest skiers.
World Junior/U23 Championships: Skiathlon/Relays Recap
February 3, 2018
The World Junior/U23 Championships wrapped up the week with skiathlon and relay events, including another historic medal winning performance by the US squad! Read Caroline Brisbois recap of the action and quotes from athletes, along with some photos, in her final recap.
World Junior/U23 Championships: Classical Races Recap
January 31, 2018
The US squad scored some impressive results in the classical races at the World Juniors/U23 Championships the last two days in Goms, Switzerland. Hailey Swirbul was only 14 seconds from victory, taking an historic second place finish in the women's 5K classic World Juniors race, with Ben Ogden also notching a top ten finish in the men's 10K. Caroline Brisbois provides a full recap on the classical races as well as a brief report from the Midwest's own Ian Torchia.
World Junior/U23 Championships: Freestyle Sprints Recap
January 29, 2018
The World Junior and U23 Championship events in Goms, Switzerland started up over the weekend with freestyle events on tap first. Caroline Brisbois has the breakdown on how the US fared, plus insights from the Midwest skiers.
Nordic Junior Ski Competition: Racing Recap
January 28, 2018
Minnesotan Kelly Koch and the rest of the U18 squad from the US wrapped up their Nordic Junior Competition racing in Vuokatti, Finland on Sunday. Caroline Brisbois provides a recap on the racing and talks with Koch on her races and trip experiences.
Related:
National Nordic Foundation
World Junior/U23 Championships: Preview and Update
January 26, 2018
Caroline Brisbois provides an in-depth look at the upcoming World Junior and U23 Championships in Goms, Switzerland starting Sunday, Jan 28th and running through Feb 3rd. The teams have strong Midwest representation with Hannah Rudd, Zak Ketterson, Ian Torchia, Andrew Egger and Nicole Schneider all competing. Read some of their first impressions and view some great photos. Plus, links for livestreaming!
Nordic Junior Ski Competition: U18 Trip Update and Race Preview
January 24, 2018
Caroline Brisbios reports on the upcoming Nordic Junior Competition (U18 Trip) in Vuokatti, Finland, where the Midwest is represented by Burnsville native and LNR skier Kelly Koch.
Collegiate Racing Recap: CCSA, EISA, RMISA
January 22, 2018
Mary Kozloski recaps the collegiate racing action across the United States as all three major series were in action last weekend, with emphasis on some strong Midwest results.

Plus photos from the EISA races from Linda Kerker.
Cable JNQ/CCSA Freestyle Coverage
January 21, 2018
Sunday in Cable, WI, skiers participated in mass start freestart races on the trails at the Birkie start area. The men's 15K event came down to a sprint finish with Michigan Tech's Tom Bye besting Kjetil Banerud, NMU, in a photo finish with Gaspard Cuenot, MTU, third, just two seconds behind. Caitlin Gregg completed the weekend sweep in taking the women's 10K with NMU's Vivian Hett finishing best of the chase pack, teammate Anikken Alnaes third. Sarah Olson, LNR, notched an impressive 7th place, top high school finisher. The boys 10K race was a showcase of Wayzata power as Anders Sonnesyn took the victory, James Schneider second, and Luc Golin, fourth. Peter Moore, EU, broke up the podium sweep, taking third. Cooper Lennox and Libby Tuttle won the U16 5K races. Results linked in, photos coming later.
Cable JNQ/CCSA Classical Coverage
January 20, 2018
A big weekend of racing in Cable at the new Birkie start area with Junior National qualifying races as well as Central Collegiate Ski Association. Jacob Ajax, UWGB finished second in the mens 10K race, breaking up an NMU sweep as Kjetil Banerud and Mathias Rolid, went first and third. Ryan Mead, Nordicwerks, was the top high school skier in the field finishing 11th. The women's race had an impressive more impressive result as #1 ranked Mara McCollor of Wayzata finished second only to Caitlin Gregg in the women's 5K, with NMU's Vivian Hett third. U16 victories claimed by Cooper Lennox and Gretchen Haggenmiller. Results linked in, along with photos from Jackie Schneider.
NNF: Nordic Juniors Competition Team Named
January 18, 2018
The official team for the Nordic Juniors Competiton (U18 Nations, Scando trip) has been announced by National Nordic Foundation, the major underwriter of the trip. Burnsville's Kelly Koch from LNR will be representing the Midwest as the team competes in Vuokatti, Finland, Jan 26-28th.
Related:
2017 U18 Nation's Trip Coverage
Collegiate/Elite Racing: CXC Marathon Cup, EISA, RMISA
January 15, 2018
Mary Kozloski reviews top racing action from the Seeley Hills Classic, start of the CXC Marathon Cup, as well as the opening races for the east coast (EISA) and Rockies/west coast (RMISA) collegiate race series.
Special Feature: EISA Series Colby Carnival Coverage
January 14, 2018
For years, a large percentage of Midwest juniors have been making the leap to East coast colleges, racing the Eastern Intercollegiate Ski Association (EISA) series. This past weekend, we made a special trip out to Waterville, Maine, to feature the Colby Carnival, the first stop of the season, with an emphasis on the Midwest skiers. Warm weather (temps in the 40s) and rain generated havoc with the trails and venue Saturday, forcing organizers to cancel the races and scramble to salvage a trail section for Sunday. Organizers shoveled and groomed up a 1.7K loop for Sunday, and much colder weather and bright sunshine helped generate a fast (and somewhat tricky) course for individual start freestyle races. Minnesota's own Alanya Sonnesyn, racing for Univ of Vermont, and hot off a strong US Nationals performance, dominated the womens field, winning by almost 20 seconds. Host Colby's Zane Fields won the mens 10K, with Minnesotan Luke Brown, skiing for Dartmouth, taking third. Big photosets from Sunday's races, and we'll have a full collegiate recap from Mary Kozloski coming Tuesday.
Related:
Photoset:

Womens 5K - 351 photos,

Mens 10K - 331 photos
Photoset:

Top Picks (high res) - Womens 5K,

Top Picks (high res) - Mens 10K
Results: Women's 5K freestyle, Men's 10K freestyle
EISA Official Recap: Fields Brings it home for Colby while UVM and Dartmouth teams Dominate

Enjoy this type of coverage? Help keep us running, support this site by purchasing a Skinnyski Membership -- Join today!
US Nationals: Classic Sprints Recap
January 8, 2018
Winding down a big week of racing, Mary Kozloski provides a recap on the classical sprint races along with some quotes from Midwest skiers, and recaps all the Midwest juniors that qualified for the international trips.
US Nationals: Classic Sprints Coverage
January 8, 2018
US Nationals wrapped up on Monday with classic sprint events at Kincaid Park in Anchorage, Alaska. The men's sprint final was a Midwest vs. Alaska showdown with three Midwest skiers: Zak Ketterson, Kevin Bolger and Ben Saxton. Reese Hanneman collected his second sprint title of the week, followed closely by yesterday's winner, Tyler Kornfield, with Saxton moving ahead of the chase pack to take third. Felicia Gesior advanced to the women's semifinal before getting bumped out. The unstoppable Caitlin Patterson scored yet another title in taking the girls final with Jasmi Oensuu second and Kaitlynn Miller third. Results linked in, recap and some photos late tonight.
Related:
US Nationals: Trip Standings Final
US Ski Team: Golden Sweep for Patterson
US Nationals: Classical Distance Recap
January 7, 2018
Mary Kozloski has interviews with some of the top Midwest performers and a recap of the senior classical distance races at US Nationals on Sunday.
Related:
US Ski Team: Alaskans Take U.S. Titles
US Nationals: Classical Distance Coverage
January 7, 2018
US Nationals held their premiere event on Sunday with the mass start classical distance races at Kincaid Park in Anchorage, Alaska. In the women's 20K classical, Caitlin Patterson was yet again the top American, finishing second only to Hedda Baangman of Sweden, with a groundbreaking performance by the Midwest's own Rosie Frankowski finishing third (and 2nd American). Alayna Sonnesyn, another Minnesota native, also had a stellar performance, finishing 6th (4th American)! The men's 30K saw a large lead pack eventually come down to a sprint finish with Tyler Kornfield taking the win, followed by Eric Packer and Eivind Kvaale. Adam Martin cracked the top 10 finishing 9th. Hannah Halvorsen won the women's 5K with Hannah Rudd completing a great week with 8th today. The men's 10K was won by Hunter Wonders as Reid Goble had the top Midwest finisher at 9th. US Nationals comes to a completion on Monday with classical sprint events. Results linked in, along with some great photosets from Jackie Schneider.
Related:
US Nationals: Trip Standings After First Three Events (U18, WJC)
US Nationals: Trip Standings After First Three Events (U23)
US Nationals: Freestyle Sprints Recap
January 5, 2018
Mary Kozloski provides a recap, along with interviews from a number of top Midwest skiers, on the second day of US Nationals which saw skiers competing for titles in the freestyle sprint races.
US Nationals: Freestyle Sprints Coverage
January 5, 2018
Much better conditions Friday for US Nationals for the freestyle sprints on Friday at Kincaid Park in Anchorage, Alaska, as temperatures cooled off and the course firmed up. Reese Hanneman, APU, took the men's sprint title with Midwest native Kevin Bolger, Sun Valley, second and Tyler Kornfield, APU, third. NMU's Zak Ketterson was fourth. Anne Hart, SMS T2, posted the fastest women's qualifier, by nearly two seconds, but was bumped out in the semifinals. Caitlin Patterson picked up her second victory in taking the women's sprint title with Jasmi Joensuu second and Petra Hyncicova third. In the junior division sprints, Scott Shulz, NYSEF and Sydney Palmer-Leger, Sun Valley, collected the titles. Minnesota Kelly Koch made the junior final, finishing 6th. Top qualifiers on the day included: Alayna Sonnesyn 3rd FU23 (7th overall), Nicole Schneider 6th FU23, Sarah Bezdicek 7th FU23; Hannah Rudd 3rd FU20, Anja Maijala 7th FU20; Abigail Jarzin 3rd FU18, Leah Rudd 8th FU18, Mara McCollor 10th FU18; Andrew Egger 1st MU23, Zak Ketterson 3rd MU23 Tom Bye 5th MU23, Ian Torchia 10th MU23; William Kerker 10th MU20; Anders Sonnesyn 9th FU18. Photos by Jackie Schneider of the sprint heats up now.
Related:
US Nationals: Trip Standings After First Two Events
US Ski Team: Patterson, Hanneman Golden in Sprint
US Nationals: 10K, 15K Freestyle Coverage
January 3, 2018
US Nationals got underway in Anchorage, Alaska Wednesday morning with 10K and 15K freestyle races. After being snowstarved most of the season, organizers set the course on a 2.5K snowmaking loop only to receive a bombardment of wet snow today. Caitlin Gregg showed she is still on form, taking second place overall, 20 seconds back of winner Caitlin Patterson, with Chelsea Holmes third, and Minnesota native Rosie Frankowski in fourth. Father and shop co-owner Matt Liebsch had an incredible performance, skating to third place in the mens 15K with only Scott Patterson and Noah Hoffman, both skiers with World Cup starts this season, in front of him. Full recap by Mary Kozloski, plus photos from Jackie Schneider.
US Nationals Preview
December 31, 2017
US Nationals competition starts on Wednesday in Anchorage, Alaska. We've put together a short primer on the event with loads of web links, as well as a brief review of the Midwest skiers.
Related:
US Nationals: Start Lists and Live Timing
CXC: Year End Drive Under Two Weeks
December 19, 2017
CXC Year End Fundraiser Drive is quickly running down with under two weeks left. Check out the special message from Brian Gregg and consider making your contribution today.
Houghton JNQ/CCSA: Classical
December 17, 2017
A beautiful day of racing Sunday on the Michigan Tech trails as the weekend series wrapped up with classical mass start events. In the men's 15K, NMU swept the top five places with Zak Ketterson 1st, Ian Torchia 2nd, and Lars Soensterud 3rd. CXC's Felicia Gesior and NMU alumni held off her previous teammates for the women's 10K win, Vivian Hett 2nd and Kris Bourne 3rd. Top juniors on the day: Mara McCollor, FU18, 11th; Amanda Kutzer, FU20, 10th; Alex Nemeth, MU18, 15th; Reid Goble, U20, 8th. Results linked in and photosets from Jackie Schneider and Chris Schmidt are up.
Related:
Biathlon: US IBU Cup Trials Dec 16-17 Coverage
Houghton JNQ/CCSA: Freestyle Sprints
December 16, 2017
Houghton lived up to it's reputation Saturday as snow continued to fall across the UP for the freestyle sprint races at Michigan Tech. In the mens senior division, Kevin Bolger held off NMU's Zak Ketterson for the victory with Ian Torchia third. NMU exchange student skier Anikken Alnaes topped the womens sprint final with teammates Vivian Hett second and Sarah Bezdicek third. U20/18 heats were won by Ryan Steger (CSS) and Megan Schiferl (CSS). And in the U16 division, Sam Stertz won for the boys, Elsa Viren for the girls -- both skiers from Mt. Itasca Nordic. Results linked in now, along with great photosets from Jackie Schneider and Chris Schmidt.
Hoigaards Relays Coverage
December 16, 2017
Another big turnout for the annual Hoigaards Relays, racing at Elm Creek on Saturday morning. Teams did 6 x 1.8K relay, usually in teams of two skiers. Organizers report: The duo of Andy Brown and Matt Liebsch held off The Morgan Brothers Cole and Jake for victory in the Men's Masters Relay, while a competitive Mixed Masters field was topped by Daisy Richmond and Spencer Warejoncas. In the Junior Boys Relay, Stillwater Area High swept the podium, with Carl Bohacek and Brian Olson taking the win. Southwest Minneapolis' Zoe Camp and Katy Scott took honors in the Junior Girls Relay. In the Mixed Juniors Race, Osseo's Nick Kjome and Maple Grove's Ally Hammann teamed up for the win. Results posted, along with photos from the Junior race.
UP Opener Coverage
December 10, 2017
The Midwest collegiate racing scene kicked off Sunday with a pair of classical races on the Michigan Tech trails in Houghton. NMU women picked up where they left off last season, sweeping the 10K podium: Kris Bourne, Vivian Hett and Nicole Schneider. And the same story for the NMU men: Zak Ketterson leading the way in the 15K race, followed by exchange program skiers Lars Sonsterud and Kjetil Baanerud. Results linked in, along with photosets from Chris Schmidt.
Related:
Press Release: Nordic Ski Team Hosts UP Opener at the Tech Trails
FIS and Collegiate Racing Update
November 19, 2017
Mary Kozloski recaps the opening weekend of major FIS races in Norway and Sweden, as Midwesterners Nichole Bathe and Annie Hart competed. Plus a brief recap and results from the first collegiate racing action in Alaska - the Alaska Cup, with three Minnesota gals taking part.
NNF Drive for 25 Campaign - Where the Money Goes
November 14, 2017
The National Nordic Foundation has released a slick video highlighted the impacts NNF funding has had on some of the top juniors. Please show your support by contributing to one of the fundraising campaigns of your favorite Midwest ambassador:
- Jessie Diggins
- Bryan Fish
- Team Gregg
- Nicole Schneider
- Yuriy Gusev
- Ian Torchia
- Abby Jarzin
- Loppet Nordic Racing
- CXC Team
- Northern Michigan Univ
- Adam Loomis
- Ben Loomis
Collegiate Racing: Base Camp Marquette
November 7, 2017
Mary Kozloski digs into MTG - Marquette Training Group, a group of current and former NMU skiers that spend most of their summer training in Marquette together, when not off on their own adventures.
LNR JNQ and Collegiate Racing Presentation
November 6, 2017
Loppet Nordic Racing is presentation this Sunday, Nov 12th, for those interested in learning about Junior National Qualifier (JNQ) racing and XC skiing in college. LNR Coaches Chris Harvey and Piotr Bednarski led the discussion with Q&A afterwards - skiers and parents are invited!
Collegiate Racing: Midwest Skiers Summer Training
October 15, 2017
Highlighting the wide range of summer training options for Midwest collegiate skiers, Mary Kozloski interviews skiers Alayna Sonnesyn, Hannah Rudd and Caroline Brisbois about their unique experiences.
Michigan Tech Twin Cities Engagement Event this Weekend
September 19, 2017
Michigan Tech University is holding an alumni and friends of the MTU Varsity Cross Country, Nordic Ski, Track & Field Team event in the Twin Cities this weekend, Sep 23-24. Come out and cheer on the team at the Roy Griak races Saturday morning, then hit the trails at Hyland Park in the afternoon with food and drink afterwards.
Midwest JN and U16 Coaching Openings
September 12, 2017
CXC and Midwest junior committee has posted openings for Midwest Junior National and NENSA U16 Coaching positions for the big events coming in March 2018. Application deadline is mid-October.
Related:
Job Opening: Ski Technician at NTDC in Thunder Bay
Tom Smith Announced as Michigan Tech Nordic Coach
June 13, 2017
Tom Smith has been named the head coach of the Michigan Tech men's and women's Nordic ski teams MTU athletic director Dr. Suzanne Sanregret announced today. Smith, a native of Bend, Oregon, comes to Houghton after serving as the Head Coach of the Sun Valley Ski Education Foundation in Ketchum, ID, and brings 14 years of coaching experience.
2016-17 Season Highlights
May 1, 2017
Catch highlights plus full results and photos from the 2016-2017 collegiate racing season.