Racing Archive
Laddies Loppet Cross-Country Coverage
September 5, 2004
After a soaking night of rain, riders hit a modified course on Sunday for the cross-country races. The infamous lakeside drops were removed, but riders still found plenty of challengers, not to mention a little mud. Rain was featured off and on Sunday, with the heaviest downpours once again coming in for the expert/comp race. Doug Swanson banked a big gap over Jeff Hall by midway through the experts race then held on as Hall stormed back to close the gap to less than 10 seconds at the finish line.
Photoset:

100 Expert/Comp photos
Videos:

Citizen Highlights - 4.8MB,

Sport Highlights - 7.6MB,

Comp/Expert Highlights - 13.2MB
Laddies Loppet Short Track Coverage
September 4, 2004
The Laddies Loppet weekend kicked off on Saturday with the short track racing events. A fast course with one deceiving hill made for a lot of fun for both racers as well as spectators. Heavy rain broke suddenly on the expert race, bringing it to a halt after just a few laps.
Photoset:

35 photos
Videos:

Short Track Highlights - 5.8MB,

Stormy Expert Race - 8.8MB
Kangaroo Hoppet Report
September 2, 2004
Ari Ofsevit checks again in from Australia, this time posting a full race report on his Kangaroo Hoppet adventure from last weekend.
Fat Tire Tri Recap
August 31, 2004
From Montgomery Mouw: Duluth's Rod Raymond and Mound's Jan Guenther bested the field and lowered the long course records. Raymond held off Brian Narum, last year's champion and course record holder, to win by 2:11 and set a new course record of 2:14:25, 1:46 faster than Narum's old record. "I love this course!" was Raymond's comment after finishing. The women boasted a stellar field including Guenther, White Bear Lake's Julie Olson, a former podium finisher at the Hawaiian Ironman, and rising star Cynthia Bannick. Guenther held off a hard-charging Bannick to win by a mere 11 seconds, and lowered her own course record by an astounding 5:01. Olson finished third after having some troubles on the bike. In the women's short course Ingrid Melander repeated as champion. Both the long and short course saw numerous age group records fall in what has become one of the country's largest off-road triathlons.
Related:
Photos
Results
St. Paul Capitol Criterium Coverage
August 29, 2004
The St. Paul Capitol and skyline provide a dramatic backdrop of the Capitol Criterium as it races around a nice loop in front of the big dome. We captured photos from the mens Cat 1/2 and womens Cat 1/2/3 events on Sunday.
Photoset:

69 photos
St. Paul Inline Marathon Coverage
August 21, 2004
On one of the coldest August mornings in recent history, the St. Paul Inline Marathon kicked off in downtown St. Paul on Saturday morning. Temperatures rebounded rapidly as thousands of bladers did cruised on the closed streets of Shepard and Warner Rds along the scenic Mississippi riverfront. Chad Hedrick and Franck Cardin broke away early in the Pro Elite field and built up a large lead before Hedrick outsprinted Cardin for the mens title. Hometown hero, Kara Peterson of St. Paul, won the womens title. We collected 440 photos, of which we selected just over 100 of our favorites.
Photoset:

110 photos
Related:
Results
Welch MTB Jam Coverage
August 15, 2004
Yet another beautiful race day as riders hit the trails on the vertically challenged terrain at Welch Village. Those whose stuck around for the comp/expert race caught some of the best bike flying and tree smacking action of the day. Brian Narum and Jenna Zander dominated the expert field. Some other highlights: Stephanie Moats Leibke, 1st Sport woman (and new mom) and Jay Richards, 2nd Expert male (Ore to Shore 48 mile race the day before). Final stop for MNSCS: Laddie's Loppet
Photosets:

Citizen race - 79 photos,

Sport race - 103 photos,

Comp/Expert race - 114 photos
Related:
Results
NSC Velodrome District Champs Photos
August 15, 2004
Trish Gardiner hit the track again on Friday to capture photos from the exciting District Championships at the NSC in Blaine.
Photoset:

Aug 13th - 66 photos
Related:
Results
North Shore Dragon Boat Racing Recap
August 14, 2004
Greg Fangel highlights Saturday's North Shore Dragon Boat Races which included a number of teams stacked with area cross-country skiers.
Summer XC Ski Championships Recap
August 12, 2004
Yuriy Gusev provides an exciting recap of last weekend's Summer XC Ski Championships, including an epic battle among the male contenders. Plus links for full results and photos.
NSC Velodrome Track Photos
August 10, 2004
Matt King and Eric DeGolier were at the Blaine Velodrome last week. Matt is blind. Eric will be riding in the pilot seat when he and Matt King head to Athens to compete in the 2004 Paralympics in September. Trish Gardiner has contributed another round of photos from the NSC.
Photoset:

Aug 4th - 56 photos
Related:
Matt King home page
Ringer Roll Coverage
August 6, 2004
Yet another year of perfect weather for the annual Ringer Roll 10K rollerski race at Baker Park on Friday. With over 100 competitors, the rollerski race is one of the biggest of the season and showcases some of the best juniors in the region. Seniors ruled the day though, as Jenny Wygant (Marwe) and Clayton Keim (Eagle Sport) posted the top times (Owen Hanley had the top Marwe time).
Photoset:

98 photos,

94 photos from Trish Gardiner

Related:
Results
Hennepin-Lake 10K Coverage
August 1, 2004
With temperatures in the 70s, and dewpoints nearly that high, it was a sticky morning run for the Hennepin-Lake Classic races around Lake Calhoun in the Twin Cities. Nearly 1000 runners turned out for 10K and 5K events. Ryan Meissen and Kristen Nicolini won the 10K titles, with Stillwater superstar Luke Watson and Rasa Michniovaite taking the 5K events. We collected some images from the 10K race.
Photoset:

40 photos
Related:
Summary and results
Lilydale Time Trial Coverage
July 18, 2004
Light winds, sunshine and temperatures in the lower 70s were the perfect setting for the Lilydale Time Trial on Sunday morning, just across the river from St. Paul.
Photoset:

59 photos
NSC Velodrome Track Racing Photos
July 16, 2004
Trish Gardiner has contributed photos taken from three track events during this season at the Blaine Velodrome.
Photosets:

Apr 4th - 14 photos,

Jul 11th - 21 photos,

Jul 15th - 47 photos
Northfield Criterium Coverage
July 4, 2004
Northfield, with it's historic downtown district, was the featured backdrop for criterium racing on the Fourth of July. There were also a number of community events ongoing, including kids carnival and parade. We captured images from the Mens 4/5/30+, Mens 3, Womens 1/2/3, and Womens 4/5 events.
Photoset:

102 photos
WORS Stage Race Report
June 29, 2004
Jay Richards provides a weekend recap (w/ photos) of the racing action in the WORS Stage race held last weekend in Merrimac, WI.
Brown's Creek Trail Run Coverage
June 26, 2004
A nice turnout on Saturday morning, under perfect weather conditions, for the Brown's Creek Trail run. A portion of the proceeds from today's event will go towards establishing lighting and a shelter at Brown's Creek. The 10K winners were Todd Munch and Amy Baumler. 5K champs were Tracy Lysne and Taylor Miller.
Photoset:

18 photos
Photoset:

20 photos from Sara Morse
Related:
Results
Hoigaards Canoe Derby Coverage
June 24, 2004
Another perfect evening for canoe racing as the Hoigaards Canoe Derby racing across the Minneapolis chain-of-lakes on Thursday evening. We've posted a collection of images from the event as participants passed from Lake Calhoun and onto Lake of the Isles.
Photoset:

27 photos
Related:
Next week will Hoigaards will feature their second annual Kids Derby's during the Thursday night race.
Glide/Stride/Ride the Divide Coverage
June 20, 2004
The "summer Minn-Finn", the annual Glide/Stride/Ride the Divide events at Buena Vista Ski area were held on Saturday. The full race combines a 10K canoe, 10K run and 20K mountain bike. Youngster Matthew Grundy topped the overall field, edging out Bruce Manske for the title. In the womens race, Karen Manske was the winner.
Photoset:

144 photos by Bill Grundy
Related:
Results
Chippewa Triathlon Coverage
June 14, 2004
The Chippewa Triathlon, a combination of canoeing, mountain biking, and running has become nearly a defacto "summer Birkie" for skiers. Skiers dominated much of the top results again this year: Kate Ellis and Jan Guenther won the womens team; Dave and Josie Nelson won the mixed team, with Grant Nelson and JoAnn Hanowski second and Kim and Craig Rudd third; Phil Rogers won the mens solo; Sarah Kueffer the womens solo; and on.... Bill Grundy contributed hundreds of photos from the event last Saturday.
Photoset:

304 photos by Bill Grundy
Related:
Results
Nature Valley Grand Prix Stillwater Criterium Coverage
June 13, 2004
Big crowds, especially on the 24% grade of Chilkoot hill, were the theme of the day as bright sunshine and warm temps reigned in Stillwater. We collected nearly 700 photos, of which we selected out almost 200 to post online.
Photoset:

Womens race - 86 photos,

Mens race - 95 photos
Related:
CyclingNews: Story and Results
Nature Valley Grand Prix Downtown Criterium Coverage
June 11, 2004
The predicted afternoon storms had perfect timing as the rain clouds dumped on downtown Minneapolis just thirty minutes prior to the start of the womens race. Lightning helped push back the start, and the women ended up racing a shortened and quite wet course. The men lucked out, as the rain moved out and the sun even made a brief appearance for their event. Good crowds for the events, especially along Nicollet Mall and 10th Street (finish area).
Photoset:

Womens race - 38 photos,

Mens race - 62 photos
Related:
CyclingNews: Story and Results
Afton Avalanche Coverage
June 6, 2004
While the temperature gauges read mid 70s, it felt to most like the low 90s as the combination of bright sun and no wind hammered down on the slopes of Afton Alps Sunday afternoon. Jeff Hall and Sara Kylander-Johnson rode away from their respective fields to capture the mens and womens titles. We shot over 550 photos, of which we posted nearly half.
Photoset:

Sport race - 60 photos,

Expert/comp race - 212 photos
Related:
Results
Grand Old Day Events Coverage
June 6, 2004
A beautiful Sunday morning in St. Paul -- sunny, temps in the lower 60s and light winds. Perfect conditions for the 8K inline and running races that start off the Grand Old Day celebration. We selected about 60 photos from over 250 we shot from the two events.
Photoset:

62 photos
Related:
Results
Tour of 10,000 Lakes Lake Harriet Circuit Coverage
May 31, 2004
The Tour of 10,000 Lakes wound down on Monday with a fast circuit race on the roads around Lake Harriet in South Minneapolis. The rain stayed away for most of the events, and the events were relatively crash-free. We captured nearly 200 photos, of which we've posted some of our favorites.
Photoset:

Cat 1/2 and 3 events - 58 photos
Tour of 10,000 Lakes Time Trial Coverage
May 28, 2004
The Memorial Day weekend kicked off with the opening event of the Tour of 10,000 Lakes, a 10 mile time trial on the West River Parkway in Minneapolis. A large field turned out for the event along with numerous spectators along the course. We collected over 350 photos, of which we've posted some of the better images.
Photoset:

179 photos
NSC Thursday Night Track Coverage
May 27, 2004
With temperatures in the mid 60s and no rain clouds in sight, track racing opened up at the NSC Velodrome on Thursday evening. We shot photos from the scratch and miss-and-out format events.
Photoset:

34 photos
Birkie Announces New 15K Event
May 26, 2004
In their most recent newsletter, the Birkie Foundation announced a new event for the 2005 race: a 15K timed, non-competitive (no awards), ski race starting at Mosquito Brook Rd and finishing with the Birkie skiers on the streets of Hayward. The new event will start at 1pm, after many of the Birkie skiers have finished.
Update:
There has still been no formal announcement on a possible new classical race, as mentioned last February by executive director Shirley Riedmann.
Gear West Duathlon Coverage
May 23, 2004
The 2004 Gear West Duathlon was more of a triathlon on Sunday morning as the field had to almost "swim" the course -- rain fell consistently throughout the morning, making for wet and muddy conditions. We captured nearly 550 soggy photos, of which we've posted over 130 broken into three photosets.
Photosets:

Start/first run 26 photos,

Biking leg 59 photos,

Last run/finish 49 photos
Related:
Results
Early Summer XC Ski Race
May 18, 2004
No kidding -- a XC ski race on snow, here in the upper Midwest, in June. Madison Nordic and Tyrol Basin will host a short distance ski race on snow that Tyrol has been storing for a June festival. Start pulling a pair of skis out of storage, the race is June 8th.
Showdown Time Trial Coverage
May 15, 2004
Well over 100 cyclists showed up on Saturday morning for the "USCF vs. USAT Time Trial Showdown". Cool temperatures and mild winds made for nearly perfect time trialing conditions. The showdown could be called a draw: For the men, roadies came out on top with Tim Mulrooney taking first place overall, edging out triathlete David Thompson by 11 seconds. In the womens division, triathlete/time trialist Ann Lembezeder cruised to a whopping 6 minute margin of victory. We captured over 300 photos, of which we've posted a set of 120 images.
Photoset:

120 photos
Related:
Results
Buck Hill Spring Cup Coverage
May 8, 2004
A big turnout for the Minnesota MTB opener with sunny skies and warm temperatures on Buck Hill Saturday. Jeff Hall and Doug Swanson exchanged leads a number of times in the expert mens event, making for one of the closer races in years, with Swanson taking it by 30 seconds over Hall. The course also included an optional jump to add some new thrills (and great spectating) this season. We've weeded through well over 500 photos to pull out almost 300 images (including a lot of jump photos).
Photoset:

Sport Race - 91 photos
Photoset:

Expert/Comp Race - 206 photos
Related:
Results
Black Dog Time Trial Coverage
May 5, 2004
The Black Dog Time Trial series opened up on Wednesday evening under warm temperatures with a nasty south wind. Participants ranged from casual racer to the hard core. We shot over 200 photos, of which we've posted a just over 50 of the best images.
Photoset:

56 photos
2004-2005 US Disabled Ski Team Announced
May 1, 2004
The 2004-2005 edition of the US Ski Team has been announced. St. Paul's Kelly Underkofler was named as one of three women on the cross-country team.
Melpomene 5K Coverage
May 1, 2004
Ideal conditions for the Melpomene races: sunny, temperatures in the low 50s, and light winds. Renae Brown captured the womens title, posting the only sub-18 minute time of the race. Digger Carlson had similar results, winning the mens race in a wide margin with a time of 15:42. Loads of youngster were out enjoying the kids race as well.
Photoset:

42 photos
Related:
Results
2004-2005 US Ski Team Announced
April 27, 2003
The 2004-2005 edition of the US Ski Team has been announced. No big shakeups in the composition of the team. Mahtomedi's Lindsey Weier continues under the Development Team program.
Opus Criterium Coverage
April 27, 2004
After a wet event last week, the Opus Criterium series resumed on Tuesday evening with dry and warmer conditions. There was a good turnout for the famed Yellow Circle racing. We shot photos from the Mens 4/5 35+, Womens, and Open races.
Photoset:

50 photos
Get in Gear 10K Coverage
April 24, 2004
Another big turnout, and another year of good weather, for the annual Get in Gear 10K in Minneapolis on Saturday morning. Over 3800 runners participated in the event with Jared Segera and Denisa Costescu taking the mens and womens titles, respectively.
Photoset:

53 photos
Related:
Results
Interview: Adam Kocinski
April 18, 2004
Adam Kocinski is the general manager for the St. Paul Inline Marathon, an new inline event through the heart of St. Paul that is expecting to draw over 2500 participants.
MTB Season Preview
April 5, 2004
Maplelag's Jay Richards, riding for Bokoo Bikes, has penned a full preview on the upcoming mountain bike racing season.
Related:
Silent Sports WORS feature
Junior Nationals Photos
April 8, 2004
We've received a second set of Junior Nationals photos, this one from Paul Damrow.
Photoset from Harvey's:


Photoset from Damrow:

Skinnyski.com Race Team Weekend Recap
March 31, 2004
The last weekend of racing in this region with many of the team skiers crossing the border to race in the 24 Hours of Lappe. Grant recaps the event, both from on trail and behind the scenes.
Human Race Coverage
March 21, 2004
The Minnesota running season officially kicked off on Sunday with the big Human Race events on Summit Ave in St. Paul. Over 1,500 runners competed in the events with bright sunshine and sub-freezing temperatures. The 8K is the big event, drawing over 1000 participants, and features a double wide start and separate mens and womens finishing stretches. Overall winners were Jason Lehmkuhle and Kristen Nicolini.
Related:
Photoset:


Results
Nordic Combined: Lodwick Takes Three at Nationals
March 21, 2004
Todd Lodwick collected three gold medals at the US Ski Jumping Championships held in Colorado Springs, CO this past weekend. The winners boosted Lodwick's career U.S. championships to 12.
MN Marathoners: Eighth Weekend
March 17, 2004
The Minnesota Marathoners continue their ASM tour, last weekend competing in the West Yellowstone Rendezvous.
MN Marathoners: Seventh Weekend
March 14, 2004
Last weekend the Minnesota Marathoners traveled up to Alaska for the Tour of Anchorage. Read about their adventures, including the customary moose sighting.
Beckie Scott 2nd in Pragelato Sprints
March 12, 2004
Beckie Scott wrapped up the World Cup sprint season with a bang, finishing 2nd in the final event.
Chipaloppet 2004 Recap
March 7, 2004
Chip Tabor files a report, complete with photos, on the 2004 edition of the Chipaloppet. Numbers were up this year, could the Chippie be going mainstream?
New Birkie Classical Race
March 3, 2004
In an article from the Sawyer County Record, Birkie director Shirley Riedmann reveals a new major Birkie event, a 26K classical race starting at Hwy OO and finishing on the streets of Hayward. The article also highlights the major grooming effort for this year's event.
MN Marathoners: Sixth Weekend
March 1, 2004
With a weekend off from racing, the MN Marathoners experience some downhill action (and adventure) in Bozeman, MT.
Skinnyski.com Race Team Weekend Recap
February 24, 2004
The big Birkie weekend with nearly the full team completing the 51K trek from Cable to Hayward. Great race stories from Abbi May, Margie Nelson, Jay Richards, Josie Nelson, John Munger, Per Nelson, and Brian May.
MN Marathoners: Fifth Race Weekend
February 17, 2004
The Minnesota Marathoners tackle the Birkie -- need we say more?
MNSCS Revived
February 23, 2004
The Minnesota State Championship Series returns this season as a formal organization, reviving the popular mountain bike race series.
MN Marathoners: Fourth Race Weekend
February 17, 2004
Justin writes about burgers and bets as the Minnesota Marathoners hit the mighty Minn Finn.
Also posted:
MN Marathoners Third Weekend (Mora)
World Juniors: Williams Takes Two Top 15th Placings
February 8, 2004
Wrap up on the World Junior Championships in Stryn, Norway:
Feb 3 Womens 15K/Mens 30K Classical - Lindsey Weier posted the top US time, finishing 19th on the soggy opening day.
Feb 5 Womens 5K/Mens 10K Freestyle - Lindsay Williams notched an impressive 14th placing under rainy conditions.
Feb 7 Womens/Mens Sprints - Lindsay Williams cracked the quarterfinals of the World Jr Sprints, posting a 14th place finish.
Feb 8 Womens/Mens Relays - The womens team captured 10th in the 4x5K relays in the final day of competition. The mens team was 17th.
Macalester Cuts Ski Program
February 4, 2004
On Tuesday, Macalester abruptly announced it would drop its Nordic ski team from varsity status. The team is asking for community support to possibly help restore the program.
MN Marathoners: Second Race Weekend
February 3, 2004
Most of the Minnesota Marathon Skiers were out East last weekend, competing in the Craftbury Marathon.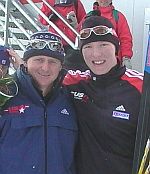 Biathlon: Ben Byrne 4th in World Juniors!
January 27, 2004
Bovey's Ben Byrne notched it up another level on Tuesday, scoring an incredible 4th place finish in the World Juniors Youth Men's 7.5K Sprint competition at Lanslebourg, Savoie, France. (Photo: Coach Vladimir Cervenka with Ben Byrne / US Biathlon)
Related:
Photos: #1, #2
Jan 28 Brian Olsen 14th in Juniors Sprint
Jan 26 Annilies Cook 15th on Day 2
Jan 25 Ben Byrne 13th in World Juniors
MN Marathoners: First Race Weekend
January 26, 2004
The Minnesota Marathon Skiers hit the road for the first big race weekend, racking up lots of miles and little sleep -- plus some racing.
Telemark NorAm SuperTour: Classical Races Coverage
January 25, 2004
Rebecca Dussault wrapped up her dominating NorAm season with a big win in the final race at Telemark Resort on Sunday. Dussault won by nearly 45 seconds, with Melissa Orem and Madeleine Williams rounding out the top three in the womens mass start 10K classical event. In the mens race, Ivan Babikov also put his exclaimation on the series, staking out the top spot in the mens 15K field. David Chamlberlain was second with Rhinelander's Chris Cook third. Chad Giese notched a strong fourth place, Bryan Cook 10th. Rachel Daw was 9th. We've posted over 130 images along with two video highlights from Sunday's events.
Related:
Race Summary Press Release by Ron Bergin
Telemark NorAm SuperTour: Freestyle Races Coverage
January 24, 2004
After being delayed by an hour, the Telemark NorAm SuperTour freestyle races fired up under bright, sunny skies and warming temperatures. Rebecca Dussault continued her remarkable comeback season with yet another victory today in the final round of SuperTour events. Ivan Babikov was the dominate force in the mens 10K race, topping the field by nearly 50 seconds. 150 photos online now, along with results linked in.
Related:
Race Summary Press Release by Ron Bergin
Telemark NorAm SuperTour: Sprints Coverage
January 21, 2004
Strong winds and brisk temperatures, along with a hilly course combined for some tough sprinting conditions at Telemark on Wednesday afternoon. The mens final saw some of the best in the Nation: Andrew Newell, Leif Zimmermann, Dave Chamberlain, and Chris Cook dualed down to the final 100 meters with Dave Chamberlain taking the victory. In the womens final, Kikkan Randall retained her title as sprint queen, holding off Rebecca Dussault in the finals. Over 50 photos plus video clips of the finals online now with full results linked in.
Related:
Race Summary Press Release by Ron Bergin
Mt Itasca NorAm SuperTour Freestyle Results
January 18, 2004
After pushing the start back by nearly four hours, the freestyle races at Mt Itasca fired up with some tough temperatures. Rhinelander's Chris Cook took the mens freestyle title, topping Saturday's winner Ivan Babikov. Chad Giese was 3rd with Twin Cities based Owen Hanley nailing down a 5th place finish. Sigrid Aas pounded out a strong pace, finishing almost a minute in front of Madeleine Williams to win the womens race. Full results linked in. New photoset from Ron Harvey added.
Related:
Race Summary by Piotr Bednarski
Mt Itasca NorAm SuperTour Classical Results
January 17, 2004
Mass start classic race was the format for Saturday's NorAm SuperTour events at mighty Mt. Itasca in Coleraine, MN. Mahtomedi's Lindsey Weier topped the entire womens field with Canadian Ivan Babikov posting the fastest mens time. Chris Cook and Chad Giese had a photo finish for 3rd with Cook taking it, Matt Weier 6th, Cory Wubbels 7th. Lindsay Williams was 5th overall (2nd OJ). Full results linked in, plus a few photos. Another set of photos posted, this one from Don Harris. (Photo: Weier's finish / Bill Snellman)
Related:
Race Summary by Piotr Bednarski
MN Marathoners: Preparing
January 14, 2004
Pat Lorentz outlines his preparation for the upcoming marathon race series.
World Junior Championship Team Named
January 12, 2004
A number of top Midwest skiers have made the World Junior Championship team this year: Lindsay Williams, Lindsey Weier, Sonne Nordgren, and Tim Damrow. The World Junior Championships start February 3rd in Stryn, Norway.
Nationals: Flora, Konrad take final titles
January 11, 2004
The US Nationals wound down on Sunday with one last (big) event -- the mens 50K and womens 30K freestyle races. Lars Flora scooped up another medal, this one gold in winner the mens event. Sarah Konrad edged out Aubrey Smith for the womens title. Area skiers: Chad Giese 5th, Matt Weier 6th, Cory Wubbels 10th; Diane Tremblay 7th, Corey Coogan 8th, Jenny Ryan 9th.
Related:
Mens results
Womens results
Nationals Photosets:


Photos by Ian Harvey/Toko


Photos by Paul and Kelly Damrow
Minnesota Marathoners
January 9, 2004
A group of Hasting's buddies, Justin Pavlish, Evan Pengelly, Pat Lorentz, and Dan Campbell, are setting out this month to compete in eight of the American Ski Marathon races. Follow their adventures this winter as they file reports from each venue.
Nationals: Zimmerman, Randall Sprint Champs on Day 4
January 8, 2004
Today's format was the 1K sprints at US Nationals. Carl Swenson made it to the finals, but Leif Zimmermann came around him in the final 100 meters to win the mens title. Kikkan Randall won her second sprint title. Hastings native Lindsay Williams was 5th, Duluth's Carolyn Treacy 6th and Rachel Daw 12th. Rhinelander's Chris Cook was 7th, with Mora's hometown hero Chad Giese 11th.
Related:
Mens results
Womens results
China Vasaloppet Coverage
January 7, 2003
Rainbow Resort's Amy Xu has sent in a number of photos, along with a copy of the results from the 2004 China Vasaloppet.
Related:
Results
Photoset: Photos by Amy Xu
Nationals: Swenson, Dussault Yet Again on Day 3
January 6, 2004
Short skate was the race Tuesday at US Nationals in Rumford, Maine. Rebecca Dussault continues to be almost unbeatable, winning her third consectutive title this week in taking the womens 5K freestyle. Carl Swenson continues his run as well, besting the mens 10K field and posting the only sub 23 minute time of the day. Chad Giese was 11th, Matt Weier 16th, Garrott Kuzzy 17th. Rachel Daw was 15th, Lindsay Williams 21st.
Related:
Mens results
Womens results
Nationals: Swenson, Dussault Again on Day 2
January 5, 2004
US Nationals continued on Monday with the womens 5K and mens 10K classical races. Canadians took three of the top four places in the mens race, with Carl Swenson coming in 5th to place first for the US skiers. Rebecca Dussault topped the womens senior field, posting the only sub 15 minute time today. Duluth's Rachel Daw was 8th. Lindsey Weier was second in the juniors division. Chad Giese finished 12th today, less than 40 seconds back of Swenson. Over 450 skiers competed today in a record field for Nationals.
Related:
Mens results
Womens results
Nordic Combined: Lodwick Wins Schonach World Cup!
January 4, 2004
On fire -- is the best way to describe Todd Lodwick performances as of late. Today in Schonach, Germany, Lodwick won his ninth nordic combined World Cup race of his career in an exciting three-way photo finish! The victory also gives Lodwick the overall crown for the German Grand Prix.
Related:
Photo #1, Photo #2, Photo #3, Photo #4, Photo #5, Photo #6
Biathlon: World Junior Trials Day 3
January 4, 2003
The World Junior Biathlon Trials wrapped up on Saturday with the final day of competition. World Team selections were announced, with Minnesotans dominating the composition.
Nationals: Swenson and Dussault Take Opening Day; Giese Third!
January 3, 2004
Carl Swenson, fresh off the World Cup circuit, came home to take the mens 30K classic in the opening day of US Nationals. Rebecca Dussault continued her incredible comeback season, taking the womens 15K national title (Martina Stursova posted the fastest womens time of the day). It was Swenson's ninth US title, but his first in classical technique. Twin Cities based Chad Giese continues to show big improvements this season, taking third today! Rhinelander's Chris Cook was 6th. Lindsey Weier was 15th (2nd junior). Roseville's Tim Damrow post the top junior mens time.
Related:
Mens results
Womens results
Photoset: Photos by Andy Canniff/Fischer
US Nationals Begins on Saturday
January 2, 2003
The U.S. Cross Country Championships start on Saturday in Rumford, Maine. A big field is expected as berths for the U-23 Championships as well as the World Junior Championships are also on the line.
Biathlon: World Junior Trials Day 2
January 2, 2003
Day 2 of the World Junior Biathlon Trials in Coleraine, MN. Minnesota skiers continued to do well, with Brian Olsen and Brynden Manbeck taking victories again on Thursday.
Nordic Combined: Lodwick Makes Podium Again
January 2, 2003
Just days after his first World Cup podium in years, Todd Lodwick repeated his performance, taking third in the second stop on German Grand Prix.
Biathlon: World Junior Trials Day 1
December 31, 2003
The World Junior Biathlon Trials got underway on Wednesday at Mount Itasca in Coleraine, MN. Minnesota skiers dominated the opening sprint competition, winning all four categories.
Nordic Combined: Lodwick Returns to the Podium!
December 30, 2003
Todd Lodwick made a return to the World Cup podium after to a two-year absence, finishing third on Tuesday in Oberhof, Germany. Lodwick was fifth after the jumping round then moved up two places during the ski race.
Beckie Scott, Thomas Alsgaard Go Gold!
December 17, 2003
The Court of Arbitration for Sport (CAS) ruled on Thursday morning to completely strip both Olga Danilova and Johan Muehlegg of ALL of their Salt Lake Olympic medals! This means a number of skiers, including Beckie Scott should move up to gold. The IOC is now expected to make a final ruling by March 15, 2004.
Freeman Fifth!
December 13, 2003
Improving upon last week's sixth place finish, Kris Freeman today notched an excellent fifth place finish in the mens 15K classical World Cup race in Davos, Switzerland. This was the best U.S. finish in a World Cup race since 1984. Carl Swenson was 41st, Lars Flora 44th.
Freeman 6th in World Cup Race!
December 6, 2003
Kris Freeman, racing in a 30K freestyle mass start World Cup race in Dobbiaco, Italy, tied for sixth place and less than two seconds from winning! This was the best U.S. finish in a World Cup race since 1984. Carl Swenson also had an incredible finish, taking 13th. Canadian Beckie Scott pulled down a 12th place finish in the womens race.
2003-2004 Skinnyski.com Racing Team Announced
November 29, 2003
We're proud to announce the 2003-2004 Skinnyski.com Racing Team, this year composed of twelve top skiers from around the region.
Skinnyski.com Racing Team Page
2004 China Vasaloppet
November 18, 2003
The 2004 China Vasaloppet will be earlier on the calendar this season and features an incredible sprint event on Tian'Anmen Square. Amy Xu, of Rainbow Resort, is leading a group to participate again this year.
MN State Cyclocross Championships Coverage
November 9, 2003
There was a strong turnout on Sunday for the MN State Cyclocross Championships with riders coming from as far away as Fargo and Manitoba. Doug Swanson repeated as State Champion in the A race, nearly lapping the entire field in the process.
Photosets:

B Race - 122 photos,

A Race - 126 photos
2003-2004 Racing Season Preview
November 3, 2003
The racing season is only a month away. We've put together a brief overview of the racing scene and roll out the full calendar.
Interview: Garrett Heath
October 29, 2003
Becoming a dominating force on the cross-country running and skiing scene last year, Winona's Garrett Heath enters his senior year hoping to repeat his string of victories again this season. We interviewed him earlier this month on his training, especially related to XC skiing.
Graystone Trail Run Results
October 25, 2003
Over 80 runners turned out for the Graystone Trail run in St. Cloud on Saturday morning. Colin Gardner-Sprin and Lisa Ann Trainer were the men's and women's champions in the 25K event, with Joshua Drivdahl and Cindy Schroeder taking the 12.5K crowns.
Jack O' Lantern Cyclocross Coverage
October 25, 2003
Crisp temperatures and a cloudy sky with a hint of rain in the air: perfect cyclocross weather. We checked out the A and B races at the Jack O' Lantern event in Ham Lake on Saturday.
Photosets:

B Race - 81 photos,

A Race - 60 photos
Related:
Three Chequamegon video clips added
Biathlon: Fall Festival Coverage
October 21, 2003
The annual Minnesota Biathlon Fall Festival was held last weekend at Camp Ripley. Event summary, full results, and photos have been posted.
Interview: Owen Hanley
October 20, 2003
Owen Hanley burst onto the citizen's racing scene last season with a number of top finishes. He's been hard at work this off-season training with Chad Giese and will start racing in just a few weeks.
Twin Cities Marathon Coverage
October 5, 2003
Yet another year of perfect conditions for the Twin Cities Marathon, as thousands of runners departed downtown Minneapolis for the long (or short) run over to the State Capitol in St. Paul. It was a day of victories for Americans, both young and old, as youngster Blake Russell of Massachuetts upset returning champions to win the womens title. In the mens race, the old guys showed they've still got it as another American, 42 year old Eddy Hellybuyck of New Mexico took the overall marathon title. In the shortcut race, the TC 10 miles champions were top elite runners Chris Lundstrom and Katie McGregor (she was ninth overall!).
Photosets:

Marathon - 84 photos,

TC 10 Mile - 30 photos
Masters SuperTour
September 28, 2003
Three SuperTour hosts, Soldier Hollow, Preque Isle and Telemark will introduce "SuperTour Masters" as a way to recognize the valuable participation in those events by Master and recreational competitors.
Related:
USSA SuperTour Masters Announcement
Birkie Elite Wave Goes FIS Legal
September 26, 2003
The Birkie office has sent out notices to elite wave skiers stating they will need to have FIS legal ski suits (conforming to FIS commercial markings rules) for the 2004 Birkie or they will be dropped back to Wave 1. FIS Marathon Cup skiers and elite wave skiers (both men and women) will start in the same wave this year.
Related:
FIS Commercial Markings Rules
Birkie Planning
Noquemanon Fires Up
September 25, 2003
The Noquemanon will be part of a week long celebration this season as the National Masters events will occur during the week leading up to the event. Plus the Noquemanon will feature a Ski Hall of Fame induction ceremony.
Special Edition: 2003 Chequamegon 40
September 13, 2003
Putting an end to the winning streak of Steve Tilford, Doug Swanson put the hammer down early ... and kept it down, winning the 2003 Chequamegon in a big way. Mary Grigson repeated as the womens champion. The course had a good share of puddles, but the recent rains helped firm up many of the climbs and made for a fast course. We've posted over 230 images, broken into 7 photo sets.
Related:
Official Press Release: Race Summary
State Masters Track Championships Coverage
September 13, 2003
The National Sports Center's velodrome in Blaine saw cycling action on Saturday with racers in the State Masters Track Championships. We captured some images of the early afternoon events.
Photoset:

18 photos
Capitol Criterium Coverage
September 7, 2003
The Minnesota State Capitol in downtown St. Paul was the scene on Sunday for a full day of criterium racing. We caught the womens category 4 and juniors races late morning.
Photoset:

111 photos
Laddies Loppet XC Coverage
August 31, 2003
Temperatures in the lower 70s and a gentle breeze made a great combination for the cross-country racing portion of the Laddies Loppet. The expert mens race was again dominated by Doug Swanson. Anne Grabowski won the womens expert title. Spectators were treated to some thrilling exhibitions on Maplelag's famed lakeside drops, with at least a few riders "making waves".
Video clip:

Launch (3.6 MB),

Citizen Race (5.9 MB),

Sport Race (7.1 MB),

Hangin On (13.2 MB)
Photoset:

164 photos
Kids Race Photoset:

35 photos
Related:
Results
Laddies Loppet Short Track Coverage
August 30, 2003
Maplelag kicked off their mountain bike racing weekend with the short track events on Saturday. Doug Swanson swamped the field, leaving the rest of the riders to race for second place in the mens expert race (his brother, Dan, nabbed second). Cool and dry weather make for great racing (and spectating) conditions, albeit a bit dusty.
Video clip:

A lap with Doug (14.5 MB),

Citizen Race (3.7 MB),

Sport Race - 2X Speed (8.5 MB),

Comp Race (5.8 MB)
Photoset:

165 photos
Related:
Results
Paris-Brest-Paris Report
August 29, 2003
Local skier/cyclist Tim Bruns recently completed the 2003 Paris-Brest-Paris, the worlds oldest bicycling event. The event races from Paris to Brest and back again, over 750 miles, and must be completed in under 90 hours.
St. Paul TriAmerica Coverage
August 24, 2003
The TriAmerica series made their St. Paul tour stop on Sunday, with a triathlon event based out of Tanner Lake on the east side metro. Strong SW winds gave the competitors some extra work on the cycling leg, with otherwise near perfect conditions.
Photoset:

108 photos
Summer XC Ski Championship Coverage
August 15, 2003
Don Fariss generously supplied this report (and photos): Saturday August 9th marked the running of the first Summer Cross Country Ski Championship in Blue Mound, WI. Entrants' level of summer training was tested via a challenging, interval-start 5 km trail run at Blue Mound State Park. The afternoon brought a demanding 6 kilometer, uphill, pursuit-start roller ski race with nearly 800 vertical feet of elevation (juniors skied half this distance and climbed 300 feet). Men's honors went to Andre Watt of Antonina Ski School in Duluth and female to Lorie Wesolek of the Team Rossignol of Stoughton, WI. Junior winners were Jeff Schacherl and Jenna Acker, both from the MadNorSki - Yunost program. 41 photos from Fariss and full results now online.
MN State Championship Criterium Coverage
August 10, 2003
The University of Minnesota campus was host to a full day of criterium racing on Sunday. The 3/4 mile course was fairly flat, but featured some tight corners, including a hairpin on the north end that snagged a number of victims. The womens race was marred when a recreational cyclist accidently crossed the course in front of the womens field on the final hairpin, causing two of the lead women to crash. Photos from the Cat 4/5, womens, kids and mens Cat 1/2/3 events.
Photoset:

172 photos
LifeTime Fitness Triathlon Coverage
August 2, 2003
Barb Lindquist, logging a dominating cycling split, hammered the field to easily repeat as the LifeTime Fitness Triathlon champion and capturing the huge overall purse. Simon Whitfield and Greg Bennett had great run times but were unable to reel in Lindquist, settling for second and third respectively.
Photoset:

141 photos
Ringer Roll 10K Coverage
August 1, 2003
The rollerski racing season kicked off under perfect conditions at Baker Park on Friday morning. Well over 100 skiers participated in the 3rd annual event. Ben Dubay, using Elpex Race skis, posted the fastest time (sub-21) with Nikolai Anikin logging the best "stock" model time (on Marwe 610s). Jenny Wygant posted the best womens time, just edging out Allison Gorsuch by four seconds. 80 photos and full results now online.
Hoigaards Canoe Derby Coverage
July 31, 2003
Hoigaards featured a special 'Skinnyski Division' at their big canoe derby race Thursday night on the chain of Minneapolis lakes. The clouds looked a little dark and some thunder rumbled off and on but the rain was brief and fairly light.
Photoset:

71 photos
Hopkins Raspberry Festival Criterium Coverage
July 13, 2003
The Raspberry Festival Criterium packed in a full day of racing on the streets of downtown Hopkins on Sunday. We caught the action during the Cat 3-4, kids, and Pro/1-3 races.
Photoset:

188 photos
Wilderness Trek 10K Run Coverage
July 6, 2003
A number of area skiers competed in the annual Wilderness Trek 10K trail run in Tofte on Friday morning. Greg Hexum, a top notch snowshoe racer, won the overall title.
Related:
Photos by Greg Fangel
Tutto Bene 2 mile, 10K Coverage
July 4, 2003
A good crowd of runners turned out for the Fourth of July Tutto Bene races in Bemidji on Friday morning. Temperatures in the upper 60s and breezy NE winds, along with a sprinkler near the finish, made for some great racing conditions. Over 350 runners took part in the events. Corey White and Jill Field were the mens and womens 10K champs, respectively.
Photoset:

76 photos
Related:
Bemidji Pioneer article
Run for Roses Coverage
June 28, 2003
Temperatures in the mid 60s with a cloudy sky (but no rain) made for near perfect conditions for the annual Run for the Roses events in Roseville on Saturday morning. Photos now posted from all three events: 10K inline race, 5K and 10K running races.
Photoset:

58 photos
Related:
Results
Ride and Glide TT Report
June 19, 2003
Steve Thatcher reports on the Ride and Glide's June 17th Time Trial, part of their Tuesday night time trial series.
Last Weekend Race Reports
June 9, 2003
Two race reports from last weekend:
Chippewa Triathlon - Marsh Jones gives a detailed account of his racing experience at the mighty Chippewa Triathlon.
Cascade Classic - A brief racing report from Ben Popp on the Cascade Classic in Osceola. Popp finished fifth overall.
Chippewa Triathlon Coverage
June 8, 2003
Lots of area skiers competed in the Chippewa Triathlon near Cass Lake on Saturday morning. The event combined 16 miles of canoeing, 27 miles of mountain biking, and 7 miles of running. Solo male winner was Yuyudan Hoppe, solo female Julie Larson. Dave and Josie Nelson took the mixed doubles.
Photoset:

243 photos from Bill Grundy
Related:
Results
Cascade Classic Coverage
June 7, 2003
A small group of riders managed to break away from the lead pack and three stayed away to sweep the top three places at the Cascade Classic on Saturday morning. Overall: Paul Ellis first, Adam Bergman second, Jeremy Sartain third. The rain stayed away and light winds with cloudy skies made for near perfect racing conditions.
Photoset:

66 photos
Related:
Results
Afton Avalanche MTB Coverage
June 1, 2003
Another big turnout for an area MTB race as the Afton Avalanche took to the hills of Afton Alps on Sunday. Bright sunshine and warmer than expected temperatures made for near perfect conditions. Jeff Hall and Anne Grabowski powered away from the mens and womens fields, respectively, to take the expert titles. Over 80 photos from the sport race, and more than 125 from the comp and expert races.
Photoset:

208 photos
Northern Lakes Coverage
May 31, 2003
There was a strong turnout for the Northern Lakes races, along with the inaugural Marcia Wellstone Marksun 5K up in White Bear Lake on Saturday morning. Patrick Russell easily ran away from the mens field, winning the 30K event by well over 5 minutes.
Photoset:

6 photos
Related:
5K Results
Hoigaards Canoe Derby Coverage
May 29, 2003
Summer-like weather greeted the competitors for the opening race of the Hoigaards Canoe Derby series on Thursday night. An aggressive crop of milfoil on the smaller lakes and channels helped keep the speed in check.
Photoset:

58 photos
Gear West Duathlon Coverage
May 18, 2003
Nice temperatures and a breezy south wind made a great setting for the unofficial start to the triathlon season with the Gear West Dualthon in Orono on Sunday morning. Kim Fordman-Lein pulled away in the final run leg to take the womens title. The mens race was decided during the cycling segment with the eventual winner David Thompson posting the days fastest time and taking a big lead into the last run.
Photoset:

109 photos
Related:
Results
Buck Hill Spring Cup Coverage
May 10, 2003
A strong turnout again this year for the Spring Cup race at Buck Hill. In the expert race, Doug Swanson bolted from the front and never looked back, winning by over six minutes. In the womens race, Jenna Zander took the crown. Photos from both the comp/expert race as well as the sport race.
Photoset:

117 photos
Related:
Results
Black Dog Time Trial Coverage
May 7, 2003
Light winds and temperatures in the lower 60s made for a perfect start to the Black Dog Time Trial series. Unfortunately, due to some equipment problems we only got a small set of photos (hopefully we'll hit it again this season).
Photoset:

12 photos
Related:
Black Dog TT
Paddle Report: Snake River Canoe Race
May 7, 2003
Marsh Jones files a report on his racing experience at the Snake River Canoe Race held last Saturday. [ A close look at the results will turn up a number of area skiers. -- Ed. ]
Related:
Results
Melpomene 5K Coverage
May 3, 2003
Melpomene's annual 5K had a little added star power this weekend as elite womens runner Carrie Tollefson dominated the womens field, shattering the course record and winning by over a minute with a time of 16:34. Edwin Kimaiko was the men's winner. Over 400 runners participated in the mens and womens race, plus big fields for both the kids race and walkers event.
Photoset:

54 photos
Related:
Results
Team USA Minnesota: Carrie Tollefson
Fast Tracks
May 2, 2003
Dave Johnson summarizes some of the major discussions from the spring Coaches Association meeting along with a highlight on the CXC dryland session and a set of photos.
Related:
May 10-11 CXC Coaches Symposium
Get in Gear 10K Coverage
April 26, 2003
Nearly 4,000 runners competed today in the annual Get in Gear 10K, one of the "season-openers" for running. Kenyan Jared Segera broke away early and held the lead ahead of second place finisher Andrew Masai. Russian Lynbov Kremleva repeated as womens champion, winning by over a minute and a half.
Photoset:

133 photos
Related:
Results
Opus Criterium Coverage
April 22, 2003
A sure sign of spring -- the Opus Criterium series kicked off on the famous Yellow Circle Drive course in Minnetonka on Tuesday evening.
Photoset:


Related:
Opus Criterium Series
Minnesota Cycling Federation
Trail Mix Coverage
April 19, 2003
With a fresh pass of rain to help "muddy up" the Hyland trails, the annual Trail Mix 25K and 50K running races were held on Saturday morning. Charles Hubbard repeated as 50K champion for the eighth year in a row! Brian May started his own streak, winning the 25K event for the second year. Lisa Ann Trainor and Johanna Olson won the 50K and 25K womens titles, respectively.
Photoset:


Results
Cycling Season Preview
April 30, 2003
Ben Popp has filed a brief preview of the 2003 cycling season as it swings into full gear.
Paddle Season Preview
April 13, 2003
Marsh Jones outlines the 2003 Canoe/Kayak Racing season, including some places to get started, highlights on the favorite races, and a review of some of the top racers.
Related:
MCA: What is Marathon Canoe Racing?
MTB Season Preview
April 6, 2003
Jay Richards has penned a preview of the MTB racing scene in the Midwest for this season, including links to most of the major series and events, along with a short look at some of the top Minnesota riders. We hope to offer more season previews for other silent sports in the coming weeks.
Related:
Silent Sports: WORS 2003 Preview
Spring Series Winds Down
April 3, 2003
The International Spring Series wraps up this weekend with a final sprint relay on Saturday. Scott Wilson sent in some photos from the events earlier this week:


And results can be found at itiming.com.
Skari Steps Down
March 28, 2003
First it was Thomas Alsgaard, now Norwegian superstar Bente Skari has declared she is retiring. Skari cited a lack of motivation as her primary reason for calling it quits.
Chinese Vasaloppet Photos
March 25, 2003
Earlier this month, Amy Xu of Rainbow Resort led a group over for the Chinese Vasaloppet that was held on March 15th. She has submitted a nice set of photos from their adventure.
Photoset:

Junior Nationals: Relays
March 15, 2003
The last day of Junior Olympic Nationals in Alaska was highlighted by the closing relays. Lindsay Williams, Lindsey Weier and Maria Stuber teamed up to combine for a dominating Midwest relay win in the OJ girls division. Other top results: Midwest J1 girls 4th and 8th, Midwest OJ boys 6th and 7th, Midwest J1 boys 5th.
Related:
Girls Results
Boys Results
Photoset from Paul Damrow:


Photoset #2 from Paul Damrow:

Junior Nationals: Classical
March 14, 2003
Another bitter cold day in Fairbanks, Alaska for the Junior Olympics with the start pushed back at least an hour on Friday. Lindsay Weier wrapped up her second OJ title of the week, winning the 5K classical race by 17 seconds. Garrott Heath cracked the podium in the boys 10K J1 race, finishing 3rd overall. Other top performances: Lindsay Williams, OJ 4th, Maria Stuber, OJ 9th, Tim Damrow 6th J1, Bryan Cook, OJ 6th.
Related:
Girls 5K Results
Boys 10K Results

Junior Nationals: Freestyle
March 13, 2003
Lindsey Weier and Courtney Dauwalter won the girls OJ and J1 freestyle titles on Wednesday at Junior Olympics in Fairbanks, Alaska. Dauwalter dominated the J1 race, winning the 10K title by over 45 seconds (and her time would have placed her 2nd, after Weier, in the OJ race). In a fortuitous drawing, Dauwalter and Weier had interval starts just 15 seconds apart. The weather was very cold, with temperatures just barely above zero. The midwest was very well represented throughout the results. Some of the other top performances: Nicole Olson, 4th J1, Maria Stuber 5th OJ, Bryan Cook, 3rd OJ, Andy Cheeseboro, 7th J1, Garrett Heath, 8th J1.
Related:
Girls 10K Results
Boys 15K Results
Daily News: Midwest Magic
Junior Nationals: Sprints
March 10, 2003
Lindsay Williams dominated the OJ division sprints at day one of Junior Nationals in Fairbanks, Alaska. Williams won the OJ sprint final by a over 5 seconds. Ben Cline had an exciting finish in the boys OJ final, losing out by a mere 3/10s of second. Other results: Lindsey Weier won the OJ sprints B final.
Related:
Results
World Championships: Mens 50K Freestyle
March 9, 2003
We're late in publishing it but here's Paul Belknap 50K mens freestyle recap and comments on the World Championships, along with a big set of photos.
US Biathlon Nationals: Day 3
March 2, 2003
Final day of Biathlon Nationals and Minnesota natives picked up 3 of the top five senior mens spots: Jacob Beste 2nd, Ben Kremer 4th, Dan Campbell 5th. Sarah Riley was 2nd in the senior womens field.
Related:
Biathlon World Championship Team Named
US Biathlon Nationals: Day 2
March 1, 2003
Hastings native Dan Campbell, who has been recovering from severe frostbite, surged today to win the mens pursuit title in Lake Placid, NY. Tracy Barnes also had a big comeback, winning the womens crown.
World Championships: Swenson nails 5th place in 50K Freestyle!
March 1, 2003
Carl Swenson continued the strong showing for the US in the World Championships, nailing down a 5th place finish in the mens 50K freestyle race on Saturday. Swenson broke a pole around 14K into the race and was in 2nd place at the time. He finished 40 seconds off the podium and topped all skiers from traditional powerhouses Norway and Italy.
Related:
Results
World Championships: Nordic Combined, Womens 30K, Sprints
February 28, 2003
A new update from Paul Belknap covering Friday's exciting and historic Nordic Combined victory for the US, along with recaps of the womens 30K freestyle and mens and womens sprints.
G-O-L-D! Johnny Spillane Wins World Championship Nordic Combined!
February 28, 2003
Johnny Spillane won the World Championships Nordic Combined Sprint on Friday, becoming the first American to ever win a World Championship gold medal in Nordic Combined! Impressively, Spillane was fourth in the jumping competition and broke away in the cross-country skiing to win by just 1.3 seconds. Spillane specifically credited Kris Freeman's fourth place last week as giving him a boost in confidence today. (Photo: FIS Nordic/Intersport)
Related:
Swix Waxing Report from Johnny Spillane's Race
Results
Photos
US Biathlon Nationals: Day 1
February 27, 2003
Sarah Riley of Proctor, MN, won the opening event for the senior woman at US Biathlon Nationals in Lake Placid, NY. Minnesotans Jacob Beste and Dan Campbell notched 4th and 5th places, respectively in the mens senior event. Brian Olsen of Bloomington topped the junior mens field.
World Championships: Mens Pursuit, Relay
February 25, 2003
Paul Belknap has filed a new report on the World Championships, covering Carl Swenson's and Kris Freeman's top 15 finishes in the pursuit, and some exciting moments from the mens relay.
World Championships: Womens Double Pursuit
February 23, 2003
Paul Belknap filed a report from Italy on Saturday's exciting womens duathlon format race in which Canadian Beckie Scott placed sixth, less a second out of the medals. Belknap sent in some great accompanying photos!
World Championships: Kris Freeman 4th in 15K!
February 21, 2003
Kris Freeman kicked his way to the best U.S. finish in the World Championships in more than 20 years, nailing down a 4th place finish in the 15K classical race on Friday. Freeman missed the podium less than 3 seconds.
Freeman Rocks 30K Classical Field at U-23's
February 13, 2003
U.S. skier Kris Freeman blew away the field in the 30K classical race on Thursday at inaugural U-23 Championships in Valdidentro, Italy. Freeman won by nearly two minutes over second place Johann Olsson of Sweden.
Related:
Photos
Results
Nationals: 30K/50K Freestyle
January 12, 2003
US Nationals in Rumford, Maine, wrapped up on Sunday with the big distance event -- womens 30K and mens 50K freestyle. Cold conditions contributed it a fairly sparse field for this final event. Katja Ivanova took yet another title as she won the women's race by nearly a minute over Aubrey Smith. Skinnyski.com Race Team member Sonja Bostrom scored a tenth place finish, with Corey Coogan taking 13th. 2002 Birkie winner Jeannie Wall did not finish. The battle for the mens title appears to have been much closer as Carl Swenson beat our Lars Flora by 14 seconds, with Andrew Johnson another eight seconds back. Chad Giese took a strong sixth placing, with Cory Wubbels 8th, Matt Weier 10th, and Nikolai Anikin 14th. Notable DNFers included Nathan Schultz.
Related:
Men's Results
Women's Results
Yoko/Toko Final Wrapup
Nationals: Sprints
January 9, 2003
Carl Swenson put together some of his best sprinting of the season to take the men's sprint title today at US Nationals in Rumford, Maine. David Chamberlain was second, Lars Flora third, with Kris Freeman fourth. Other top finishers: Chris Cook 6th, Steve Scott 12th, Ben Cline 13th, Cory Wubbels 16th, and Chad Giese 22nd. Katja Ivanova was tops in the womens event. Kikkan Randall was second, Sigrid Aas third, with Aelin Peterson fourth. Other top women results include Lindsay Williams 6th (top junior), Lindsey Weier 14th, and Skinnyski.com Race Team member Sonja Bostrom notched a very sharp 22nd (over 90 women in the field).Paul Damrow contributed a huge set of photos from Nationals -- see link below!
Related:
Men's Results
Women's Results
Photoset:

U.S. Nationals Photos
Nationals: 5K/10K Classic
January 7, 2003
Another day at Nationals, another domination by the Freeman brothers, Kris and Justin. Kris won by over 40 seconds, with Justin edging out Rhinelander's rising rocket, Chris Cook, by a mere six seconds to take second place. In the women's race, Wendy Wagner reclaimed her top podium spot with an equally dominating performance in the womens 5K classic event. Olympian Lindsey Weier posted her most impressive finish of Nationals so far, finishing fourth overall, less than five seconds from the podium. Some of the other top performances by regional skiers: Chad Giese 12th, Andre Watt 16th, Matt Weier 19th; Rachel Daw 16th, Abbi Larson 22nd, and Skinnyski.com Race Team member Sonja Bostrom, 45th.
Related:
Men's Results
Women's Results
Yoko Days 2 and 3 Report

Nationals: 5K/10K Freestyle
January 6, 2003
Nationals picked up again on Monday with the womens 5K and mens 10K freestyle events. Carl Swenson showed he's still glide king, taken the men's event by 30 seconds over Kris Freeman. Wendy Wagner was bumped from the top as Katja Ivanova won for the women. Mahtomedi native Lindsey Weier notched 10th overall. Sonja Bostrom of the Skinnyski.com Race Team pulled down 33rd, and Hopkins star Courtney Dauwalter was 48th in a field of nearly 170 women. Notable men performances include: Chris Cook 9th, Chad Giese 12th, Cory Wubbels 15th, and Garrott Kuzzy 21st, with nearly 200 men competing.
Related:
Men's Results
Women's Results
Nationals: 15K/30K Classic
January 4, 2003
With a winter storm raging, U.S. Nationals kicked off in Rumford, Maine on Saturday morning. Wendy Wagner continued her dominance this season, blowing away the field by more than a minute in the 15K classic event! Olympian Lindsey Weier finished sixth in a highly competitive field (she was only 10 seconds out of third). Skinnyski.com Race Team member Sonja Bostrom notched an impressive 20th place finish.
In the mens 30K event, it was more of the season's same trend: the Freeman brothers, Kris and Justin, took first and second overall, respectively. NMU's Chris Cook pinned down a seventh place, and Minnesotan Chad Giese nailed 10th.
Related:
Men's Results
Women's Results
Yoko Day 1 Report
NMU's Chris Cook wins NCAA 20K Championship!
March 7, 2003
Northern Michigan's Chris Cook won the NCAA mens 20K classical championship on Friday at Dartmouth. The event was a mass start race. Cook, a Rhinelander native, overtook the leader Ethan Foster in the final 200 meters and just held him off at the line to win by 2/10s of a second.
Related:
NCAA Results
2003 NCAA web site
Interview: Adam Swank
February 28, 2003
Interview by Mark Parman: Adam Swank has had a fantastic season, capped by an incredible 16th place in this year's Birkie. Perhaps even more stunning was Brian McKeever's 17th. McKeever has no central vision.
Interview: Matt Liebsch
February 26, 2003
Matt Liebsch -- recognize the name? If you haven't yet, you surely will in the future. This 19 year-old pup, in his first Birkie, just managed to ski to 35th place overall!
Birkie Notes
February 26, 2003
A post-race collection of notes from the big event, including details on the elite wave changes, logo issues, and the heroes who saved the course.
Birkie Stories
February 26, 2003
A selection of reader submitted stories from this year's Birkie. Friends salute Don Maher's historic milestone, Olympian Brochman's race story, and a number of viewpoints from the "trenches", including a 11th waver.
More Birkie Photos
February 25, 2003
We finally had time to process the last sets of Birkie weekend photos:


Barnebirkie


Junior Birkie


Chequamegon 10K Start
CCSA Championships
February 23, 2003
Report from Paul Damrow: The format was changed Friday night because of the anticipated extreme cold that was forecast for Sunday. Both races were held Saturday. The men had a 10K freestyle in the morning, and the 20K classic was shortened to 10K in the afternoon. The women had a 5K freestyle in the morning, and their 15K classic was shortened to 10K in the afternoon. The meet went very well except for a course marking problem in the men's freestyle that confused more than a few skiers. The conditions were great. As expected, NMU dominated, but got some pretty good competition from University of Alaska-Fairbanks. Heidi Hittner from White Bear Lake qualified for the NCAA meet.
Photoset:

Photos from Paul Damrow
Interview: Chuck Olson, White River Sports Timing
February 17, 2003
Better known as itiming, Chuck Olson and gang have become one of the top timing companies and handle some of the biggest events, including the Birkie this weekend.
MIAC Championships Results
February 16, 2003
Photoset:

Photos from Paul Damrow
Photoset:

Photos from Sean Laidig
Junior World Championships Coverage
February 10, 2003
- Photos from Kai Salmela:


- Results
Junior Worlds Team Announced
January 9, 2003
After the Sprint races at US Nationals, the US World Junior Championships team was announced. The Midwest was well represented: Minnesota Biathlon veteran Steve Scott used some blazing sprint times to earn his first appearance; Lindsay Williams notched the top junior sprint time and will be joined by Olympian Lindsey Weier. Bryan Cook, brother to Chris Cook, also earned a spot on the team. NCCSEF is raising funds to help the skiers cover the cost of the World Championship trip.
U.S. Biathlon Trials: Final Races
January 2, 2002
The U.S. Biathlon Team Trials wrapped up at Mt Itasca on Thursday with the final races and naming of the World teams. Duluth's Carolyn Treacy topped Wednesday's performance with an overall victory today. Even more exciting, Minneapolis native Jacob Beste put all the pieces together to capture the mens title over Tim Burke. It was Beste's first ever win at a Nationals or Championship level event.
Related:
Full Results

U.S. Biathlon Trials: Pursuit Races
January 1, 2003
Day #2 at Mt. Itasca for the U.S. Biathlon Team Trials, and Hastings native Dan Campbell showed the skills that made him a 2002 Olympian in winning the overall title today. Campbell managed only 4 penalties and won by nearly 50 seconds. While Denise Whitten-Teela won the womens race (her second in a row), the big story was Duluth's Carolyn Treacy who romped to a 1:21 margin of victory in the junior womens race, and was just 1 second off Whitten-Teela's time!
Related:
Full Results
Photoset from Dave Johnson:

U.S. Biathlon Trials: Sprint Races
December 30, 2002
Hastings native and Olympian Dan Campbell put in a strong first day at the U.S. Biathlon Team Trials at Mt. Itasca. Campbell notched a second place finish, just 15 seconds behind today winner, Jesse Downs. In the women's senior race, Nationals "rookie" Denise Whitten-Teela took top honors. There was a big showing among Minnesota athletes across all the races today.
Related:
Full Results
Photoset from Dave Johnson:

CCSA Invites Guests
December 31, 2002
The Central Collegiate Ski Association has opened some of their weekend events to allow a limited number of non-collegiate skiers to participate. Skiers must send in a petition to enter an event.
Related:
CCSA College Racing Schedule
Birkie by the Numbers
December 19, 2002
Rick Budde has prepared perhaps the ultimate statistical analysis of the 2002 Birkie.
24 Hour Record Attempt?
December 6, 2002
Ben Popp says they'll go for it: The Skinnyski.com Race Team will attempt to break the 24 hour skiing record this winter at the 24 Hours of Telemark race in mid-January. The next fee increase on this race is next weekend!
2002-2003 Skinnyski.com Race Team Announced
December 1, 2002
We are proud to finally rollout the 2002-03 Skinnyski.com Race Team! Ben Popp takes over the management reins this year and has added six incredibly talented skiers to the composition. Enervit America has joined us, signing on as the primary sponsor. Check out the full team breakdown:
Skinnyski.com Race Team
MN State Cyclocross Coverage
November 10, 2002
The Minnesota cyclocross season wrapped up today with the State Championships held at Bassett Creek Park in Crystal. Doug Swanson, pro mountain biker, dominated the A race, easily riding away from the field before the first lap had been completed. The B race was a three way race until the final hill, when the best sprinting legs came out on top.
A Race Photoset (66 photos):


B Race Photoset (66 photos):


Video Clips:

B Race Finish (4.3MB),

Doug's Domination (7.0MB)
Related:
Full Results
2002-2003 Racing Preview
October 28, 2002
It's out -- the 2002-2003 Racing Season Preview is finally online, along with a complete calendar update. Check out the new additions and see which have exited the scene this year.
Twin Cities Marathon Coverage
September 29, 2002
American Dan Browne, running in his first marathon distance, pulled away from two Kenyan runners in the final half mile to win the Twin Cities Marathon on Sunday morning. Irina Bogacheva won big, posting a winning margin of more than seven minutes, in the women's race. You might recall Dan Browne's name -- he is part of the high-tech Oregon Project (see article below). Temperatures stayed in the mid 50s for most of the race, with moist and foggy conditions that made it generally feel warmer.
Photoset (179 photos):


Related:
Marathon Results
TC 10 Results
Star Tribune Article (w/ photos)
Pioneer Press Men's Article
Pioneer Press Women's Article
Wired Article on Oregon Project
Special Edition: Chequamegon 2002
September 14, 2002
Steve Tilford repeated as the Chequamegon 40 champion on Saturday, but not without some pressure from Jeff Hall and Doug Swanson. Australian Mary Grigson conquered the women's division. Rains on Saturday morning made for some wet conditions, but the moisture helped keep the sand in place and seemed to make Fire Tower hill a little easier to climb. We've got over 200 images from the Cheq 40, broken into six photosets, along with four video clips.
Related Info:
Official Race Press Release
2002 Kangaroo Hoppet Report
September 5, 2002
Frank Lundeen has contributed a report on the 2002 Kangaroo Hoppet racing action. Lundeen did well himself, turning out an impressive top 20 performance.
Laddies Loppet Weekend Coverage
September 1, 2002
The 2002 Laddies Loppet had a strong turnout on Sunday, in large part due to their involvement in the MNSCS series this season. Overnight rains on Saturday made the course a bit muddy, and thus slowed down the overall times. However, Jeff Hall still managed to cranked out a big margin victory the expert mens division, as did Kyia Malenkovich for the expert women.
Short Track Photoset (42 photos):


Cross-Country Photoset (105 photos):


Video Clips (hosted by Maplelag):


Short Track Sport Race Highlights (7.8 MB)


Short Track Expert Race Highlights (15.2 MB)


Cross-Country Citizen Race Highlights (7.0 MB)


Cross-Country Sport Race Highlights (6.1 MB)


Cross-Country Comp/Expert Race Highlights (12.1 MB)


Crash (5.5 MB)
Related:
Short Track Results
Cross-Country Results
Murphy MTB Race Series Coverage
August 28, 2002
The trails were open again at Murphy-Hanrehan for Wednesday night's mountain bike race series. Roughly 35 riders took on the hilly course, which offered a wide range of conditions due to a strong downpour that had hit half the course just before the start.
Photoset (27 photos):


And some monster size video clips:


Race Highlights (11.1 MB, MPEG-1)


Grandma's Lesson (11.0 MB, MPEG-1)

Welch Village MTB Race Coverage
August 18, 2002
Even with cool August temperatures, the racing was plenty hot at Welch Village on Sunday. Jeff Hall crushed the expert field once again, winning by well over five minutes. Sara Kylander-Johnson put in an equally dominating performance, winning the women's sparse expert field by over 10 minutes. The expert/comp field used a rather nasty, rocky and twisty singletrack descent from the recent NORBA National events.
Photoset from Comp/Expert Race (188 photos):


Related:
Results
LifeTime Fitness Triathlon Coverage
July 20, 2002
A first place prize of $50,000 brought out some of the world's best triathletes for the LifeTime Fitness Triathlon in Minneapolis on Saturday morning. Minnetonka native Becky Gibbs lead for much of the race before being overtaken by Barb Lindquist on the final running leg. Craig Walton, the top men's finisher, came in third with less than 30 seconds separating the top three places. The event used a unique 'equalizer' format that gave the women 9:38 second head start in the race. Partly cloudy skies and light winds made for the perfect start to the race, but a major rainstorm blew in as the elite racers were finishing.
Photoset (172 photos):


Related:
Star Tribune article
Results
Chippewa Triathlon Coverage
June 13, 2002
A number of area skiers traveled to Cass Lake last weekend for the Chippewa Triathlon. Skinnyskier Abbigail May won the solo women's title, Yuyudhan Hoppe the solo men's, and David and Josie Nelson nabbed the top mixed doubles.
Photoset from Brian May (10 photos):


Related:
Full Results
More photos
Wisport Cascade Classic Coverage
June 8, 2002
Under mostly cloudy and humid conditions, the Wisport Cascade Classic raced around the rolling roads south of Osceola, Wisconsin.
Photoset (67 photos):


Related:
Full Results
Hoigaards Canoe Derby Race #2 Coverage
June 6, 2002
What started out as a breezy evening turned into a dark and stormy event as a thunderstorm rolling in near the end of the Canoe Derby, causing a number of capsizings on big Lake Calhoun. Luckily, everyone got out of the water OK, and seemed to be very good natured about it.
Photoset (65 photos):

Grand Old Day Coverage
June 2, 2002
Rain on the radar, but none on the course -- Grand Old Day 8K inline race and run went off without a hitch. The annual Grand Old Day celebration in St. Paul packs nearly a quarter million people in for the street festivals along Grand Ave (after the race, of course).
Photoset (48 photos):


Related:
Results

Hoigaards Canoe Derby Kicks Off
May 31, 2002
Hoigaard's Canoe Derby kicked off on Thursday night with 40 boats participating. Andy Turnbull has sent in a short recap. Results now posted.
Duluth Biathlon Open House Recap
May 29, 2002
Bjorn Bakken submitted a recap on the successful Duluth Biathlon Open House held last Saturday at Snowflake Nordic.
Related:
Photoset from Bjorn Bakken:

Afton Alps MTB Race Coverage
May 26, 2002
The second race of the MNSCS series was held at Afton Alps on Sunday. Warm temperatures (for this spring!) and a grueling course made for a tough day. Jeff Hall blew the expert men's field away, winning by more than 5 minutes. Stephanie Moats-Leibke took the sparse women's race.
Photoset (172 photos):


Related:
Results

Life Time Fitness 10K Coverage
May 26, 2002
After 6.2 miles, the Life Time Fitness 10K came down to the final meters with Kenyan John Itati edging out Kate McGregor in a photo finish to take the $10,000 top prize. The race features a unique 'equalizer' start for the elite women, and rewards the top finishers overall.
Photoset (35 photos):


Related:
Star Tribune article

Gear West Duathlon Coverage
May 19, 2002
A field of nearly 350 competitors took to the fields and roads around Orono for the 2002 Gear West Duathlon, an "official" kickoff to the midwest triathlon season. Sunny skies but cool temperatures made for almost ideal racing weather.
Photoset (112 photos):


Related:
Results
More Photos
Buck Hill MTB Race Coverage
May 11, 2002
Jeff Roy and Stephanie Leibke took the opening races of the MNSCS series at Buck Hill on Saturday afternoon. Cool temps and wet conditions made for some fairly muddy conditions.
Photoset (146 photos):


Video clips:


Men's start


Slo-mo of men's crash


Leaders on the hill
Related:
Results
Waxers Should Stand on the Podium
December 13, 2001
To make the sport of cross-country ski racing fair, nations should share their waxing secrets with those "less fortunate". At least that's the opinion of Gunnar Breivik, of Norway's Sports Institute, in this article translated by Brian Olsen.
500 Ski Pairs for 20 Skiers
November 23, 2001
In this latest translation by Brian Olsen, the Norwegian waxing team is planning to evaluate nearly 500 pairs of skis for the Salt Lake Olympics in February.
Racing News
November 8, 2001
Brian Olsen has translated two new articles from Norwegian sources:
- Norway Aiming at Five Gold Medals in SLC
- Dæhlie to Compete in a Comeback
Myllylä Tells His Story
October 31, 2001
Former Finnish superstar, Mika Myllylä, released a book last weekend. In recent interviews he has admitted using Hemohes, a cover agent for EPO. Brian Olsen has compiled and translated this story from Norwegian news sources.
Olympic Worries
October 19, 2001
Brian Olsen has translated a short article on Norwegian athlete fears over the upcoming Winter Olympics. We've also linked in articles from the New York Times and Salt Lake Tribute on Olympic security.
Bente Skari Saddened
September 12, 2001
Bente Skari and her Norwegian teammates are a bit scared, and very saddened by the recent terrorist events on the East coast as they are in the U.S. training out in Park City, Utah. Story translated by Brian Olsen.
New Nordic Tournament
September 7, 2001
The major Scandinavian players in Nordic skiing have come together to develop a new Nordic Tournament, that will showcase the famed venues of Falun, Trondheim, Lathi and Holmenkollen. Article by Brian Olsen.
Surprise at Finnish Camp; Isometse Plans Return
August 5, 2001
Brian Olsen has translated and compiled multiple sources to provide two updates on Finnish cross-country skiing news.
Thomas Alsgaard to Drive Formula 1
July 22, 2001
Brian Olsen has translated this Norwegian article, originally published in VG (Norwegian newspaper), in which Thomas Alsgaard talks about an upcoming Formula 1 foray, along with comments on his performance last season and his training for the 2002 Winter Olympics.
Courtyard Classic Coverage
April 22, 2002
Ben Mogren filed a report on the 2002 Courtyard Classic, complete with full results and photos. Hats off to all the participants (and hopefully they'll use wave starts next year)!
Junior Nationals: Day 4 - Relays
March 9, 2002
Final day of Junior Nationals, and the Midwest went out with a bang! The Midwest J1 boys, with a big lead off from Tim Damrow, narrowly took the overall title, edging out Intermountain and New England teams by less than four seconds. Donovan Dums had the middle leg, and Garrot Heath held the anchor. The team of Adriaan Ostrander, Bryan Cook, and Garrott Kuzzy took second in the OJ boys division. OJ girls Rachel Daw, Stephanie Howe, and Jordan Seethaler were denied overall victory by less than a second by the Alaskan squad anchored by Kikkan Randall. And the dominant performance of the day: the Midwest J1 gals, Lindsay Williams, Lindsey Weier, and Courtney Dauwalter, who won the division relay with a margin of more than a minute (and posted a time that would have easily taken the OJ title)!
Related:
Photoset from Paul Damrow:


Relay Results
Day 3 - Freestyle Results
Day 2 - Classical Results
Day 1 - Sprint Results
Junior Olympics National Championships website
Biathlon Nationals: Day 3
March 10, 2002
Biathlon Nationals wrapped up on Sunday with the relay event. Minnesota Biathlon athletes had a strong showing again today: Anders Osthus and Brian Olsen took the Junior Men's title, and Antonia Slaughter and Brit Salmela grabbed the Junior Women's crown.
Related:
Photoset from Gary Colliander:


Biathlon Nationals: Day 2 Results
Biathlon Nationals: Day 1 Results

Olympics: BUSTED!
February 24, 2002
Johann Muehlegg, along with Russians Olga Danilova and Larisa Lazutina, tested positive for darbepoetin and have been tossed from the Olympics. They will also have to return their gold medals from the mens 50K and womens 30K classical events.
Bauer's Olympic Journal Update
February 23, 2002
Bill and Nancy Bauer have sent in new Olympic Journal update, this one covering John's 50K race on Saturday.
Olympics: Incredible Mens XC Relay
February 17, 2002
Which story was bigger: Norway's Thomas Alsgaard kicking some Italian butt after having to lead Cristian Zorzi the entire final lap, or the U.S. men having their best Olympic result ever, finishing fifth (with Carl Swenson just missing fourth in a final sprint with earlier medalist Austria's Christian Hoffman)? Full results can be accessed from our Olympics Coverage section.
Related:
Photosets:

,

Spectator photos:


Olympic Journal Update from the Bill and Nancy Bauer
Salt Lake Tribune photos:


Other Olympic News:
- Swix Olympic Notes
- Toko Daily Reports
- Holmenkol Olympic Updates

Olympics: Hot Hakkinen
February 16, 2002
While Norway's Ole Einar Bjoerndalen set records in taking his third gold medal in Biathlon, USA's Jay Hakkinen was improving on an already strong U.S. performance with a historic 13th place finish in the mens 12.5K Biathlon pursuit event. Hakkinen was only 11 seconds behind Frank Luck, an earlier silver medalist, and just over 40 seconds out from the poduim. Full results can be accessed from our Olympics Coverage section.
Related:
Photoset:

Olympics: SUPER SCOTT!
February 15, 2002
Beckie Scott made history capturing the first-ever Canadian cross-country ski medal taking third in an incredible photo finish in the womens 10K pursuit event today. Full results can be accessed from our Olympics Coverage section.
Related:
NBC article
Yahoo photos: #1, #2, #3, #4, #5, #6, #7

Olympics: Bauer, U.S. Men, Rock!
February 12, 2002
John Bauer made U.S. Olympic history, hammering out the best U.S. Cross Country performance since Bill Koch -- finishing 12th overall in the 15K classic race today. Patrick Weaver had an incredible race as well, finishing 16th, and even Kris Freeman got in on the action, coming in 22nd. Bauer was just 8 seconds from being inside the top ten. In the womens race, Wendy Wagner was the top U.S. woman in 38th, with Kemppel at 40th.
Related:
Pioneer Press article w/ interviews
Pioneer Press article on Lindsey Weier not racing
Olympic Journal Update from the Bill and Nancy Bauer
Ian Harvey's Report on Tuesday's Racing
Photoset:

Mora 2002: Minnesota Nice
February 11, 2002
Skinnyski.com Race Team member Jill Troutner has written a great feature on her experiences at the 2002 Mora Vasaloppet: "This event is just the nicest darn ski race."
Biathlon: Teela Matches Best U.S. Performance
February 11, 2002
Jeremy Teela matched U.S. Olympic biathlon history on Monday when he finished 14th in the mens 20K event.
Photoset:


Other Olympic News:
- Toko Daily Reports
- Holmenkol Olympic Updates

Olympic Parents
February 11, 2002
William and Nancy Bauer share their thoughts on how it feels to be the parents of an Olympic athlete.
Biathlon: More History -- US Women take Silver in World Jr Relay!
February 3, 2002
The day after a historic third place finish by Lanny Barnes, the US Junior Women showed they could be a major force in the 2006 Olympics with a second place finish in the womens biathlon relay. Duluth native Carolyn Treacy was part of the three women team.
Photoset by Gary Colliander:


Day 3 Story and results
Day 2 Story and results
Day 1 Story and results
Noquemanon Odyssey
January 30, 2002
Lousy wax, cramping muscles, bonking: all possible reasons for pulling out of a race. A broken ski? Your race is over -- except that is, if you're Grant Nelson.
Collegiate Nordic Skiing Preview
January 28, 2002
While the Midwest Collegiate Nordic skiing season is now underway, Corey Coogan gets us up to speed with a comprehensive introduction to collegiate nordic skiing in the Midwest, as well as a review of the top competitors from each school.
Weier Makes Olympic Team!
January 21, 2002
The U.S. Olympic Cross-Country Ski Team was announced on Monday, and perhaps no bigger surprise was the inclusion of Mahtomedi native Lindsey Weier! The 17-year-old high school senior sets a number of firsts, including one of the first Minnesota-born women, as well as first high school skier, to be named to the U.S. Olympic team. Weier earned the spot with a number of top ten (and even top five) finishes at early season NorAms and the recent U.S. Nationals. John Bauer of Duluth also was named to the team. Former Minnesotans, Barb Jones and Aelin Peterson made the team as well.
Update: Lindsey Weier finished an impressive 14th in the first of the Junior World Championship races going on this week in Germany.
Swix Congratulates Olympic Team Members
Yoko Congratulates Olympic Team Skiers
Star Tribune article
U.S. Nationals Coverage
January 13, 2002
30K/50K Classic Races:
Mens Results
Womens Results
USSA Press Release
Duluth Tribune article on John Bauer
5/10K Pursuit Races:
Photoset by Ian Harvey:


Mens Results
Womens Results
USSA Press Release
Report from XC Ski World
Yoko in front at U.S. Nationals Pursuit Race
5/10K Classic Races:
Photoset by Ian Harvey:


Womens Results
Mens Results
USSA Press Release
Report from XC Ski World
Toko/Yoko on top at U.S. Nationals Classic Race
15K/30K Races:
Photoset by Ian Harvey:


Mens Results
Womens Results
Report from XC Ski World
Sprint Races:
Photoset by Ian Harvey:


Men's Results
Women's Results
Sprint Final Results
Report from XC Ski World
USSA Press release
Yoko Shines in U.S. Nationals Sprints
Biathlon: U.S. Olympic Trials
January 4, 2002
Team Selection:
U.S. Olympic Team Announced
Star Tribune article on Dan Campbell
Day 4 News:
Krause Wins!
MN Biathlon Press Release on final day
Day 3 News:
Salmela Peaks, Campbell Falters
Day 2 News:
Nahrgang Back on Top, Campbell Stays Hot
Photoset by Gary Colliander:


Men's Results
Women's Results
MN Biathlon Press Release
Day 1 News:
Lanny Barnes Breaks Out
Photoset by Gary Colliander:


U.S. Biathlon Press Release
Gold Cup - Kemppel, Wadsworth Win
December 29, 2001
Top ranked Nina Kemppel and Justin Wadsworth won the Gold Cup races, taking the automatic Olympic Team berths. Minnesota native Barb Jones was third, as was Duluth's John Bauer. Other area skiers: Lindsey Weier 7th, Chad Giese 13th, Abby Larson 13th. (Photo: Carl Swenson in the 1st kilometer / Gary Colliander, MN Biathlon)
Additional info:
Photoset by Gary Colliander:

Men's Results
Women's Results

Skinnyski.com Race Team Announced
December 24, 2001
From the 'skunkworks' department at skinnyski.com, we are proud to rollout the inaugural Skinnyski.com Racing Team! With Team Manager Scott Sjoquist leading the way, check out the team members who have joined us in this new adventure. In addition, review all the great skiers who are helping to support skinnyski by wearing the new suits this winter.
My Vasaloppet - Steve Crum
November 10, 2001
You may have read the excerpts in Master Skier -- now read the whole story: Steve Crum's detailed and rich account of his 1999 Mora Vasaloppet in Sweden. (PDF format, 387K)
Racing Season Preview
October 30, 2001
We've finally published the 2001-2002 racing calendar with a look at some of the new races, as well as some goodbyes to a few old ones, in this racing season preview. Roughly 40 days 'til the start of the upper Midwest racing season!
North Star Nordic Run Coverage
October 27, 2001
A crisp but sunny fall morning greeted the over 80 runners for the 2nd Annual North Star Nordic Run at Hyland Lake Park on Saturday morning. While Darin Swanson won the men's title, 14-year-old sensation Megan Jensen was the story of the day, not only winning the women's race but finishing second overall, a mere six seconds behind Swanson! We shot nearly 40 photos from the event.
Photoset:


Results
Biathlon: Fall Festival Results
October 21, 2001
Kara Samela regained the top podium spot in the final day of competition as she used solid shooting and some very fast rollerski splits to overcome the Barnes sisters and post a nearly 2 minute margin of victory. Lanny and Tracy Barnes dueled with Carolyn Treacy for the other two podium spots, with Treacy missing out by a mere three seconds. Junior Steve Scott combined great shooting and the day's fastest skate time to move up to second overall, just 45 seconds behind winner Dan Campbell.
Over 100 photos and two video clips from Saturday.
Photoset:


Videos:

Men's Highlights - 6.6MB,

Women's Highlights - 8.7MB
Additional Results:
Saturdays Event
Thursdays Event

Summer Biathlon Results
October 14, 2001
Although it was a cool and cloudy Sunday morning, the rain held off and the beautiful autumn colors in Elk River made it a nearly perfect day for the event. Over 50 photos from the event.
Photoset:

Giants Ridge Rollerski Race Results
October 8, 2001
Nikolai Anikin, Jr., nipped Dan Whipple to take the men's rollerski title at Giants Ridge on Saturday morning. Sara Zimmer repeated for the women. Reports are that the rollerskiers got a nice present with a brief, but heavy snow squall near the end of the race! Full results linked in now.
Twin Cities Marathon Coverage
October 7, 2001
Joshua Kipkemboi held off Sergey Fedotov to take the 2001 Twin Cities Marathon on Sunday. Women's winner, and 11th overall, was Zinaida Semenova. The temperature was in the low 30's for the start with light winds and strong sunshine, rising to the low 50s by noon, for nearly ideal marathon running conditions. Over 90 photos from Sunday:


Additional info:
Marathon and 10 mile results

Blacktop Roller Rally Coverage
October 6, 2001
Gary Johnson and Sonne Nordgren were the men's and women's winners in the Hyland Blacktop Roller Rally, sponsored by Hoigaards and Hennepin Parks. The rollerskiers got a good taste of winter with temperatures in the mid-to-upper 30s for the race on Saturday morning. Over 45 photos, a video clip and full results online now.
Bangin' in the Brush Photos
September 26, 2001
The Bangin' in the Brush race is a trail run held at Korkki Nordic in Duluth, MN. This year's winners of the 6.8 mile race were Andre Watt, 42:53, and Sara Zimmer, 51:23. Brian May shot a number of photos from the race.
Photoset:

Northshore Inline Marathon Coverage
September 18, 2001
Over 3200 skaters competed in the last Saturday's Northshore Inline Marathon in Duluth. The winner, Derek Downing, finished the 26.2 mile event in 1:05:21, even after falling shortly before the finish. Jilleanne Rookard was the top pro women's finisher with a time of 1:25:39. Thanks to Abbi and Brian May for collecting a set of photos from the race.
Photoset:


Additional Info:
Results
Special Edition: Chequamegon 2001
September 15, 2001
Catherine Walberg and Steve Tilford, both of Topeka, Kansas took the women's and men's titles at the 2001 Chequamegon 40. Tilford narrowly beat Dewey Dickey in his victory, while Walberg had a three and half minute cushion. It was a beautiful day in Hayward/Cable area for the annual Chequamegon 40 mountain bike race. Rains last week had left the course firm but not muddy. We've posted over 240 photos, and three video clips, as well as linked to the results.
Summer Biathlon Results
September 13, 2001
We're a little late in posting them, but results are in for last weekend's Summer Biathlon event held out at Elk River. There's also news on another possible event in mid-October.
CXC/NorAm Races at Telemark
September 4, 2001
In a possible preview of some of the U.S. and Canadian skiers who will competing in the 2002 Winter Olympics, Telemark Resort will be hosting a series of CXC/NorAm races this December.
MN State MTB Championships Coverage
September 2, 2001
Saturday:
Jeff Hall once again showed his strong form this season (and had a little help with a last lap crash) to take the Short Track Championship on Saturday at Maplelag. Kyia Malenkovich, fresh off a recent top 20 World Cup finish, easily won the women's title.
Sunday:
Jeff Hall went out hot, and stayed in front to easily take the Cross Country title on the Maplelag singletrack on Sunday. Kyia Malenkovich also repeated with a dominate performance.
Additional info:
Race Summary


Video: Expert/Sport Cross Country Race Highlights, 10.8MB
Results, photos and video clips

Murphy Challenge Coverage
August 25, 2001
Gear West's Jeff Lynch powered to an easy victory in the 20K Murphy Challenge Mountain Bike race on Saturday morning. Top National competitor, Cherie Touchette, also cruised in with a strong performance in winning the women's race.
Results posted on Vacation Sports web site.
Video clip:

Highlights, 8.0MB
We've posted nearly 90 photos on the MN State MTB web site.
Turtleman Triathlon Coverage
August 11, 2001
A jam-packed race of roughly 500 competitors enjoyed near perfect conditions for the Turtleman Triathlon in Shoreview, MN on Saturday. We've got 150 photos split into four sets, along with a music highlight video.
Photosets:


Pre-Race/Transition/Volunteers


Start/Swimming Leg


Cycling Leg


Running Leg/Finish


Photos from Greg Fangel
Video:


Highlights (w/ Smashmouth), 6.8MB
Results online at www.turtleman.org
Ringer Roll Rollerski Coverage
August 4, 2001
Minnesota Biathlon Juniors Toni Slaughter and Brian Olsen both cruised to clear victories in the inaugural Ringer Roll 10K rollerski race. Even with an 8 am start, warm temps, and exceptionally high dewpoints greeted the racers. Results and nearly 30 photos online now.
MN Valley Rollerski TT Coverage
July 13, 2001
Minnesota Valley held an invitational rollerski time trial out at Hyland Lake Park in Bloomington, MN, on Friday morning. Even with the early start, the high dewpoints made things steamy. Loads of good junior/senior skiers, and only a few minor crashes. We've got 40 photos from the race, a video clip (music video), and full race results.
Touchstone Energy Bike Festival Coverage
June 17, 2001
Marty Nothstein dominated the Men's Sprint event at the NSC Velodrome, winning yet another U.S. National Championship. There are nearly 60 photos from Friday night's racing action.
Photos:


Videos:


Men's Sprint Final, 7.6MB


Flying women's point race, 1.9MB
Saturday's Grand Prix road race in Plainview was a shocker for a lot of the racers. One of the best quotes all day: "I didn't think they had hills like this in Minnesota!" (from a racer after pulling out of the race 3/4's of the way up the first climb -- the racer was from Boulder, Colorado.) We've posted over 75 photos from Saturday.
Photos:


Videos:


Men's Cat 3-4 Climbers, 4.8MB


Women Climbers, 4.4MB


Men's Pro/Cat 1-2 Finish, 4.1MB
Additional Notes:
Bike Festival Website
Criterium photos by Greg Fangel
Happy Birthday George!
June 9, 2001
Snowflake owner, former Olympian, and Minnesota skiing legend, George Hovland turns 75 on Sunday. Dave Johnson sent in a wonderful background piece on this local hero.
Mika Myllyla to Retire
June 1, 2001
In yet more fallout from the doping scandal last season, Finnish star Mika Myllyla has announced his retirement. Read the special report by Jay Tegeder.
Idaho Spring Series Race Reports
April 23, 2001
Jill Troutner and Jen McGill graciously contributed race reports from their 2001 Idaho Spring Series experience. The Spring Series is a traditional event for wrapping up the ski season for many elite and top national skiers.
Rocky to Ruiz?
April 13, 2001
The week of April 11th, the Birkie office moved to officially disqualify Marty Baumann, the 31st place skier, from the 2001 Birkie.
Lappe Nordic 24 Hour Relay Report
April 2, 2001
Read Dave Nelson's account of the 2001 Lappe Nordic 24 Hour Relay, held March 31-April 1st at Lappe Nordic in Thunder Bay, Canada.
Norwegian "Ski King" Retires
March 31, 2001
Jay Tegeder has sent in another special report, this one covering the incredible career and now retirement of the skiing legend, Bjorn Daehlie.
MiniSkinny Loppet Series Final Standings
March 7, 2001
The MiniSkinny Loppet Race Series wrapped up with the Lotvola Cup last Sunday. With over 650 skiers participating in the race series, only 11 skiers made the final cut by completing at least four events. See the winners and check out the complete final standings.
Nordic Worlds Erupt in Scandal
March 1, 2001
Catch up on the huge drug scandal that rocked the Nordic World Championships in this special report from Jay Tegeder.
Skinnyski Skiers Announced
December 4, 2000
Last fall we took requests for purchasing a skinnyski.com ski suit. We had a lot more interest than anticipated, and eventually had to select a subset of skiers. Take a look over this wide-ranging group, and watch for them at your races this winter!
1999-2000 Race Season Recap
October 24, 2000
A brief recap of the 1999-2000 racing season (what little there was).
2000 Kangaroo Hoppet Report
September 22, 2000
John Garrett reports on his experience at the 2000 Kangaroo Hoppet Worldloppet race.
Interviews
Jan 8 - Brian May
Jan 15 - Ryan Cameron
Jan 24 - Richard Chin
Jan 29 - Michael Myers
Feb 2 - Michael Zielke
Mar 7 - Piotr Bednarski
Apr 2 - Marty Baumann
by Mark Parman